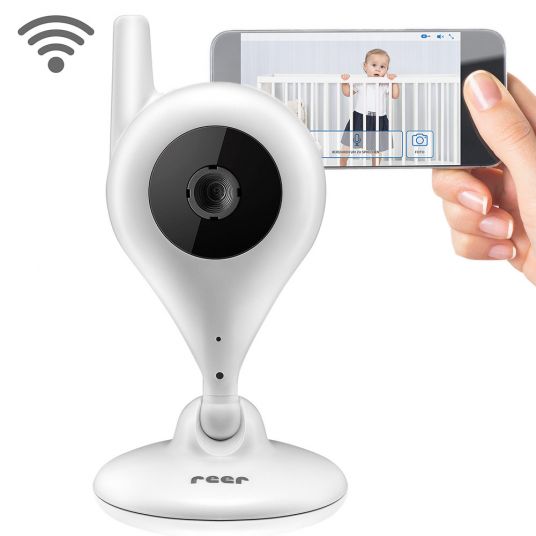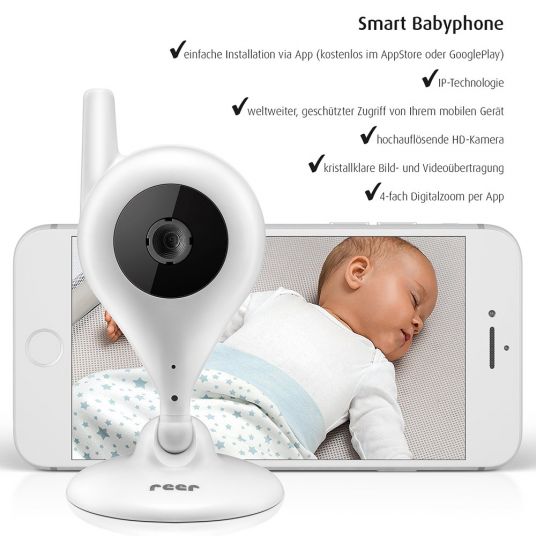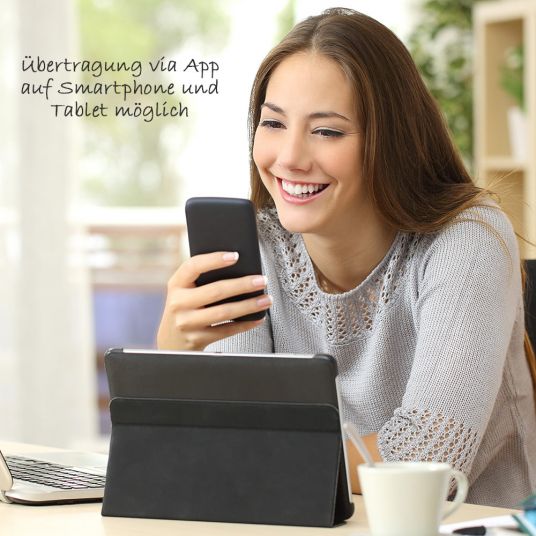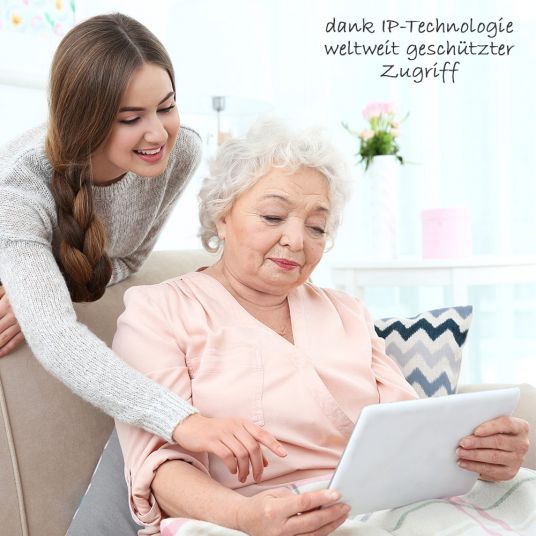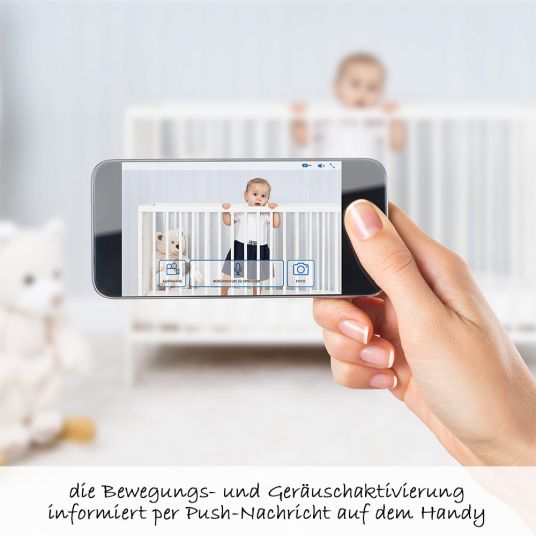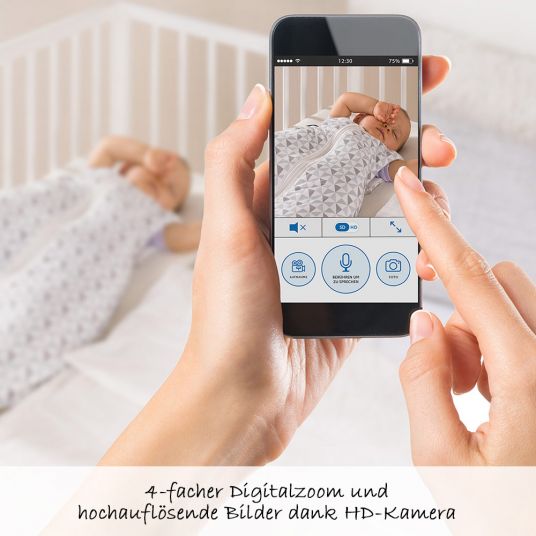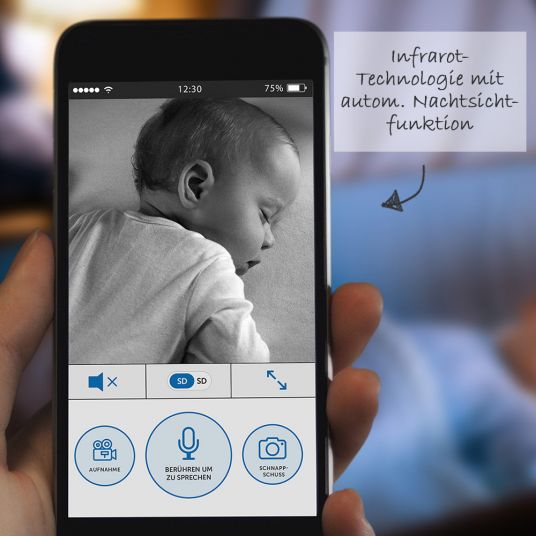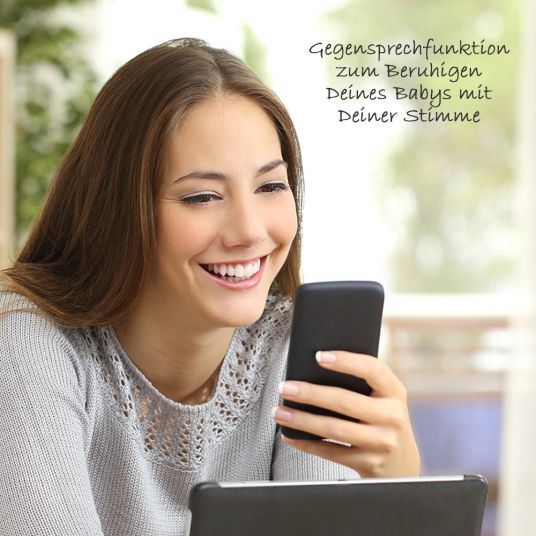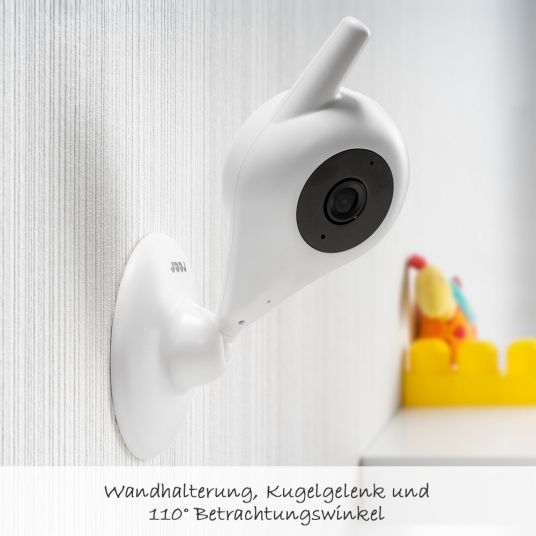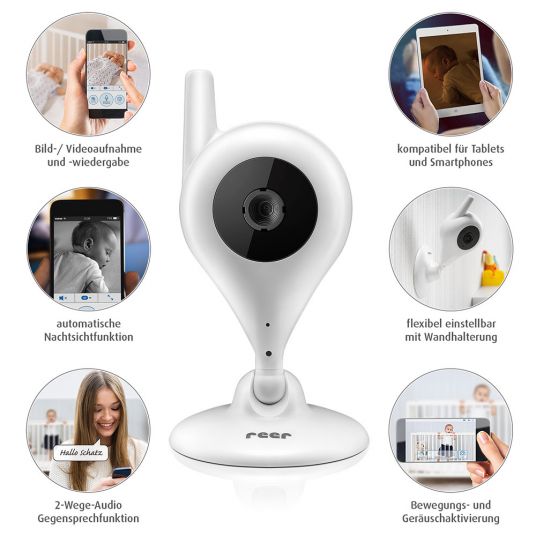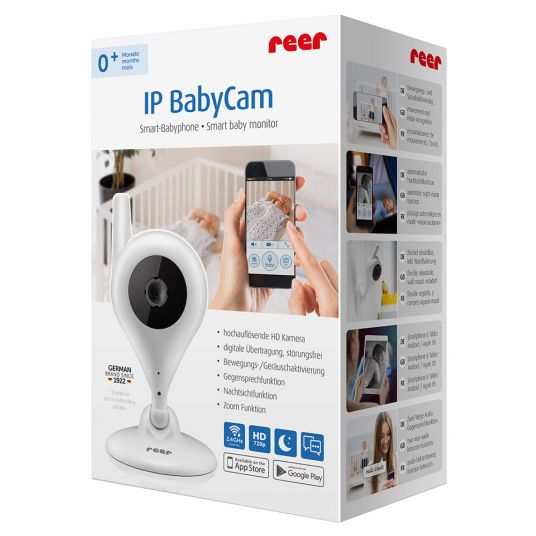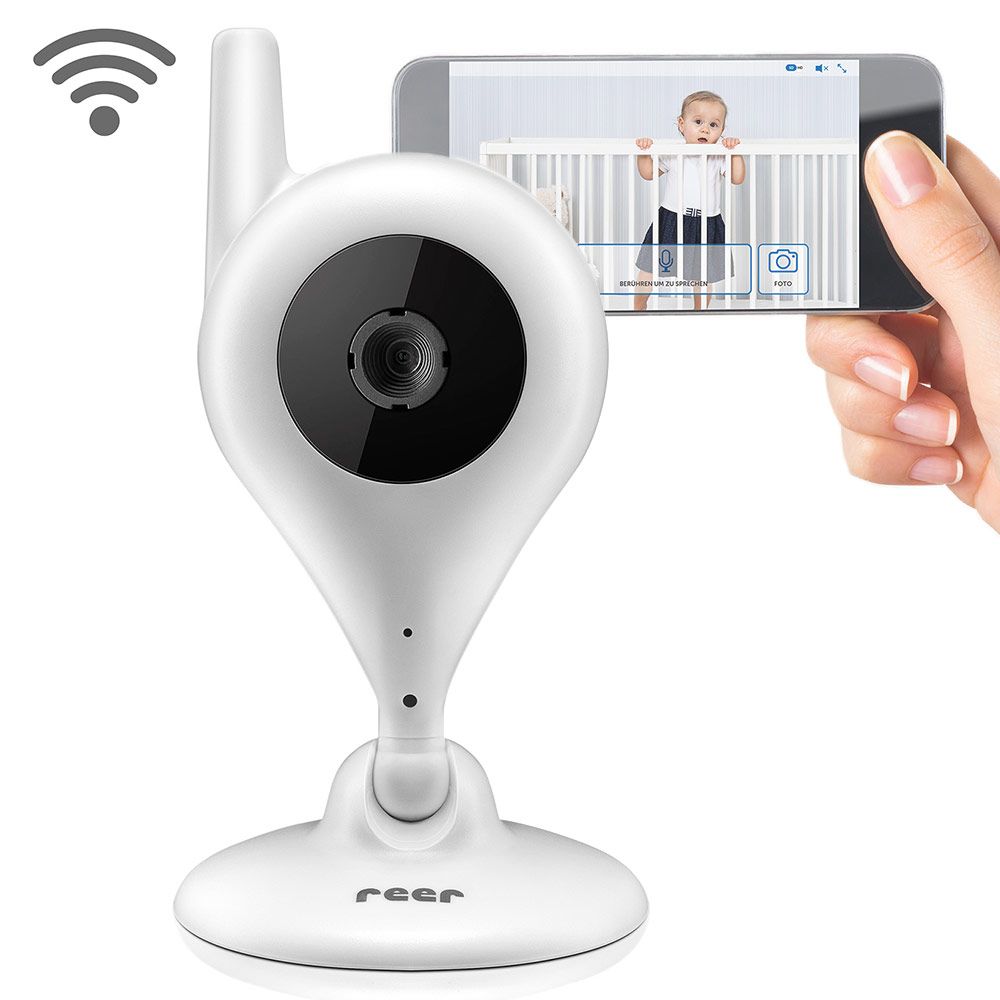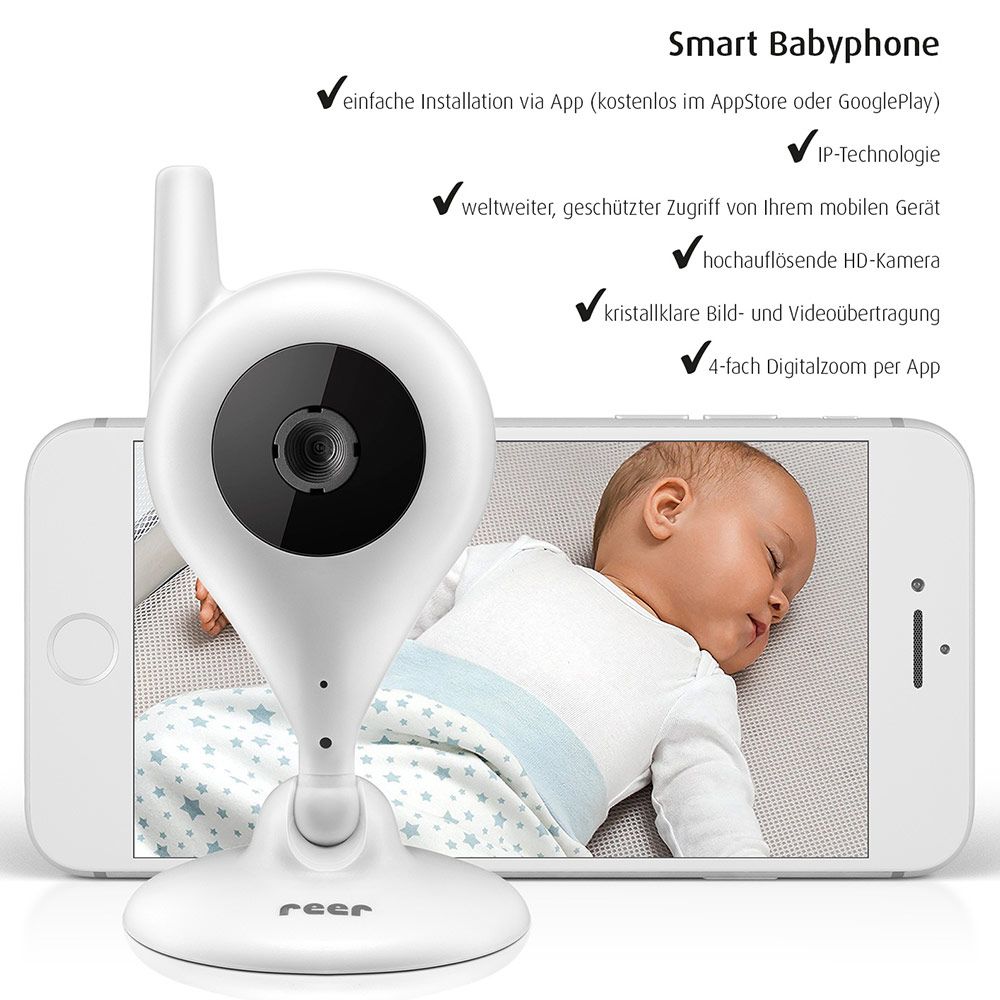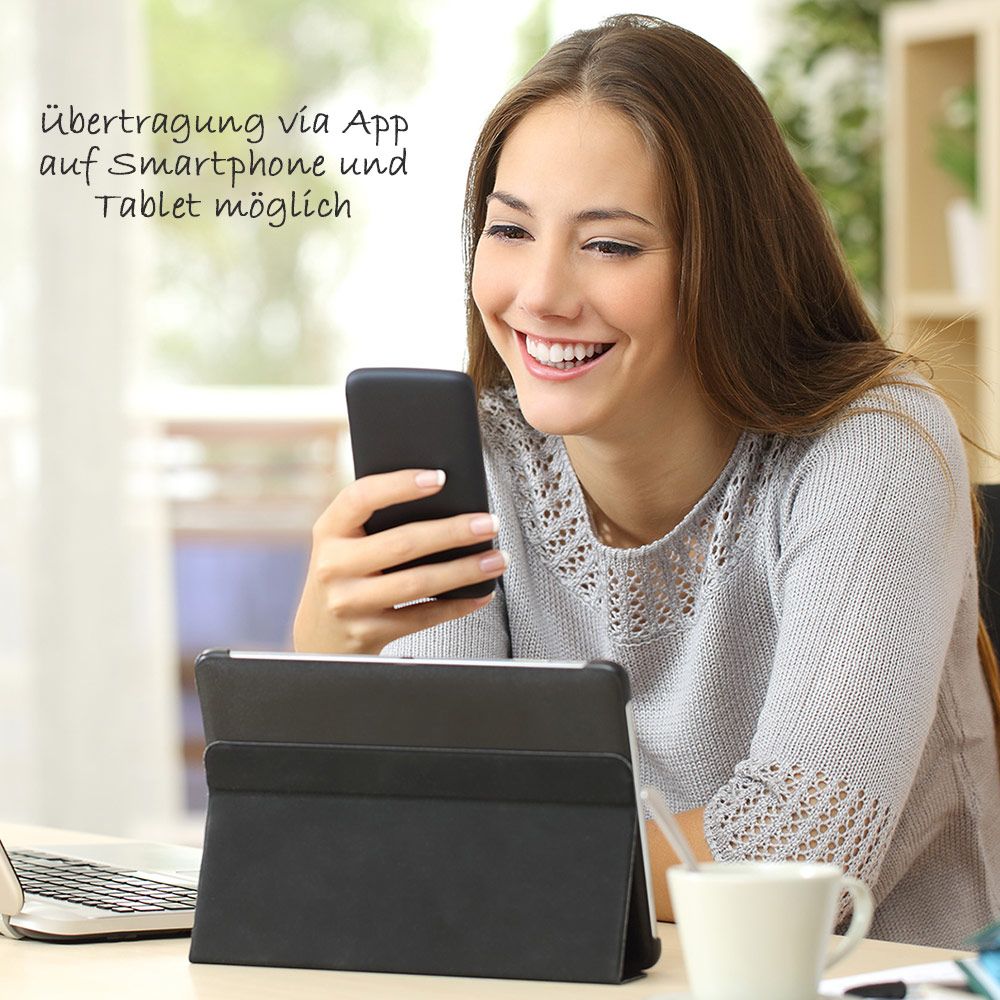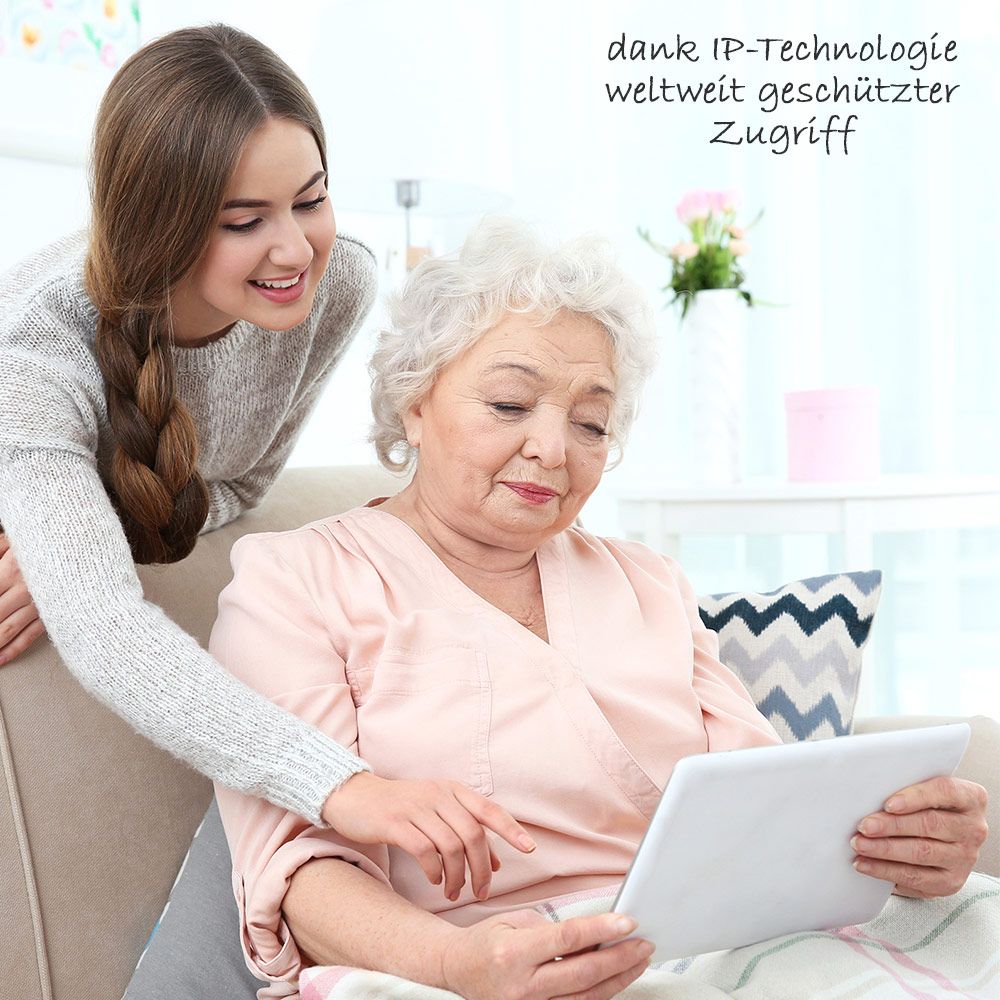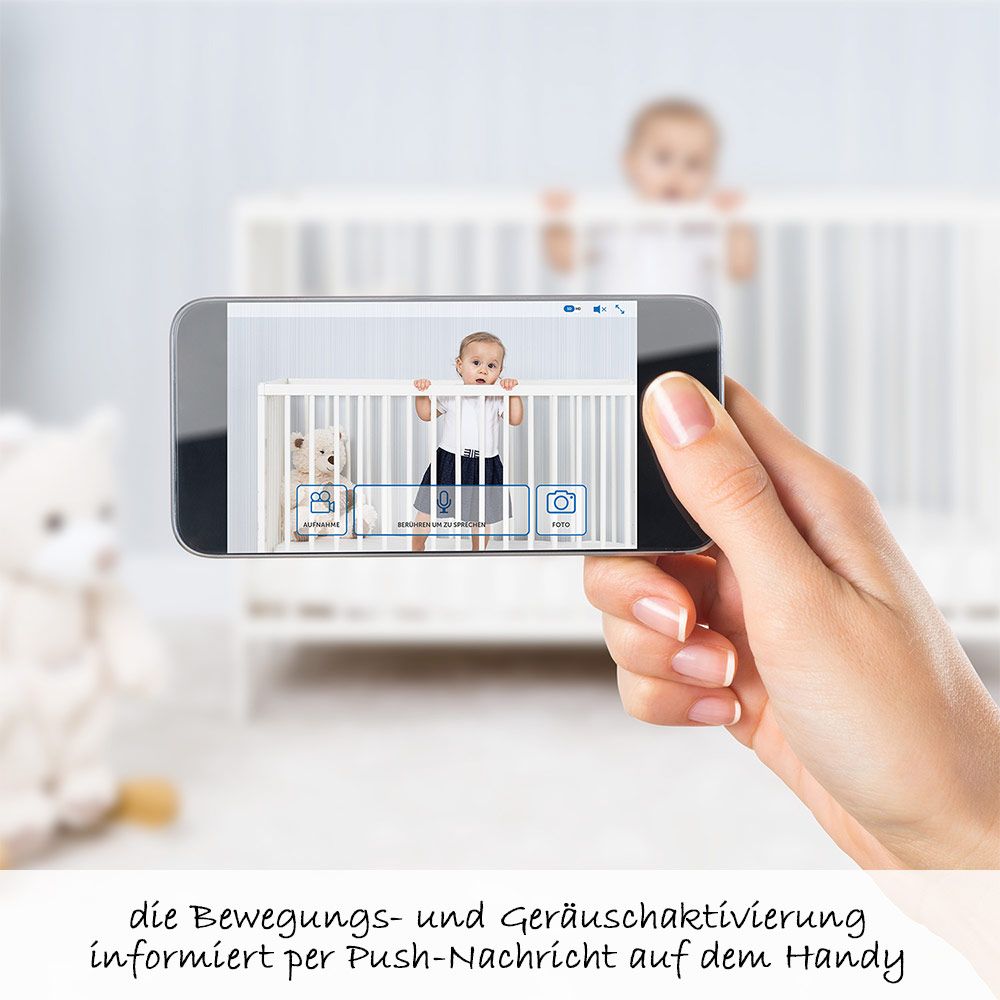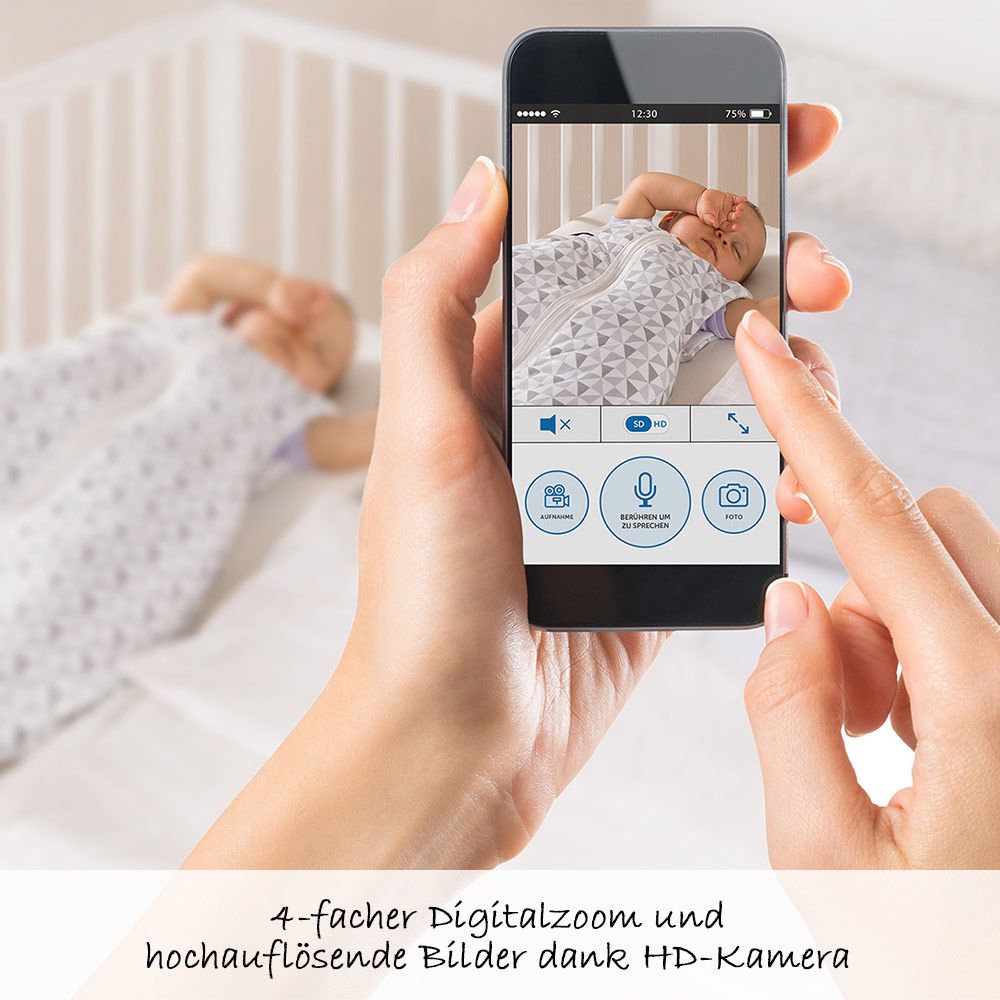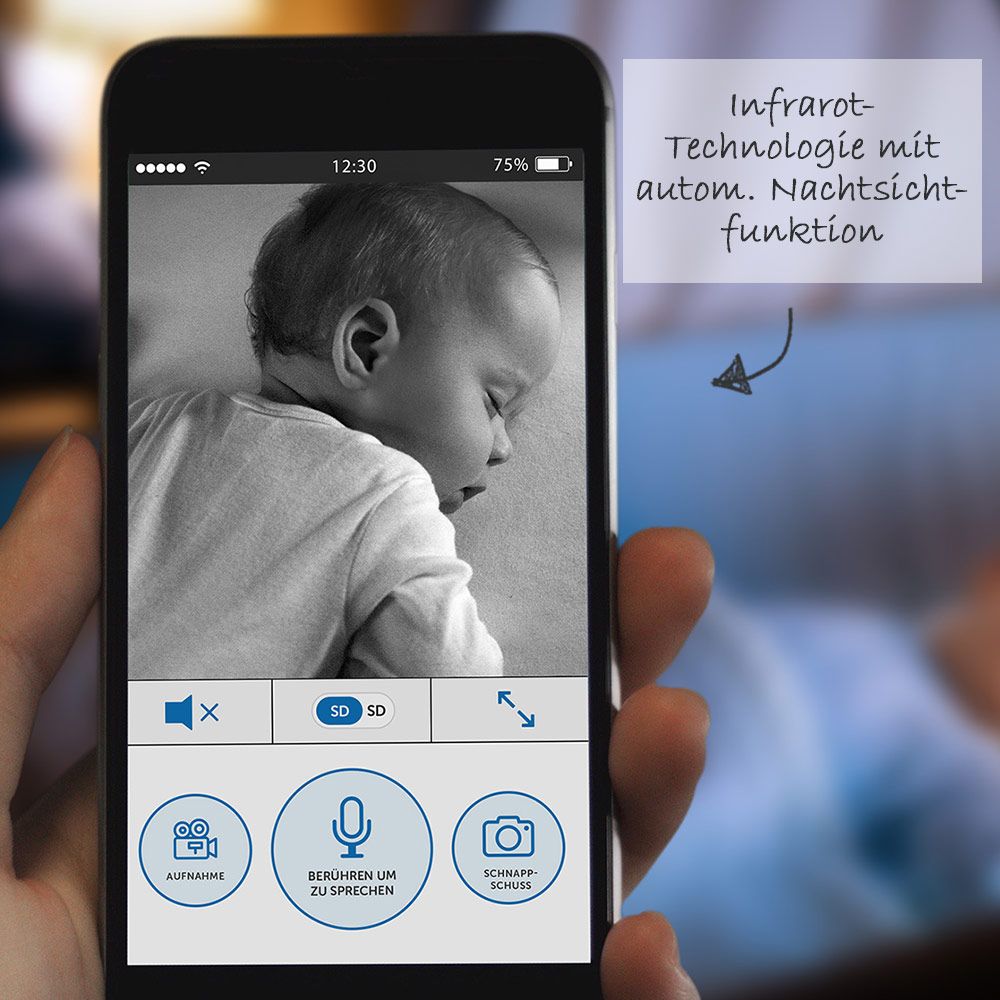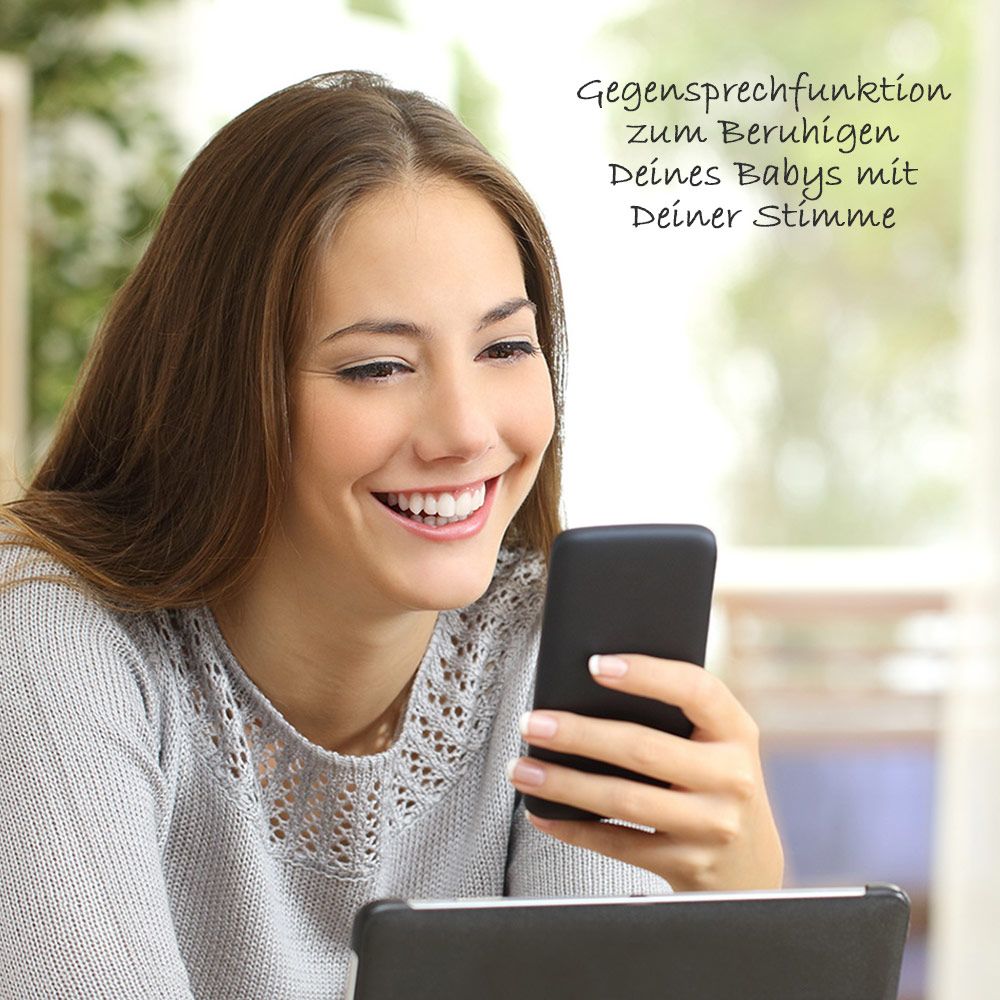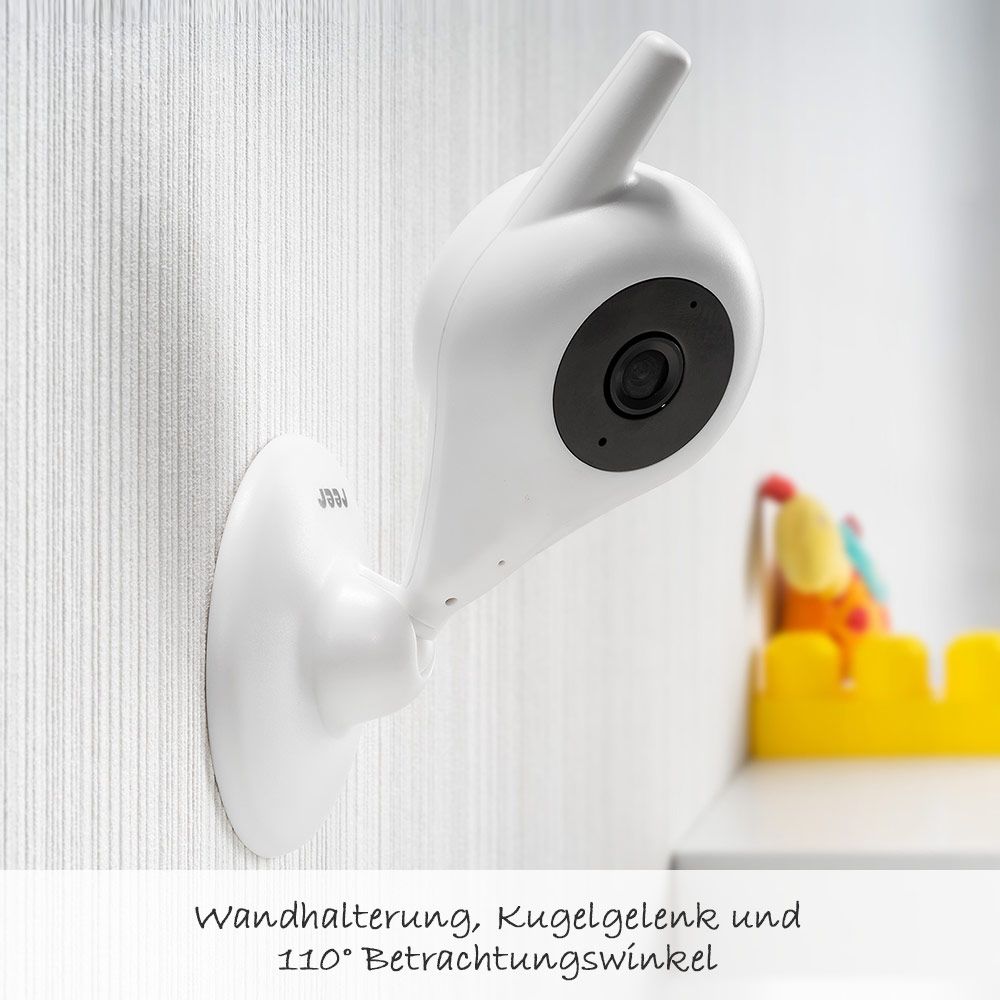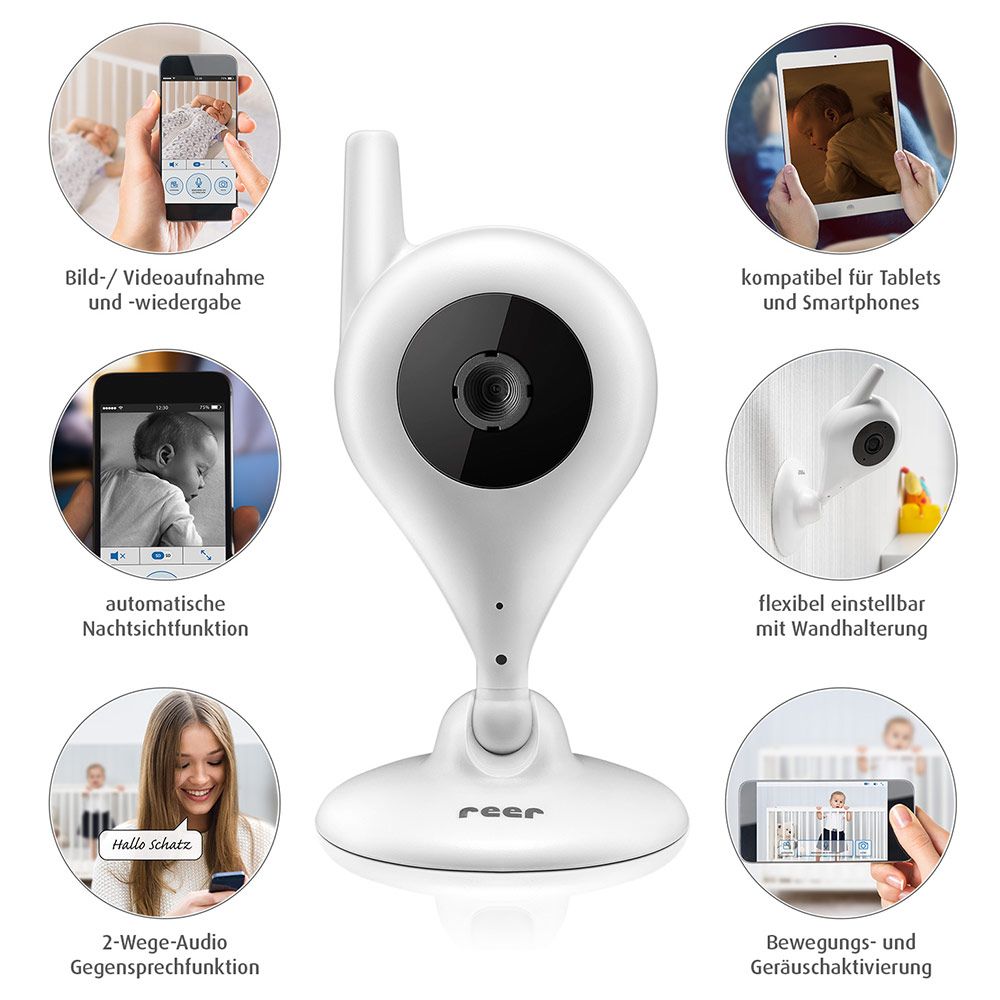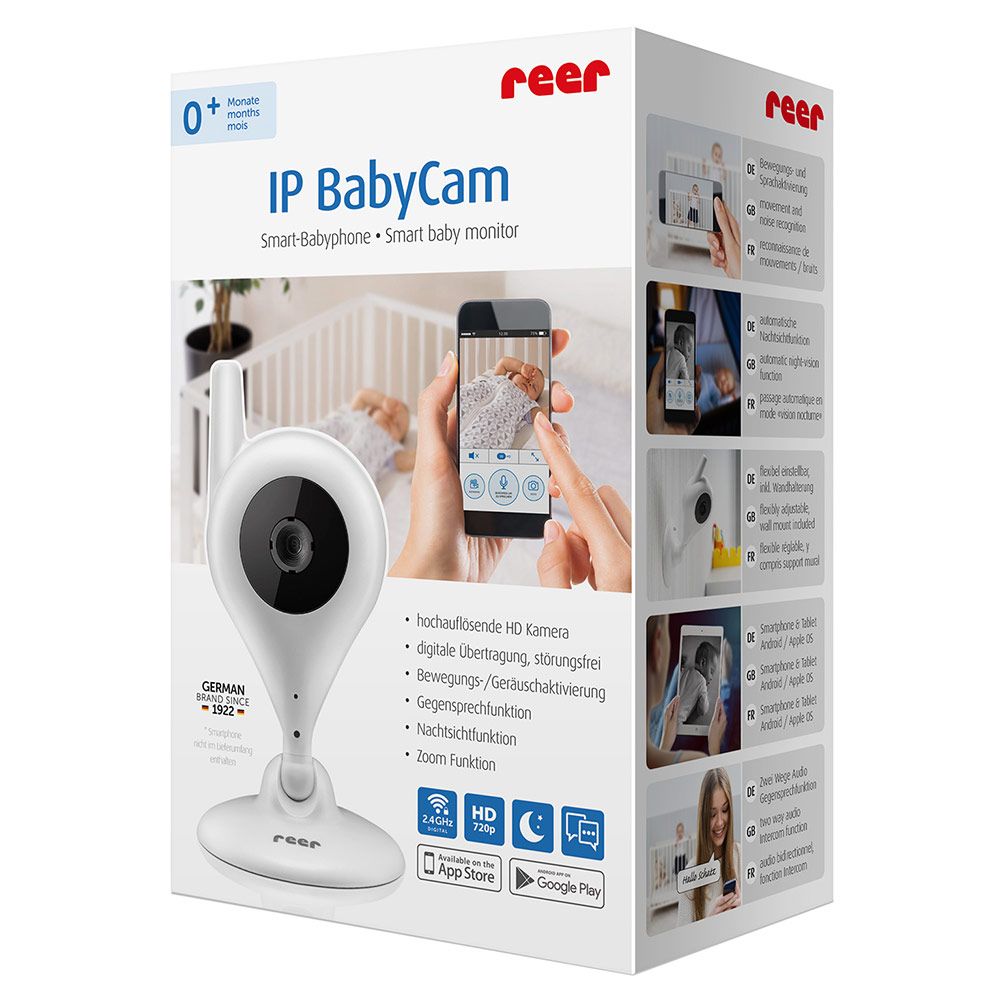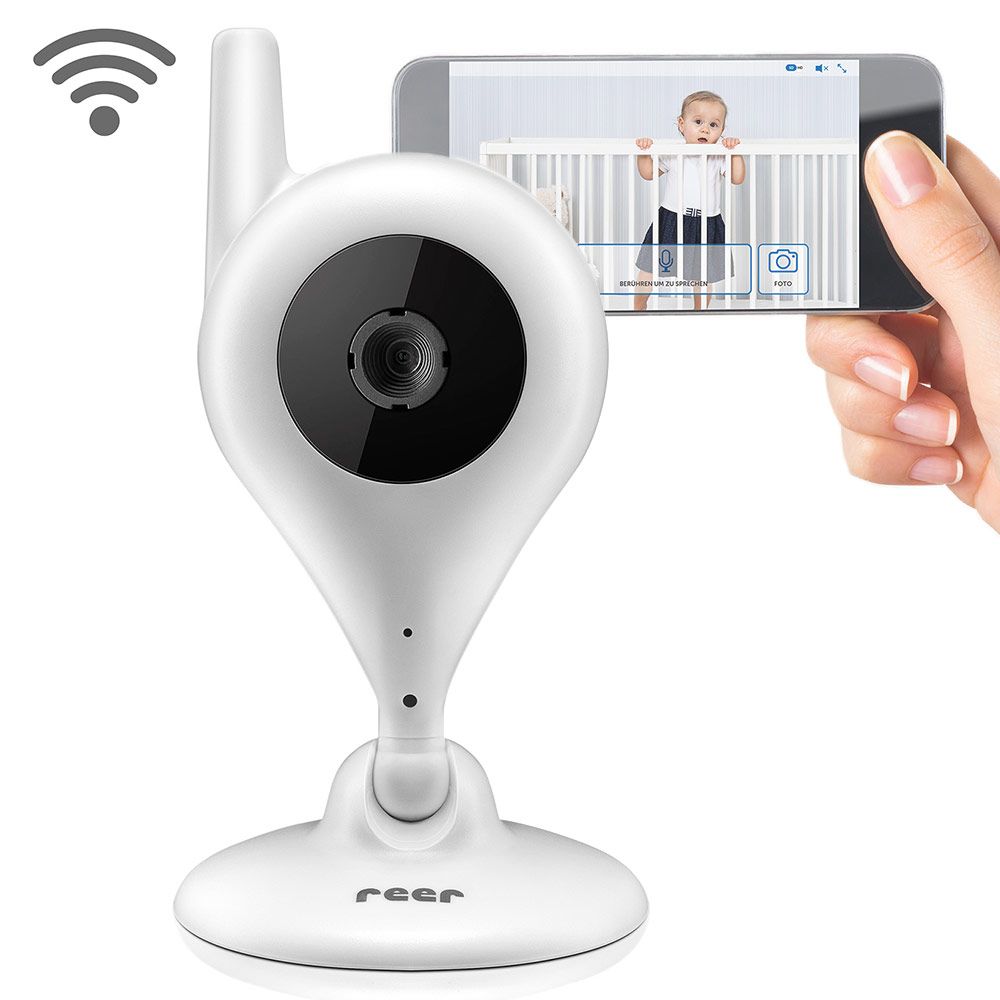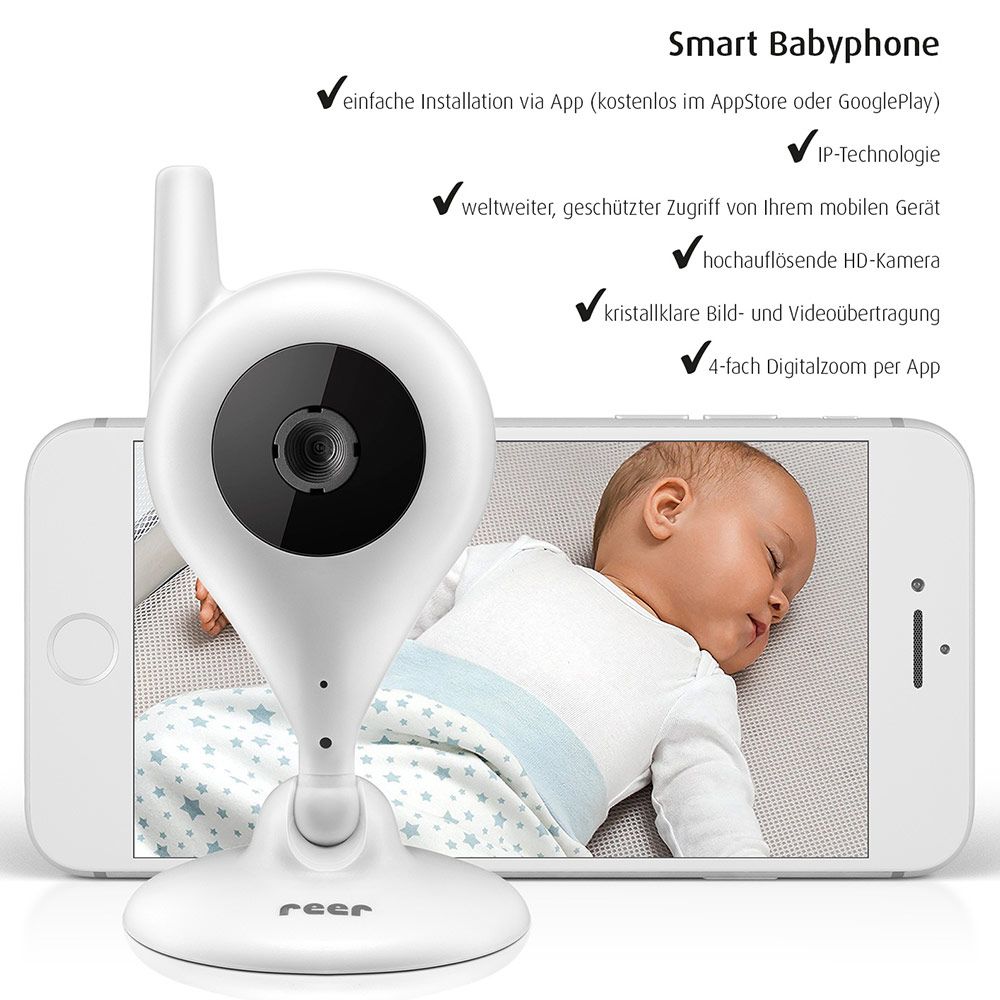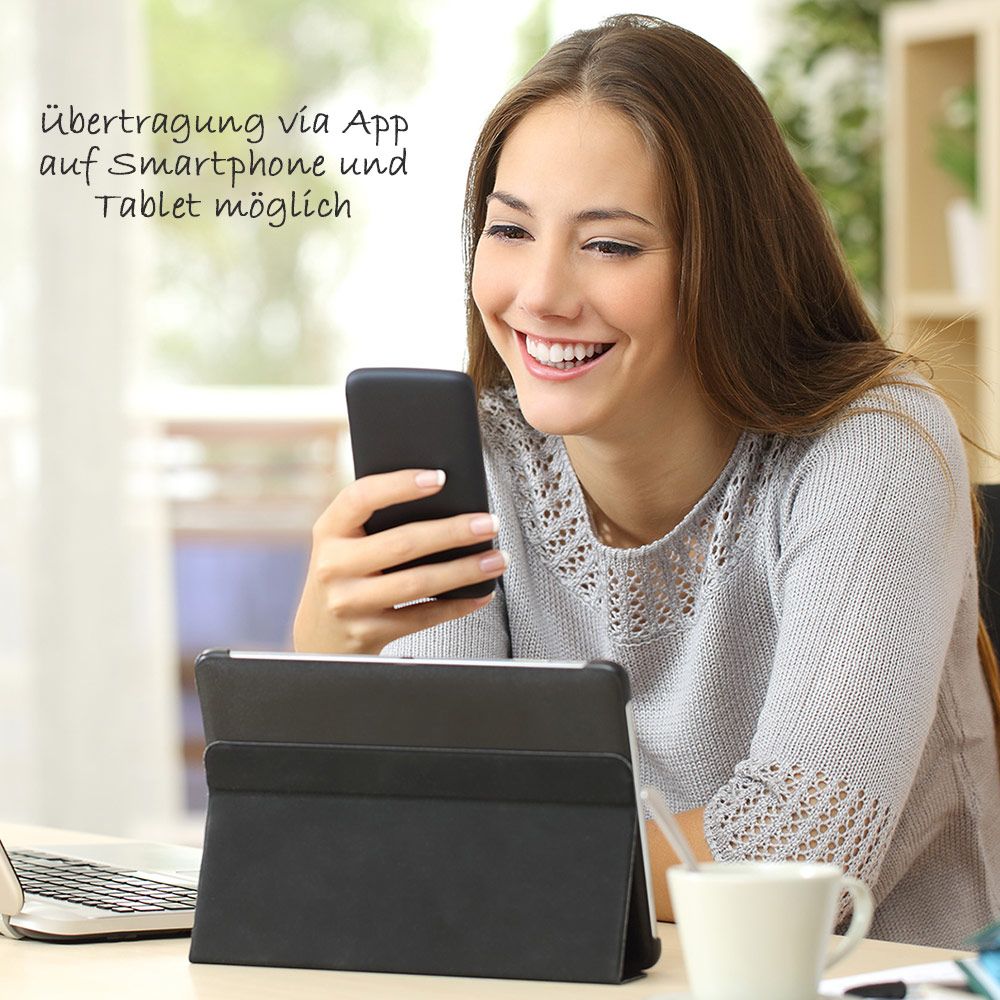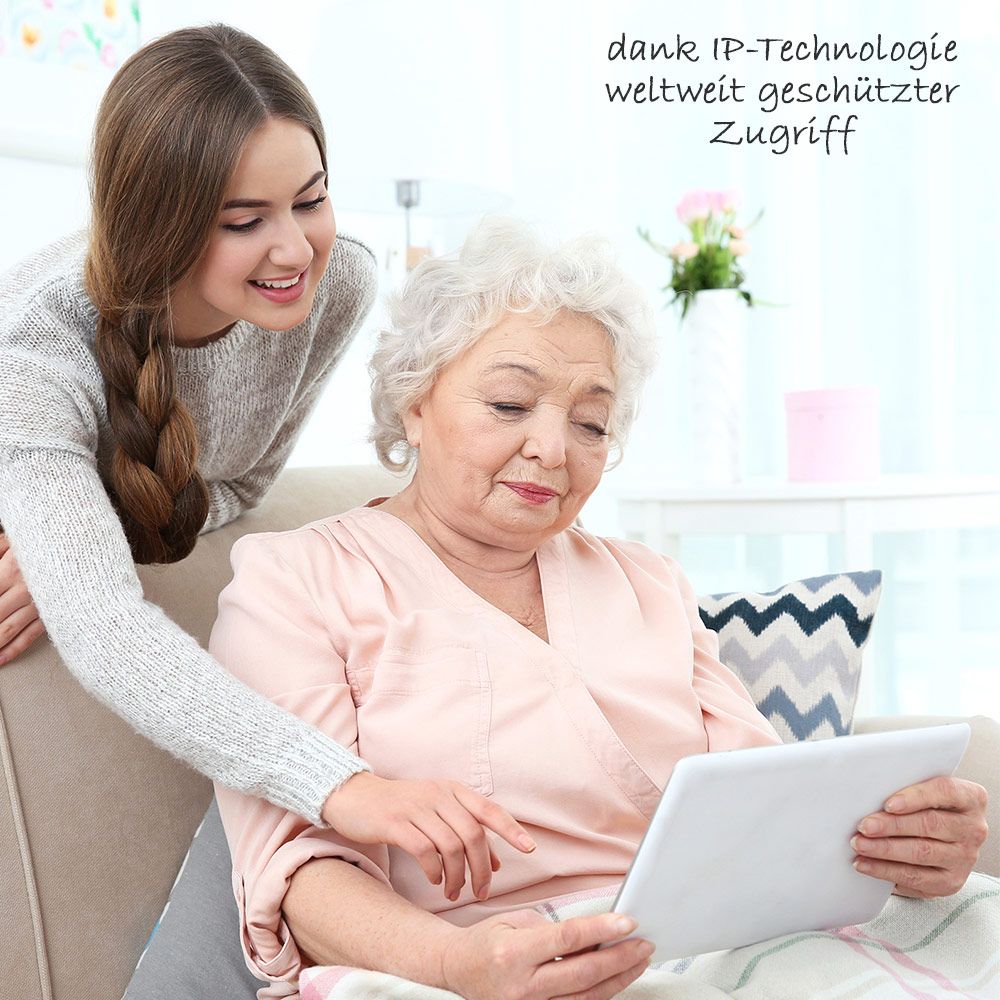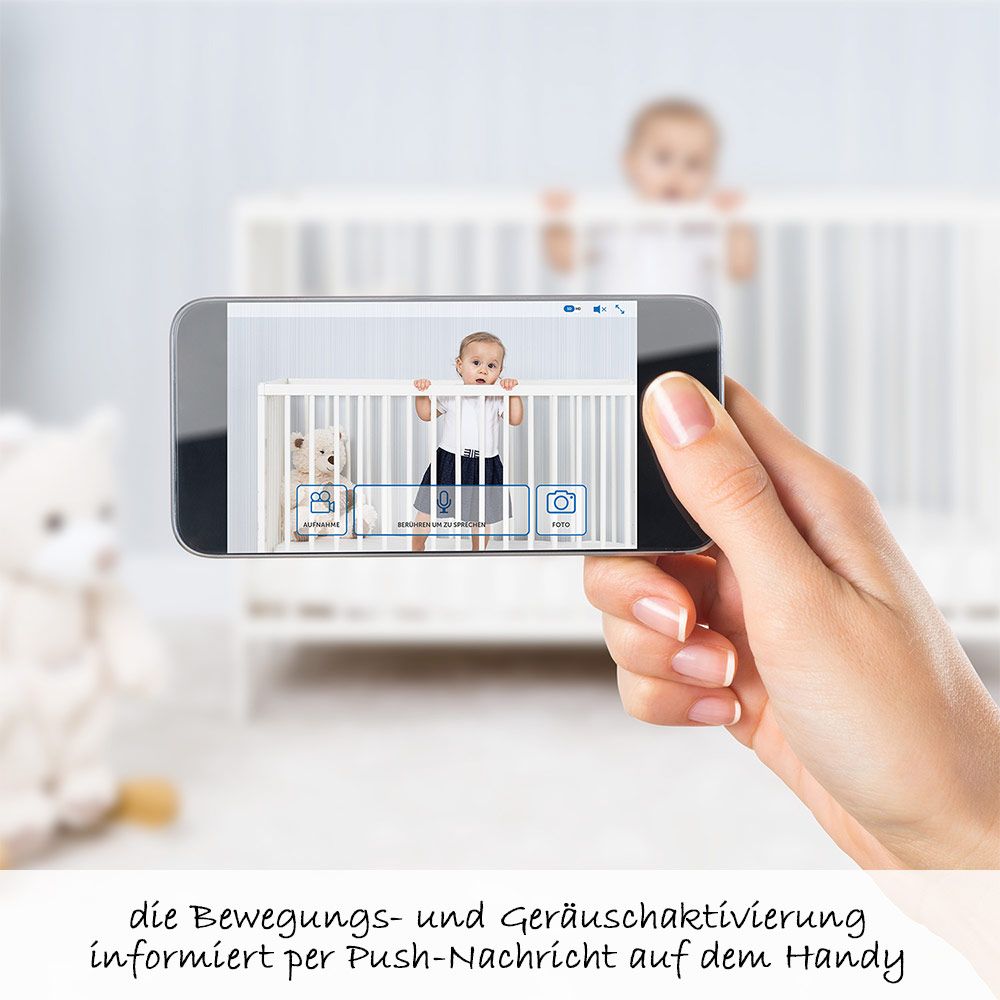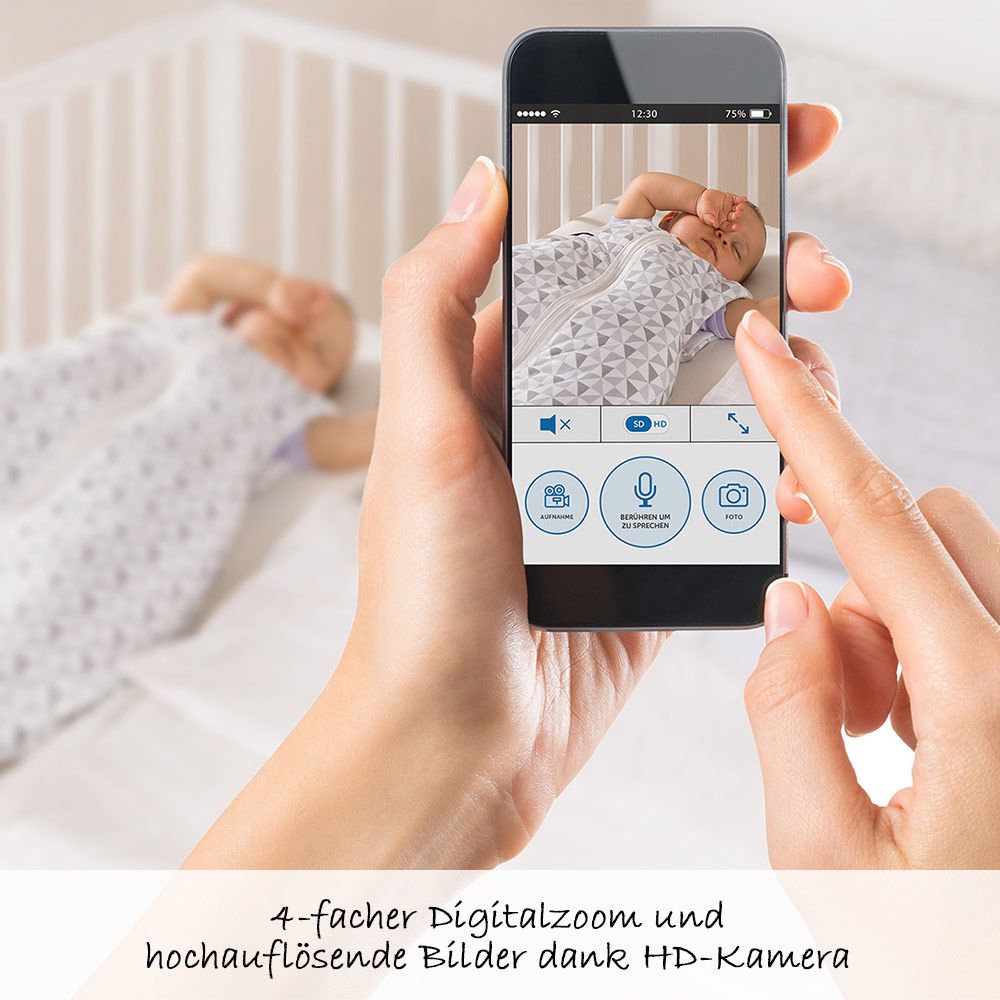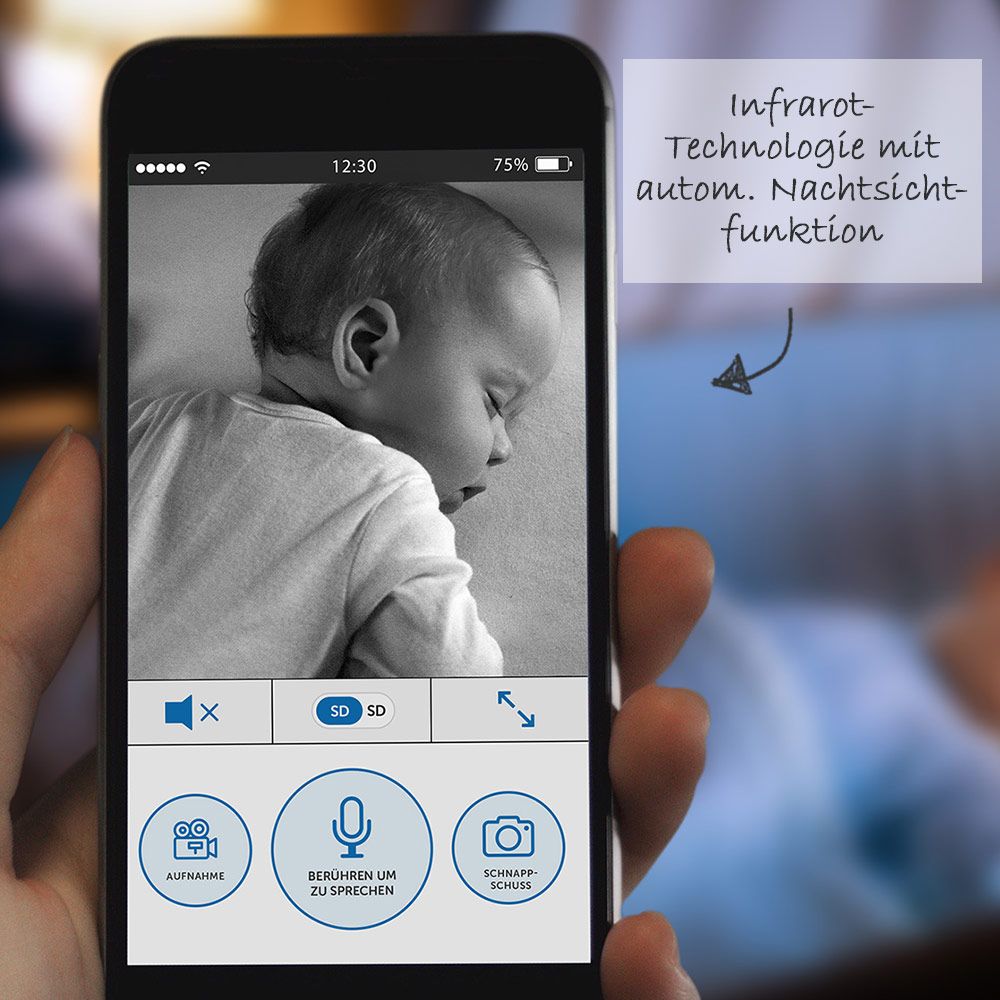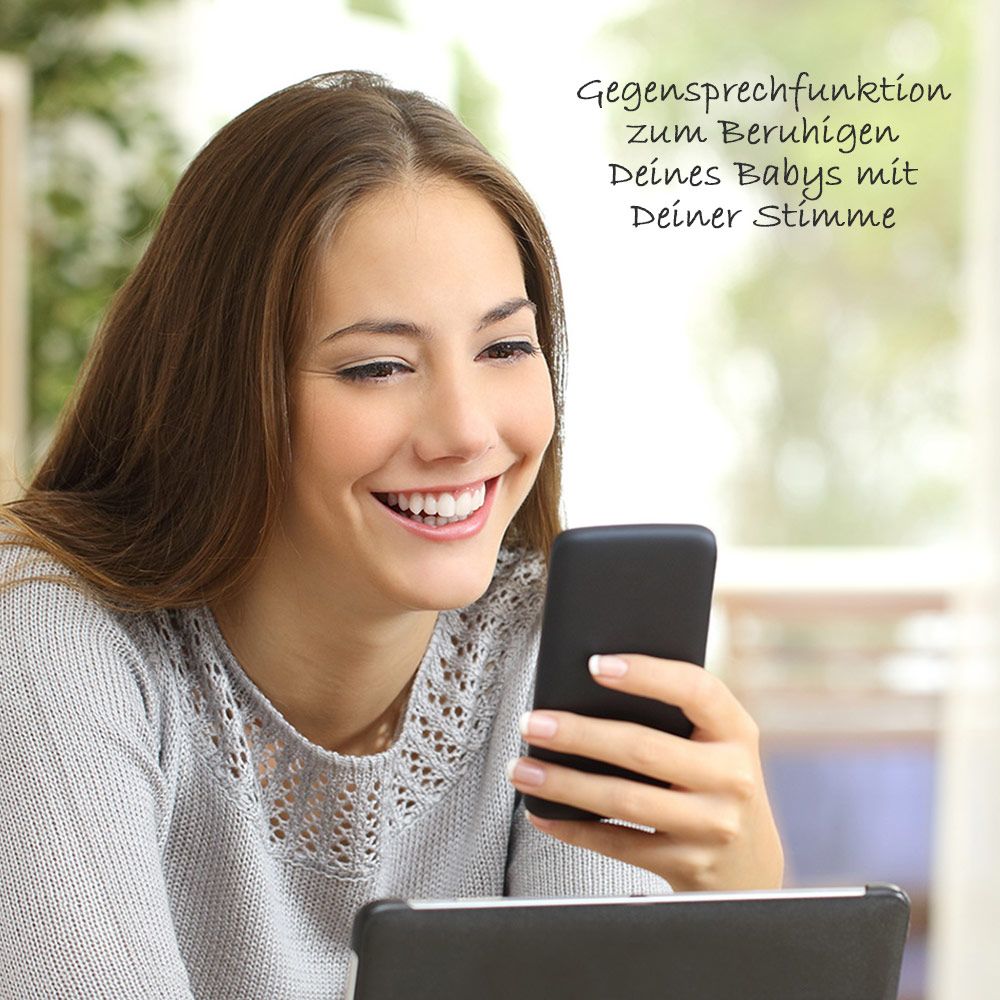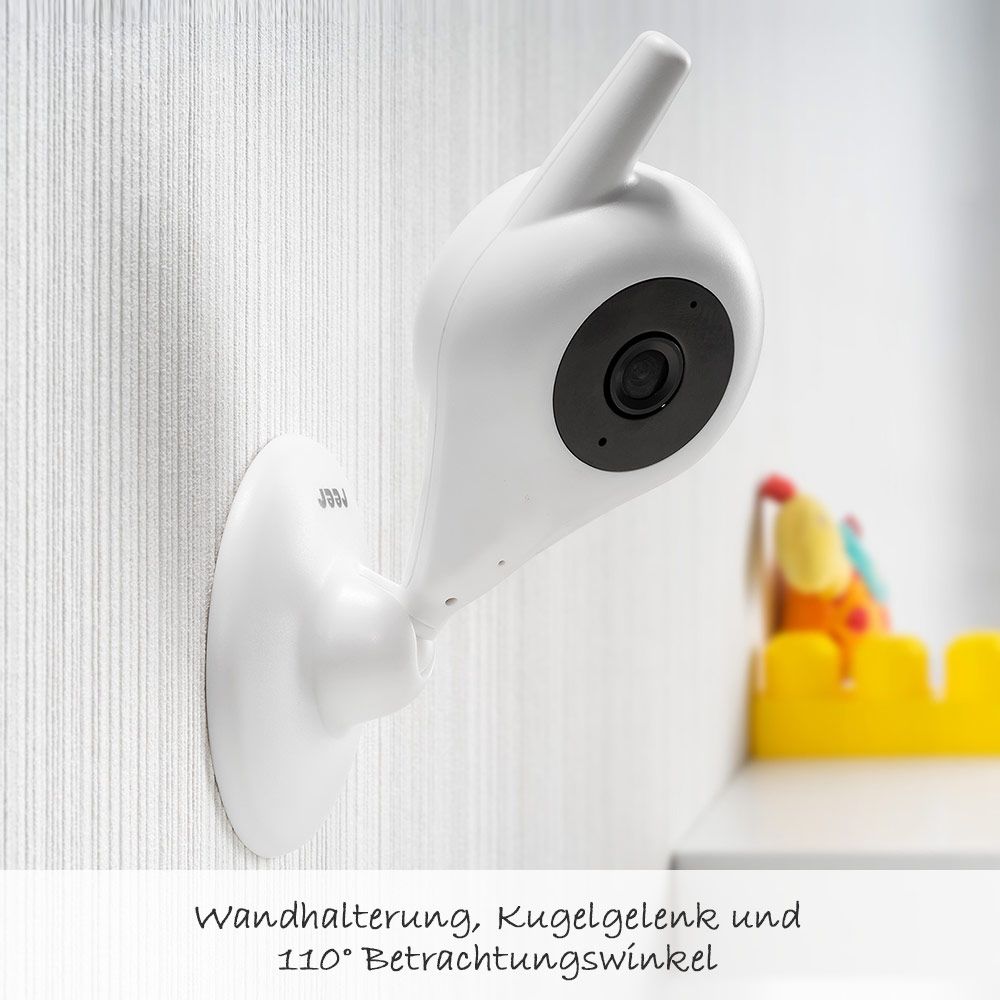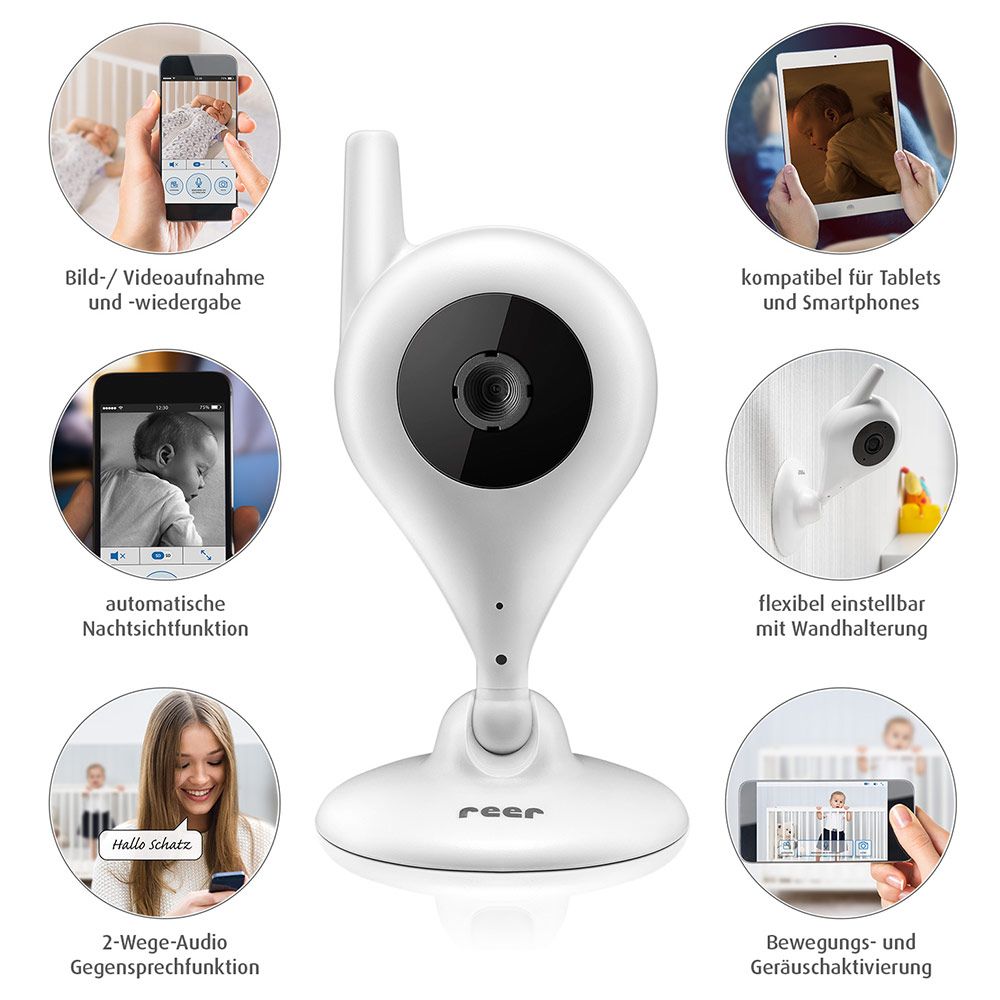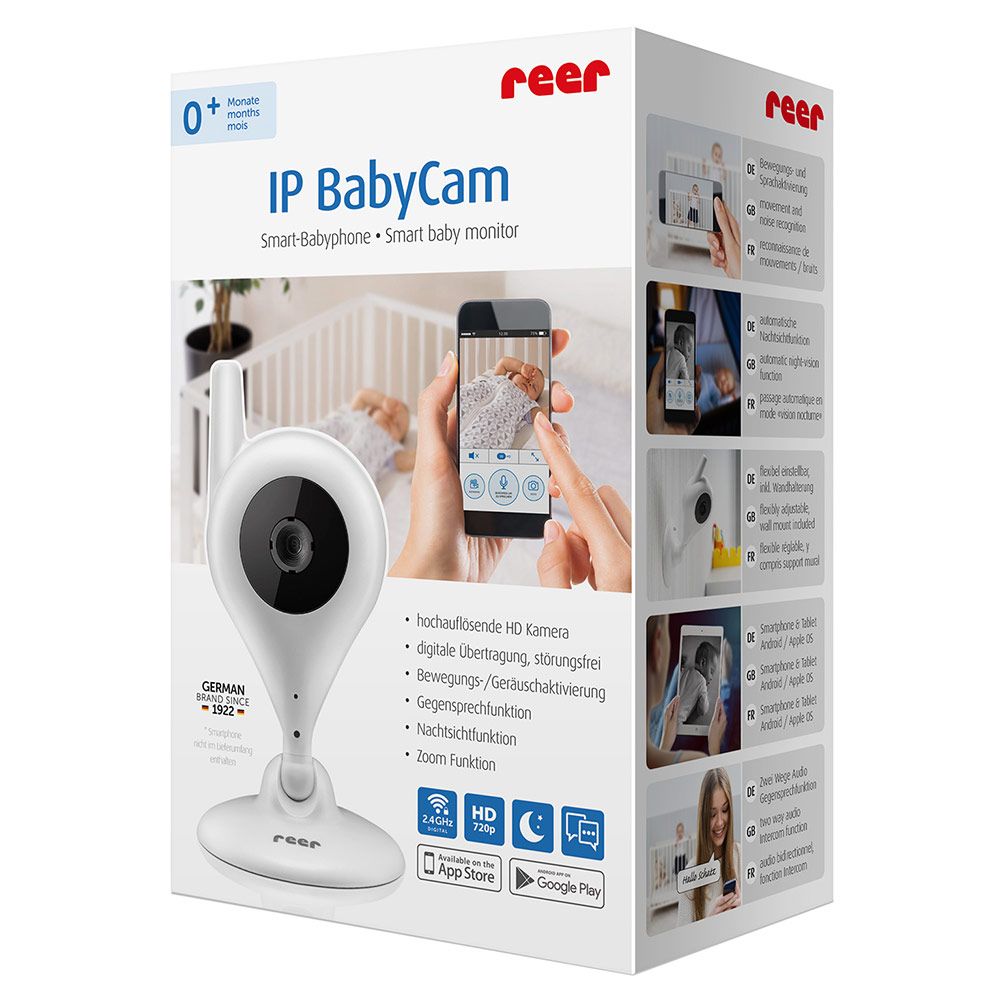 Free Shipping
Fast delivery
Purchase on account
Free returns
Description
The most important things at a glance:
Transmission
to smartphone and tabletunlimited
rangeadjustable
noise and motion activationautomatic
infrared night vision function2-way
intercom function
---
With the Video-Babyphone IP-Cam from Reer you have your baby always and everywhere in view. Image and sound are transmitted via app to your smartphone and tablet. Thanks to digital IP technology and self-selected password, you have worldwide protected access to the baby cam. You can also connect multiple devices to the baby monitor. Simply download the required app for free from the Apple Store (for iOS) or GooglePlay (for Android). The range is unlimited as long as you have reception with your smartphone.
Thanks to intelligent noise and motion detection, the camera does not transmit continuously, but switches to stand-by mode when it senses no activity. This reduces radiation and power consumption. When the app is open in the background, you will receive a push notification as soon as sounds or movements are detected by the camera. How sensitive the baby monitor should react can be set individually. The IP cam also has a two-way audio speech function with which you can gently soothe your baby using your own voice.
The HD camera transmits high-resolution images that you can digitally zoom in on 4 times via the app. So you really won't miss anything that happens in the nursery. You can take snapshots and video recordings of particularly nice moments directly in the app and share them afterwards. Thanks to infrared technology, the baby monitor automatically switches to the night vision function in the dark.
The video baby monitor is equipped with a stand and a wall mount. So it can be set up or attached to the wall or ceiling. A flexible ball joint with pan and tilt function allows a 110° viewing angle.
---
Scope of delivery
1
IP BabyCam1
USB power adapter
1
USB charging cable1
Wall mount adapter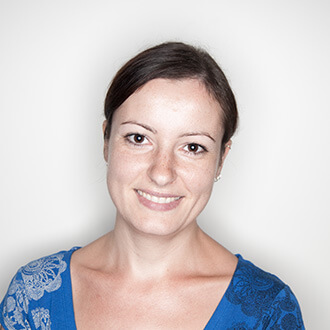 Product Codes
| | |
| --- | --- |
| Our product code: | 201900001797 |
| Reer product code: | 80300 |
| EAN/GTIN: | 4013283803004 |
Technical details
| | |
| --- | --- |
| Product Group: | 3 |
| Brand: | Reer |
| Shipping Date: | 01.06.2023 |
| Color: | White |
Ratings & Reviews
Naboly
Mar. 21, 2022 22:00
Super gute Kamera, leichte Installation und Bedienung! Schönes Bild auch im Dunkeln Nur zu empfehlen
Zouzounakia
Mar. 01, 2022 07:47
Man kann überall mitnehmen ist nur mit WLAN verbunden. Für den Urlaub ist super geeignet man kann wirklich einfach Bedienung.
Lemohr
Jan. 02, 2022 12:01
Leider hatten wir keine Möglichkeit die Babycam direkt zu testen, da sie immer unser WLAN ausgenockt hat. Die online zu findenden Lösungen haben bei usn nicht gefürchtet und die Cam müsste zurück geschickt werden.
Basti86
Dec. 09, 2020 09:45
Dieser Artikel hält was er verpsricht. Einfache Installation, perfekt im Heimnetzwerk integriert und damit auf allen Geräten perfekte Sicht auf das Kind.
elsfromcro
Jul. 06, 2020 10:00
Camera is great quality, you can also make videos, pictures and talk through it. Connection is really good, used with wifi and mobile data, can be shared on multiple devices. I use it all the time and love this product! Would definitely recommend.
Mausi1993
Feb. 12, 2020 12:00
Ich war am Anfang Skeptisch ob die Kamera bei den in meinen Augen günstigen Preis auch eine gute Qualität hat. Aber ich muss sagen ich bin sehr begeistert sowohl von der Tagesansicht als auch von der Nachtfunktion.
Mommy4
Jan. 24, 2020 14:00
Das Bild ist top und der Ton auch. Super ist auch das man es an der Wand befestigen kann und man das Kind direkt sehen kann. Der einzige Nachteil ist das es bei Geräuschen nicht an geht oder ein Ton gibt und man so die ganze Zeit Tablet oder Handy anlassen muss.
MK1402
Aug. 14, 2019 02:30
Die Cam erfüllt ihren Job wie sie soll, lediglich 1 Punkt ist etwas nervig. Hat man den Alarm aus und schaltet in irgendwann mal ein, dann bekommt man unzählige Meldungen... Ansonsten wirklich gut.
Alessandra
Jul. 11, 2019 13:00
Es hat ein sehr gute Preis, sehr gute qualität des Produkt und einfache Bedienung. Kann mit jede Smatphone benutzt werden.