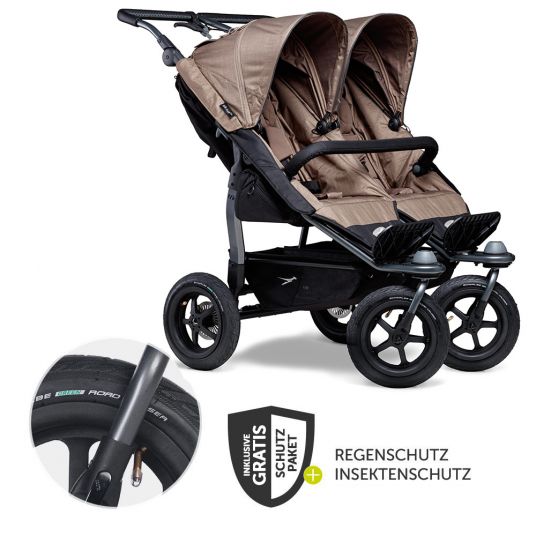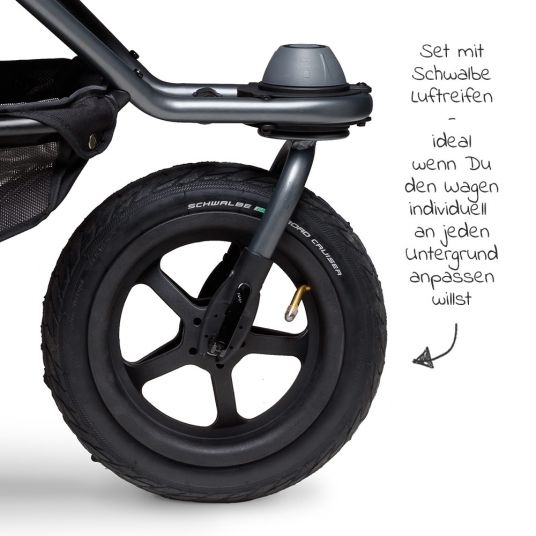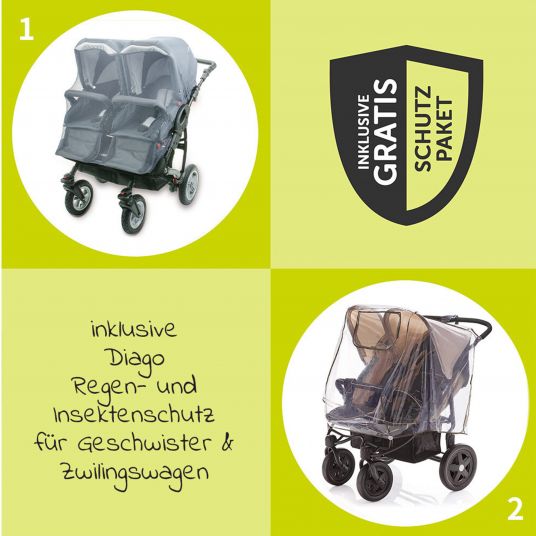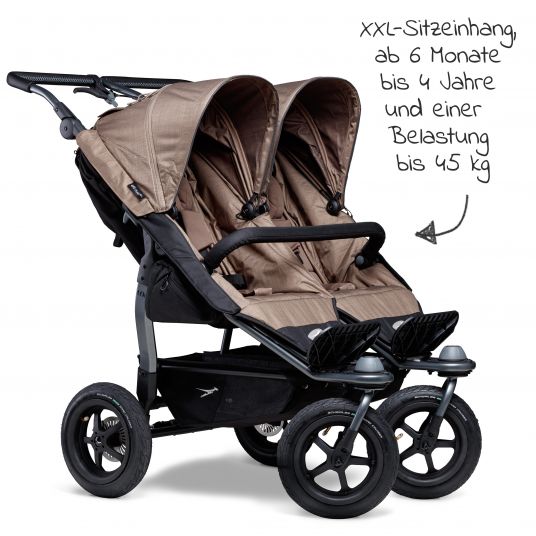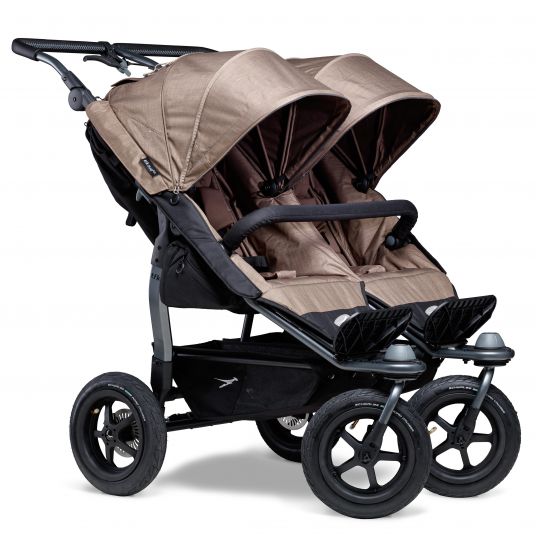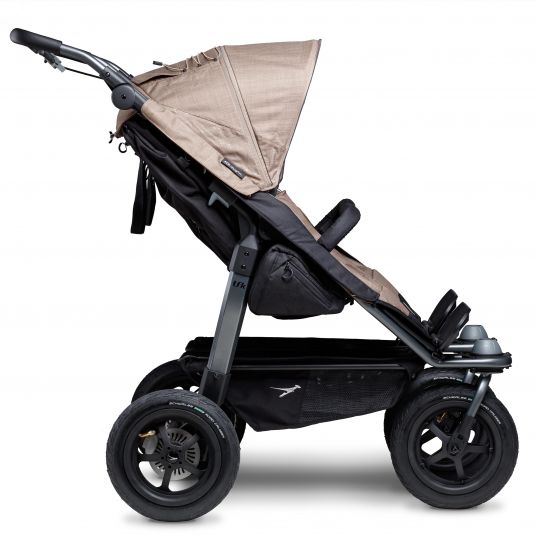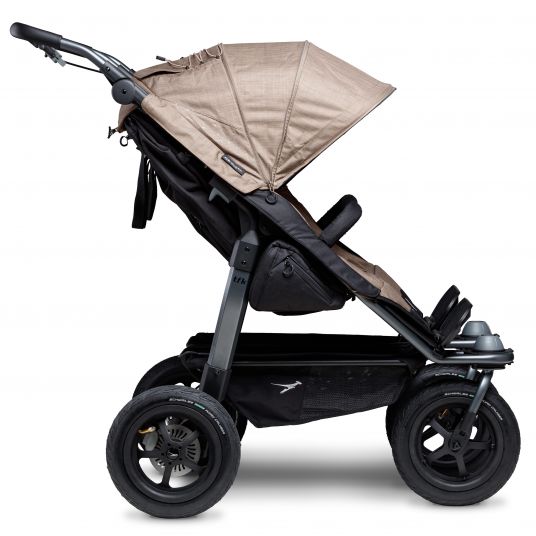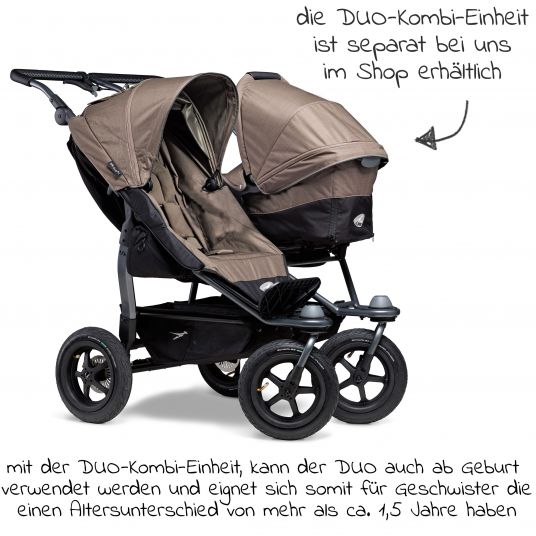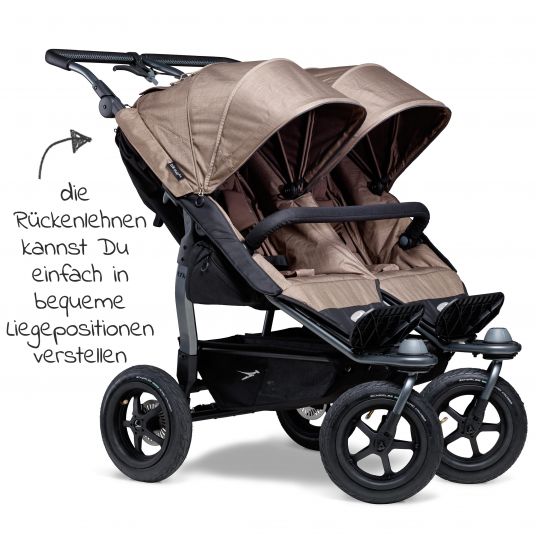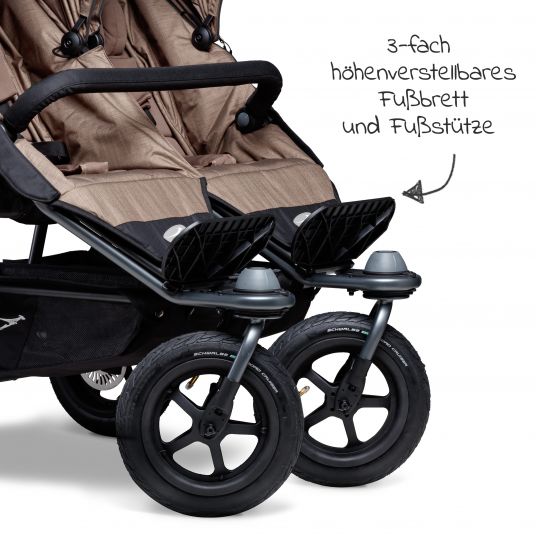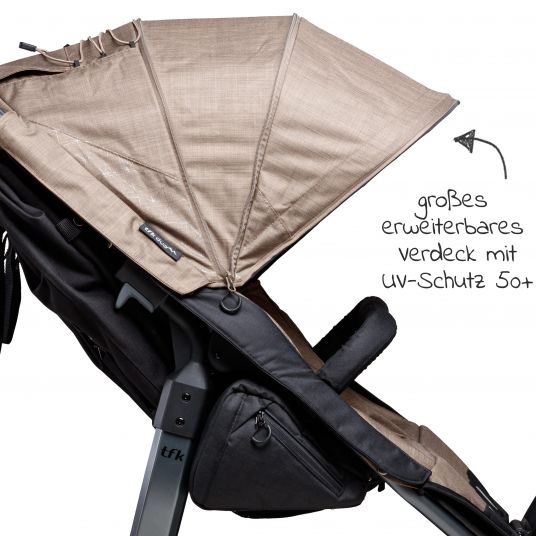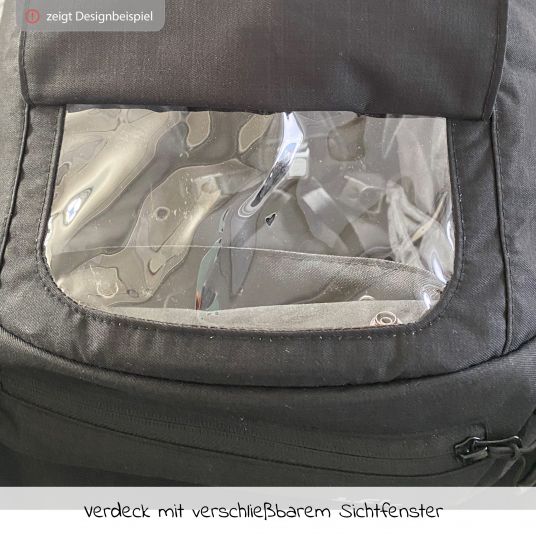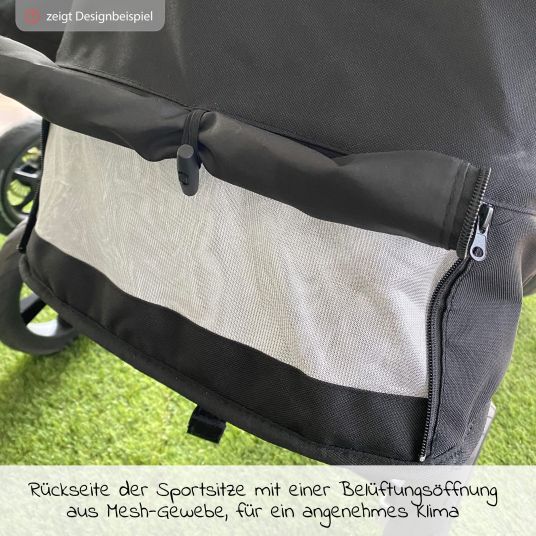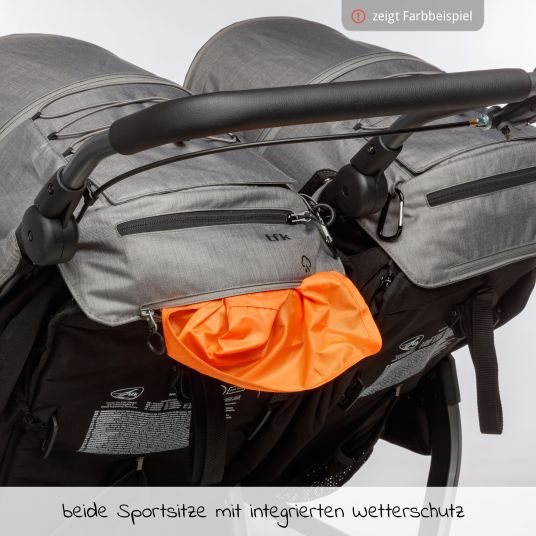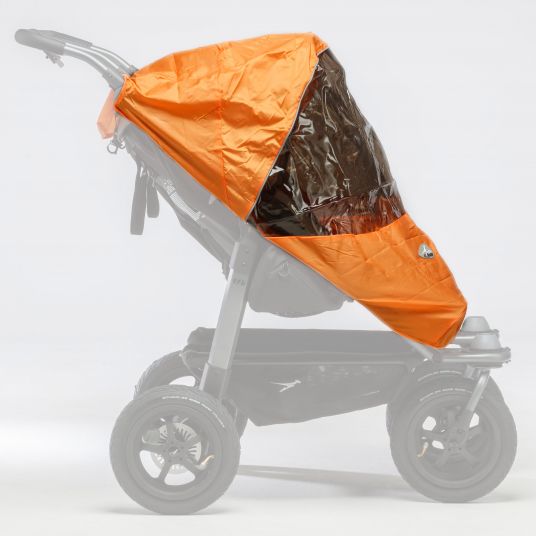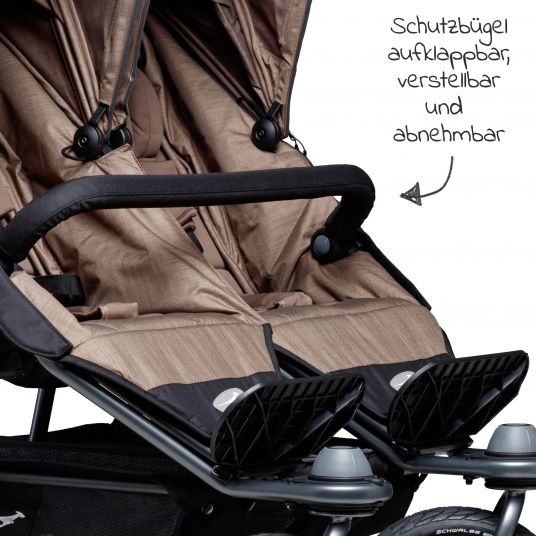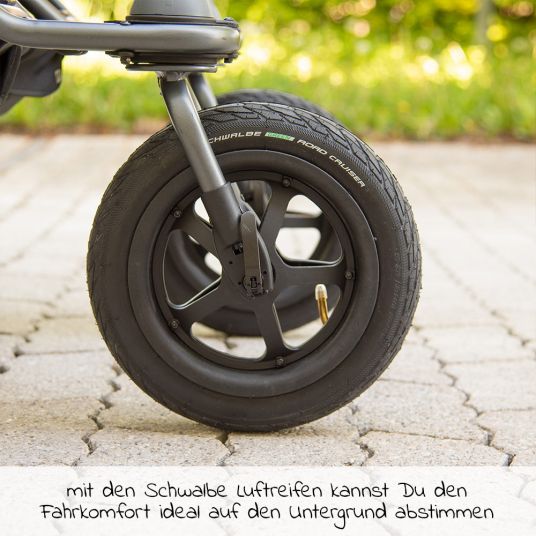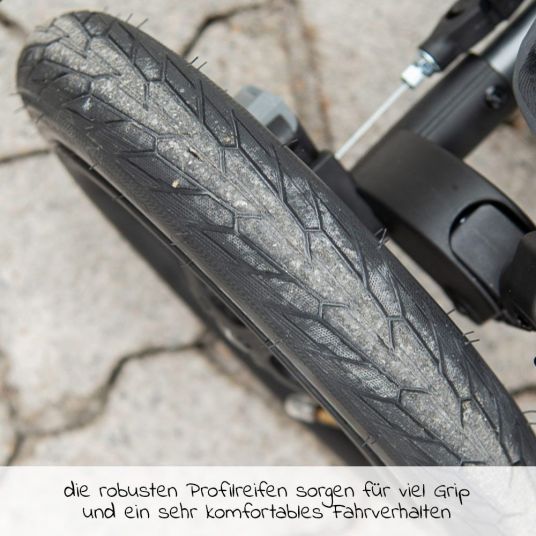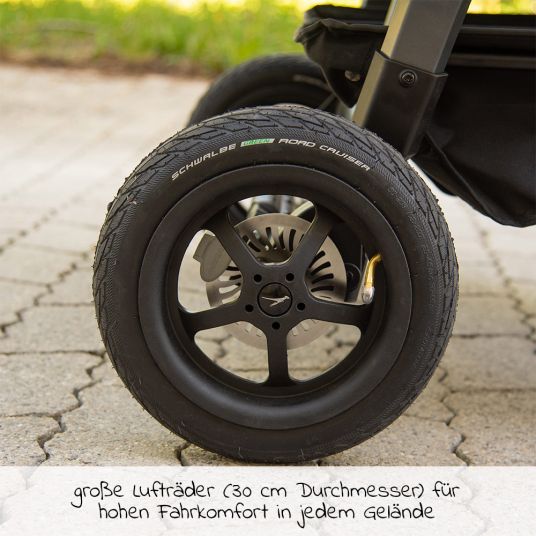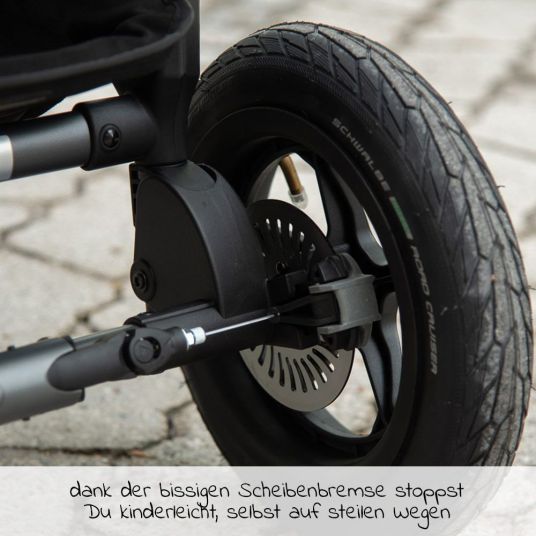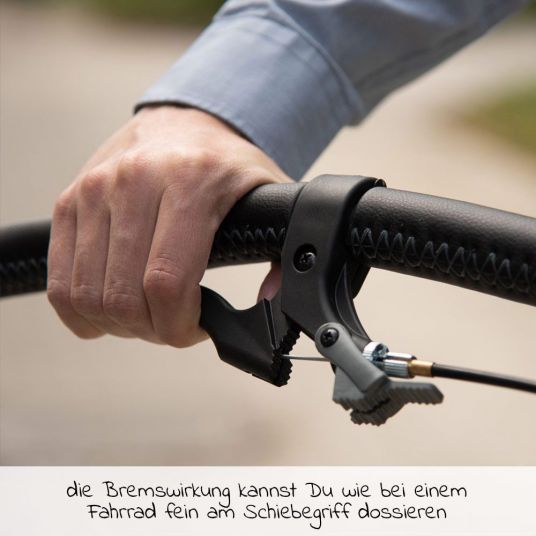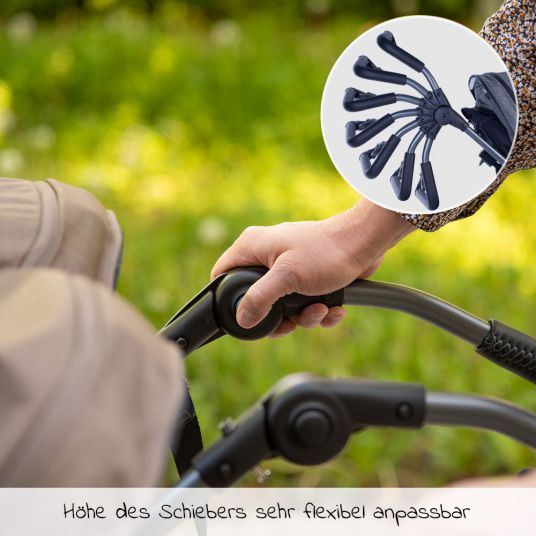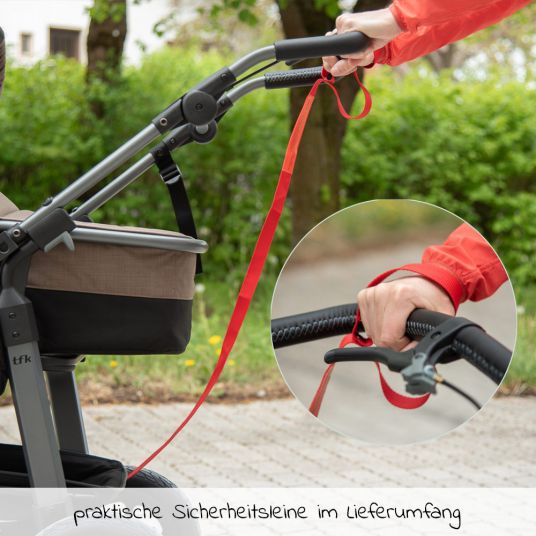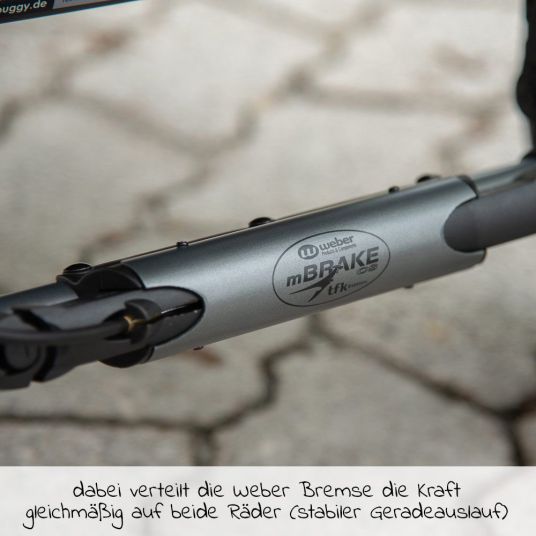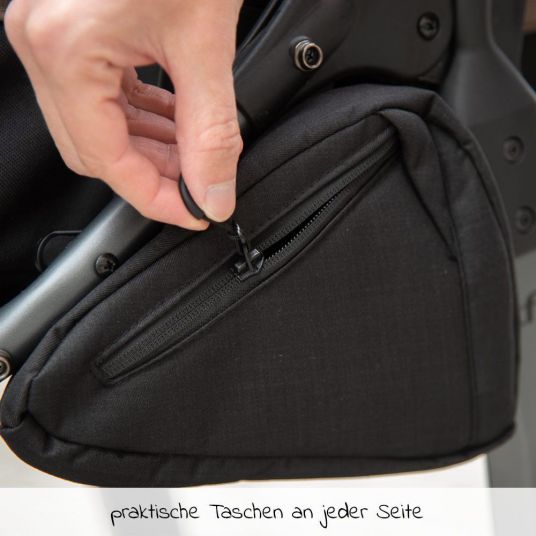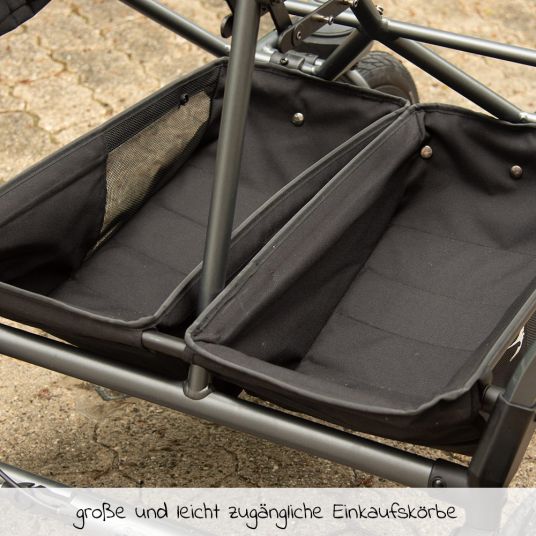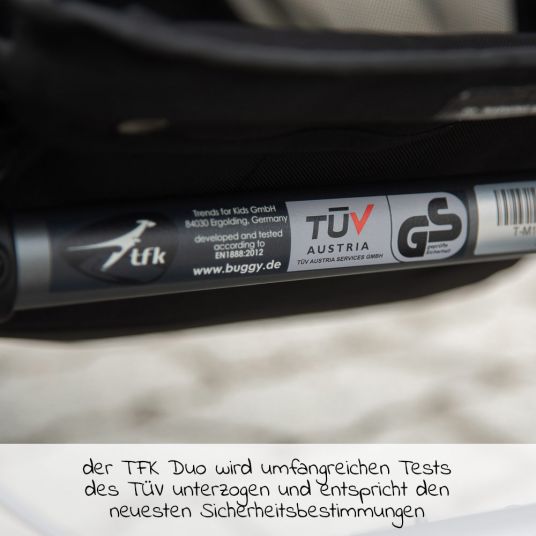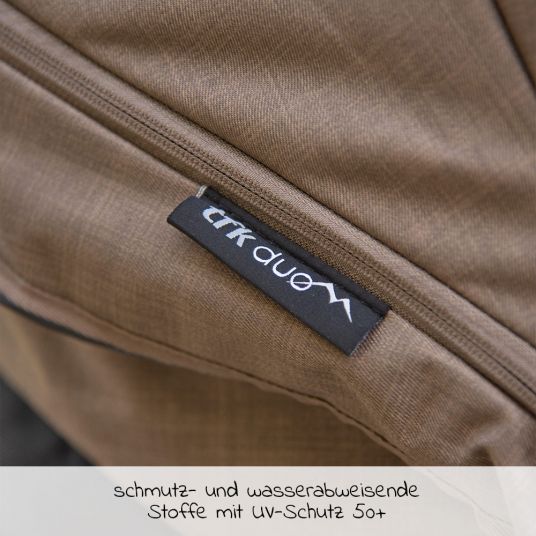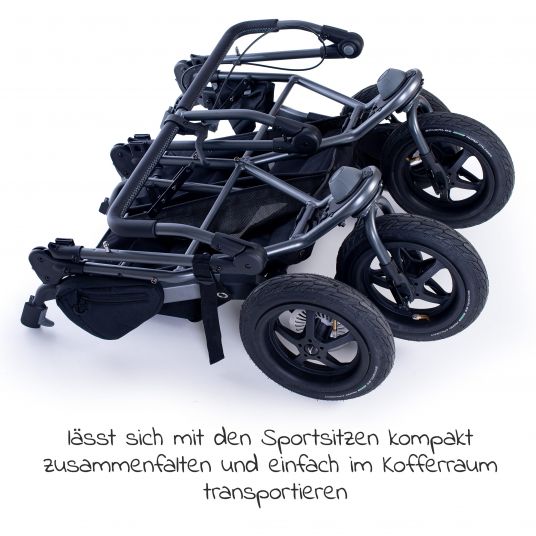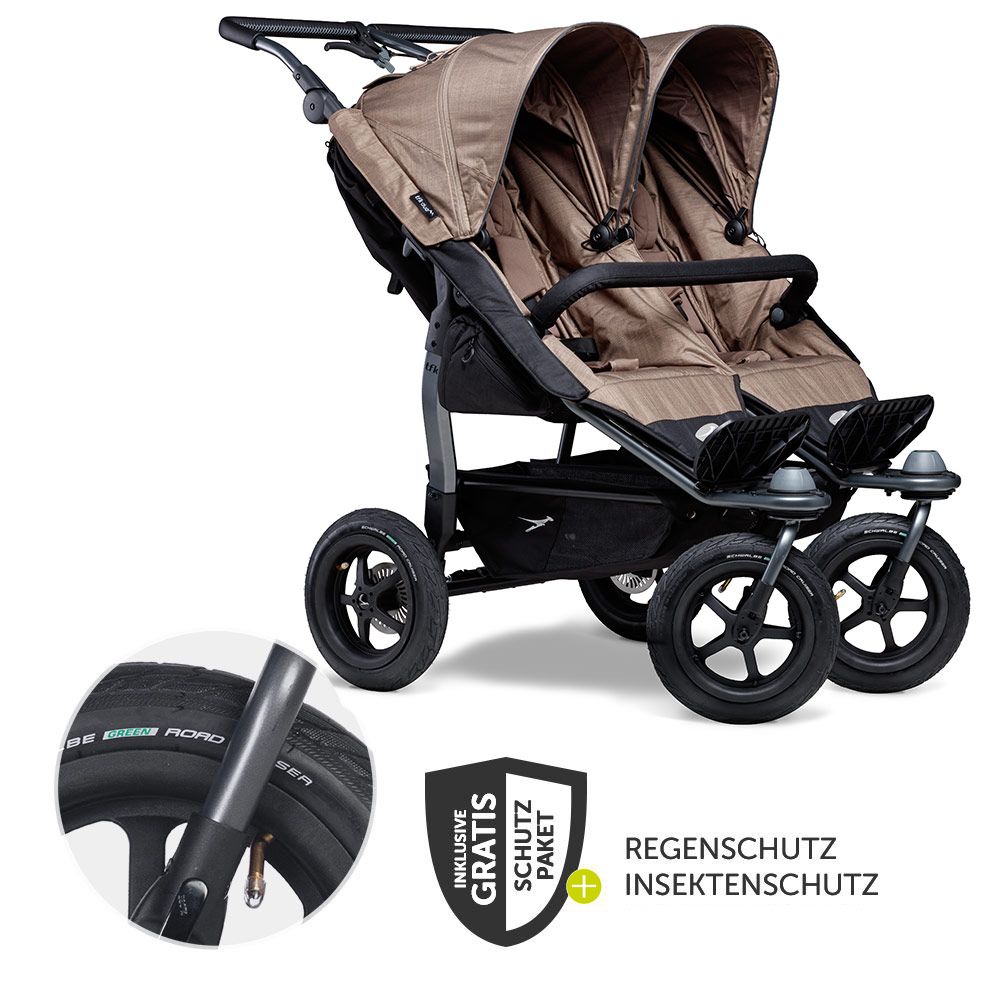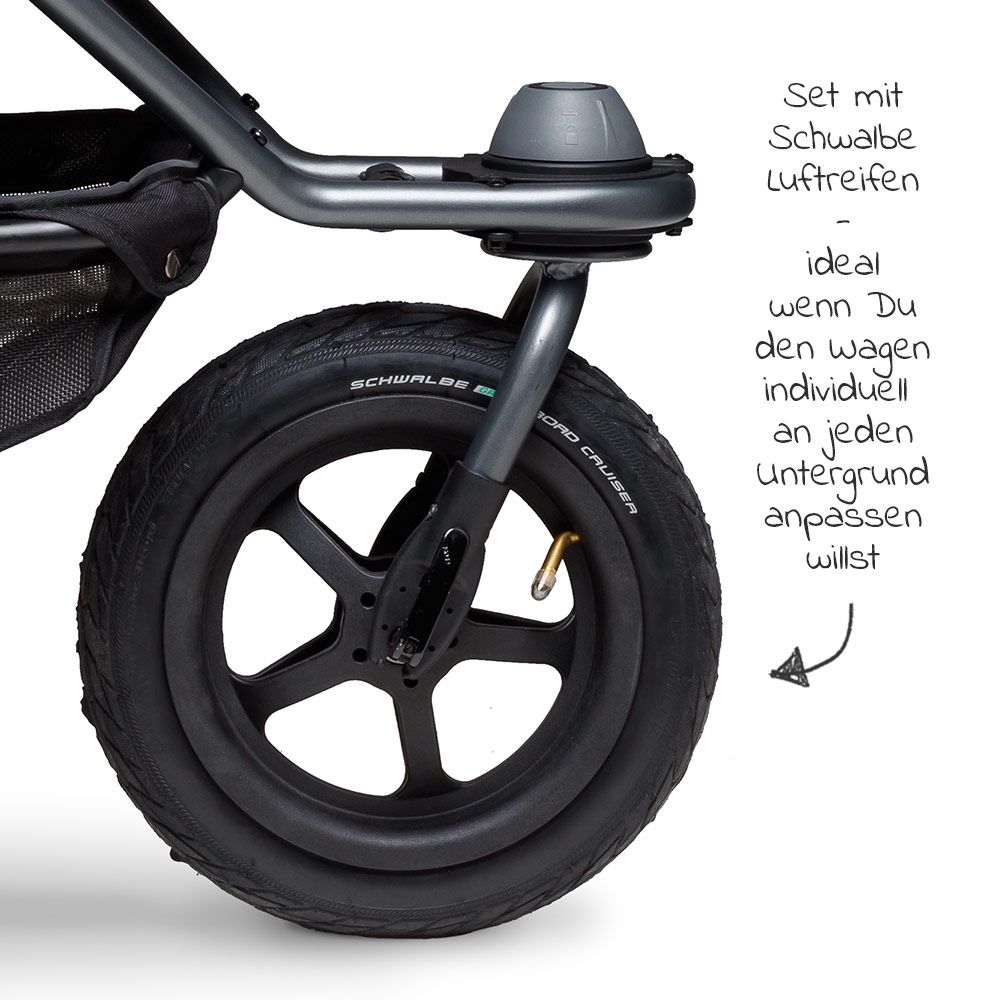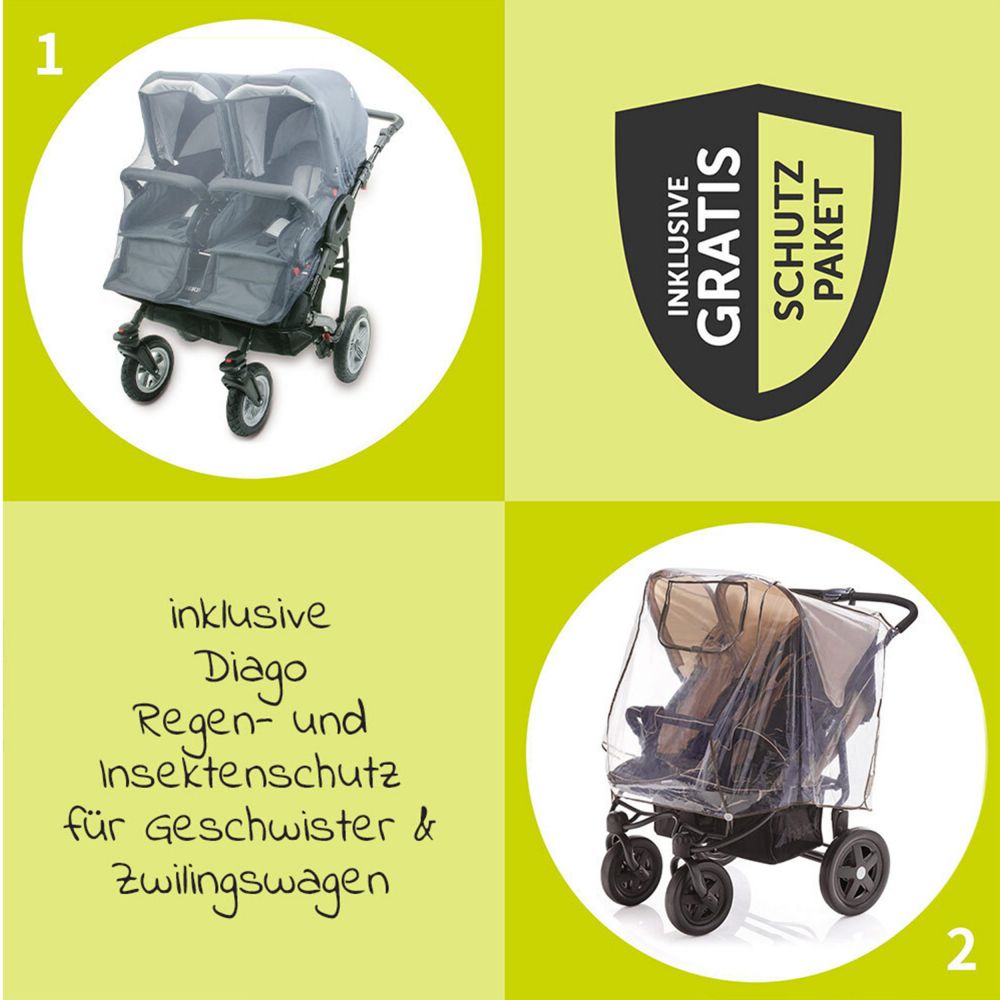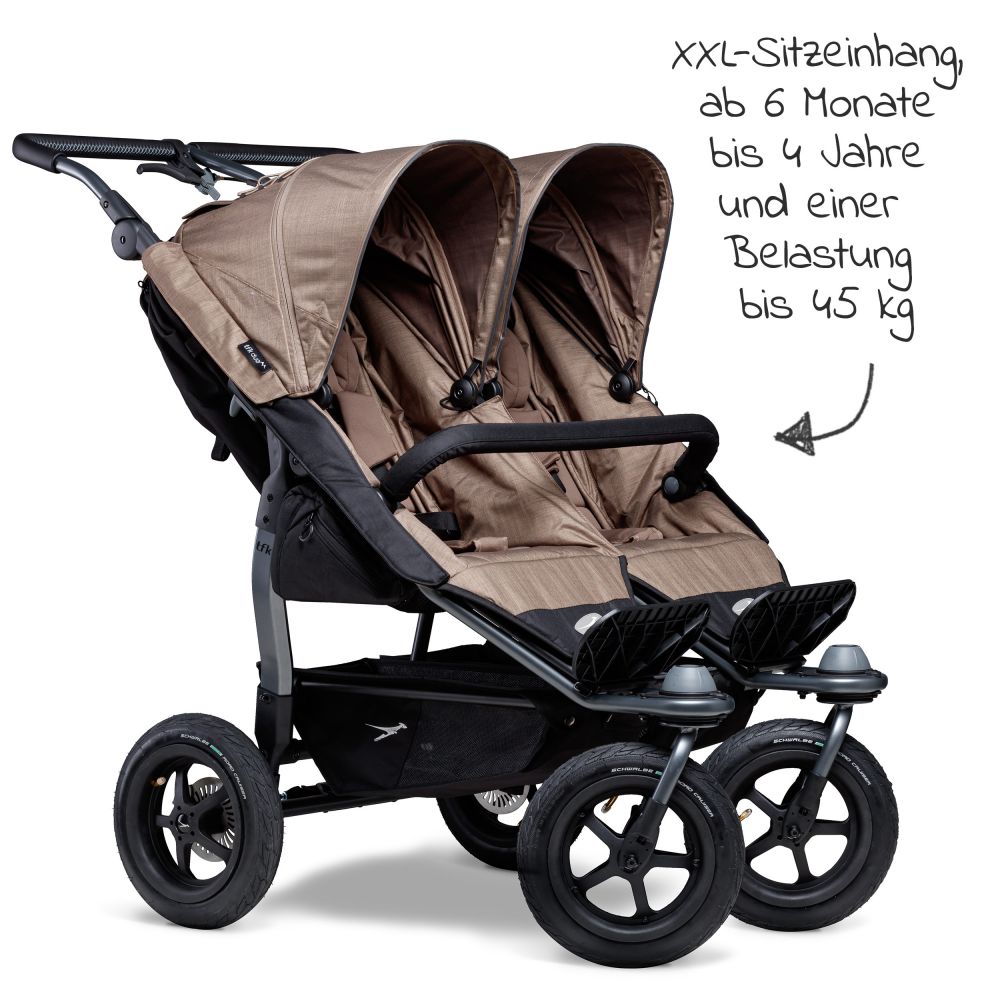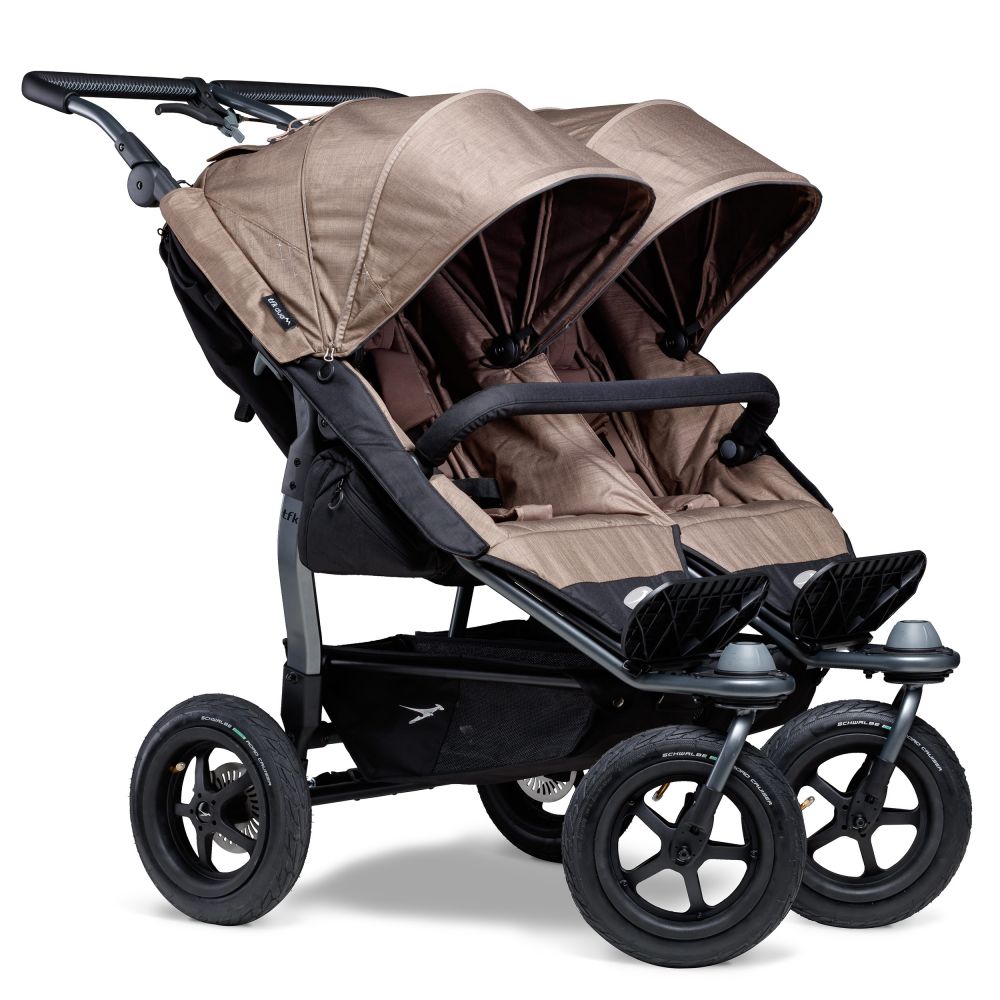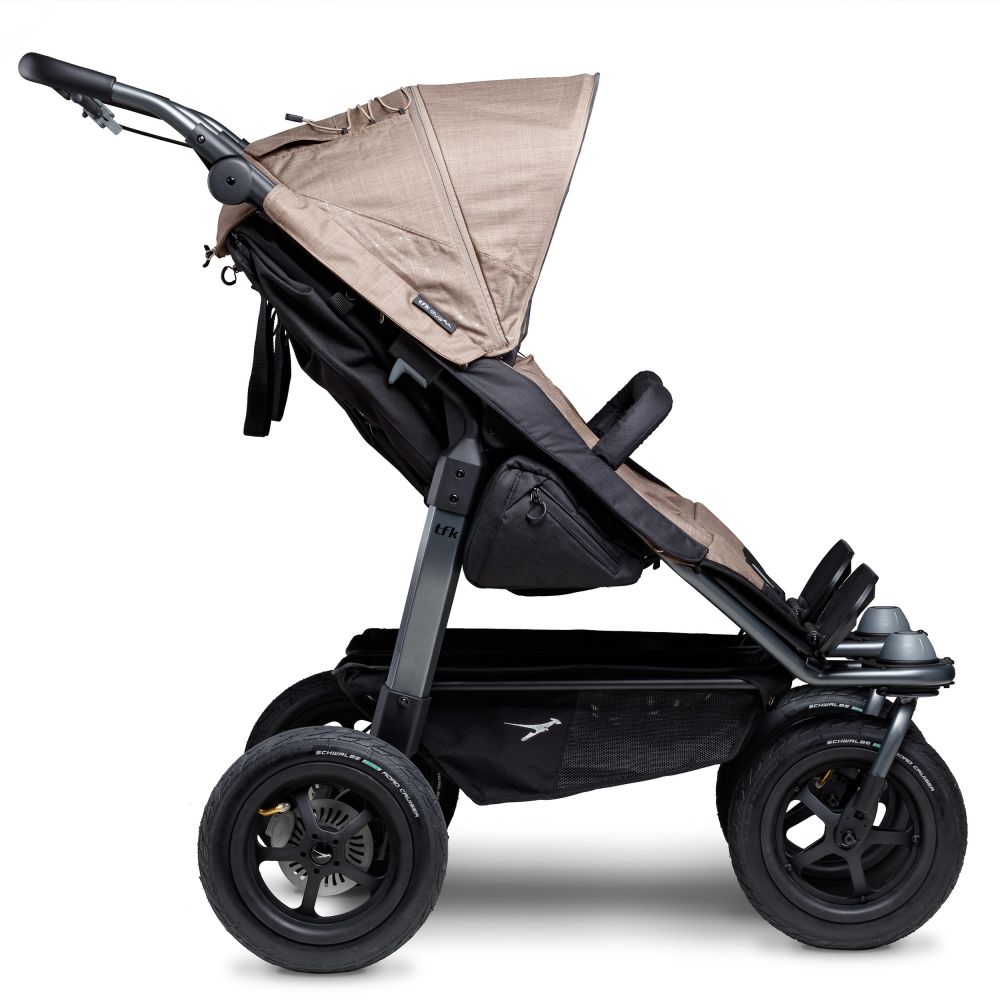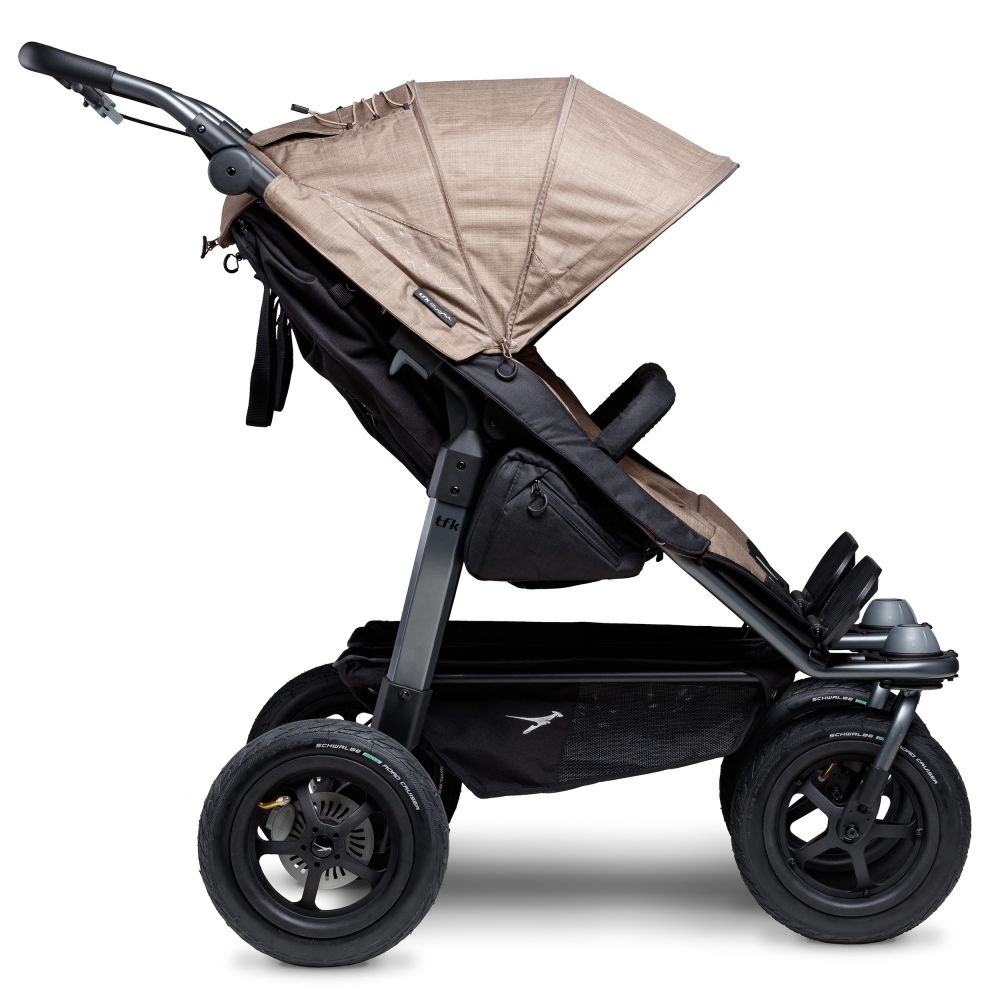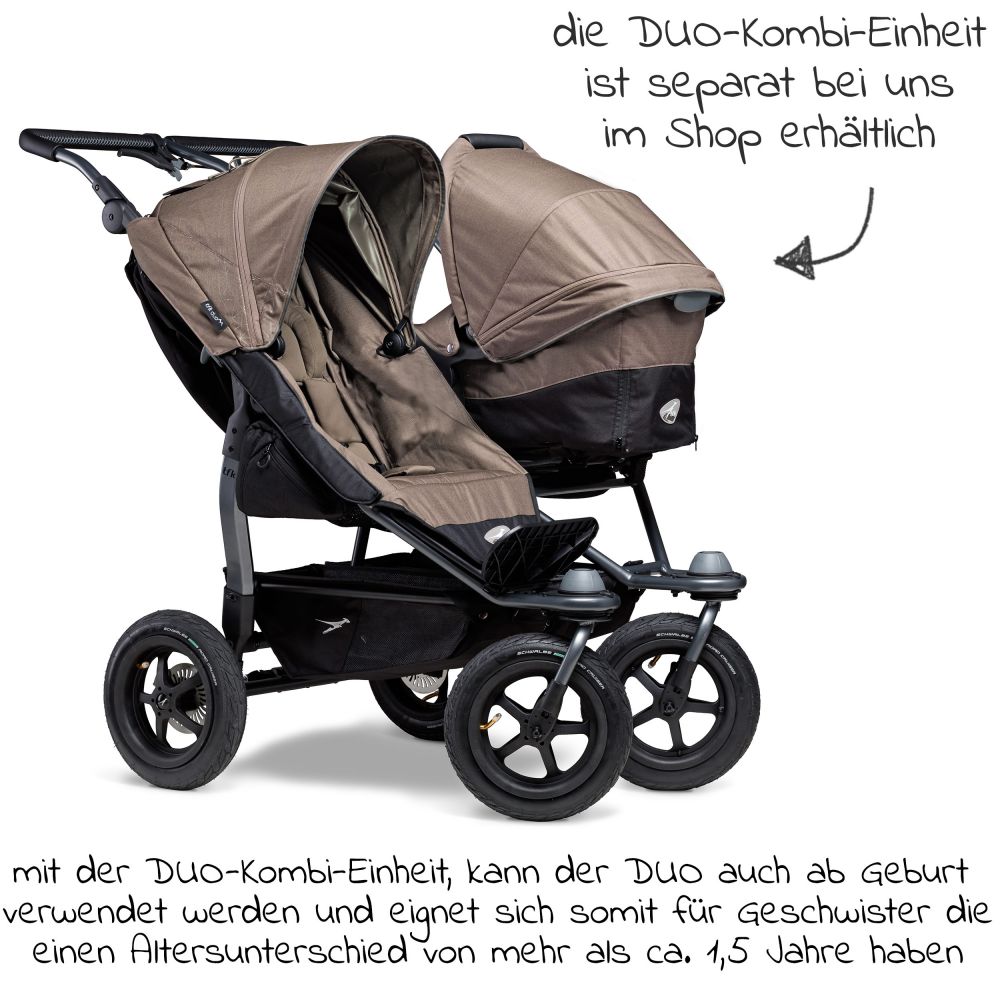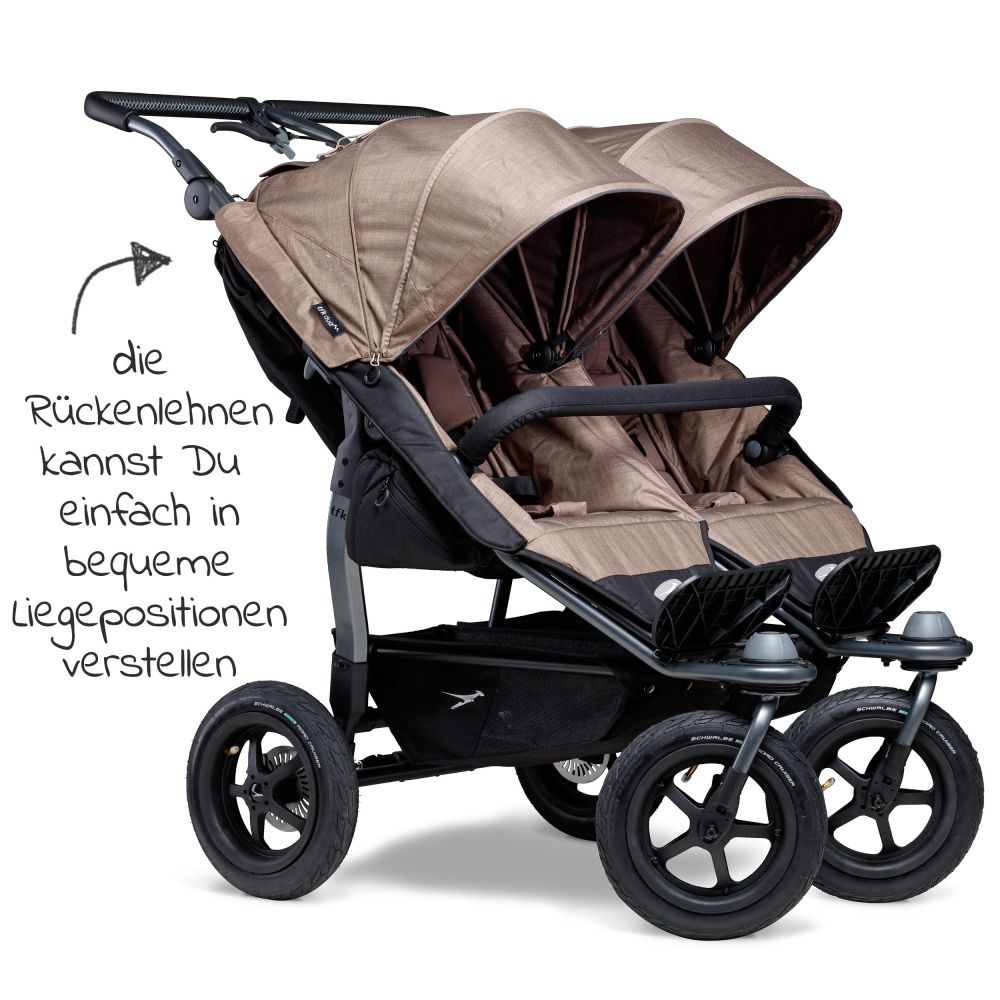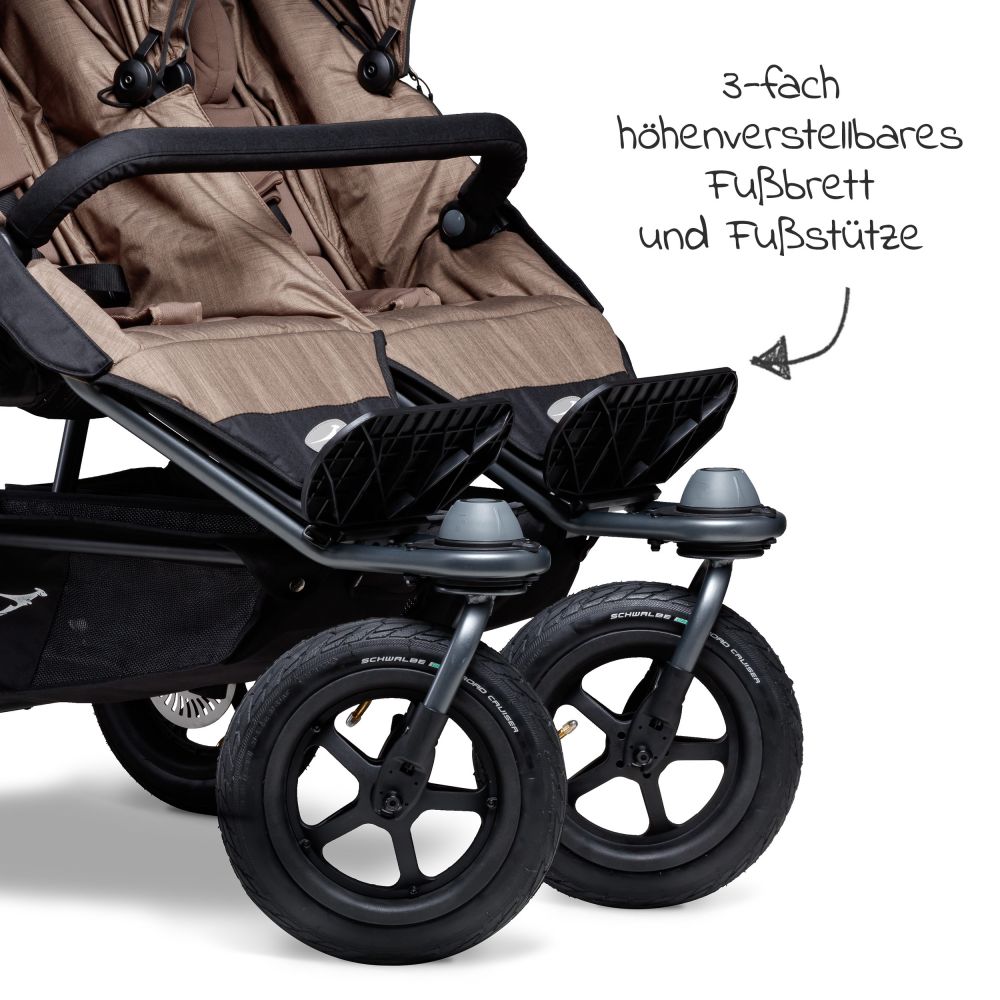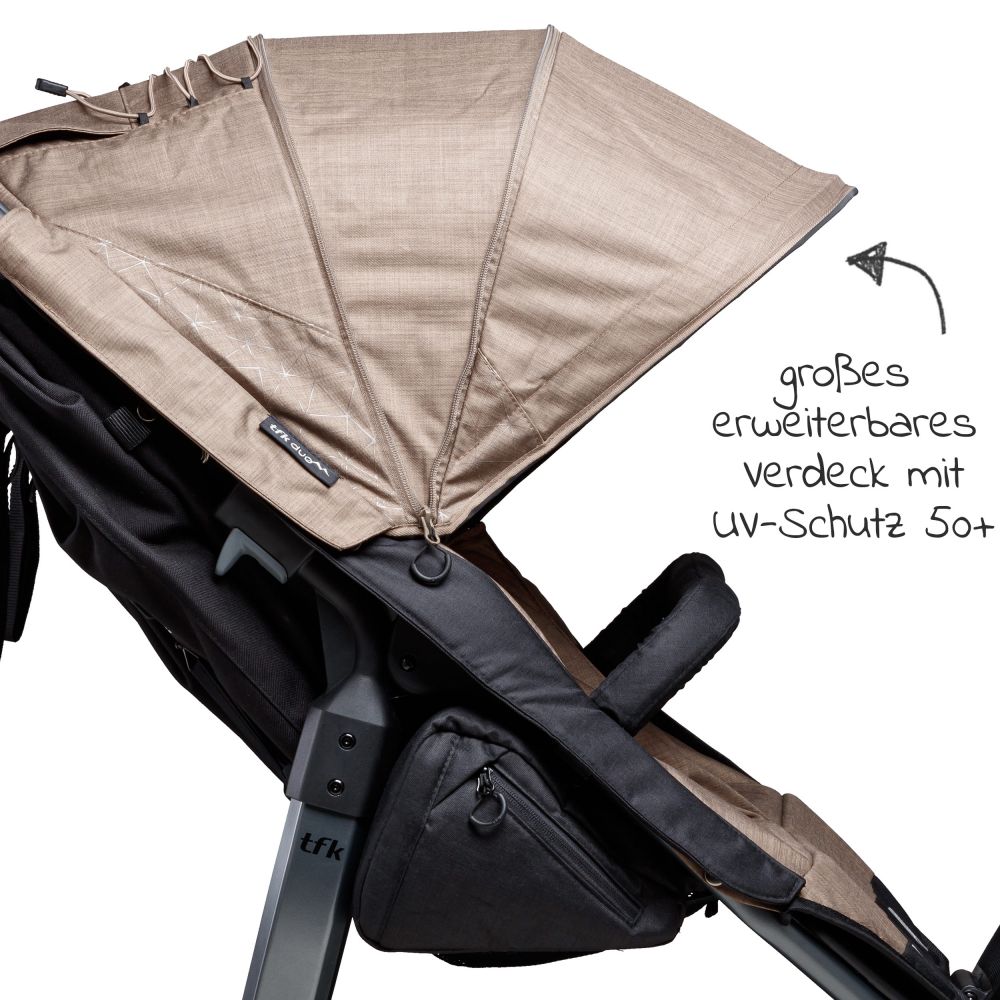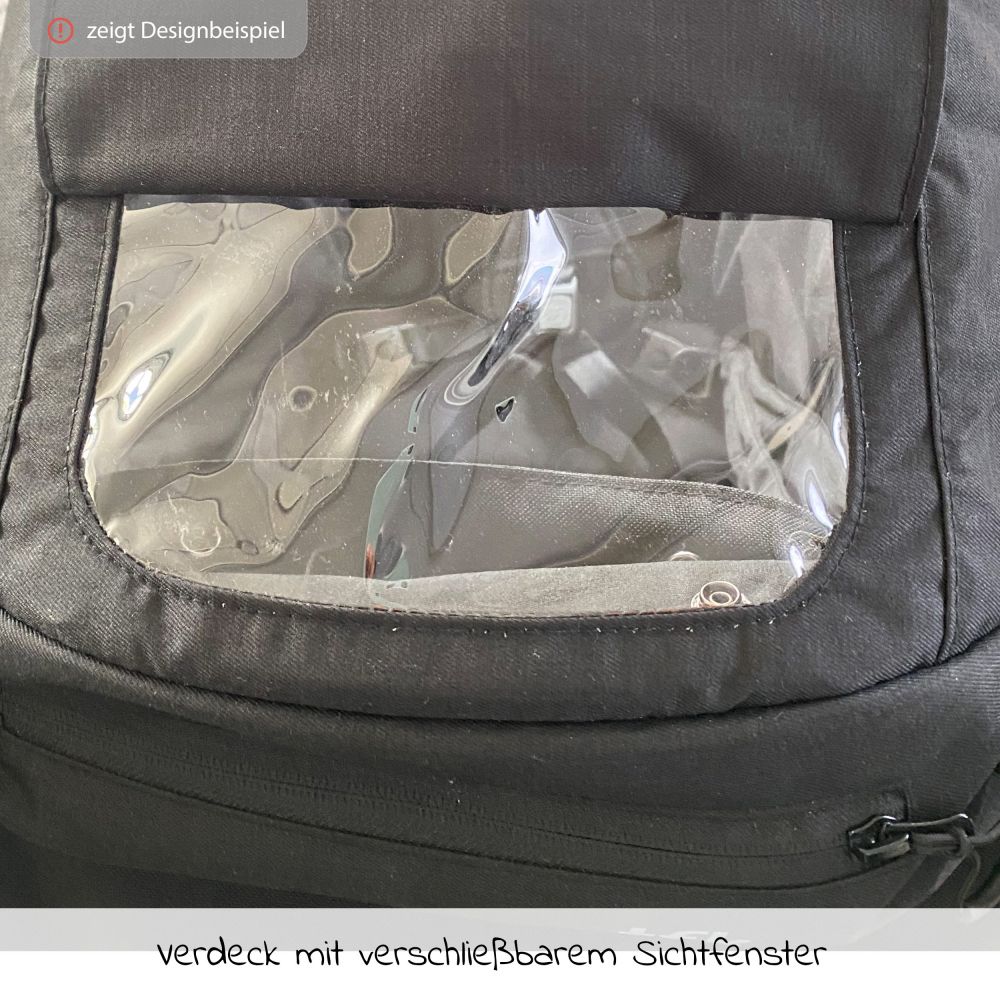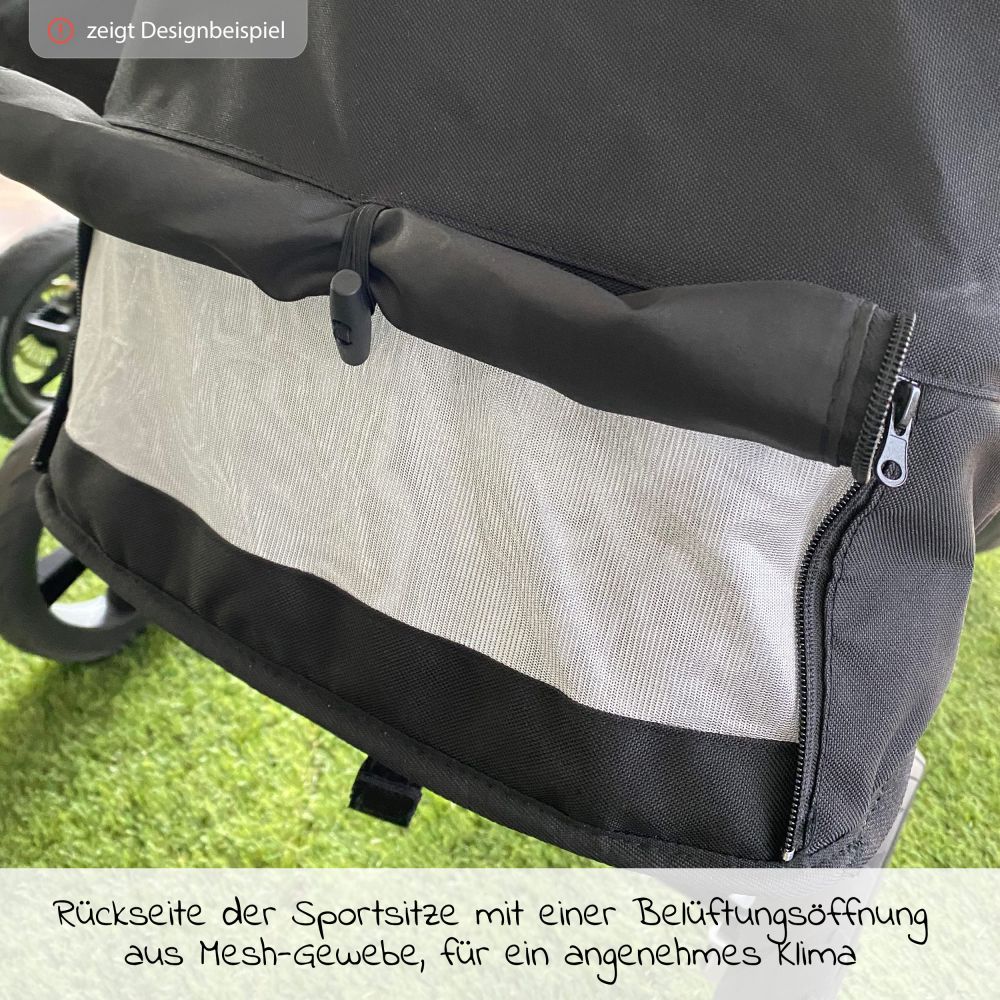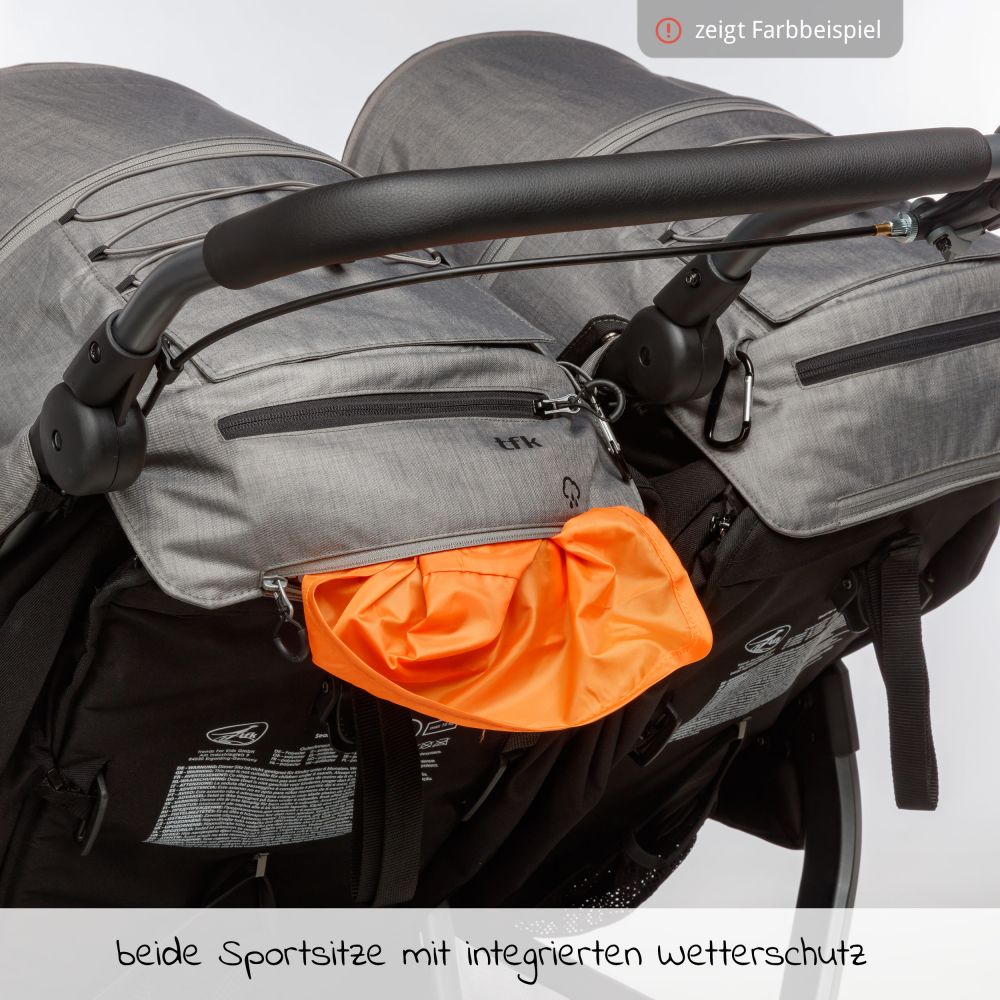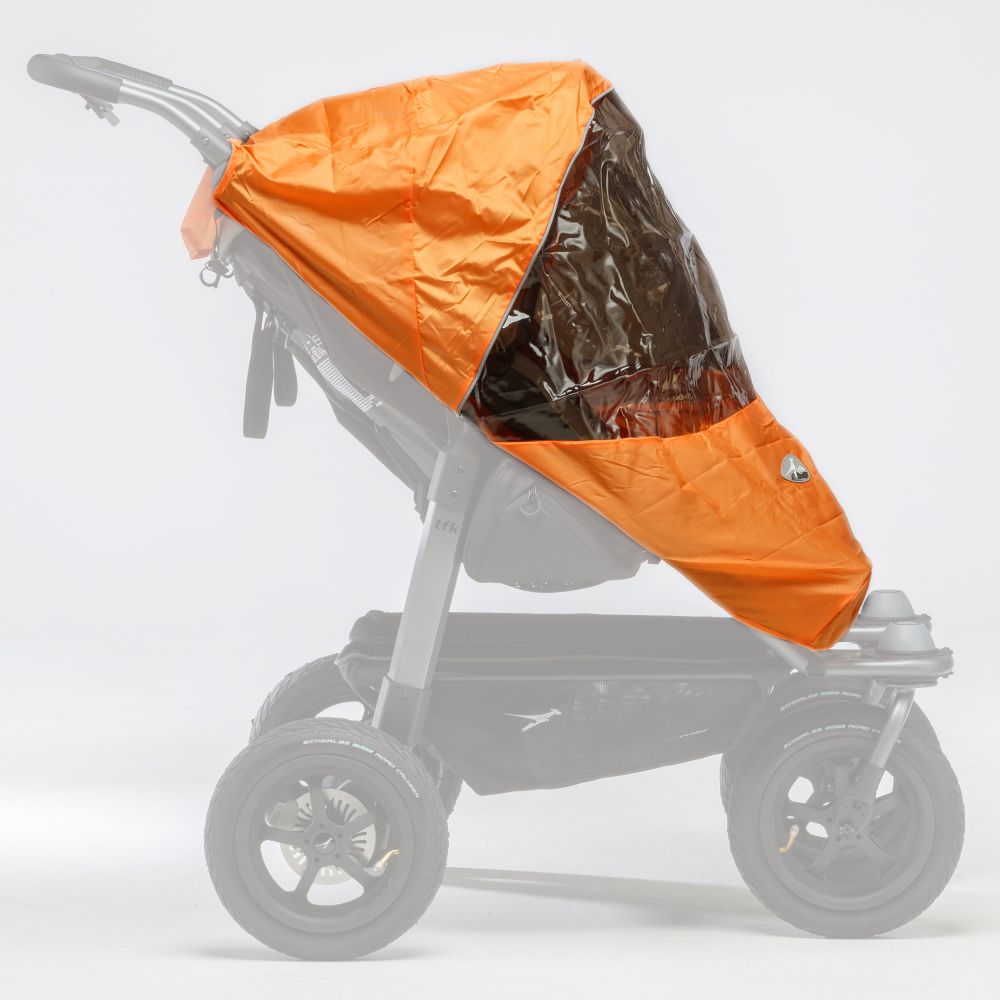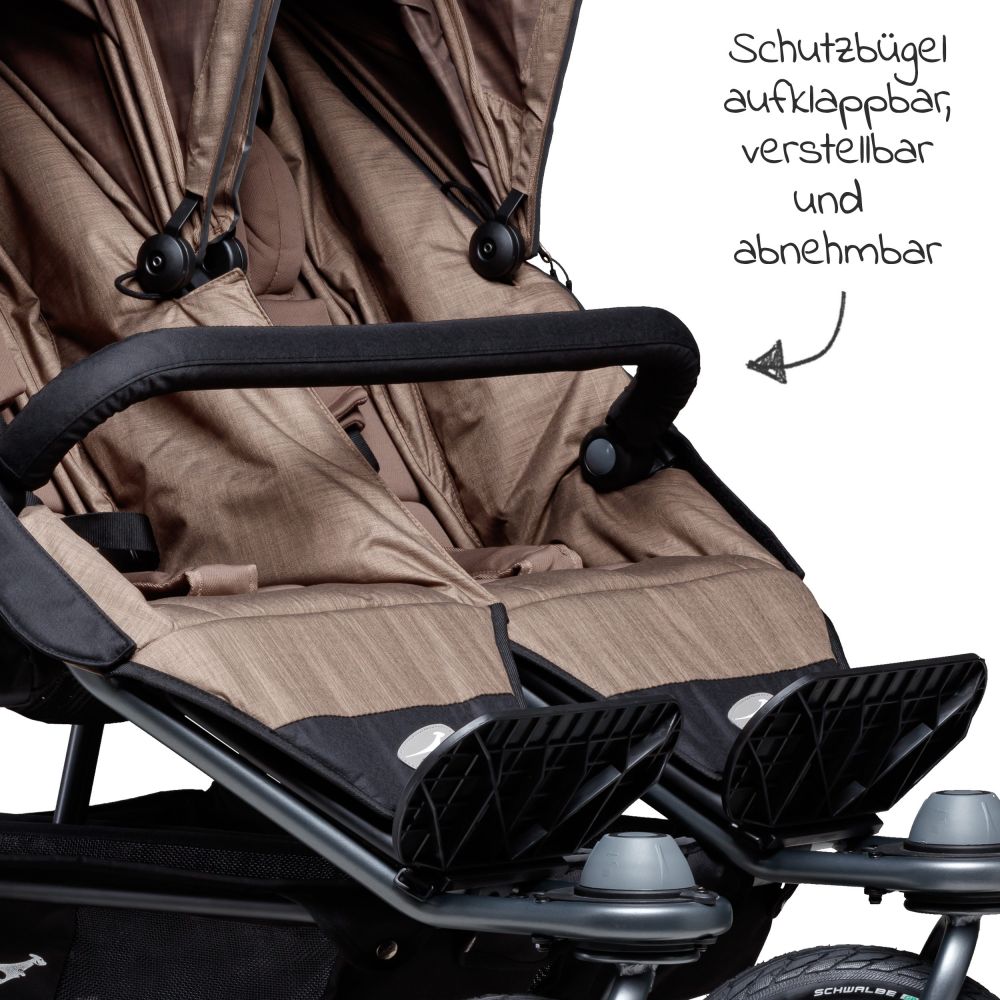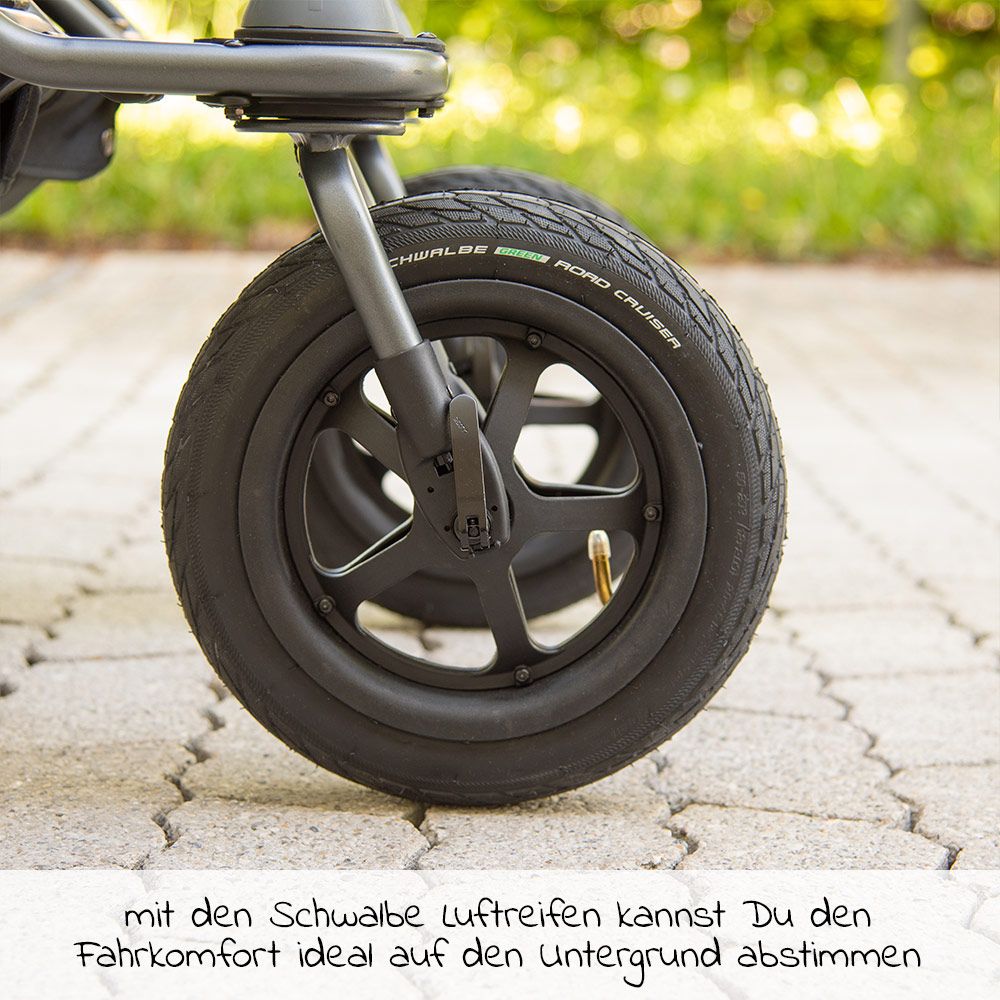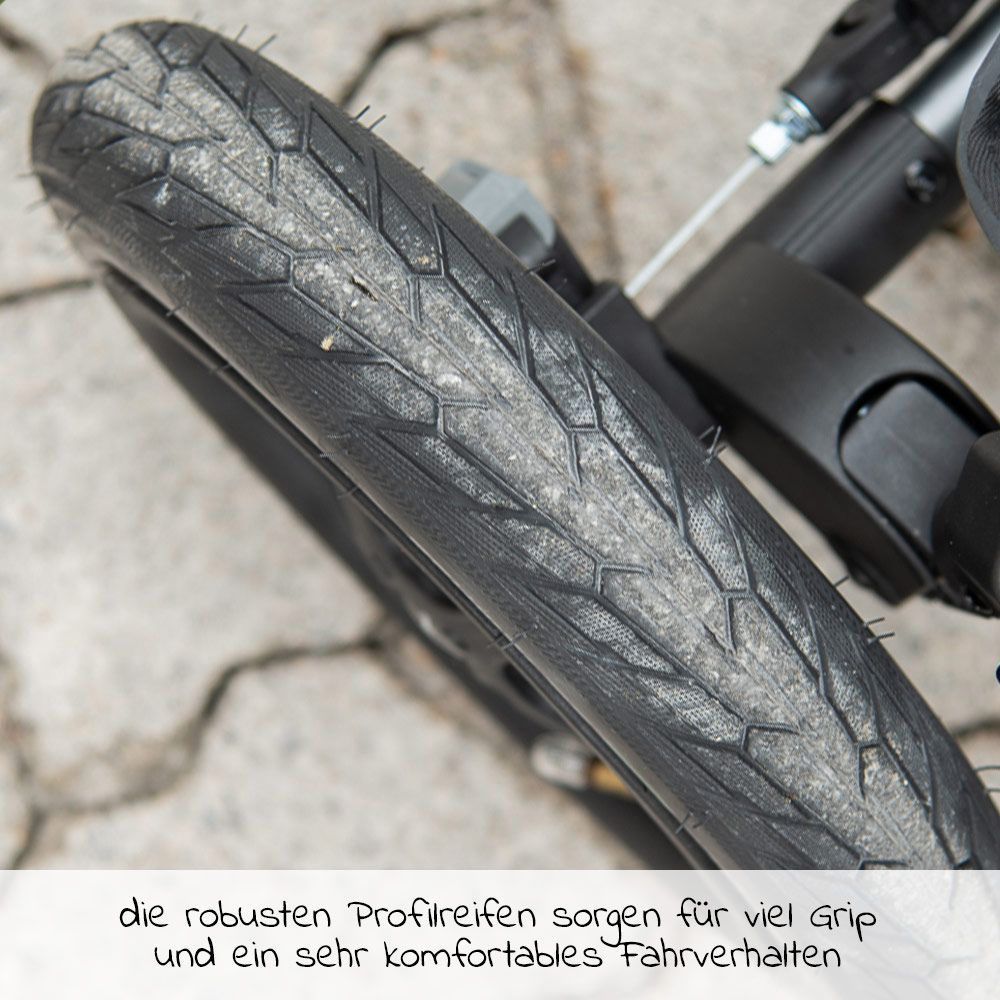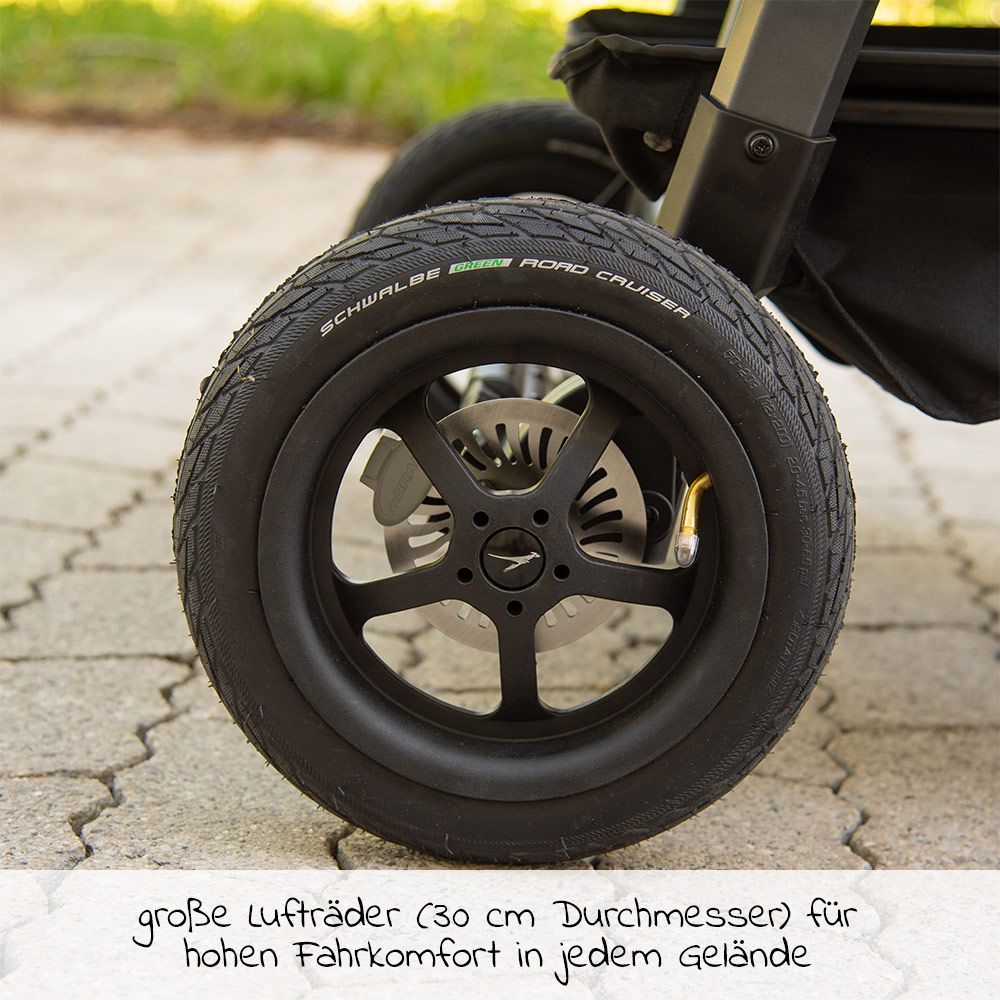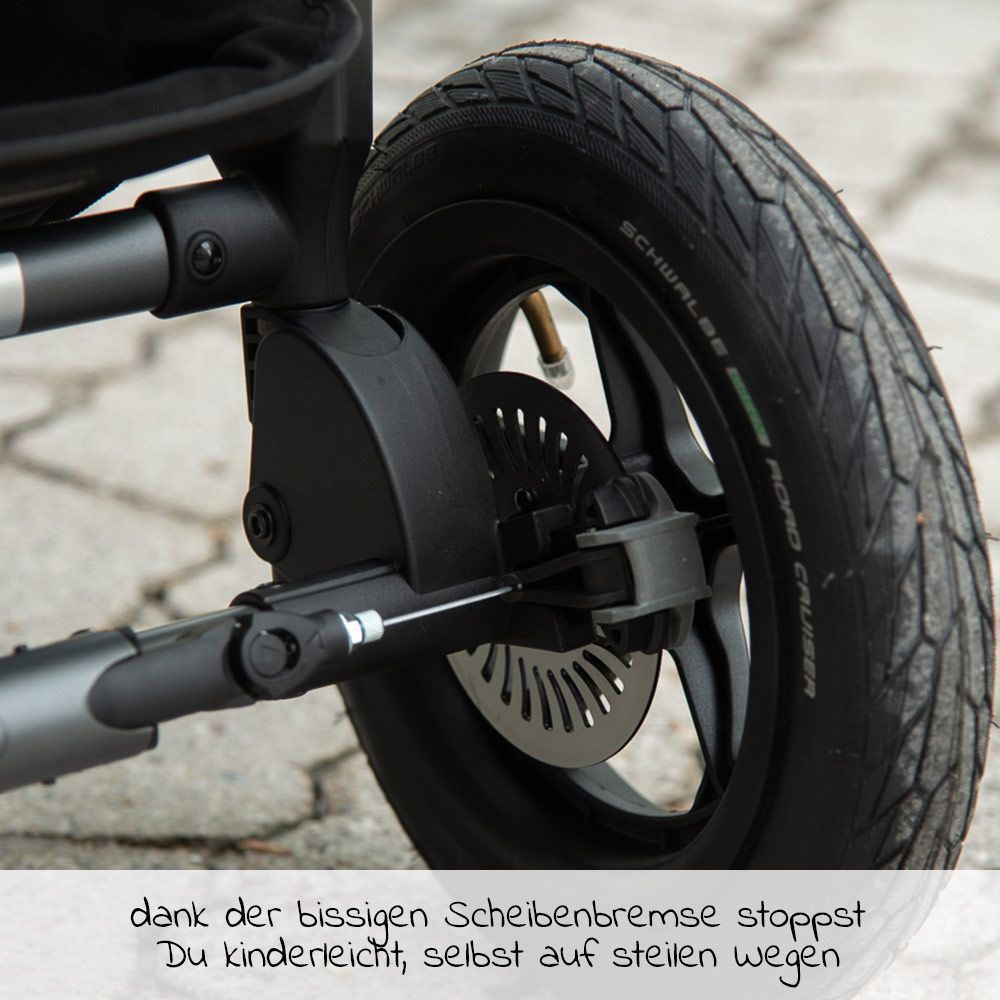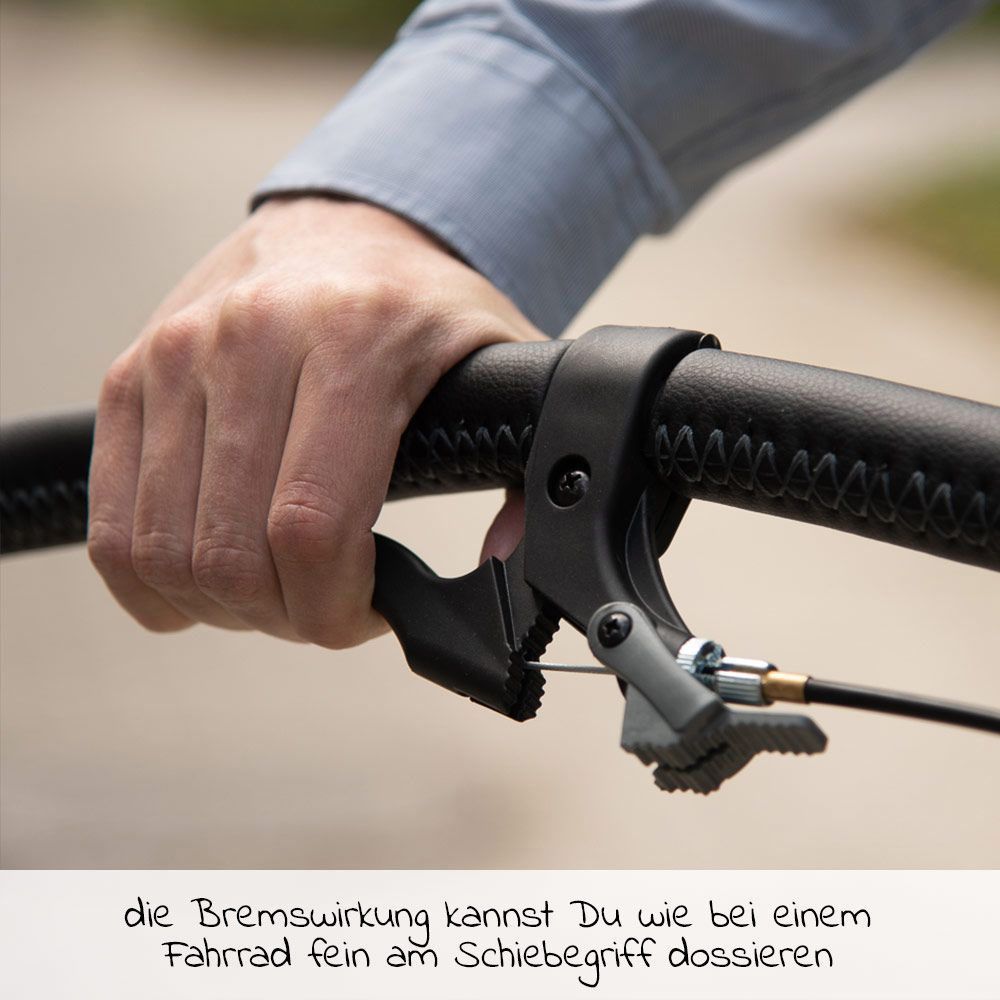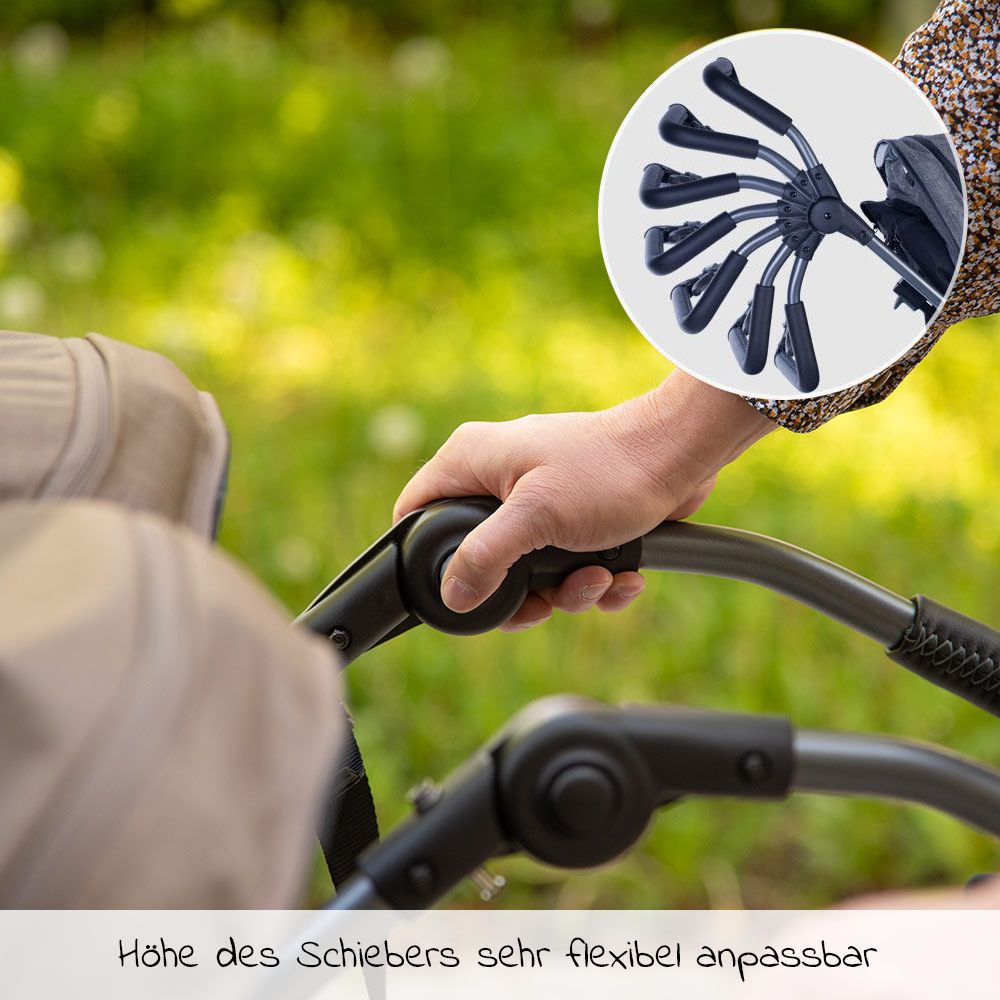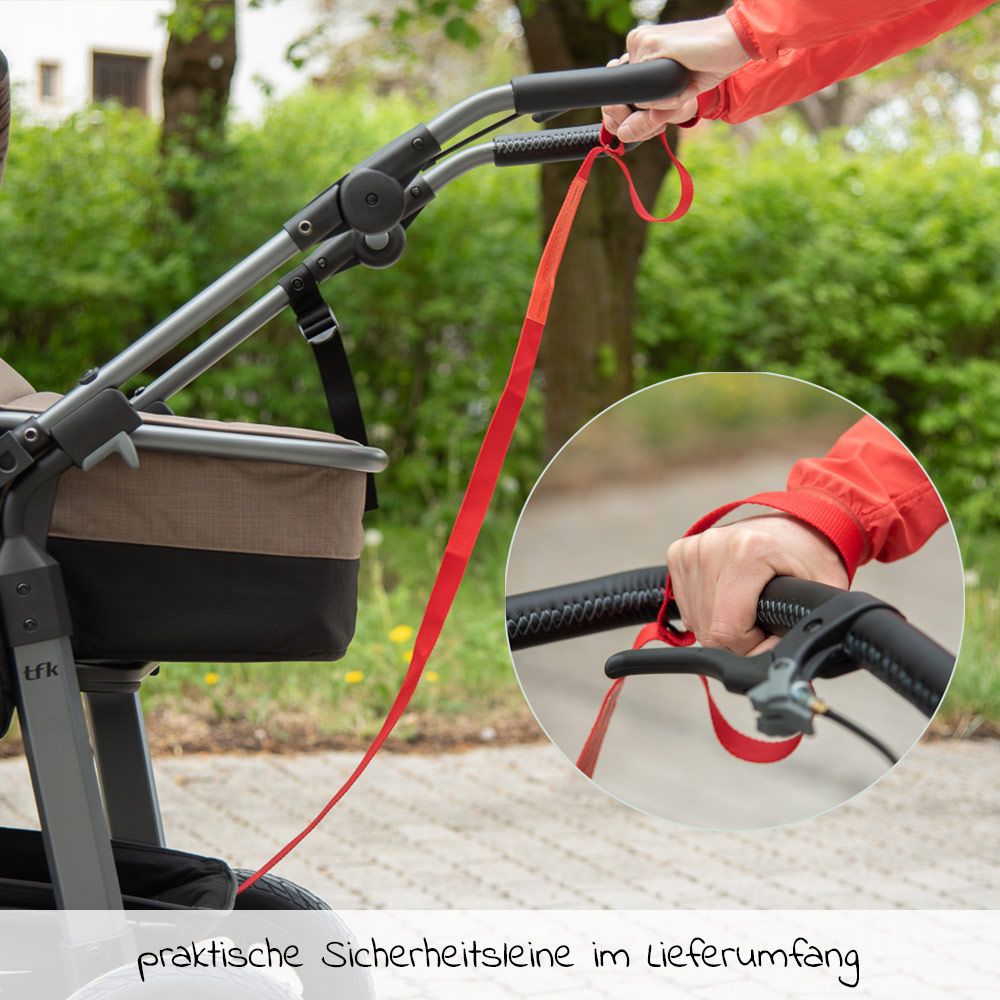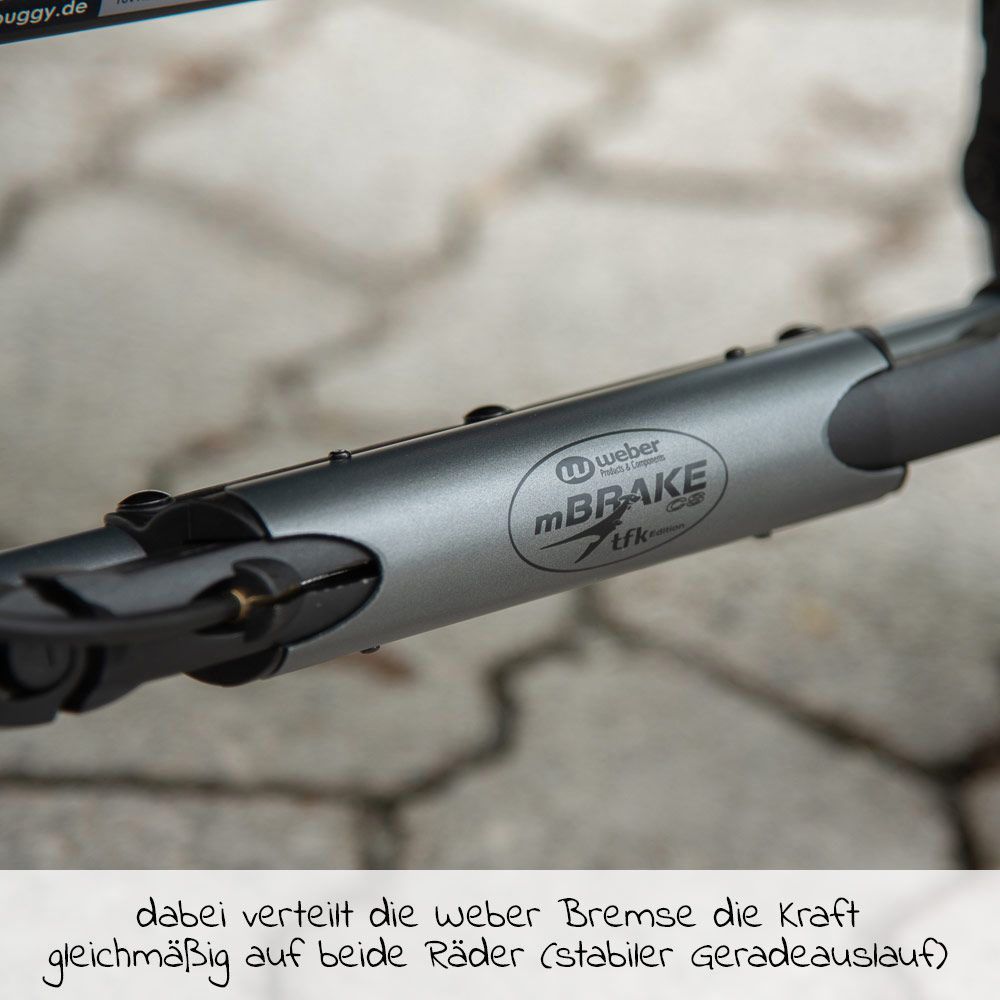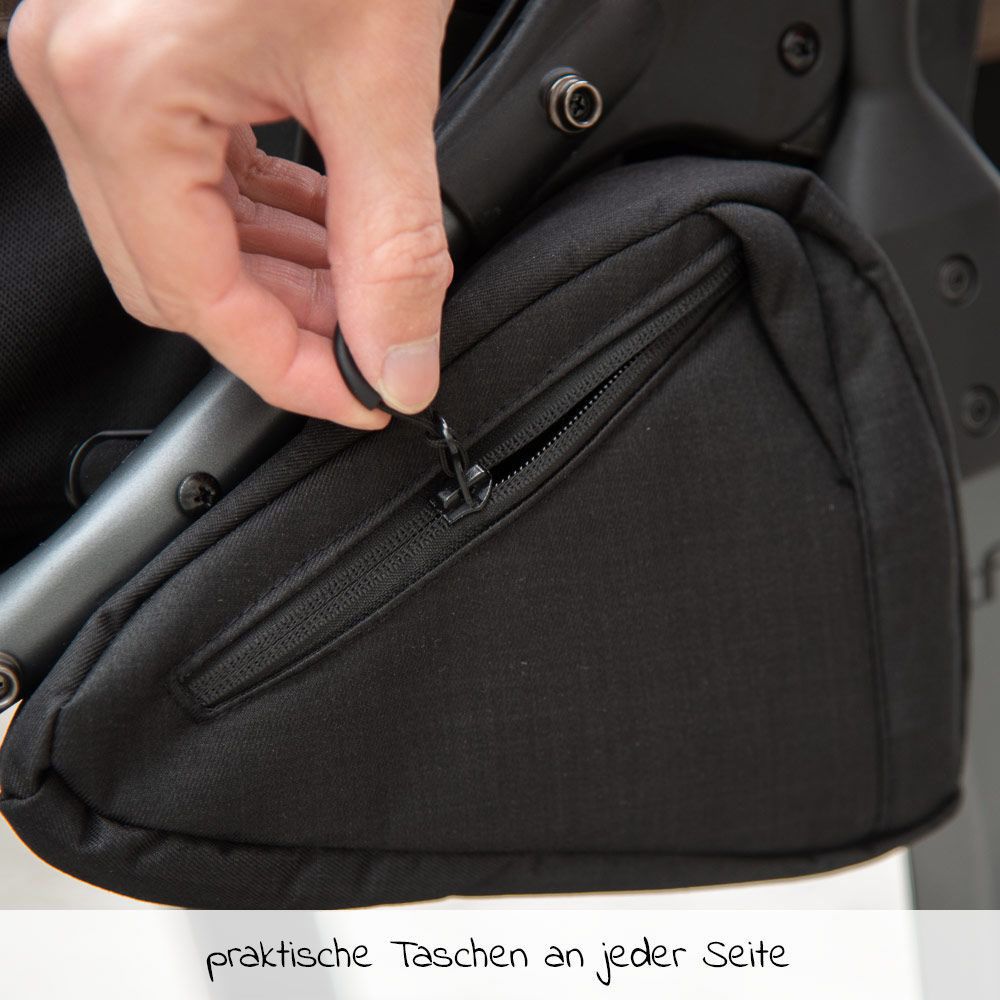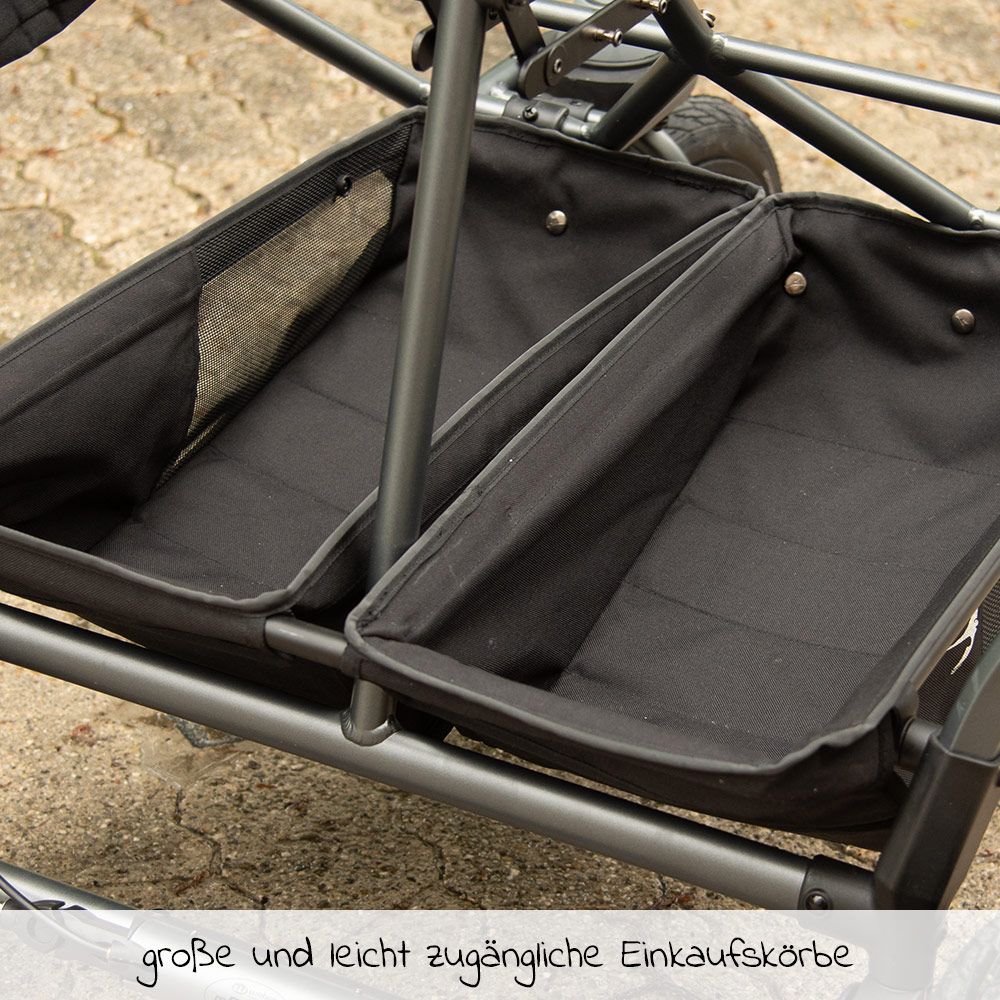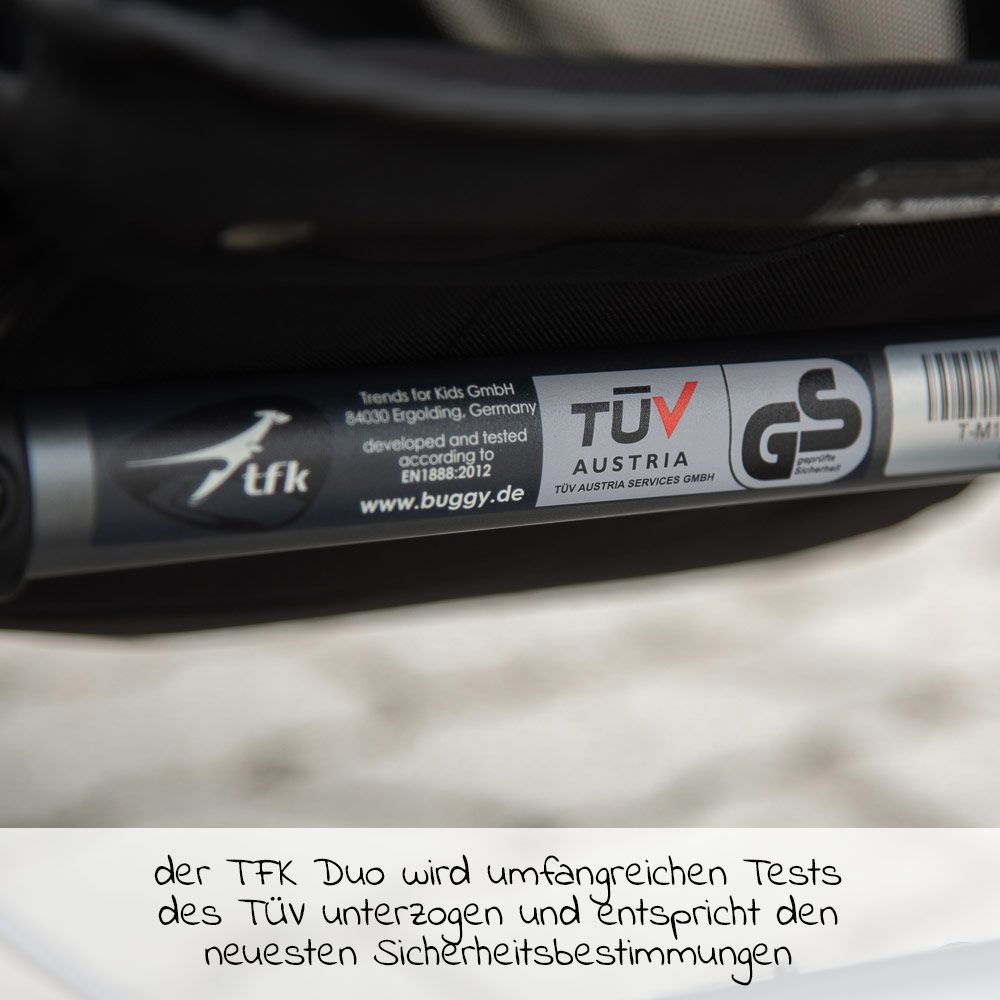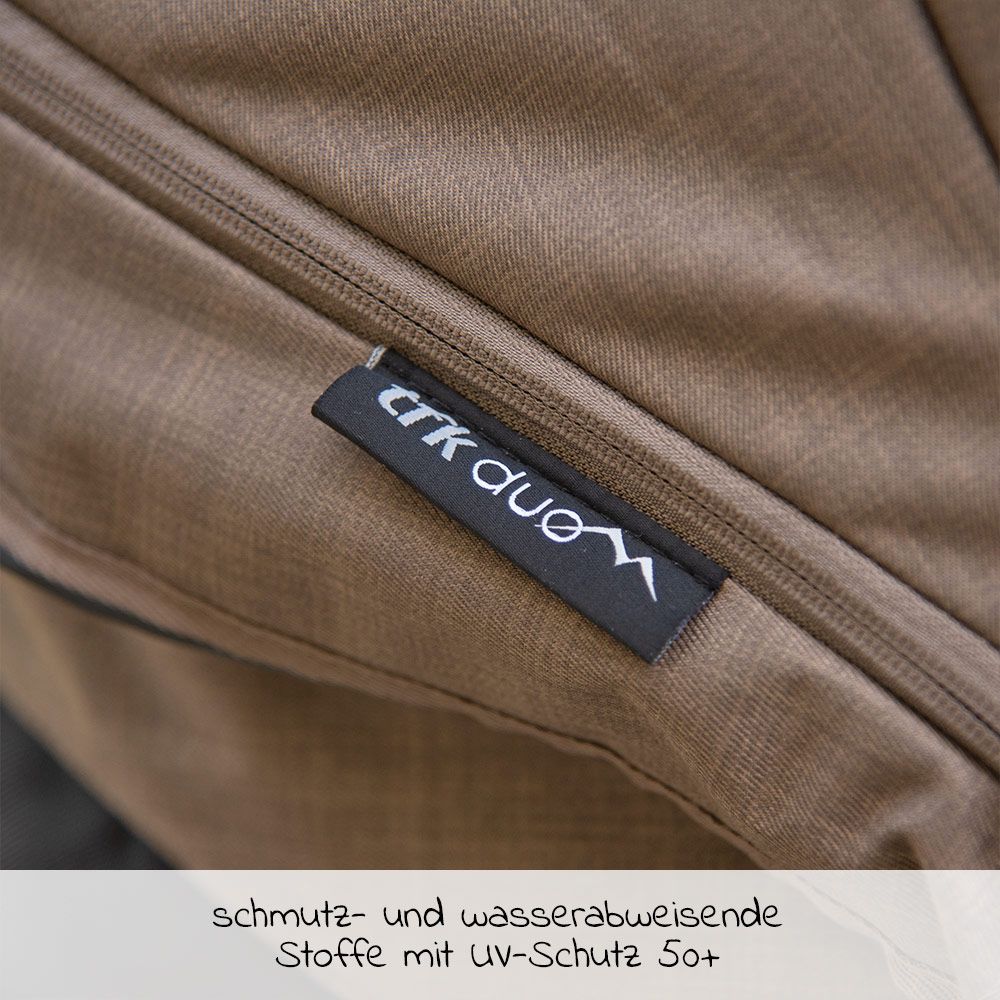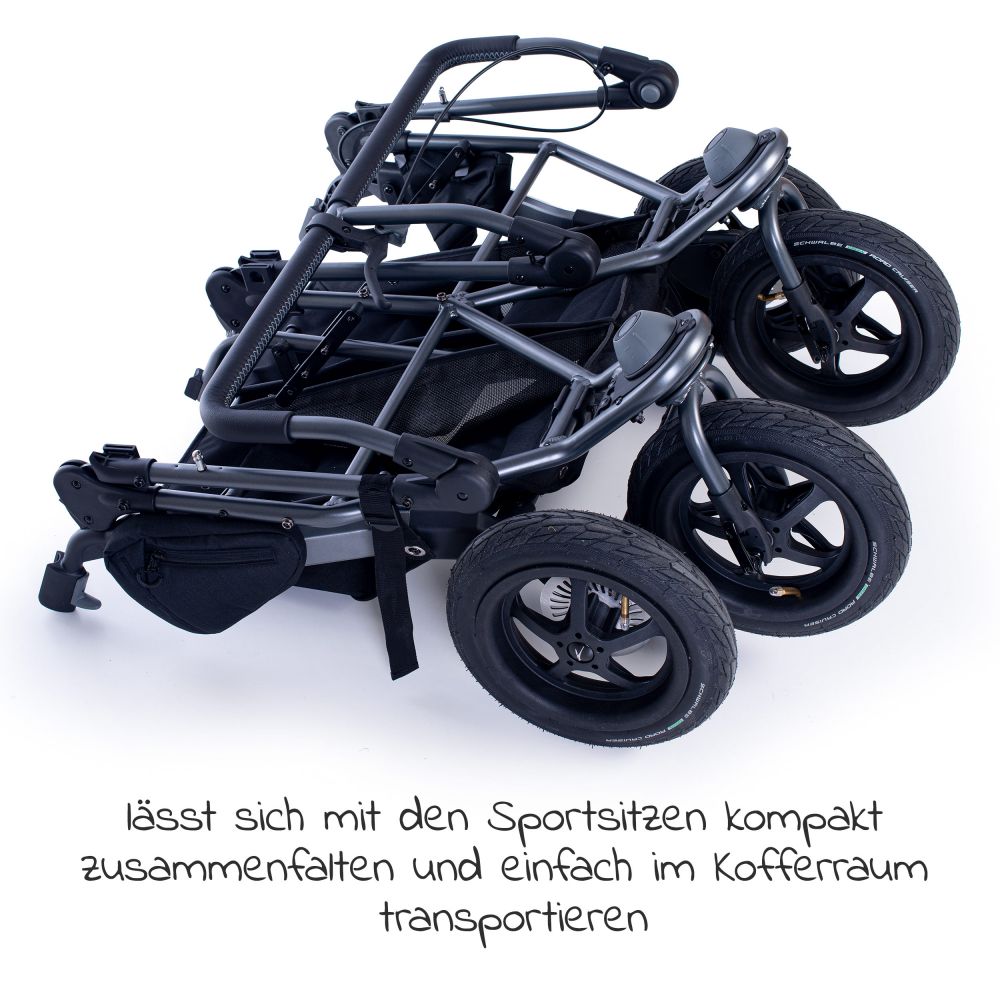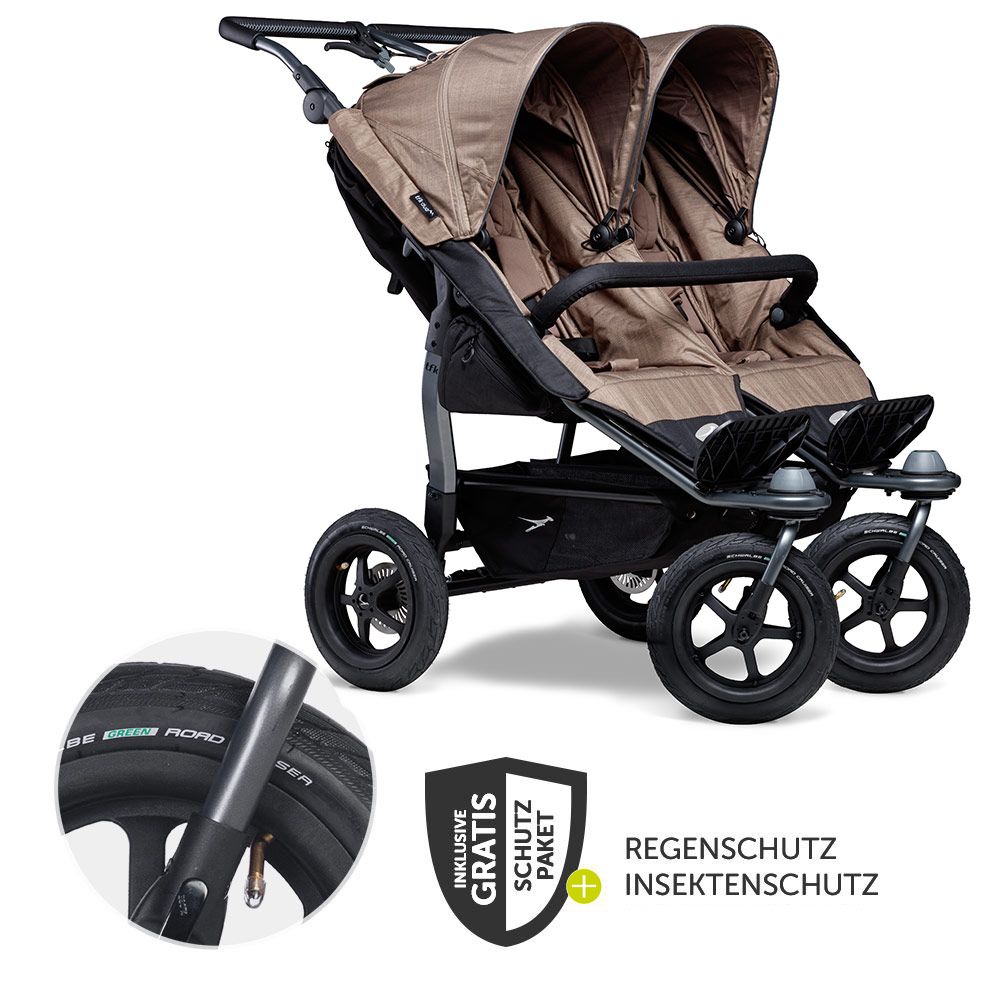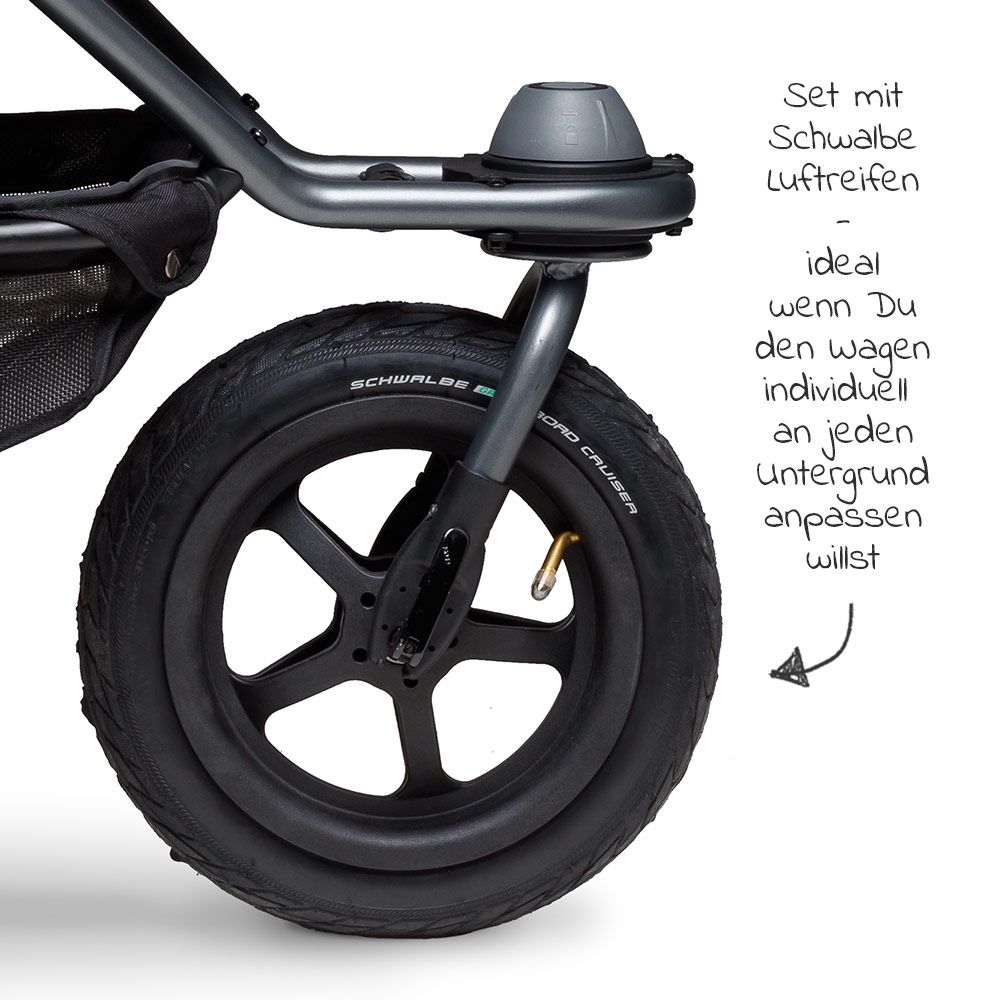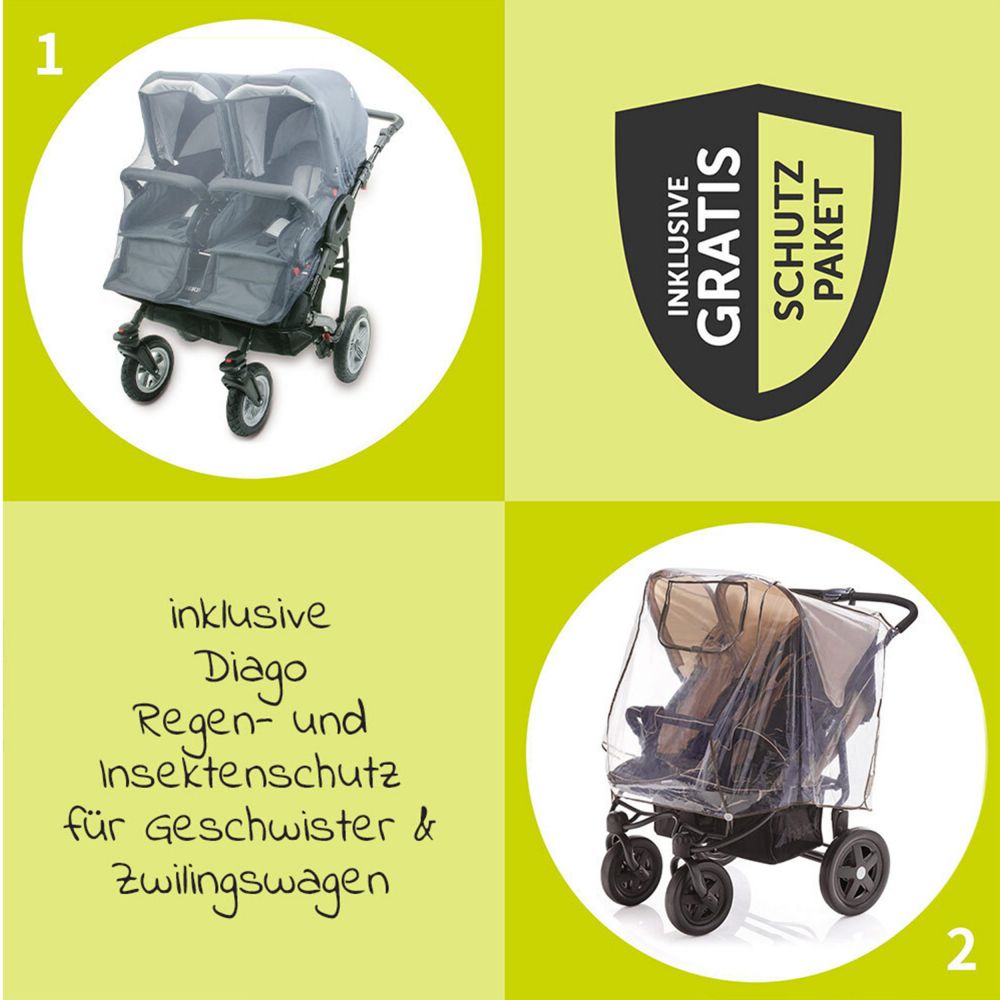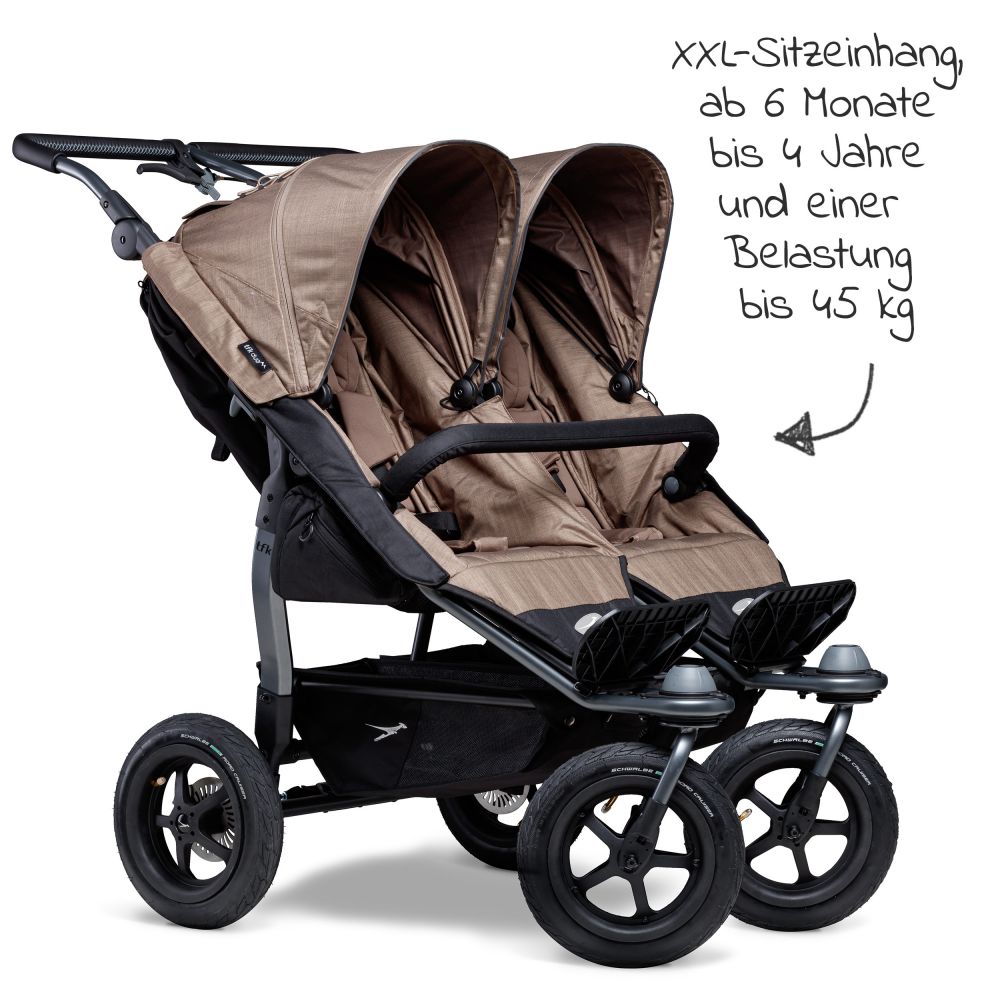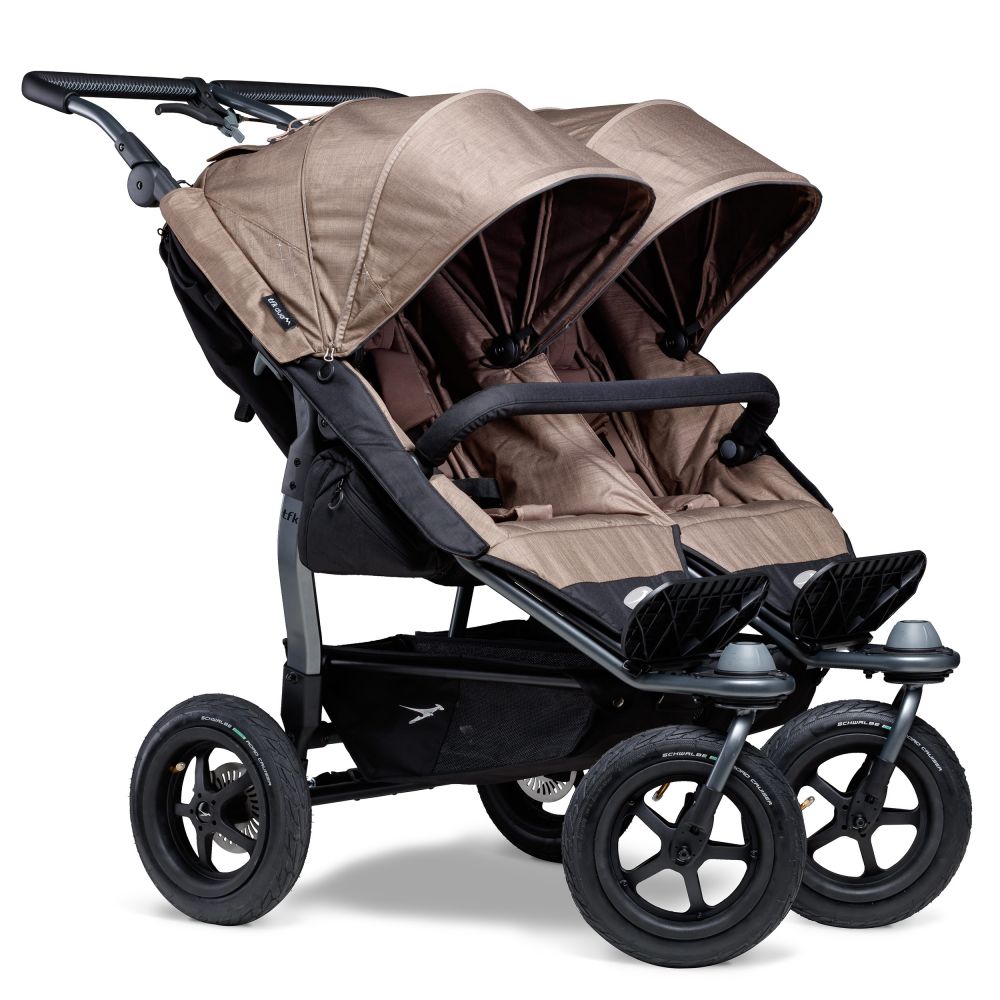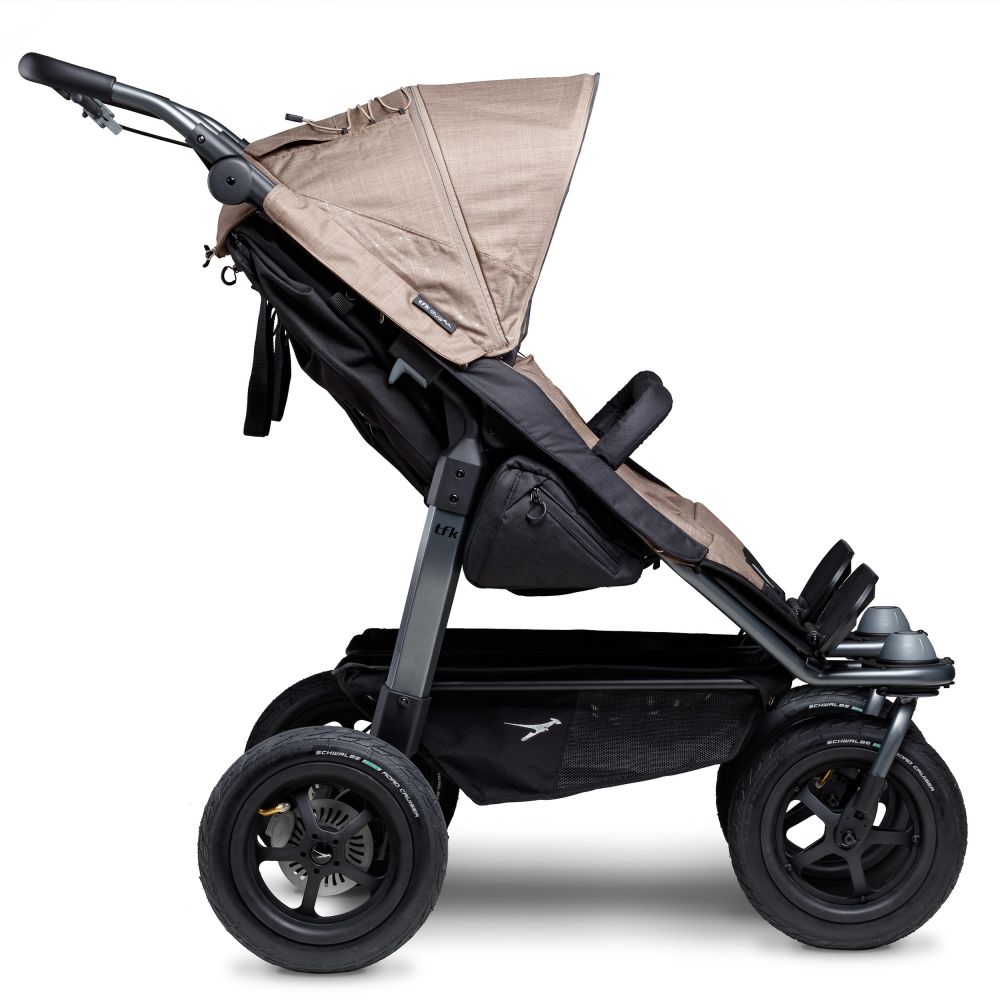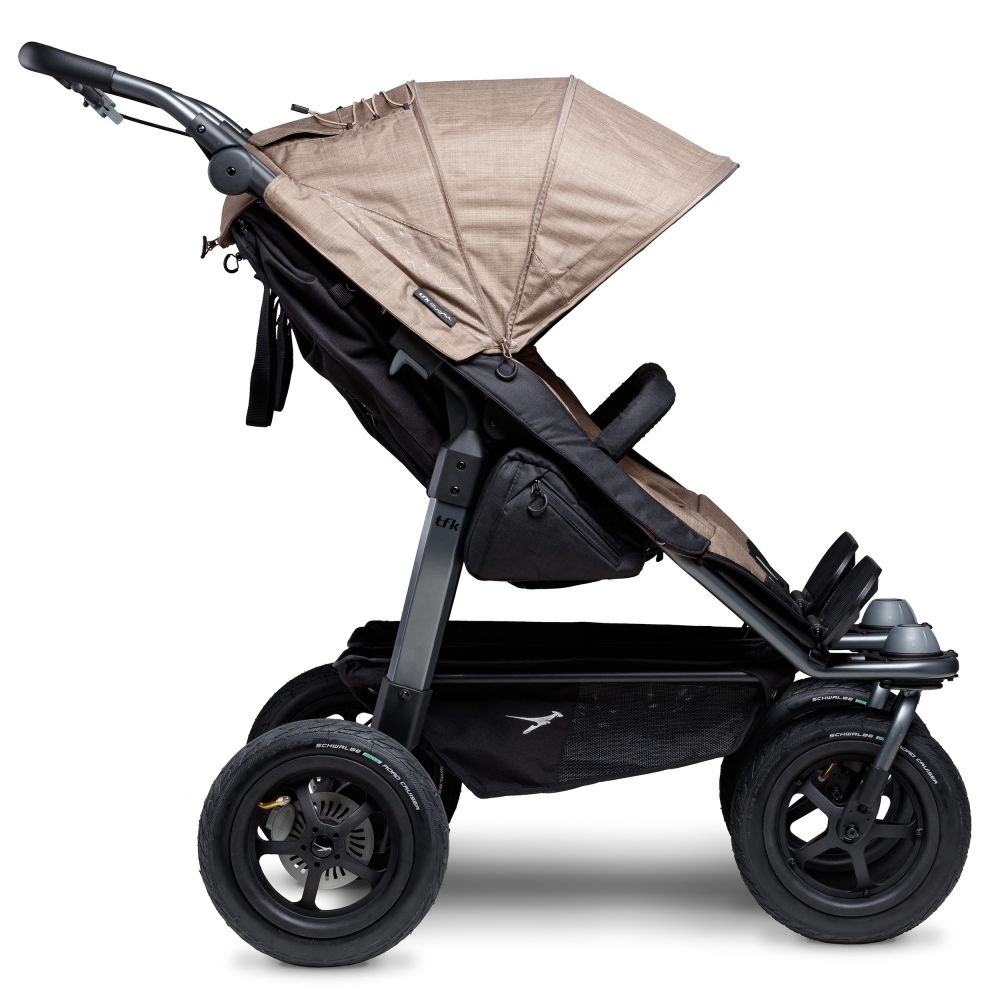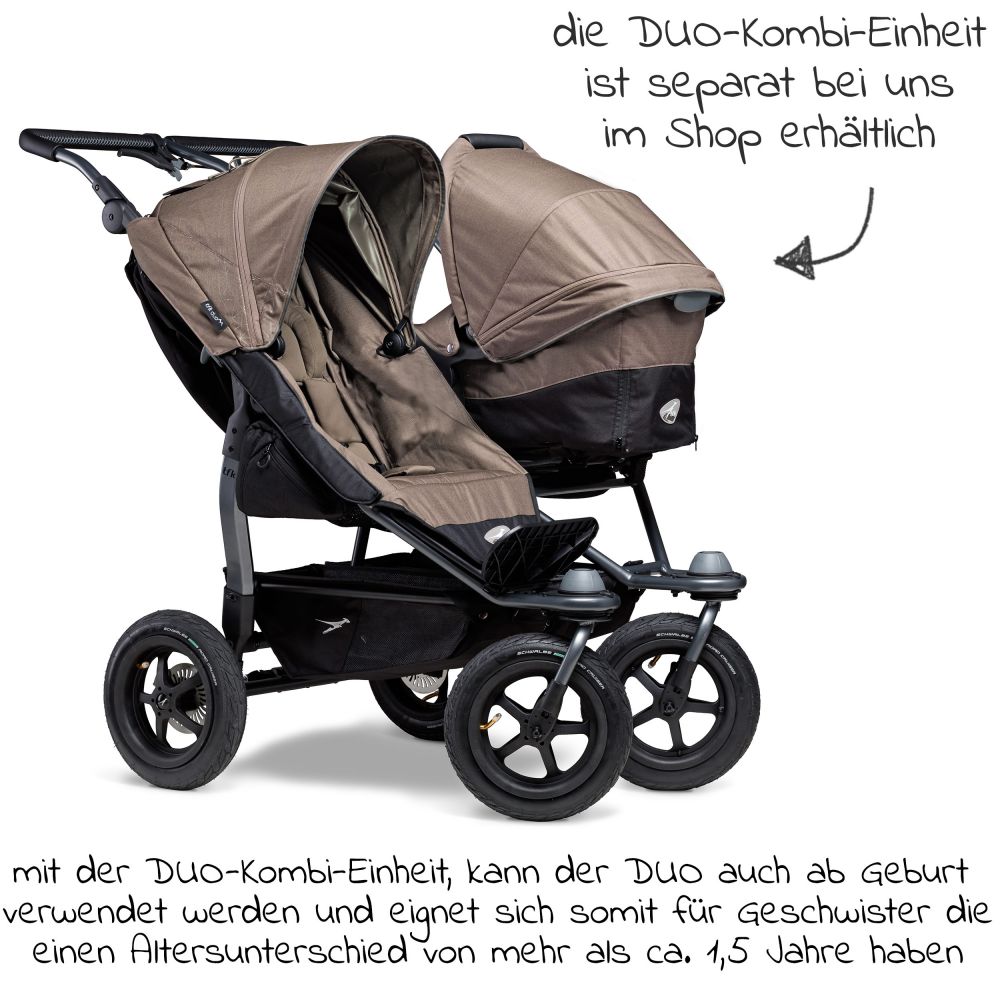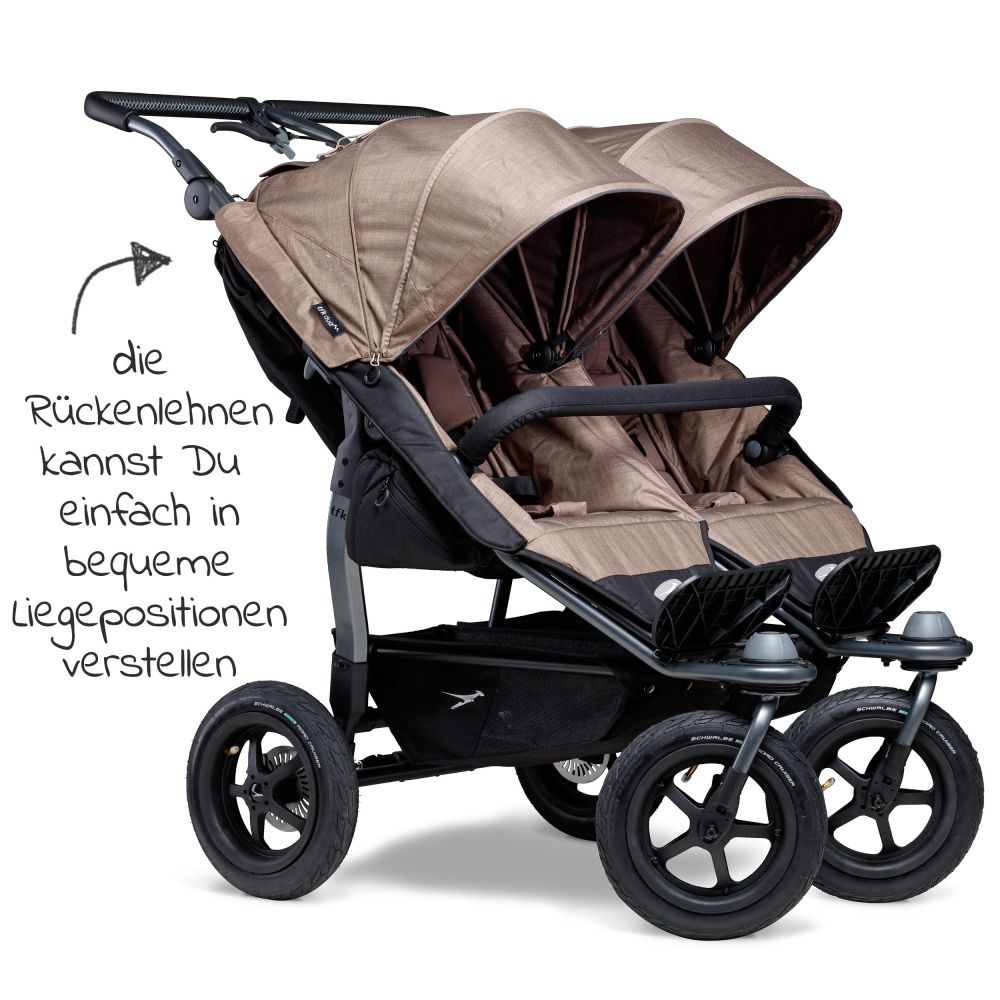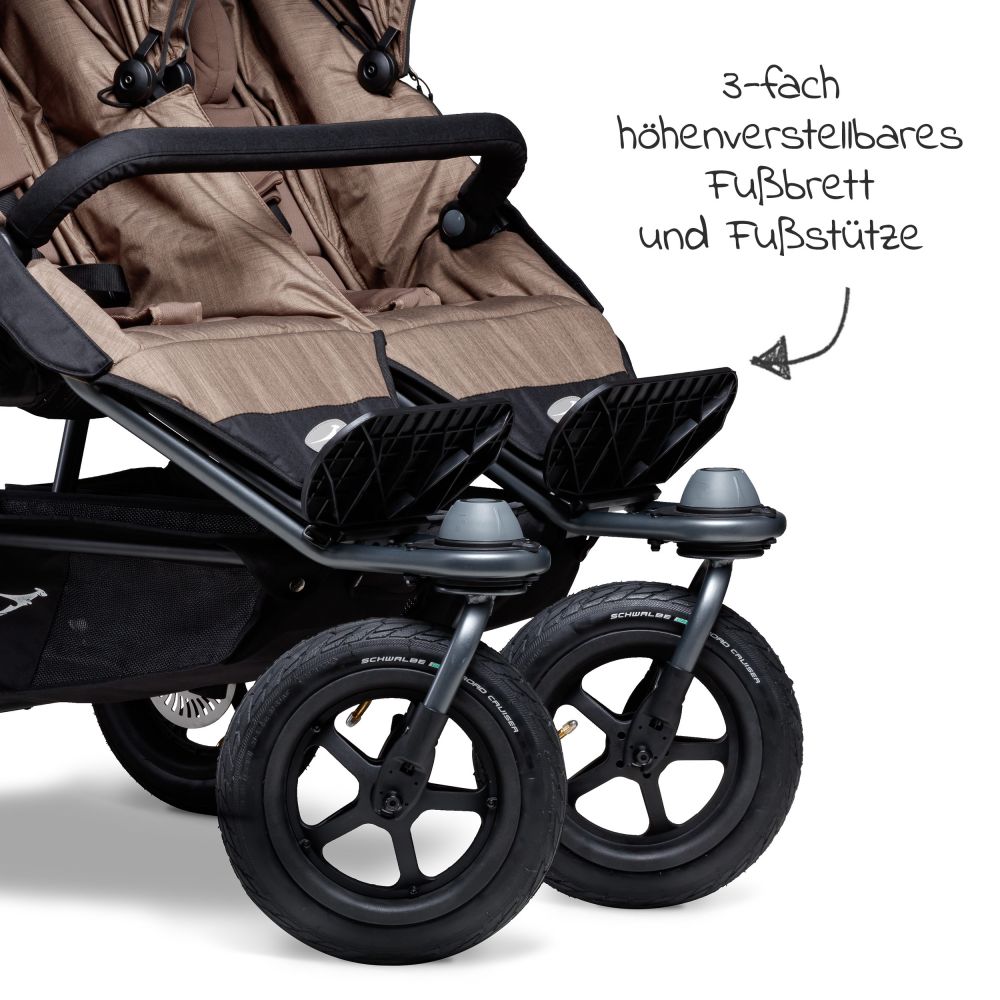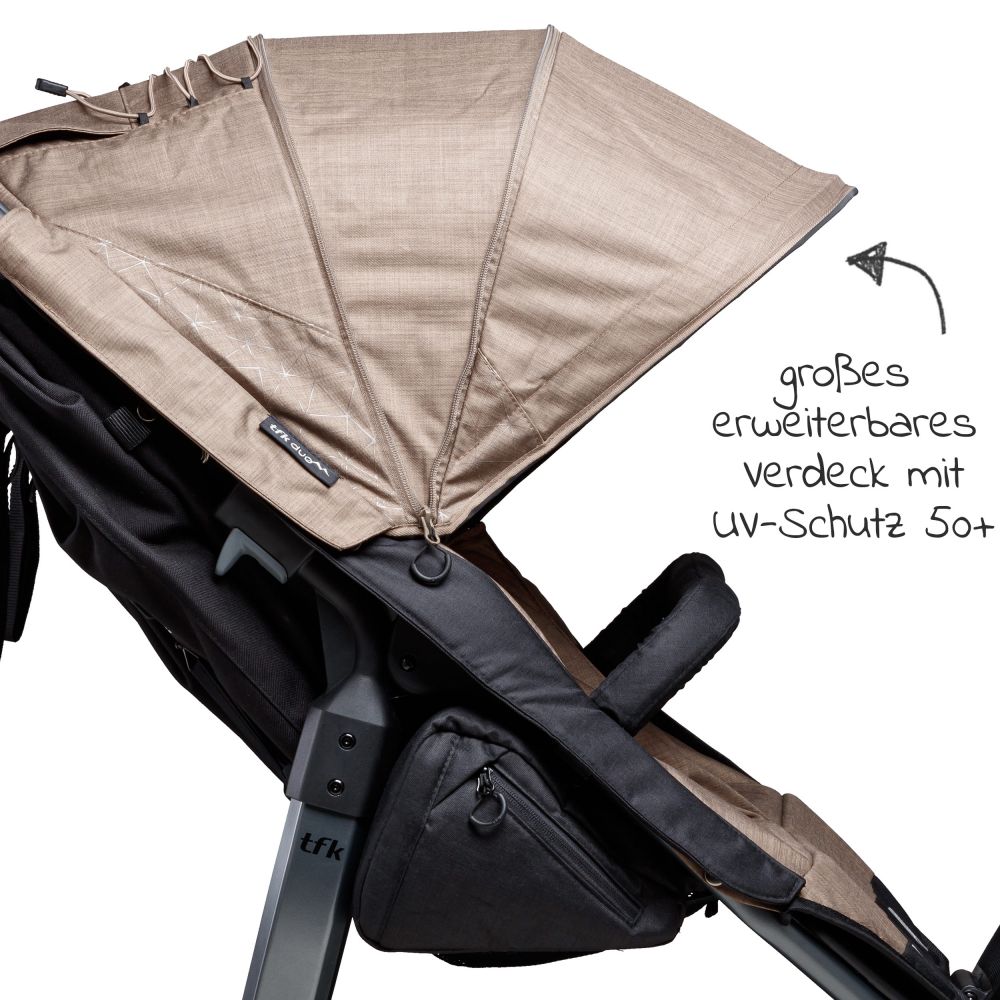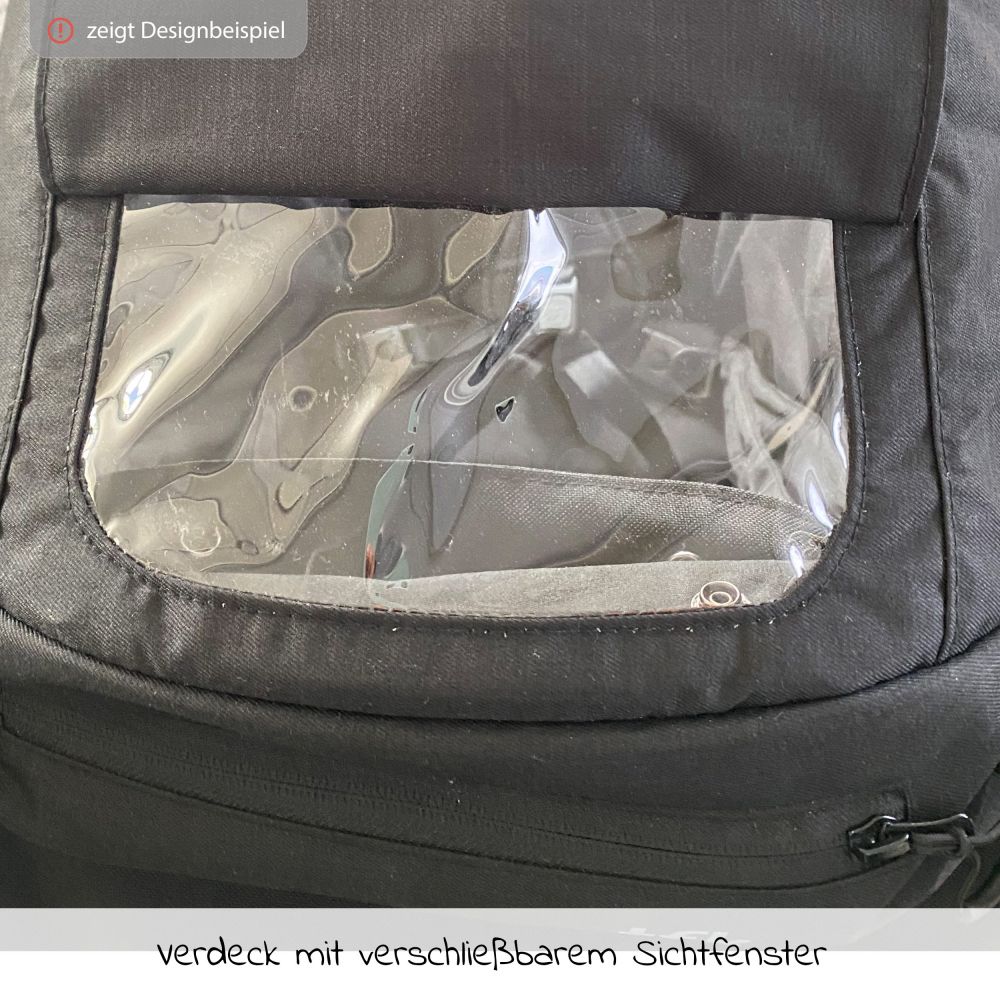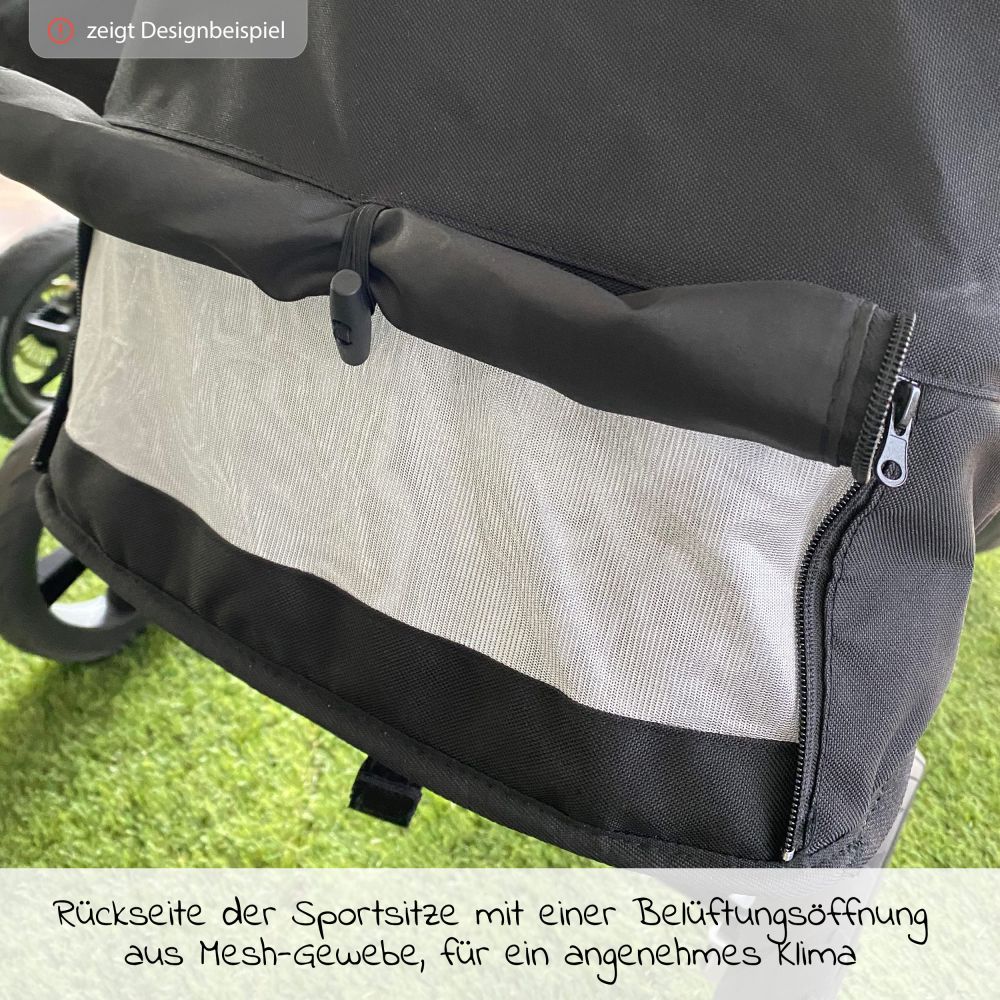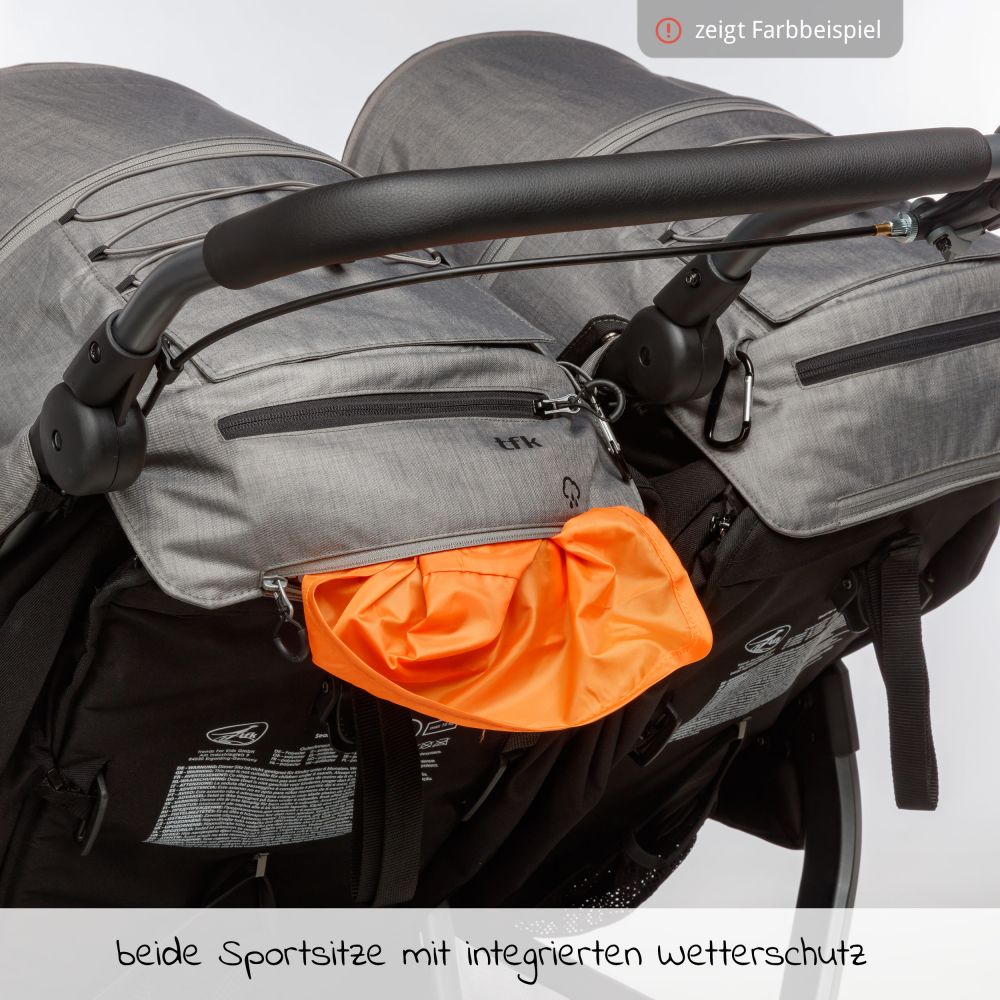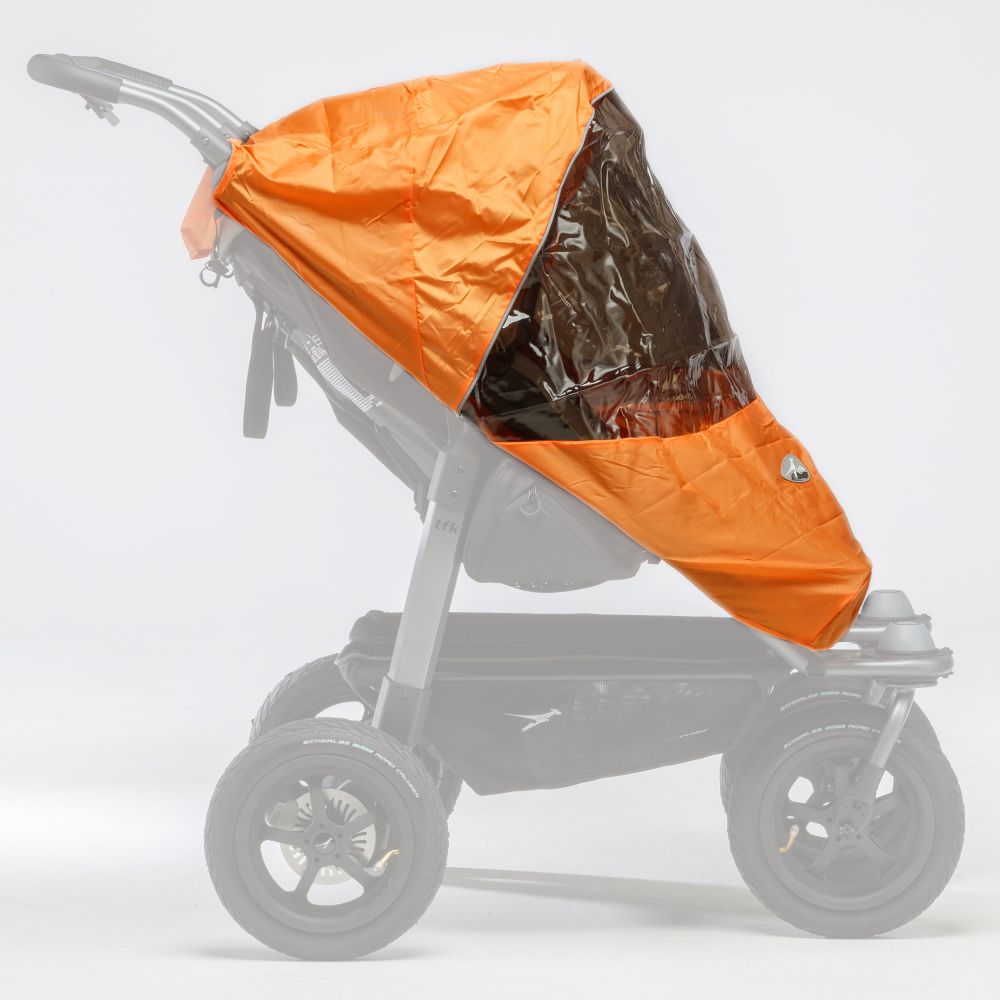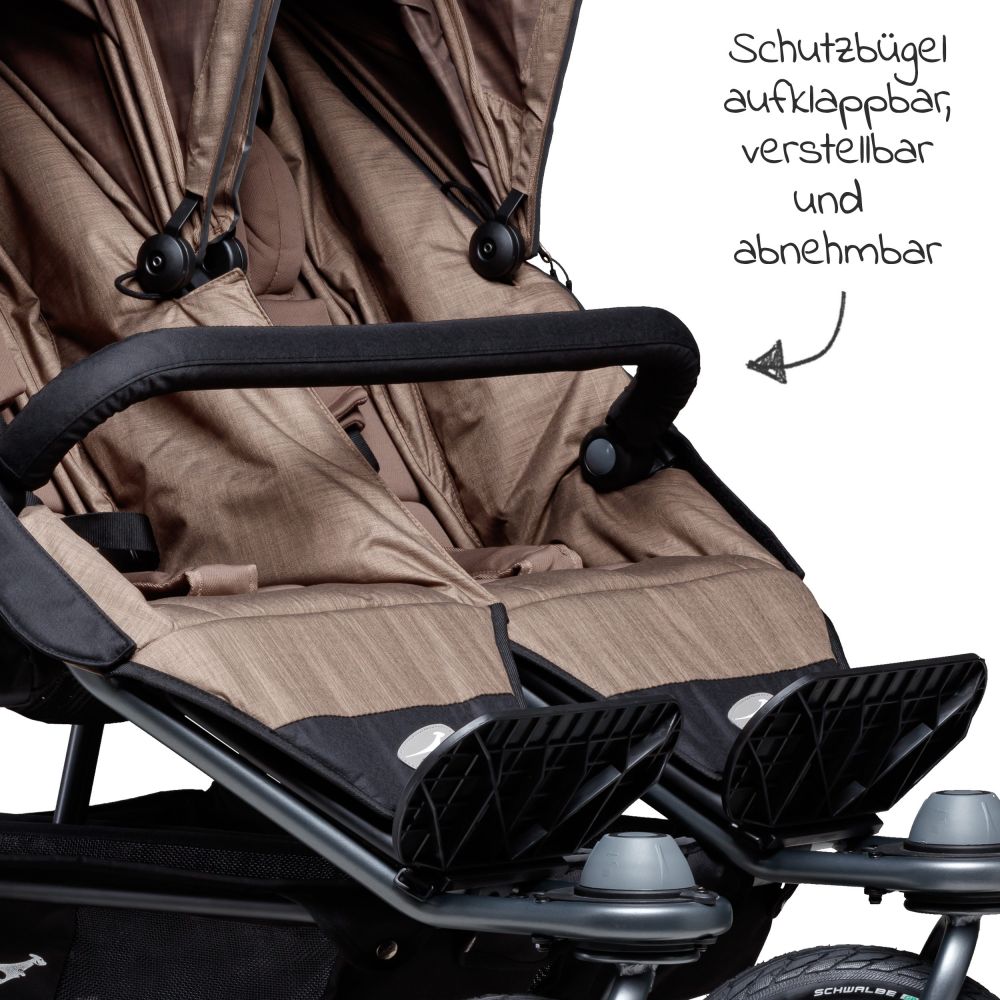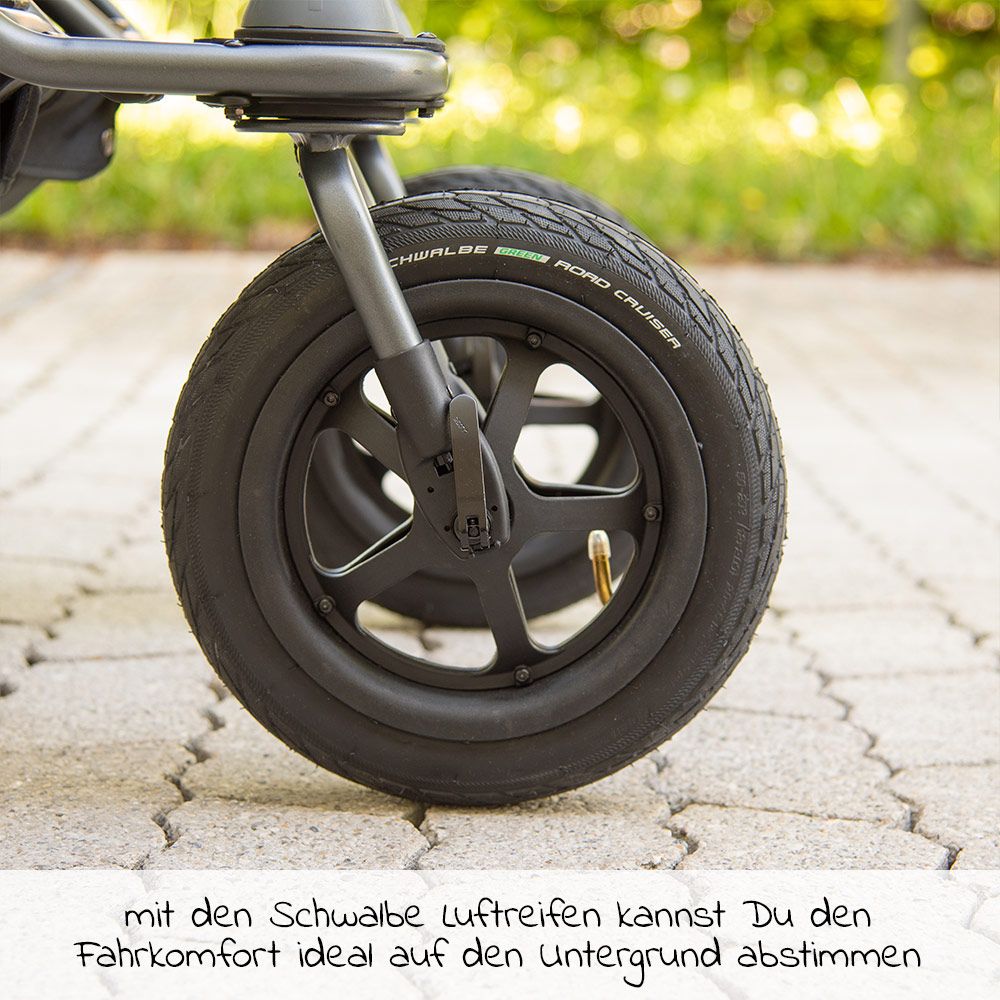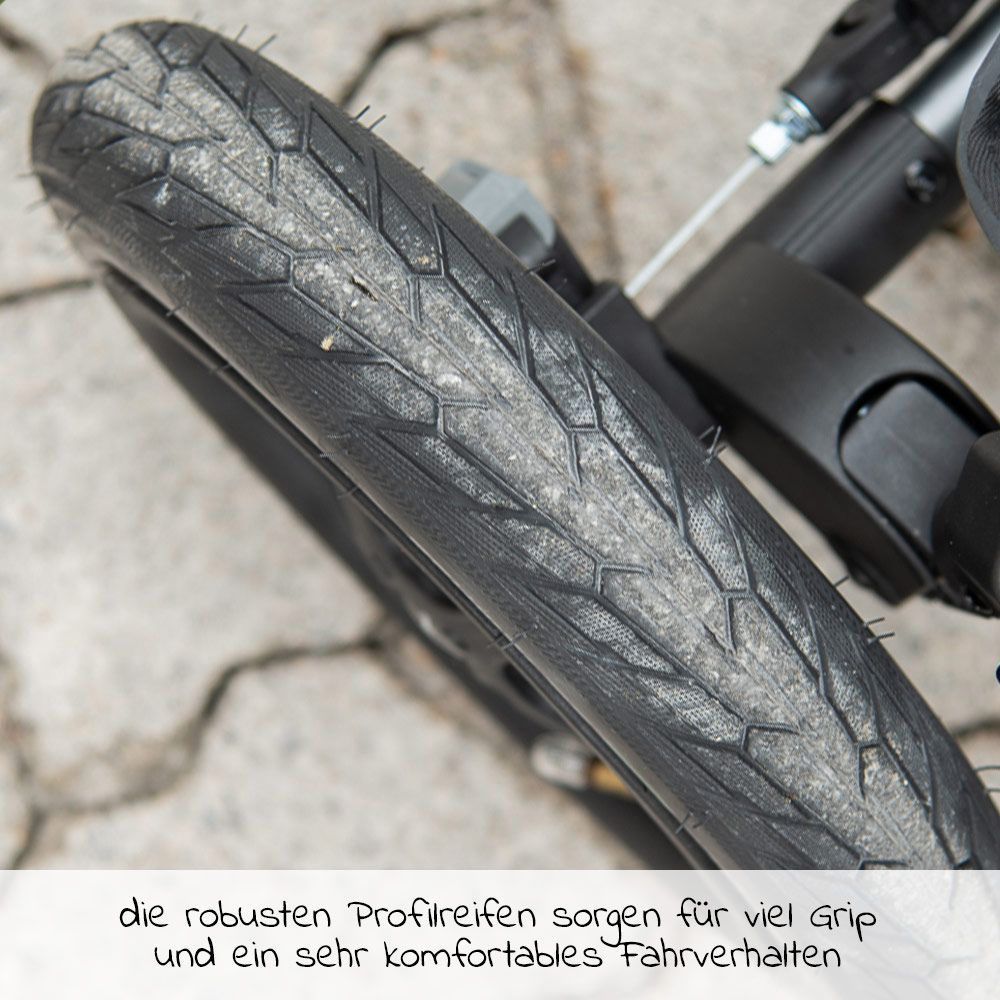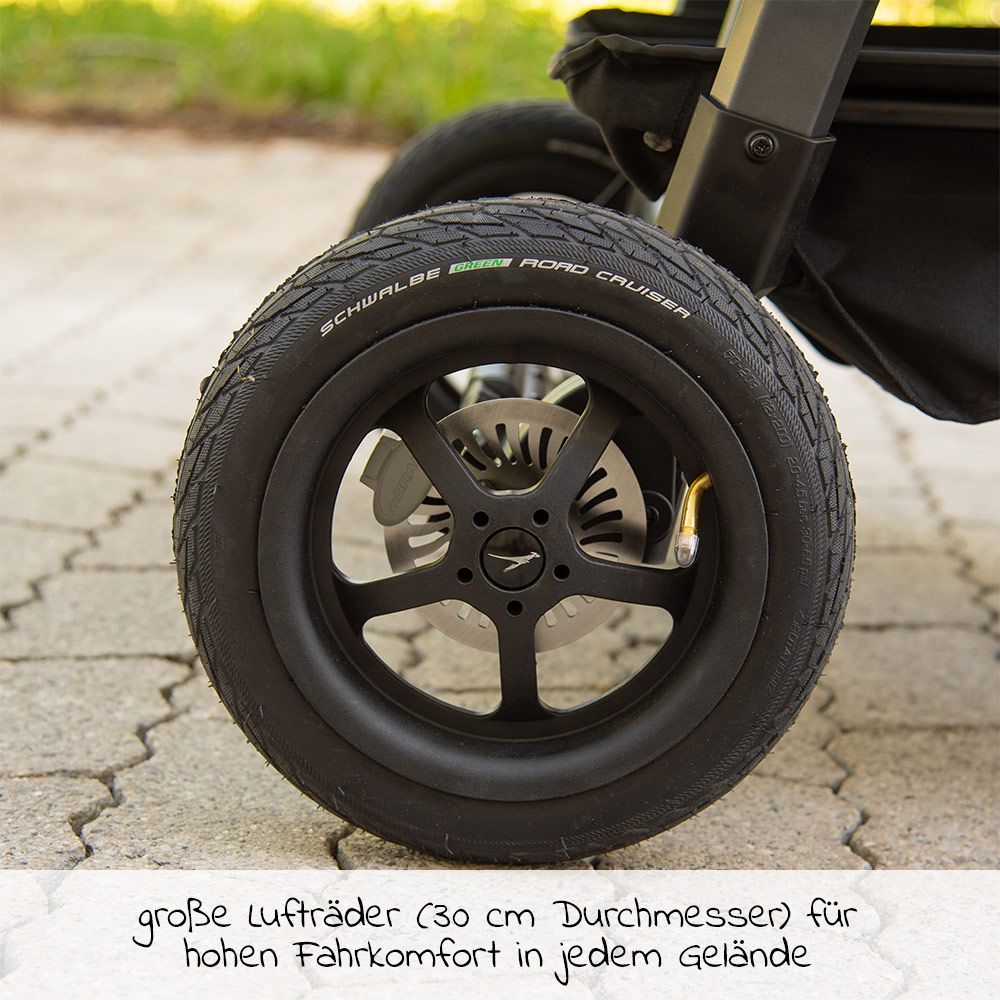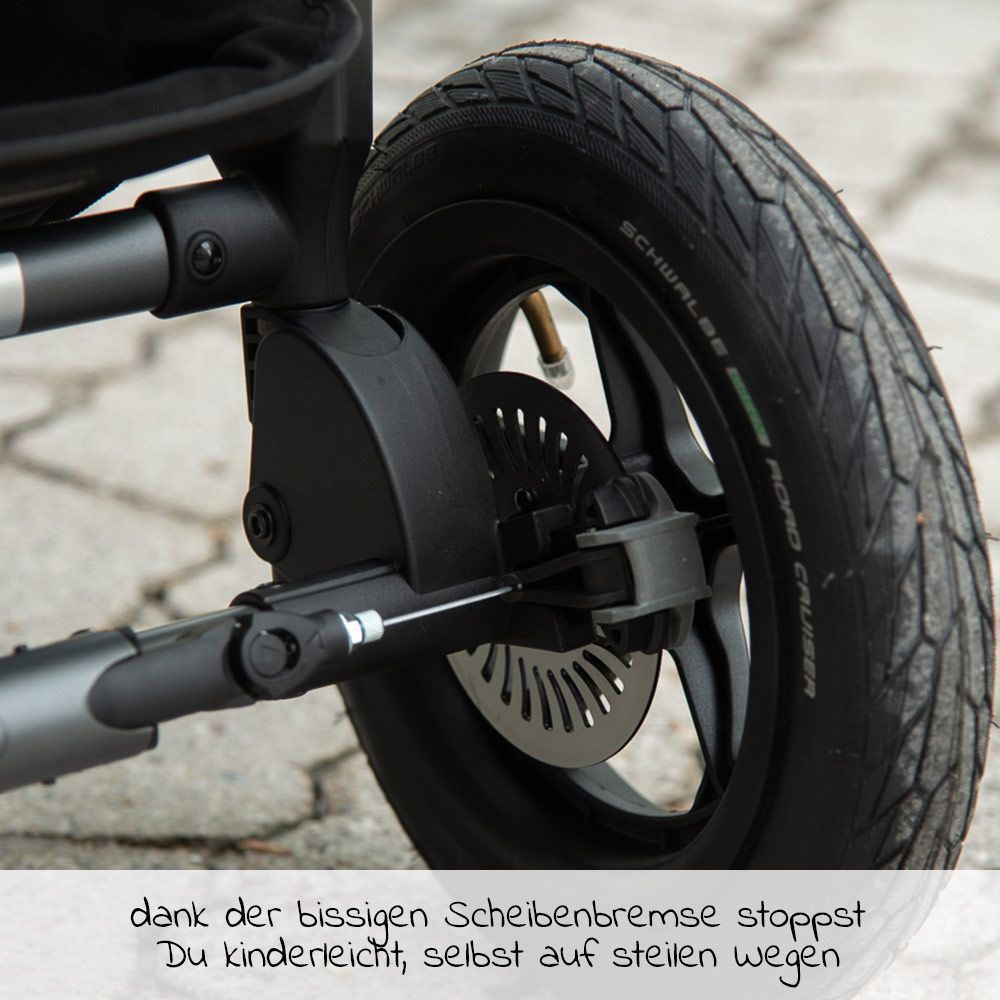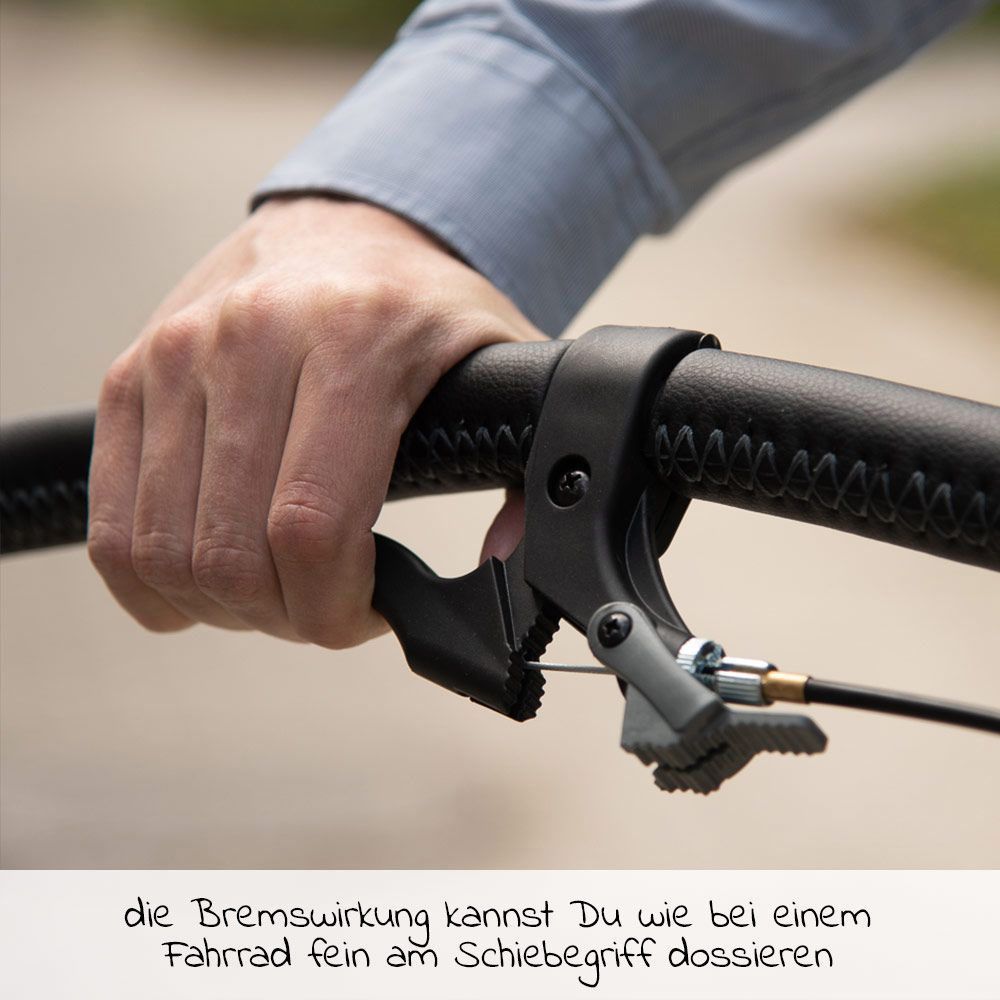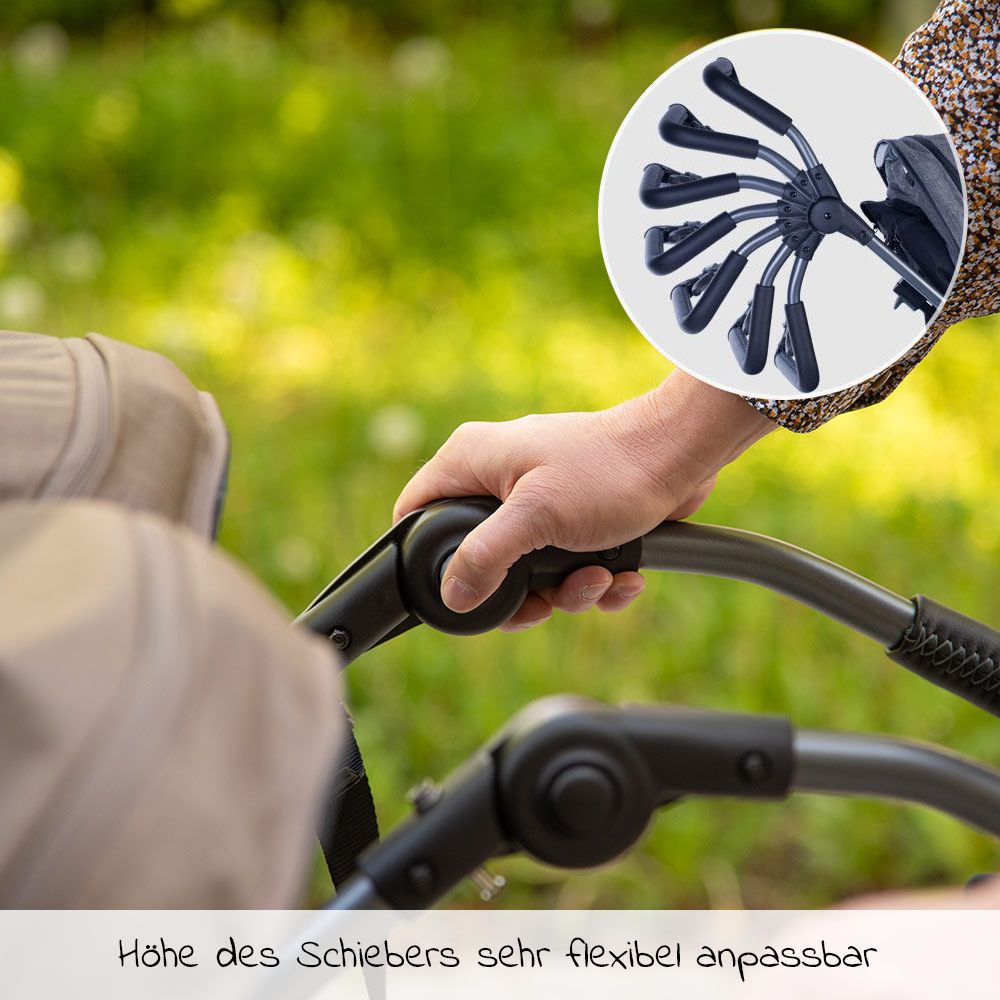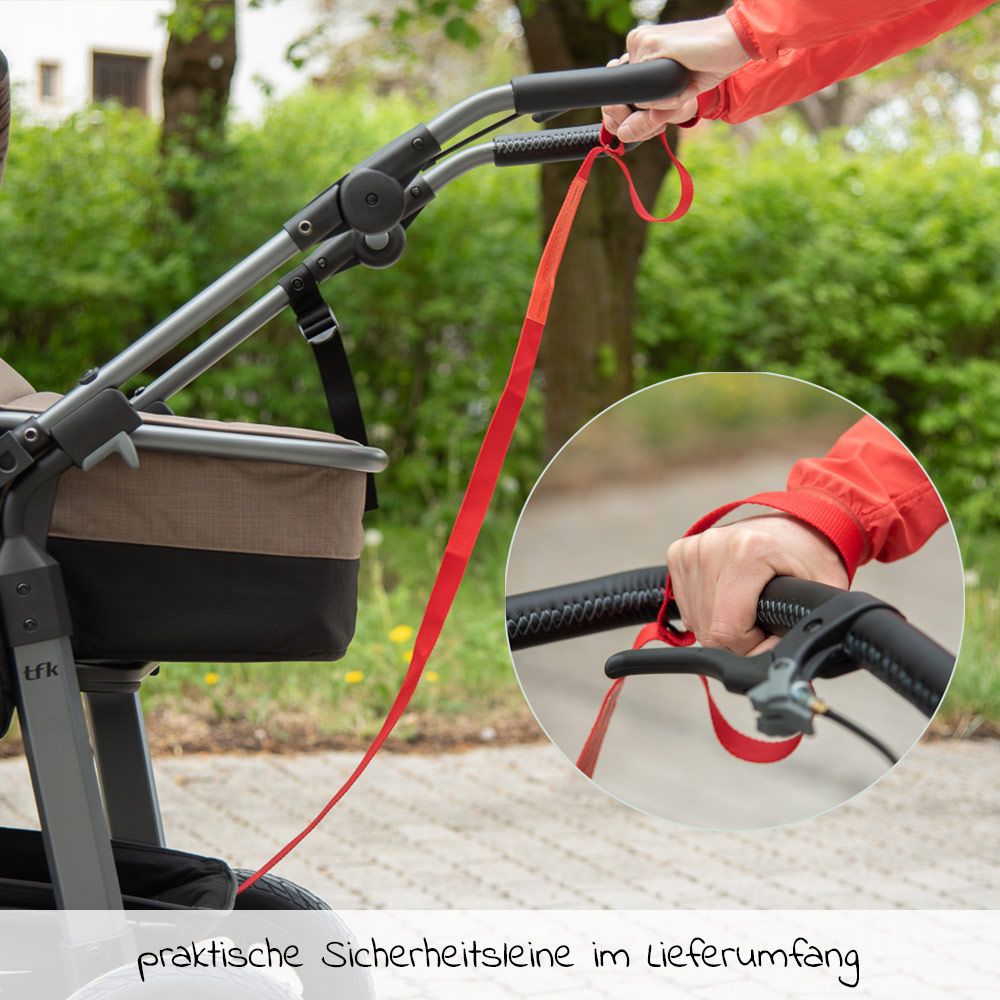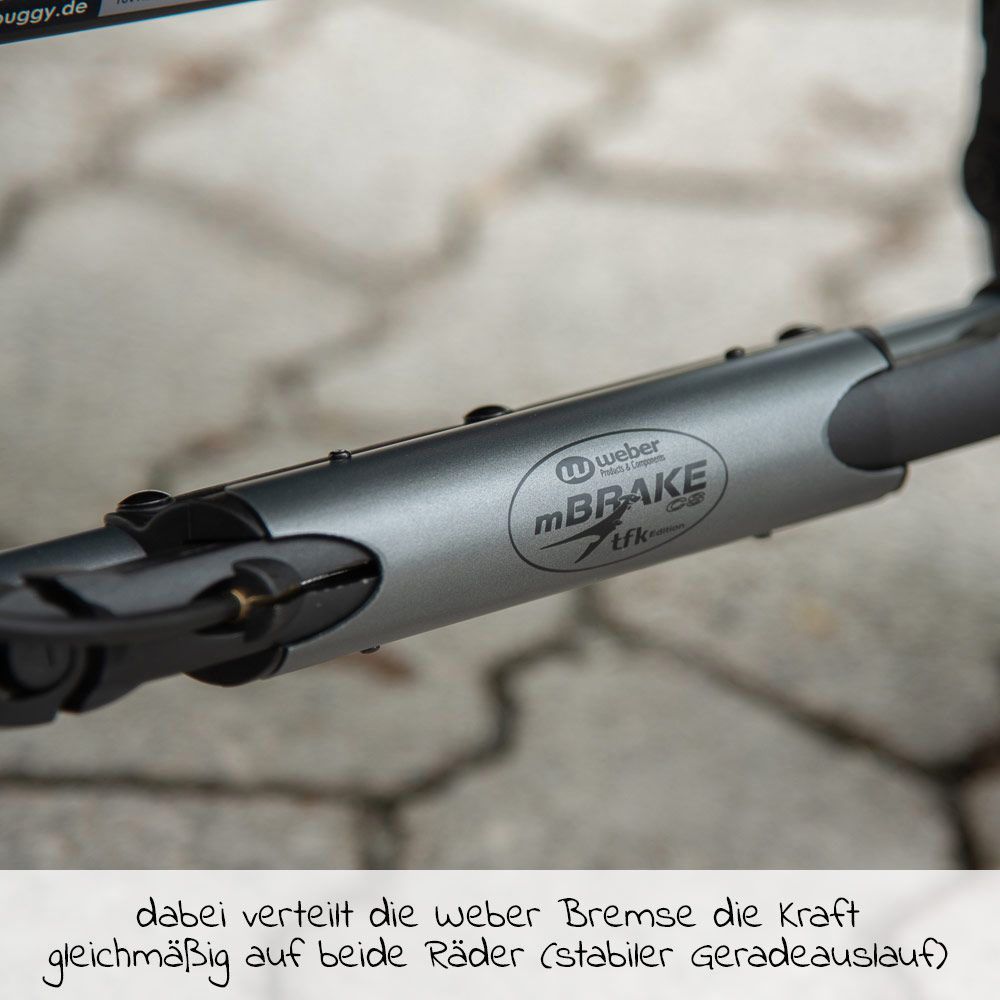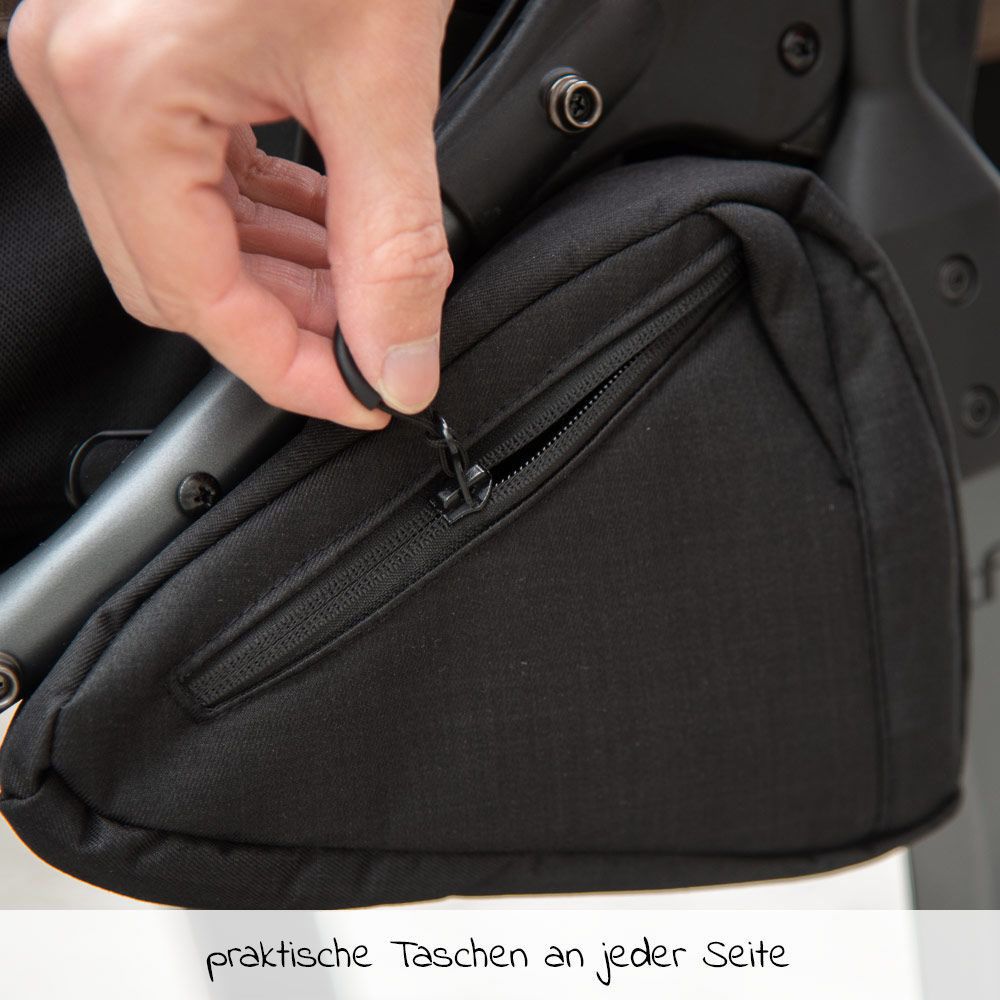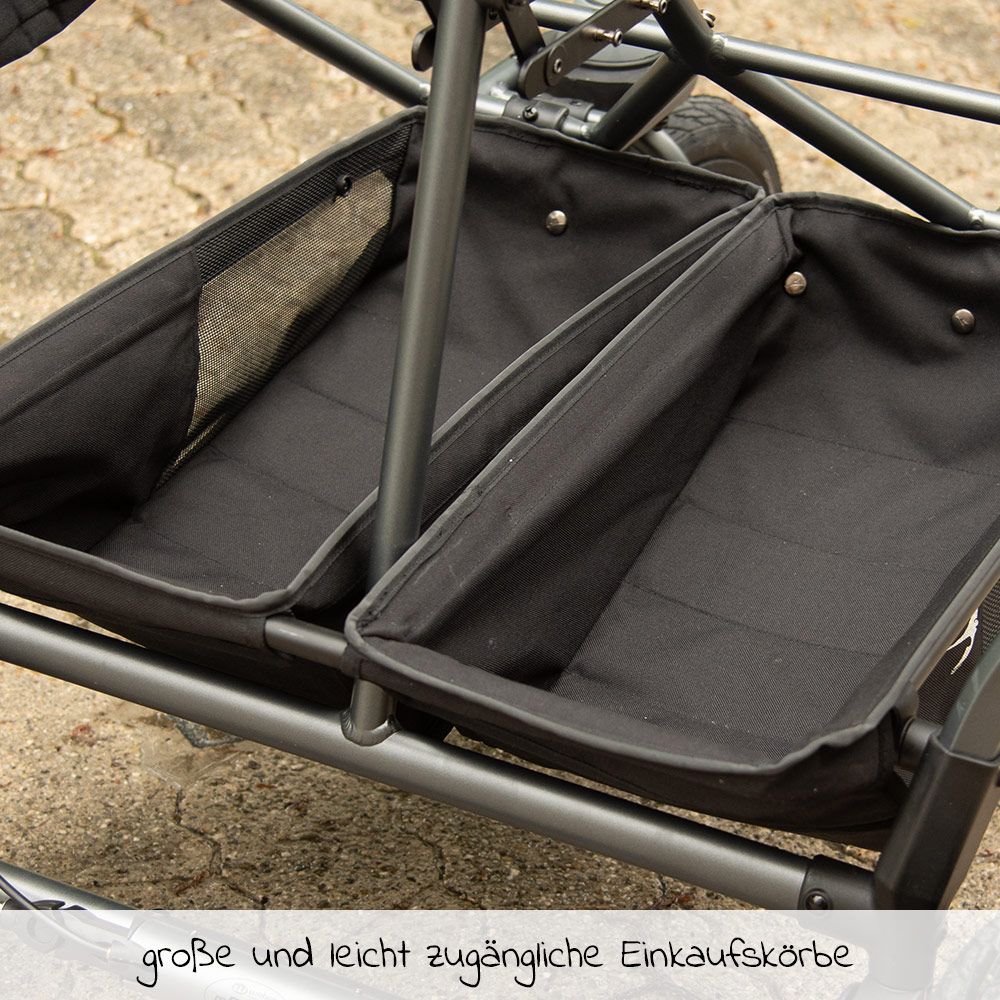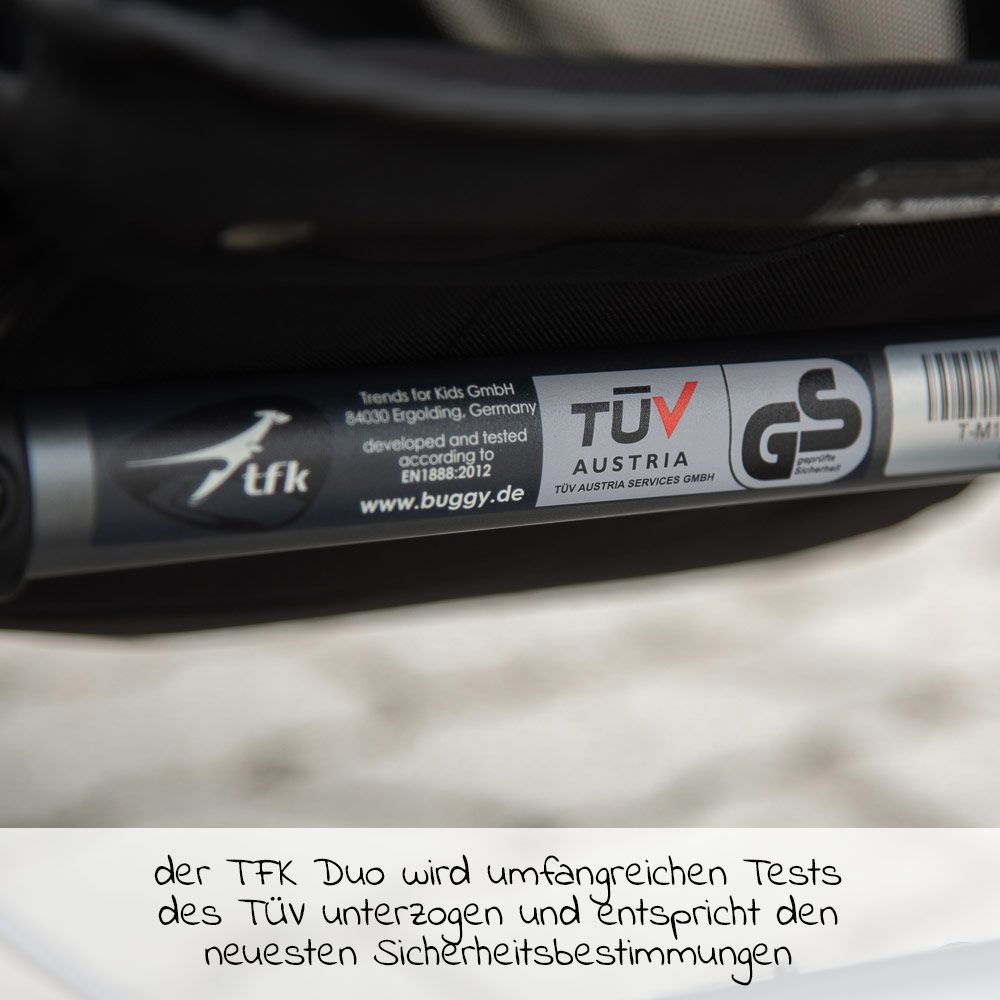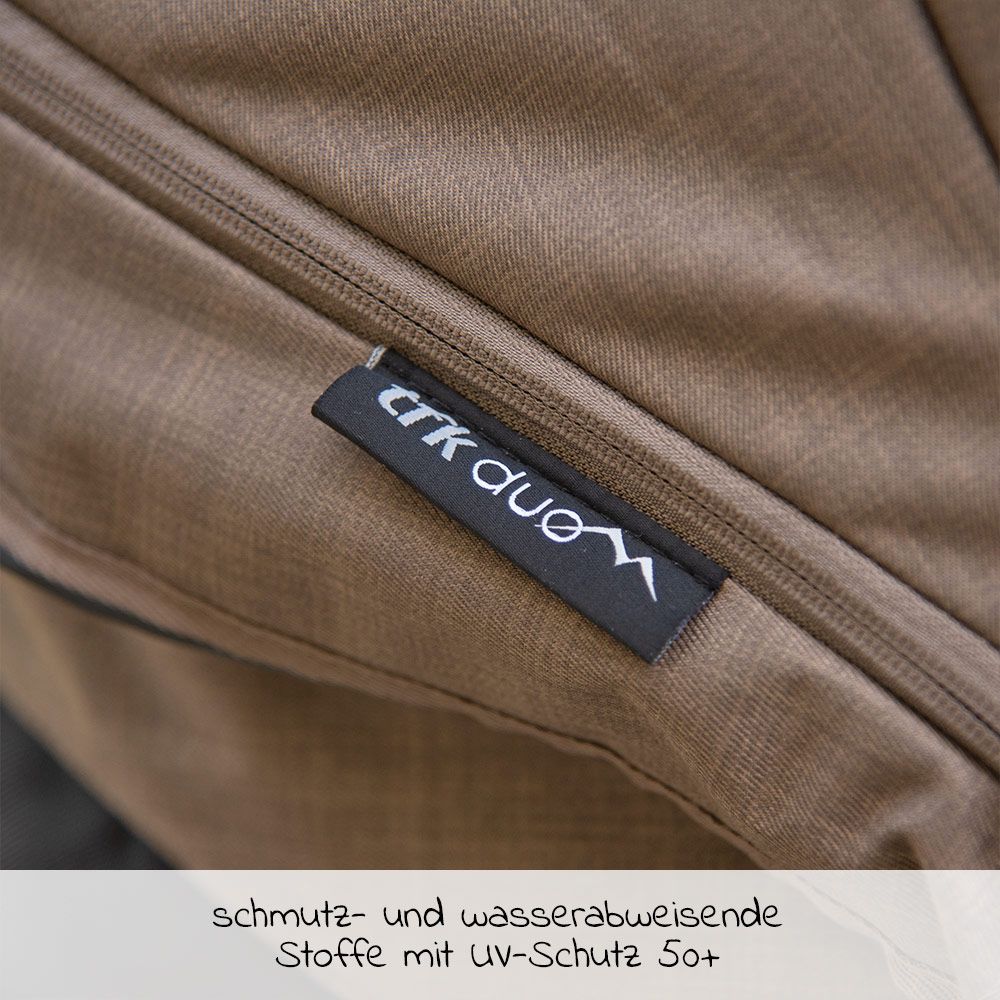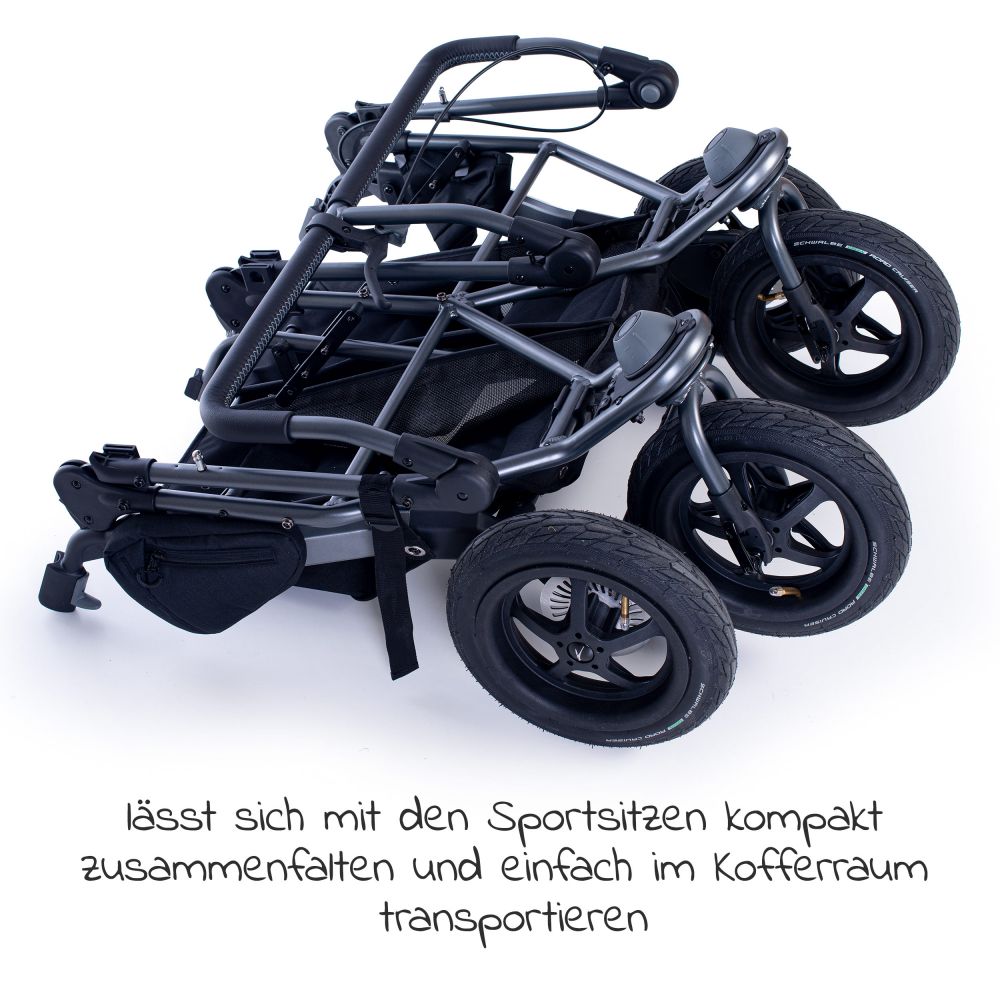 Free delivery from 50 €
Fast delivery
Purchase on account
Easy returns
Description
The most important at a glance:
With free XXL accessory package: 1 x rain cover for the sports seats and 1 x insect net for the sports seats from Diago.
Usable from 6 months long: The XXL sport seats can be used from 6 months to about 4 years (max. 45 kg).
Suitable for city & country: With the large 12-inch (30 cm) Schwalbe pneumatic tires, the duo is an all-rounder for any surface, disc brakes on both rear wheels for more safety, suspension on front and rear wheels, maneuverable in the city by rotating and lockable front wheels
Lots of comfort for parents & child: flexibly adjustable push height, push handle made of high-quality imitation leather, brake lever on the push handle, spacious shopping baskets, comfortable reclining function, canopy with UV protection 50+, practical ventilation options
Comes with free XXL accessory pack that includes rain cover and insect net for Diago sports seats.
The sibling and twin sport stroller Duo - Brown with 2 XXL sport seats is the consistent further development of the proven TFK classics Twin Trail and Twin Adventure. As with its predecessors, quality and safety are a top priority.
It is a reliable all-rounder and thanks to large, shock-absorbing Schwalbe pneumatic wheels 12 inches (30 cm) can be used on almost any terrain. Not only when hiking but also when strolling through the city, the stroller cuts a fine figure. Children up to kindergarten age will eventually get tired during hikes and longer stays outdoors. In the sport seat, they can rest in between - or simply close their eyes.
The Duo scores with its well thought-out outdoor features: For example, it has comfortable front and rear suspension. It adapts to the weight of your children and gently absorbs shocks when riding over hill and dale. The Duo is also equipped with shock-absorbing, all-terrain pneumatic wheels. With the disc brake, which can be operated from the pusher, the stroller stops faster than other strollers - even when going downhill steeply. The push handle made of high-quality imitation leather can be adjusted up to a height of 122 cm. So you can push even as a large mother or father back-friendly. When the ride is over, you can stow the frame and attachment in the trunk in no time at all to save space.
Age recommendation: from 6 months up to approx. 4 years (total load max. 45 kg).
Note: With the optionally available combination unit, the Duo can also be used from birth and is therefore suitable for siblings who have an age difference of more than about 1.5 years.
Use: suitable for the city and for off-road (forest and field paths).
Features: Aluminum frame, shock-absorbing 12 inch (30 cm) Schwalbe pneumatic wheels (removable), height-adjustable pusher (up to 122 cm) with brake lever, suspension on rear and front axle, disc brakes, breathable, ergonomic reclining and seating areafront wheels can be turned and locked, height-adjustable and padded 5-point harness, viewing window in the canopy, height-adjustable backrest, back of the sports seats with ventilation opening made of mesh fabric
Special features: sun canopy (UV protection 50+) with sun visor, dirt- and water-repellent fabrics, adjustable footrest, reflector straps, push handle made of imitation leather, suitable and approved for sports use (jogging) when the front wheel is in the sitting position and locked in position
Comfort and safety
The seats of the sport seats are infinitely adjustable up to the lying position in order to be able to adapt them optimally to the needs of your children. Your offspring from the age of at least 6 months up to approx. 4 years (total load of 45 kg) will find a comfortable place here. In addition, the seats are equipped with 3-fold height-adjustable footrests. So your children can comfortably put their feet up at any age.
The generous canopies with UV protection 50 + and closable viewing window provide reliable shade. Safety must be a part of it: That's why the seat unit is equipped not only with head pads but also with well-padded 5-point harness systems. The full-length safety bar is removable and foldable for faster entry and exit. It can also be adjusted in height.
The fabrics used have been manufactured in accordance with Oeko-Tex Standard 100. They are dirt and water repellent and breathable.
Many practical extras
During the walk, you will quickly appreciate the many additional features of the Duo. On hot days, the built-in mesh windows provide good ventilation inside the sport seats. If it's dark, you'll still be easy to see in traffic thanks to the reflector straps. If it gets uncomfortable outside, the weather protection integrated in both backs of the seats comes into play.
Since all functions are individually adjustable, it is no problem if one of your children wants to sleep in a reclining position, while the other enjoys the view sitting.
The slide made of imitation leather is adjustable in height up to 122 cm. This makes the Duo the ideal stroller for tall parents. The brake lever on the pusher is practical and safe. With it you reduce the speed during the journey in the right measure. The powerful disc brakes stop the Duo reliably - even on steep descents or in wet conditions. When you're standing, you can also use the brake lever to operate the parking brake. This is very useful on sloping terrain - and also on public transport.
You can easily stow everything you have with you besides your offspring in the Duo. In addition to the basket under the seat, there are small, practical storage compartments with zippers on the side.
Area of application - frame and chassis
Thanks to the spring-mounted axles and the large 12-inch (30 cm) Schwalbe pneumatic wheels, your little nap will not be interrupted even on faster rides.
Whether serpentine or supermarket: the 360° rotatable front wheels provide the necessary maneuverability. You want to get ahead quickly? Then you can fix the wheels with just one hand movement. The rims are equipped with all-terrain pneumatic wheels. For space-saving transport, you can fold the trolley quickly and easily after use. To save even more space, you quickly remove the wheels.
You can easily remove the cover and wash it at 30 °C. The frame is completely clean. The frame can be easily cleaned with a damp cloth.
Store'n Drive system
You can also use the Duo in combination with baby car seats. For this you need the following adapters from TFK:
Adapter art. no. 202000001371 suitable for the following infant carriers:
Maxi-Cosi: Pebble, Pebble Plus, Cabrio Fix, Citi, Rock, Coral
Cybex: Aton 5, Cloud Q, Aton M, Cloud Z
BeSafe: IziGo
Joie: i-Gemm, i-Level
Avionat: Pixel
Adapter art. no. 202000001372 suitable for the following infant carriers:
All adapters are available in our store.
Scope of delivery:
Sibling and twin stroller Duo
2 x XXL sport seat
1 x safety bar
2 x canopies UV protection 50+
2 x shopping basket
2 x weather protection
1 x rain cover
1 x insect nets / mosquito nets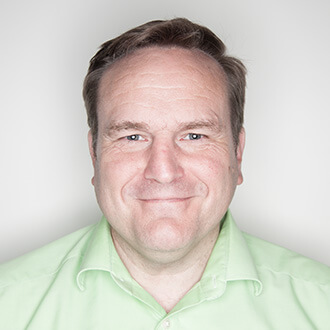 Product Codes
| | |
| --- | --- |
| Our product code: | 202100003900 |
| TFK product code: | T-D1-FA + S-327-Zamboo Zubehör |
| EAN/GTIN: | 4251209107670 |
Technical details
| | |
| --- | --- |
| Product Group: | 3 |
| Brand: | TFK |
| Color: | Brown |
| Additional care instructions: | Gestell: Mit feuchtem Tuch reinigen |
| Ironing: | Do not iron |
| Tumble drying: | Do not tumble dry |
| Washing instructions: | Hand wash only at max. 30 °C |
| Cover: | Removable |
| Product dimensions (L x W x H): | 121 x 78 x 109 cm |
| Folded dimensions (L x W x H): | 93 x 78 x 43 cm |
| Weight: | 22.5 kg |
| Features: | Handlebar, Certified jogging stroller, Handbrake |
| Functions: | Height-adjustable handlebar, Parent-facing & rear-facing, Swivel Seat, Adjustable backrest, Reclining position |
| Main material: | Aluminium |
| Product type: | Twin strollers, Double strollers |
| Scope of delivery: | Babywanne, Schutzbügel, Geschwister- & Zwillingswagen Duo, XXL-Sportsitz, Matratze, Einkaufskorb, Verdeck UV-Schutz 50+, 2 x Regenschutz für den Sportsitz, 2 x Insektenschutznetz |
| Backrest: | steplessly adjustable (up to lie-flat position) |
| Handbrake: | Available |
| Parking brake: | Hand-operated |
| Bumper bar: | Included & removable |
| Car Seat: | Not included - available as accessory |
| Compatible car seats: | Cybex Aton 2, Cybex Aton 3, Cybex Aton 4, Cybex Aton Q / Plus, Cybex Aton Cloud Q / Plus / i-Size, Maxi-Cosi Citi, Maxi-Cosi Citi SPS, Maxi-Cosi Cabriofix, Maxi-Cosi Pebble, Maxi-Cosi Pebble Plus, Römer Baby-Safe Plus SHR II, Römer Baby-Safe Plus II, Römer Baby-Safe Plus |
| Carrycot: | Not included - available as accessory |
| Cocoon: | Not available |
| Backrest length: | 49 cm |
| Folded dimensions without wheels (L x W x H): | 75 x 78 x 38 cm |
| Seat (L x W): | 24 x 29 cm |
| Reclining surface of seat (L x W): | 95 x 30 cm |
| Reversibility: | Yes - reversible Seat |
| Footrest: | Not adjustable |
| Handle height: | 74 - 121 cm (Height-adjustable handle) |
| Handle type: | Handlebar |
| Hood seat: | Extendable, with peep window |
| Material cover: | 100% Polyester |
| Safety harness: | Five-point harness |
| Suspension: | Available |
| Suitable terrains: | Countryside and forest |
| Age recommendation: | From birth onwards with separate attachments |
| Front wheels: | Removable, swivel, lockable |
| Diameter of front wheels: | 30 cm |
| Quantity of wheels: | 4 |
| Rear wheels: | Removable |
| Diameter of rear wheels: | 30 cm |
| Type of tires: | Air-filled tires |
| Recommended Max. Age: | 60 month(s) |
| Maximum weight limit: | 45 kg |
| Recommended Min. Age: | 6 month(s) |
| Shipping Date: | 01.12.2023 |