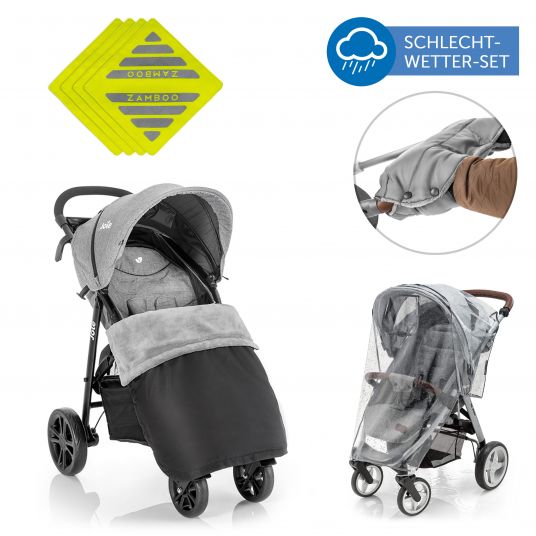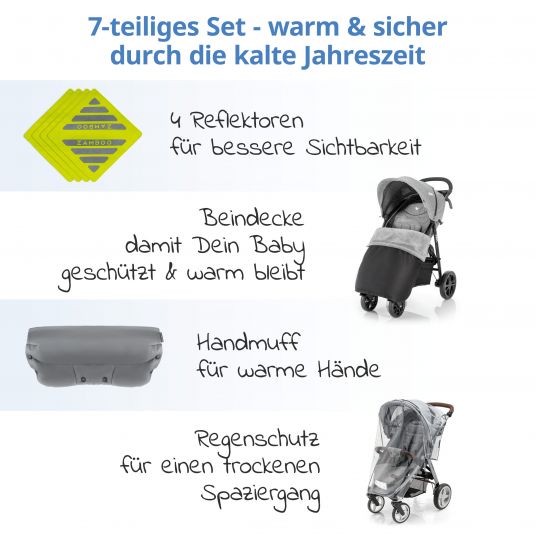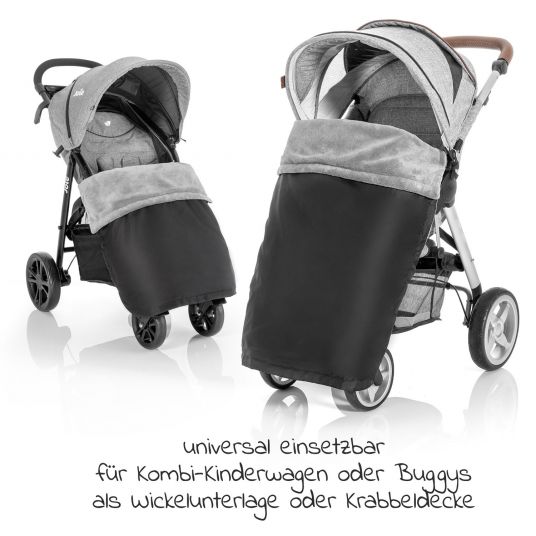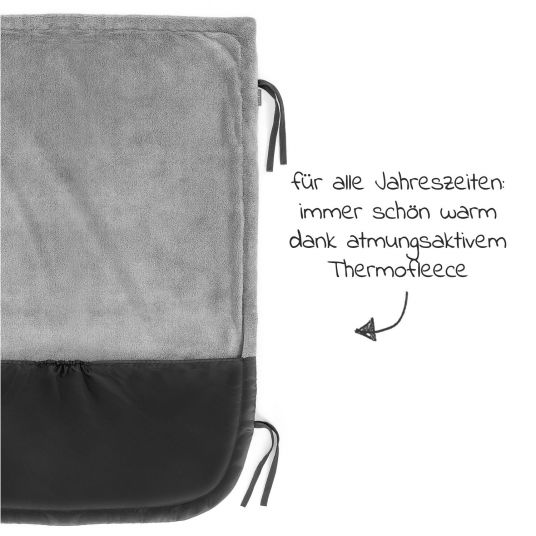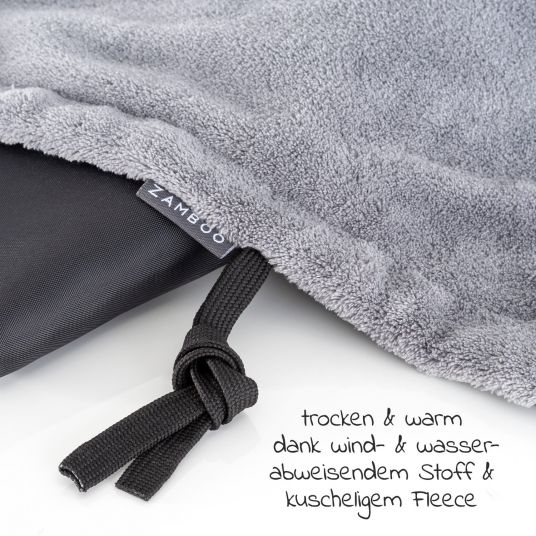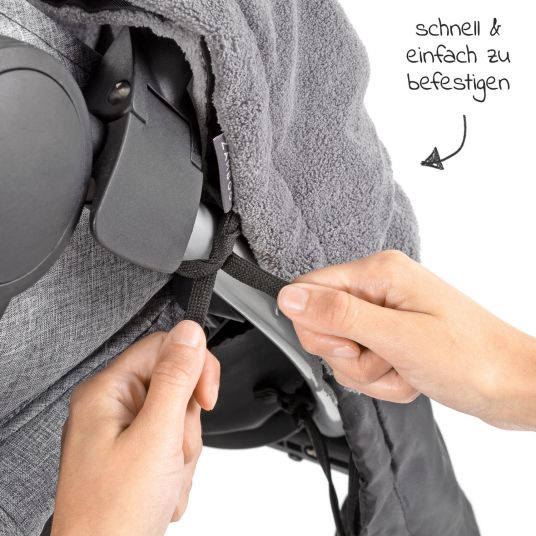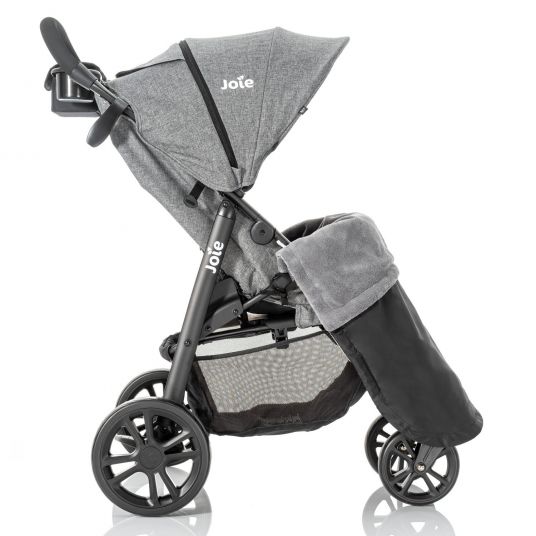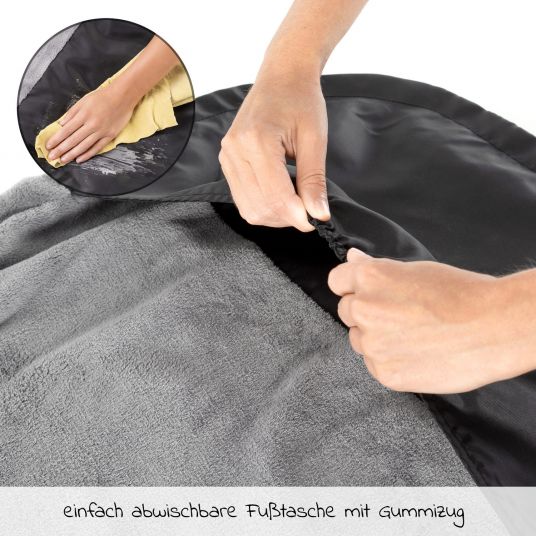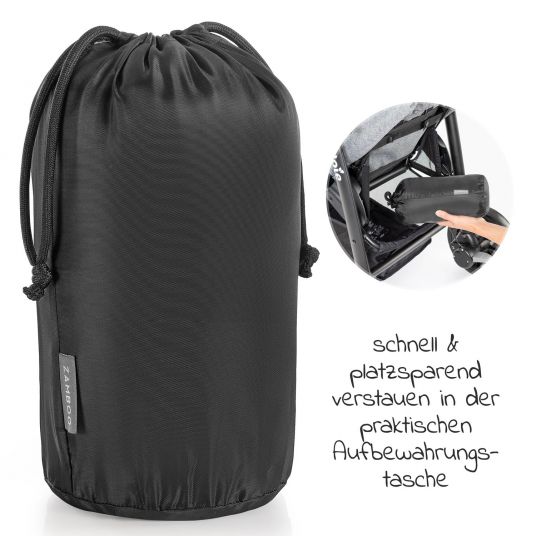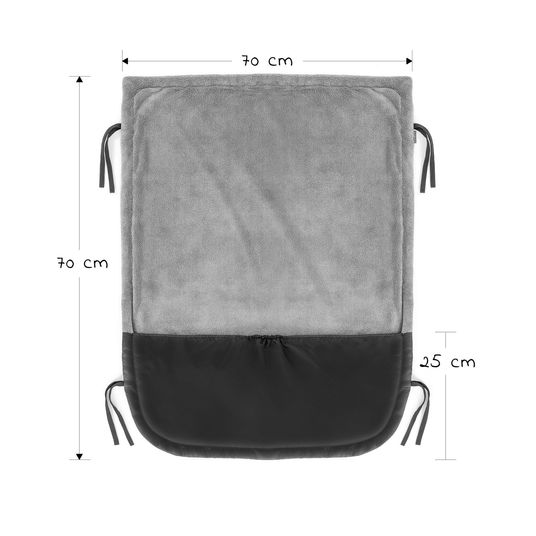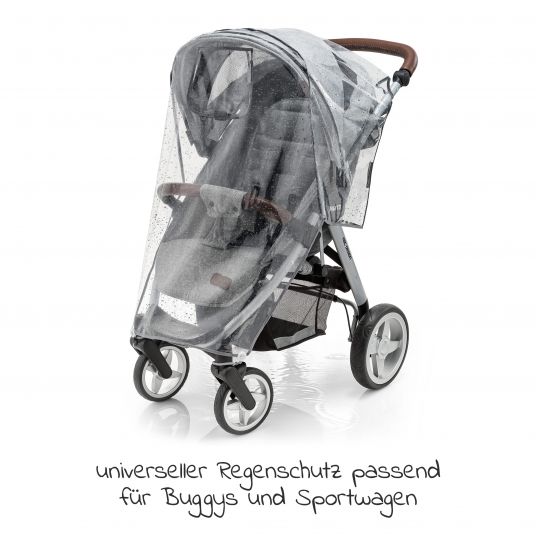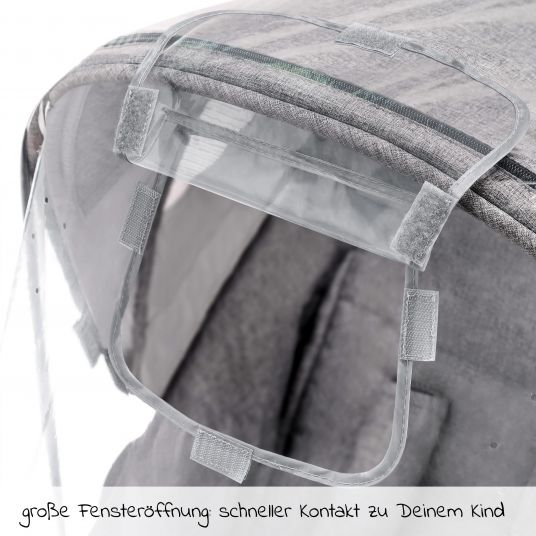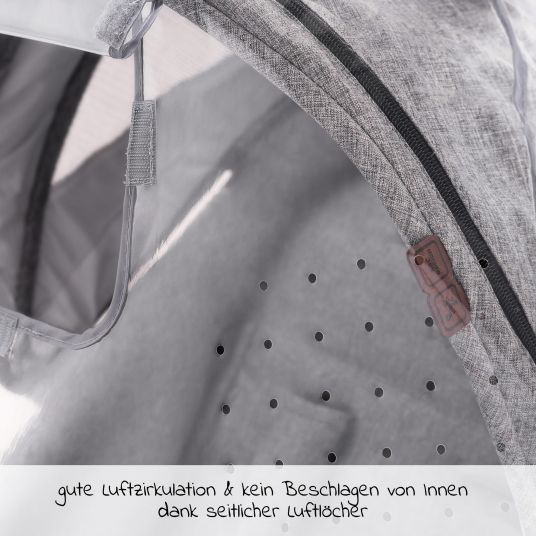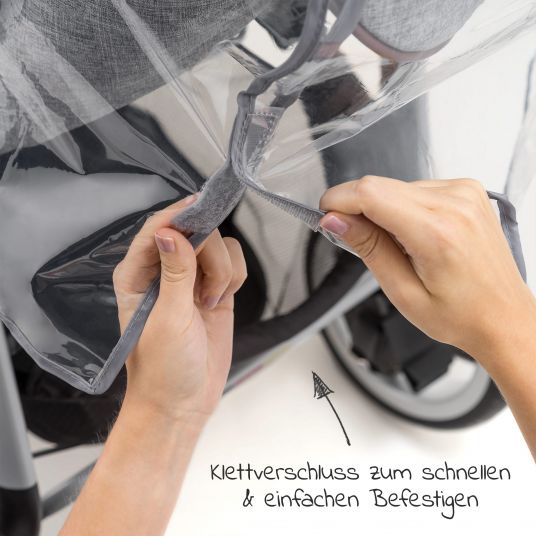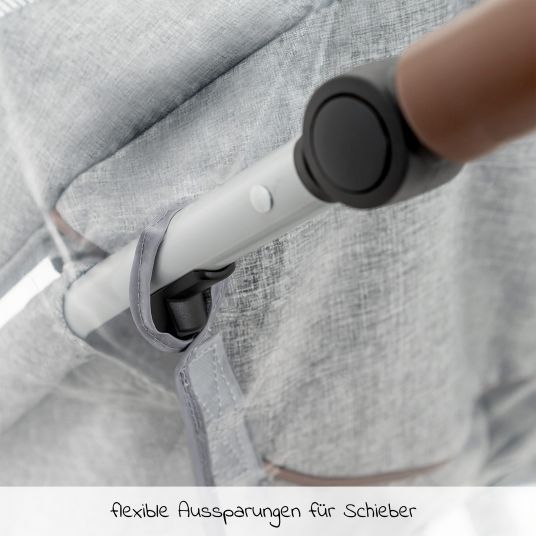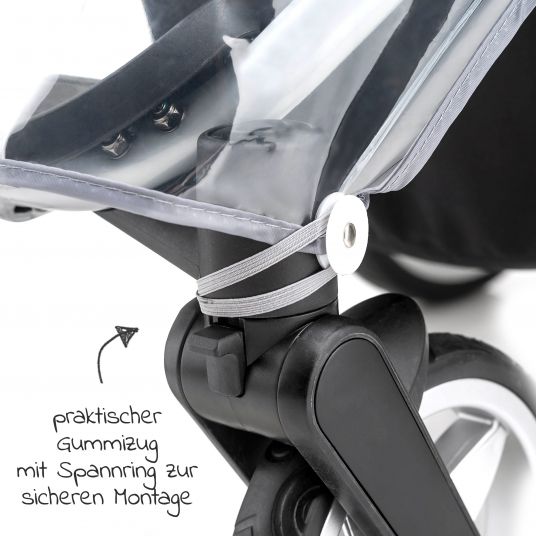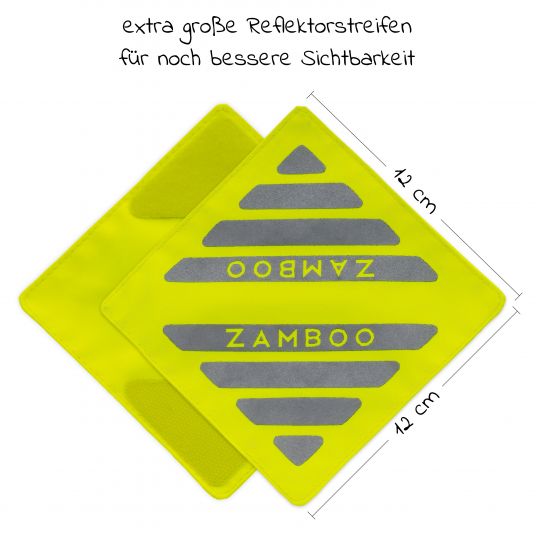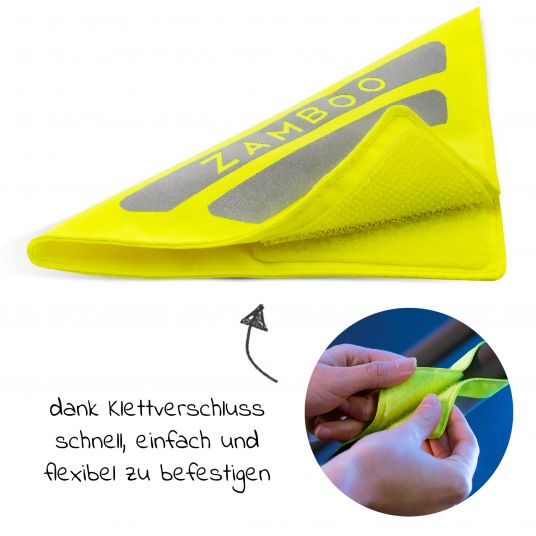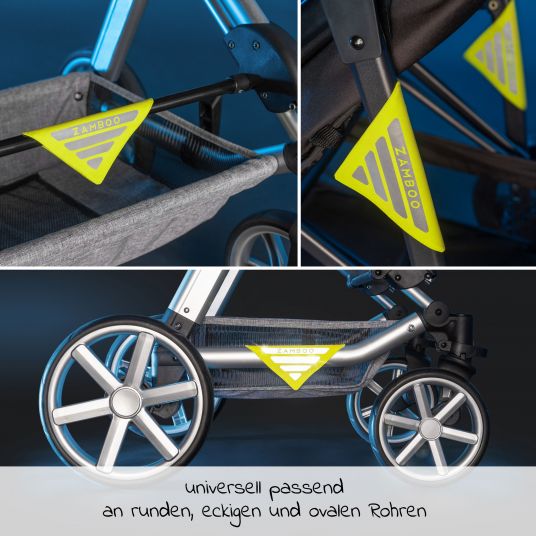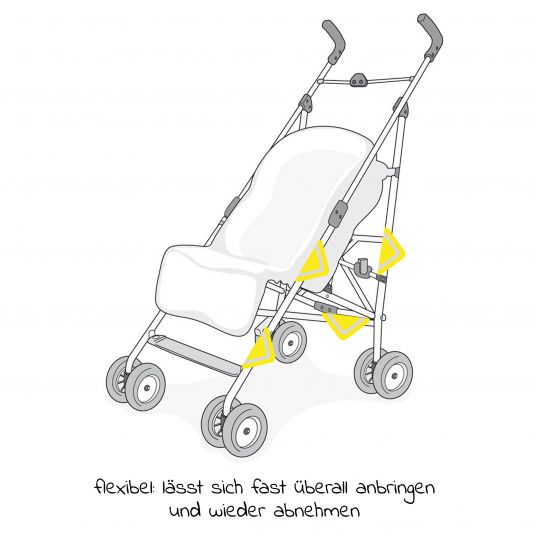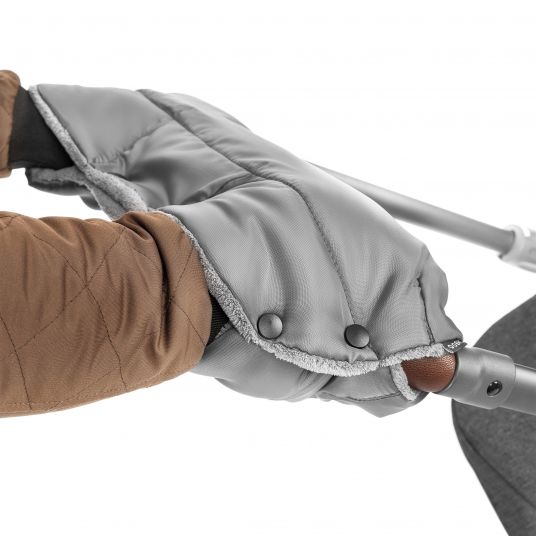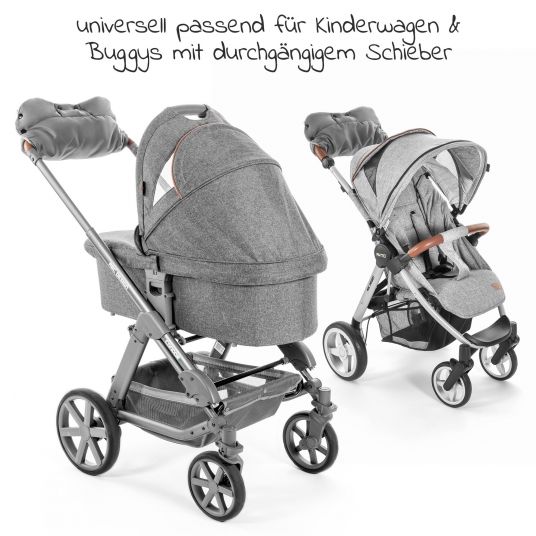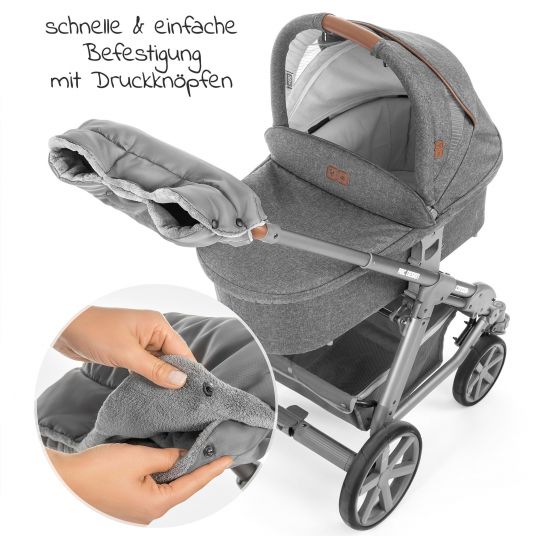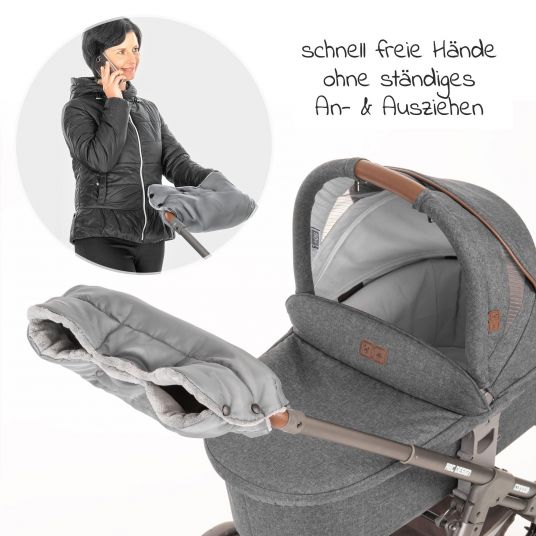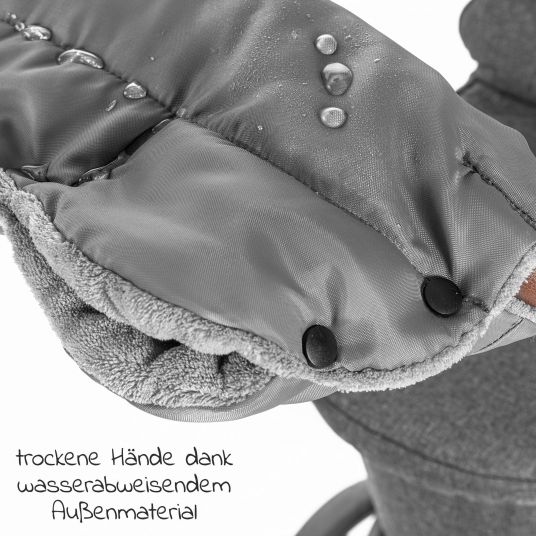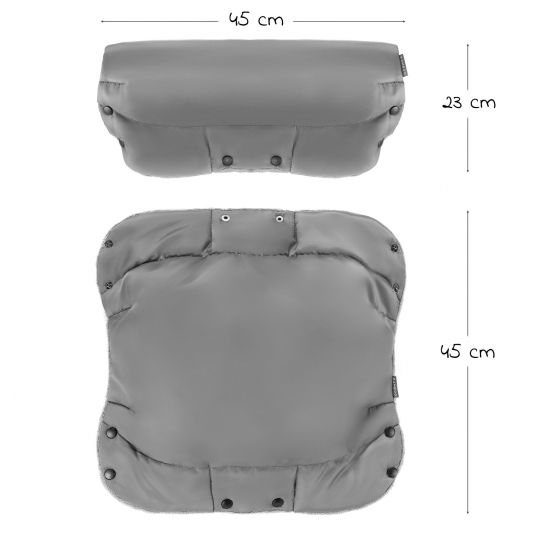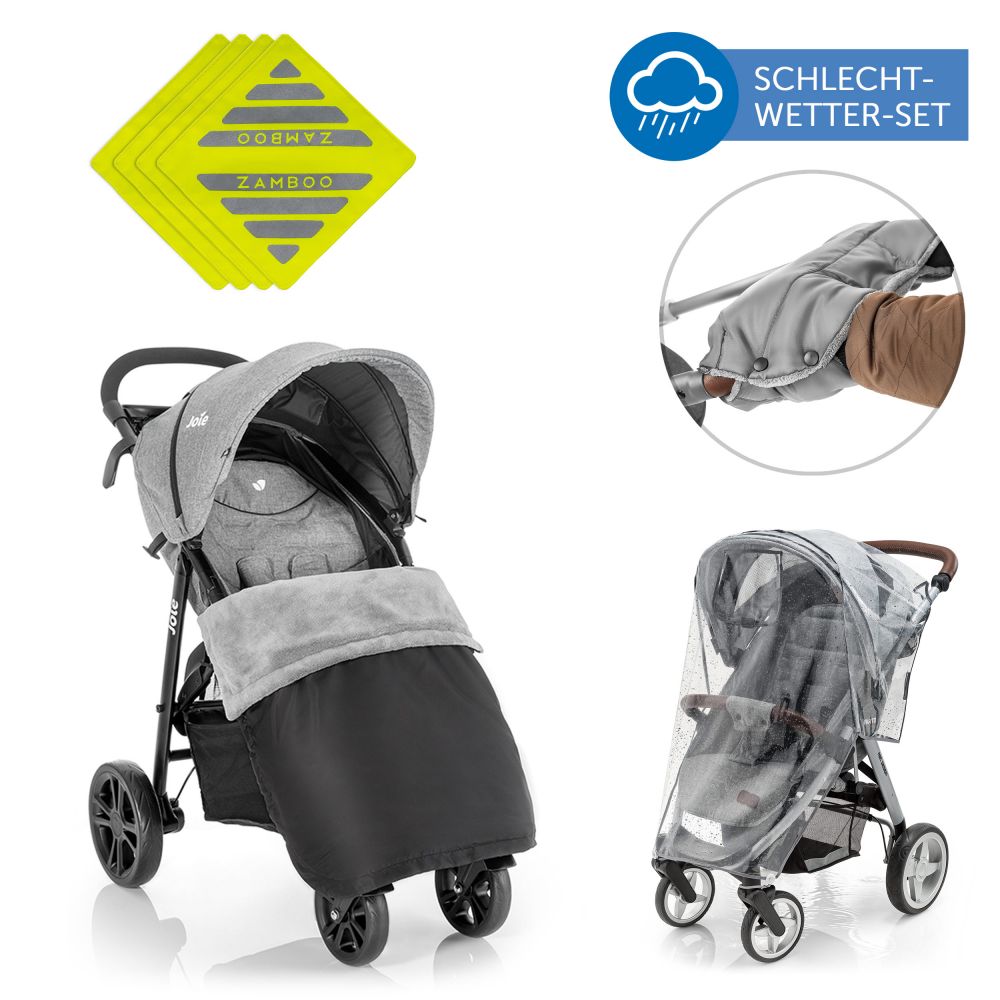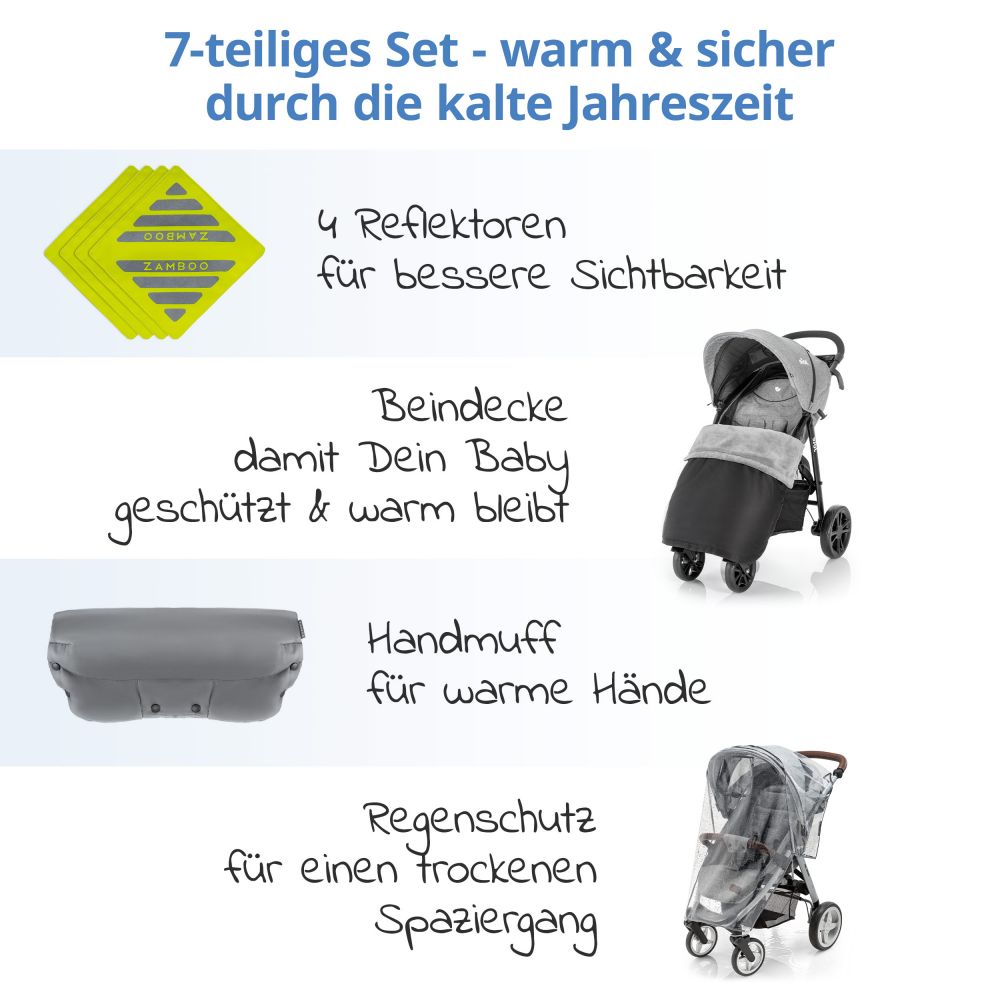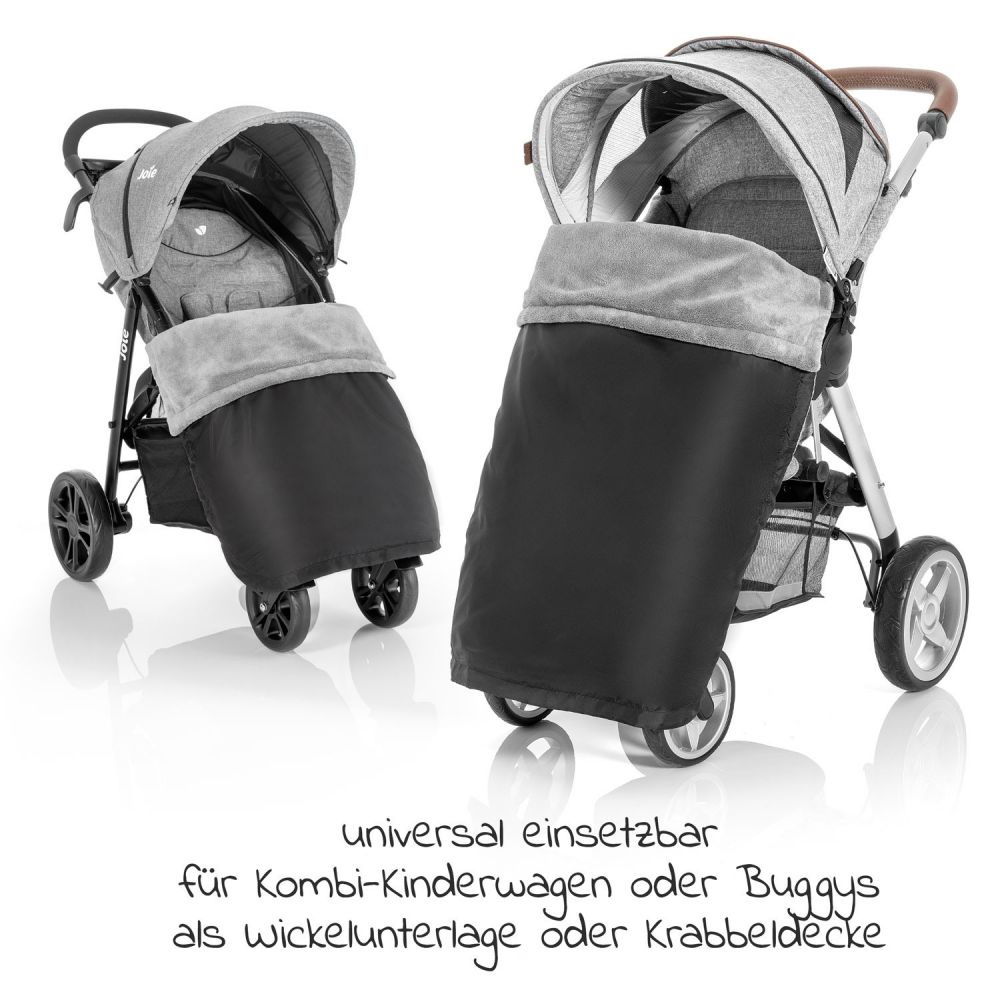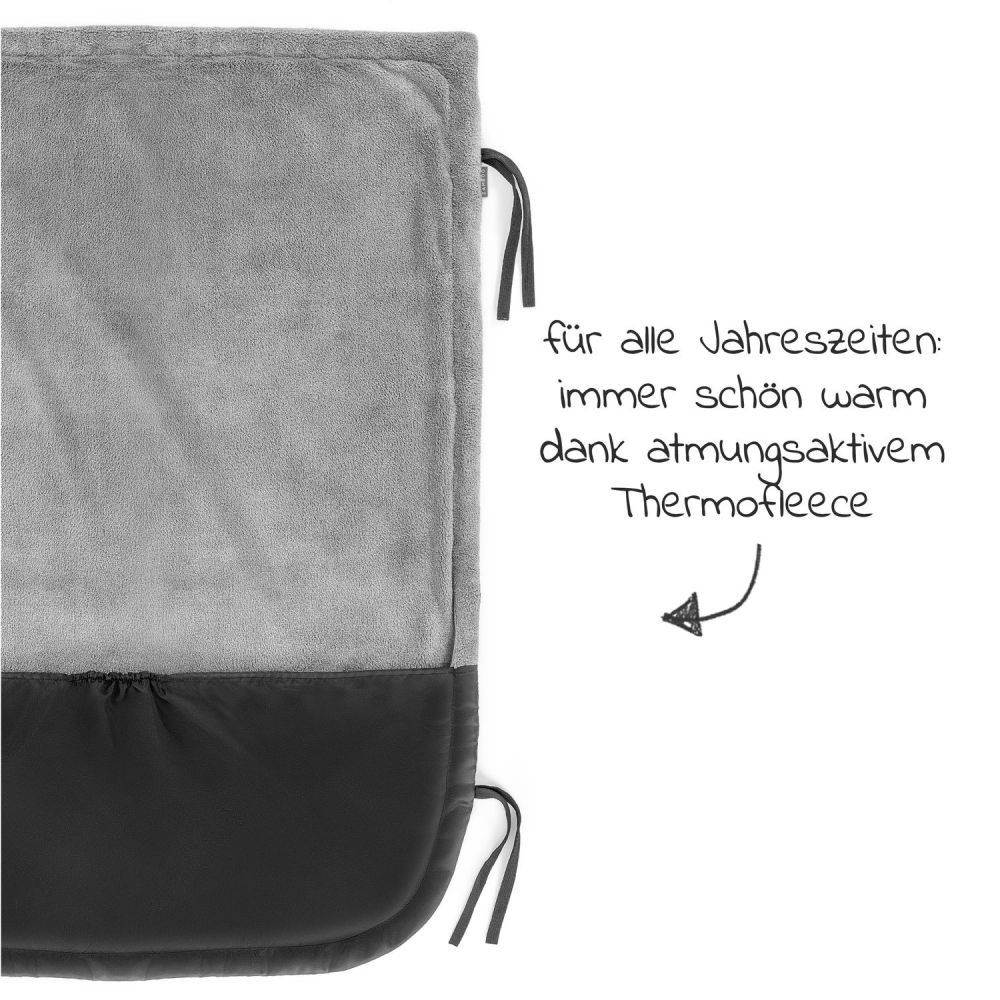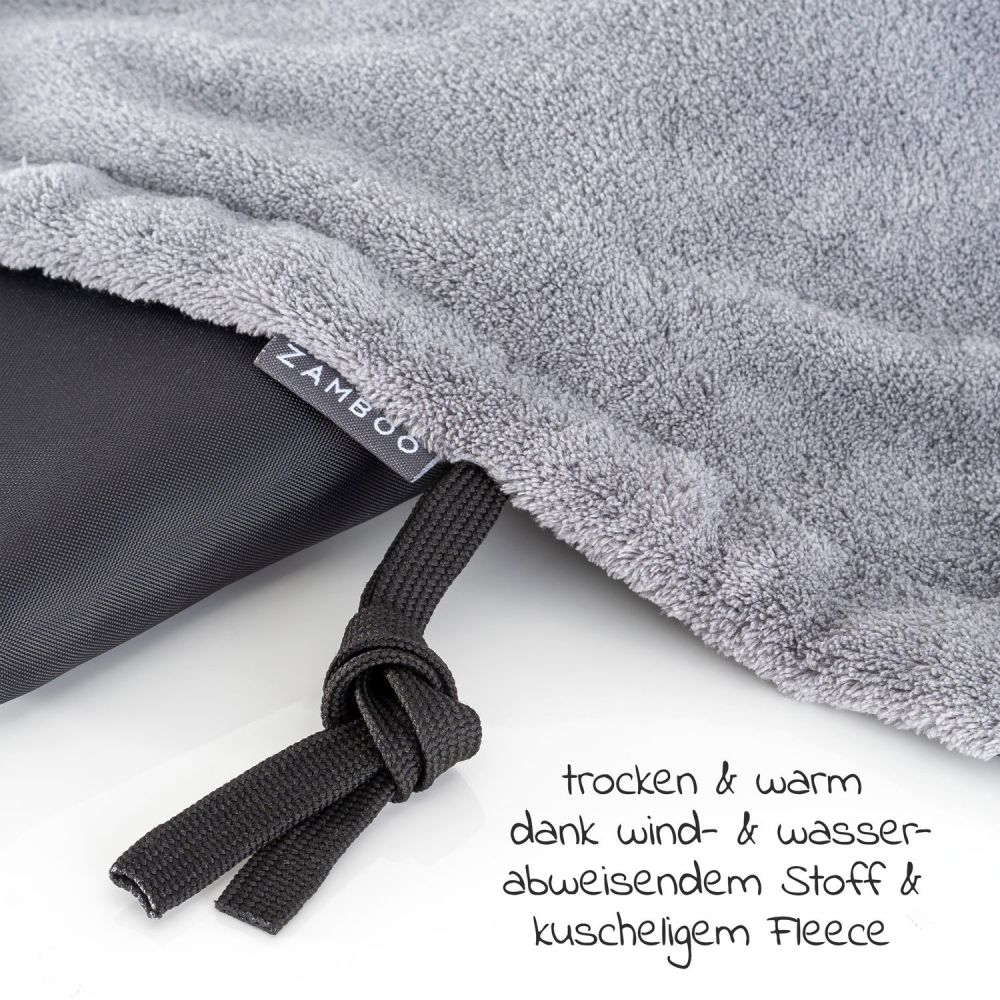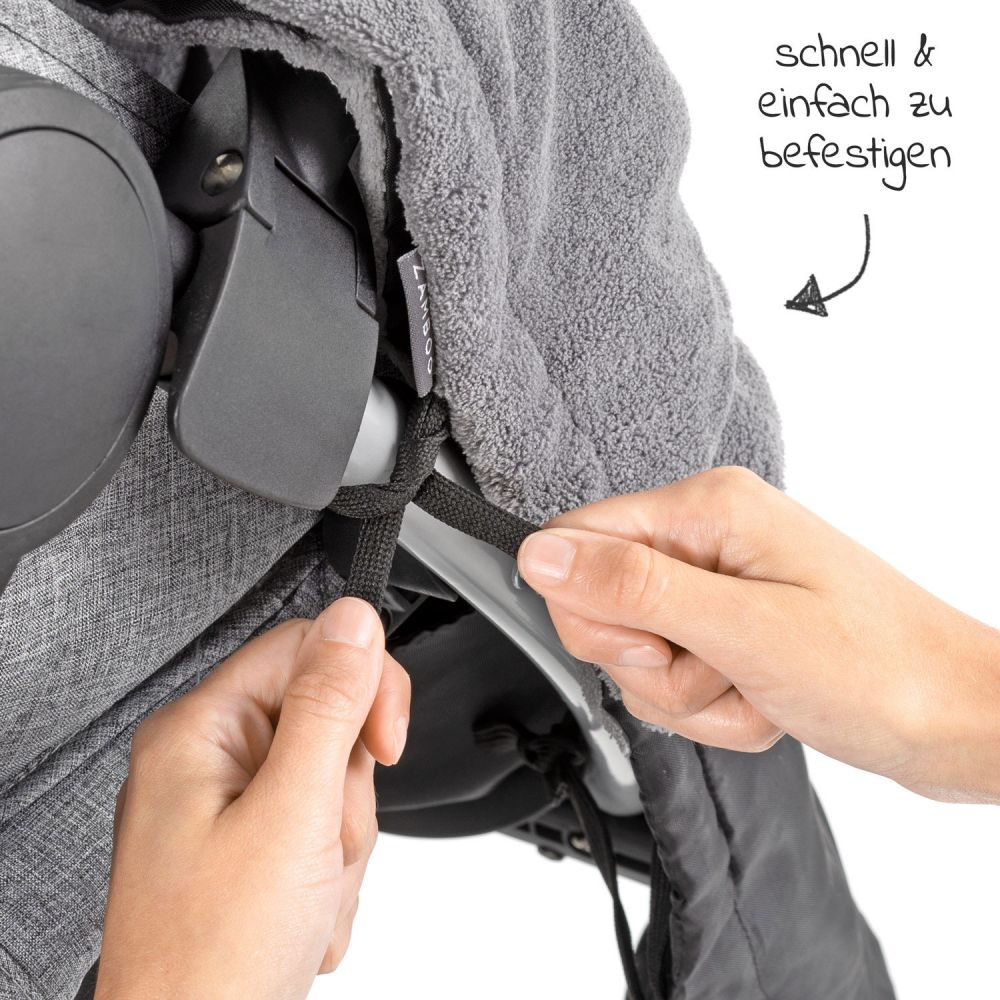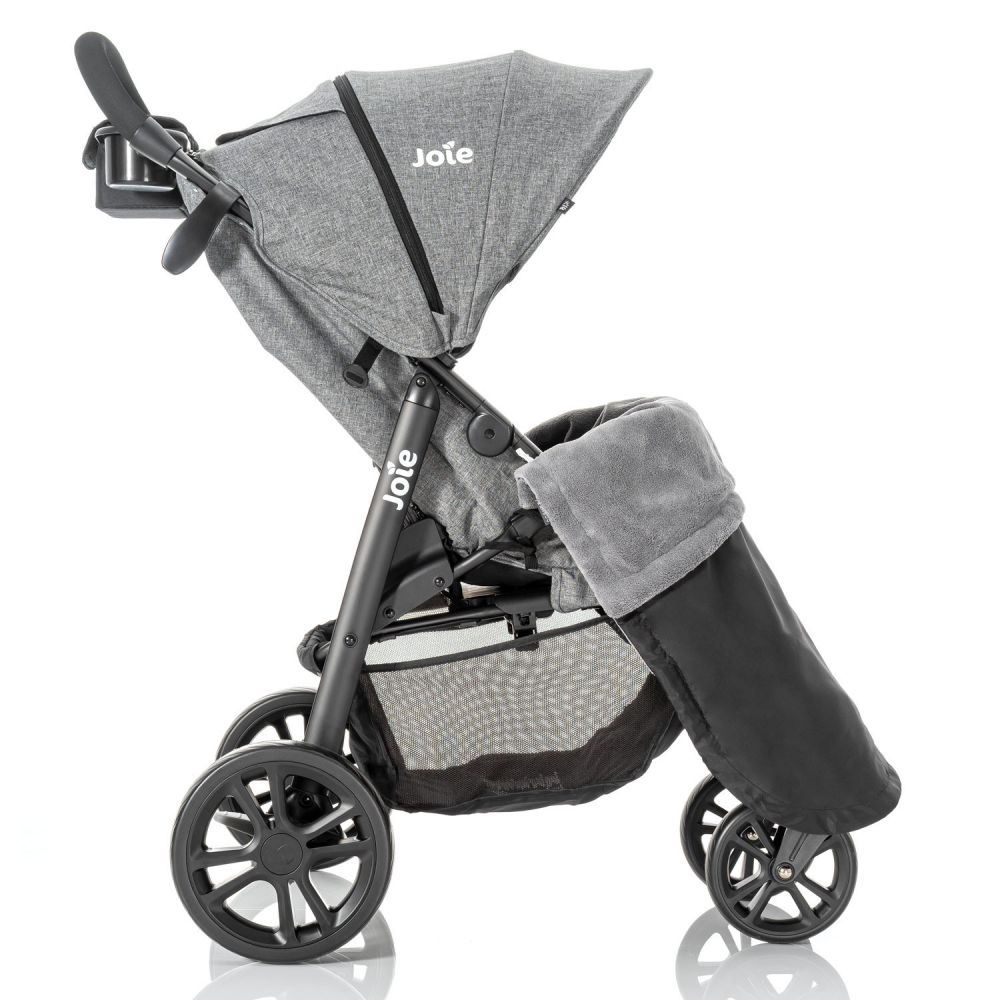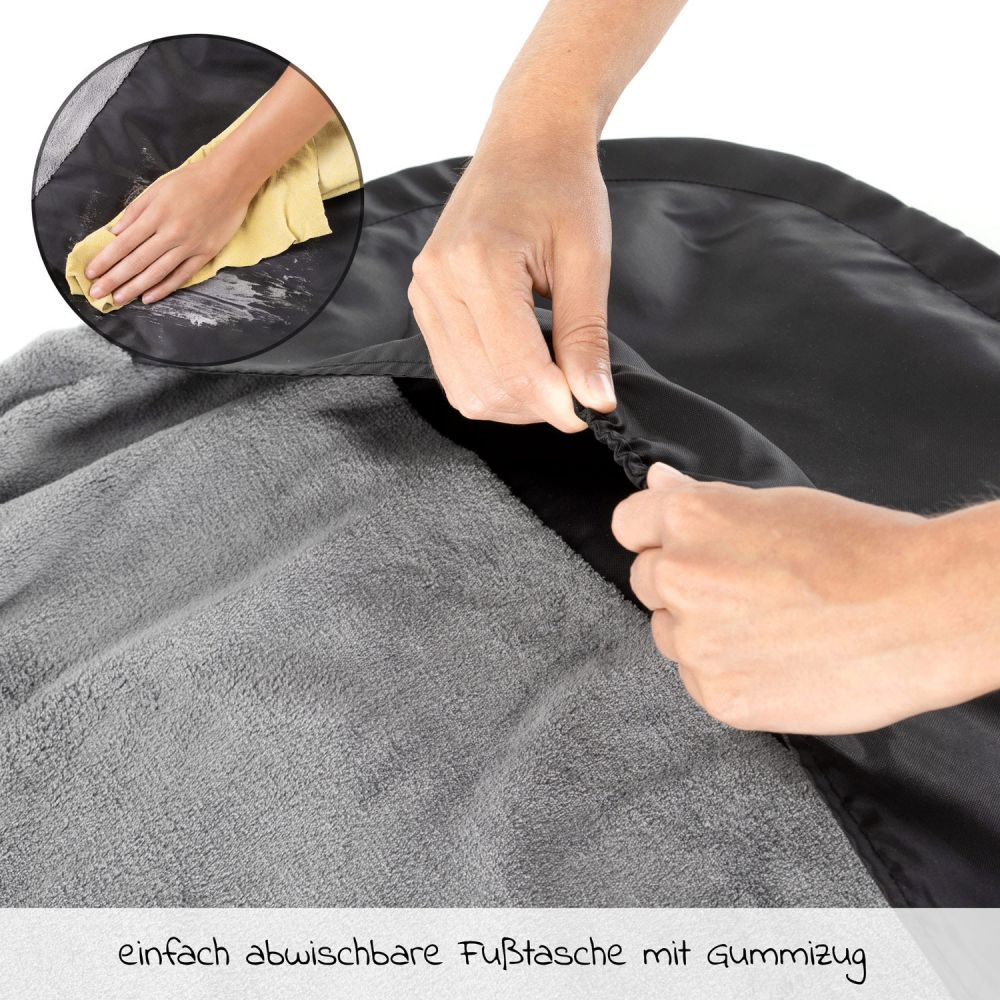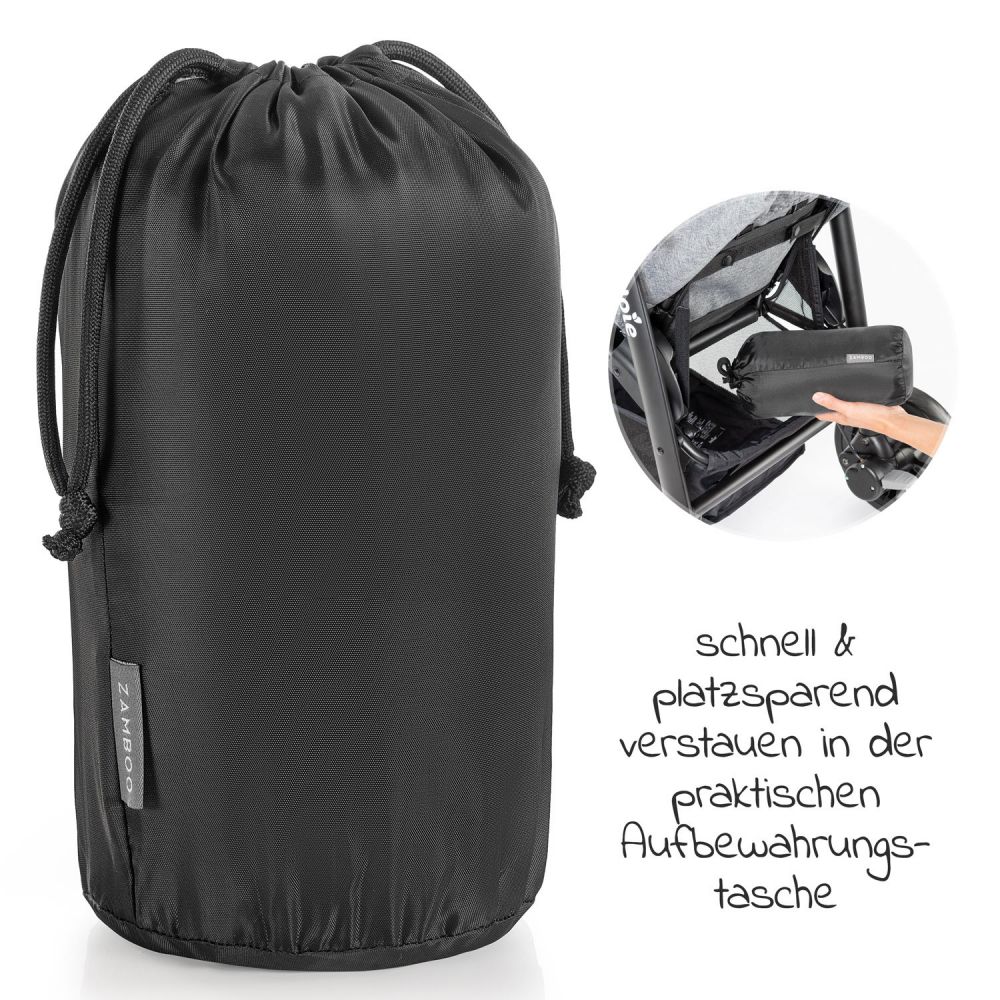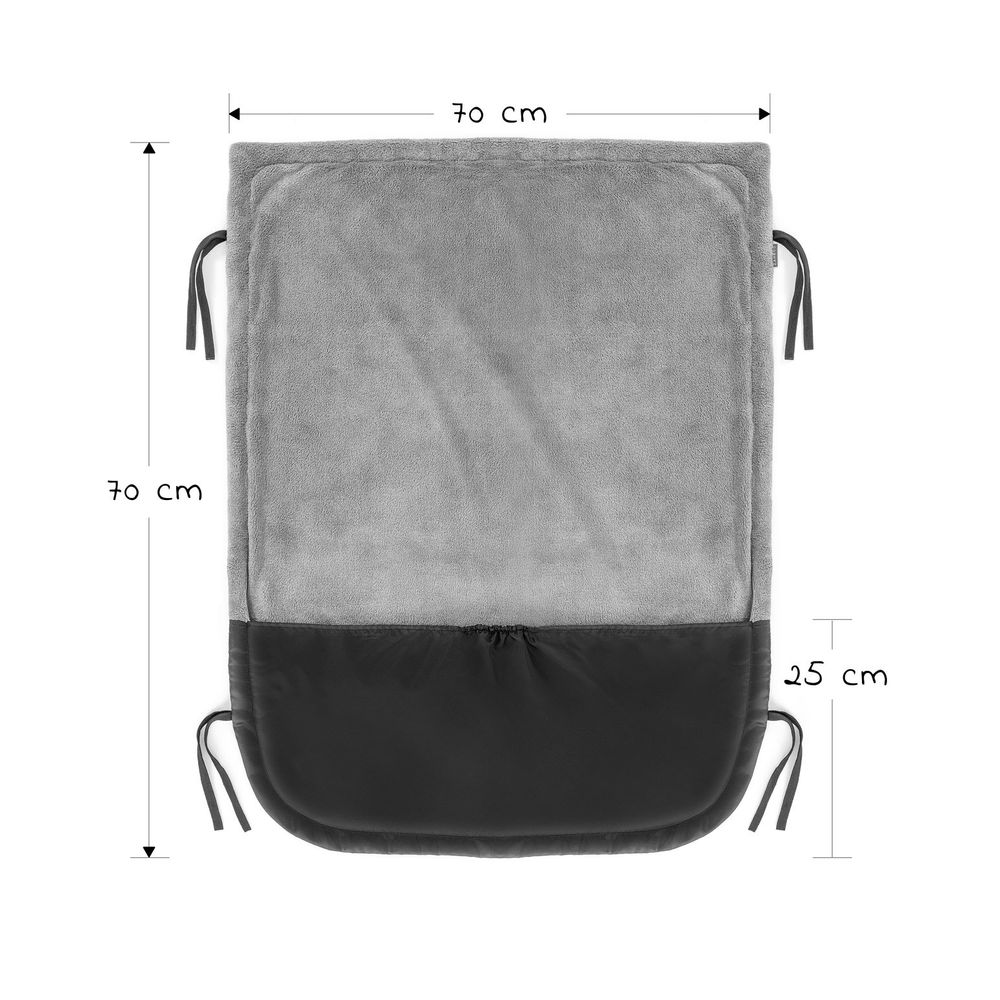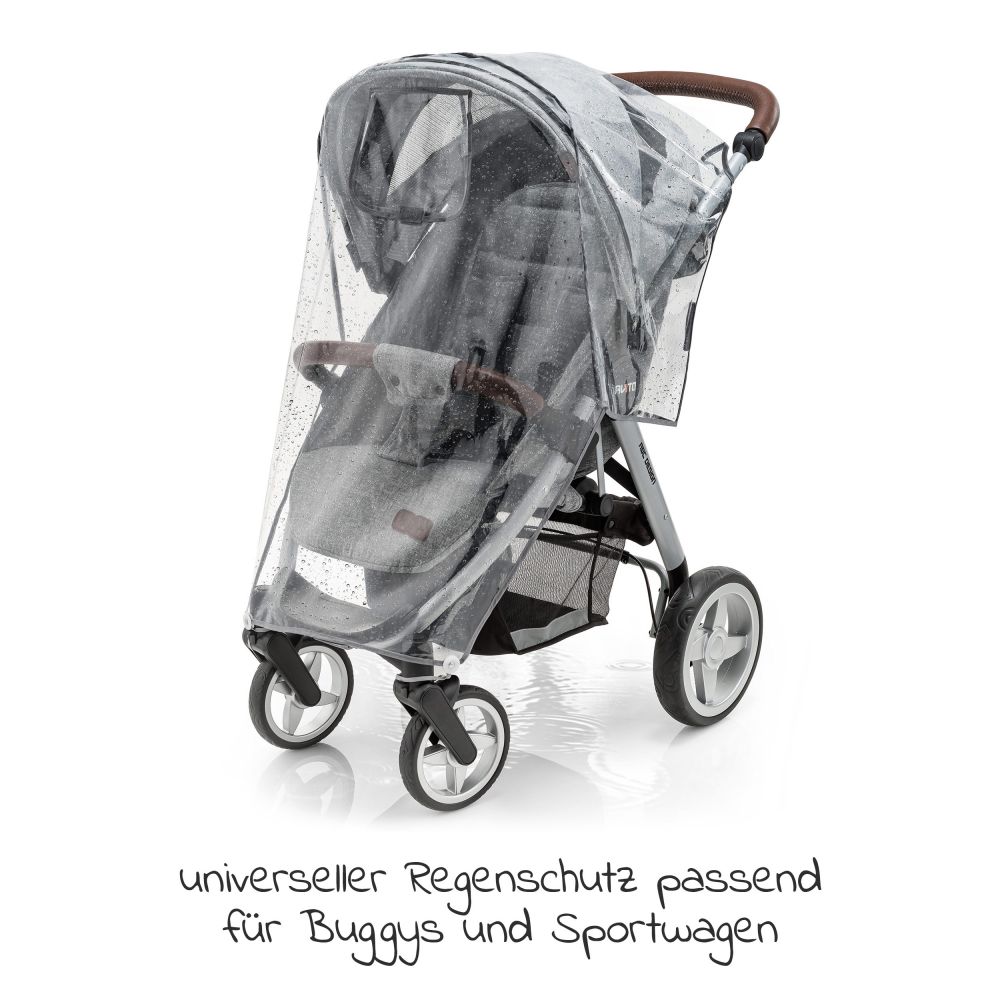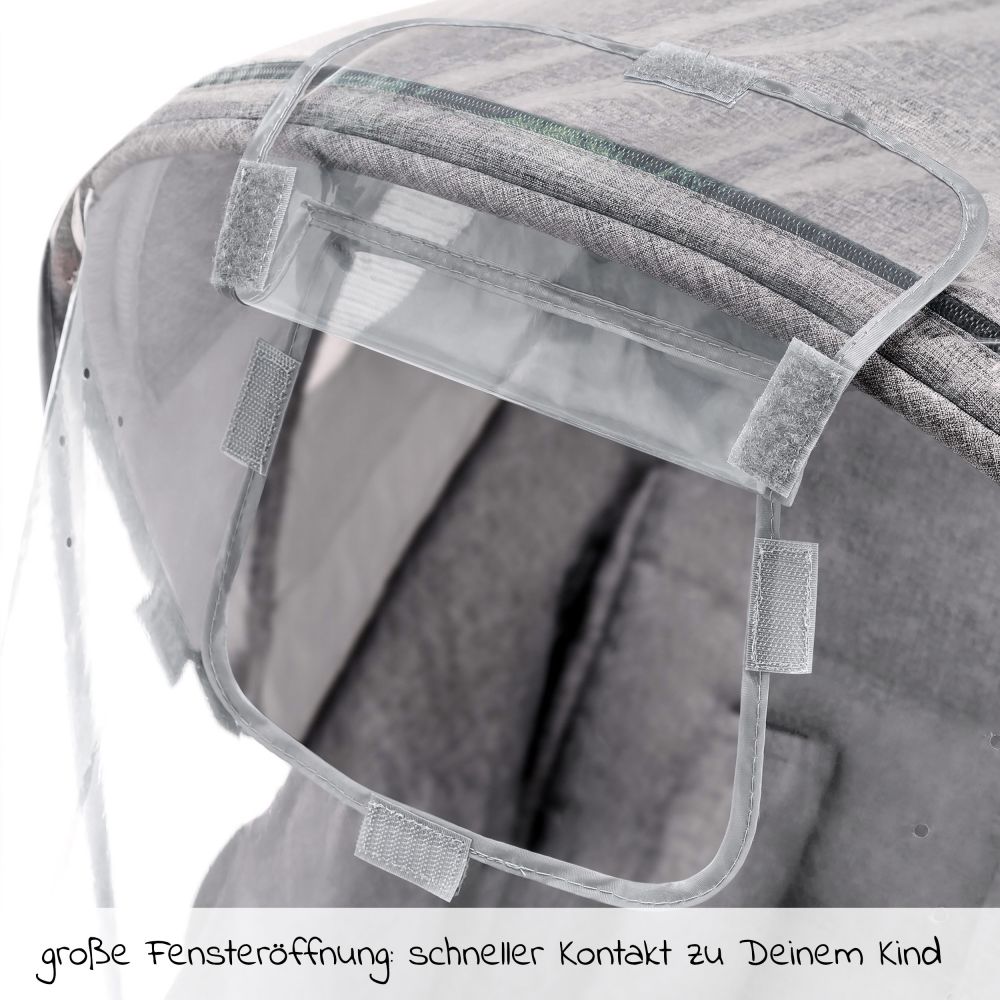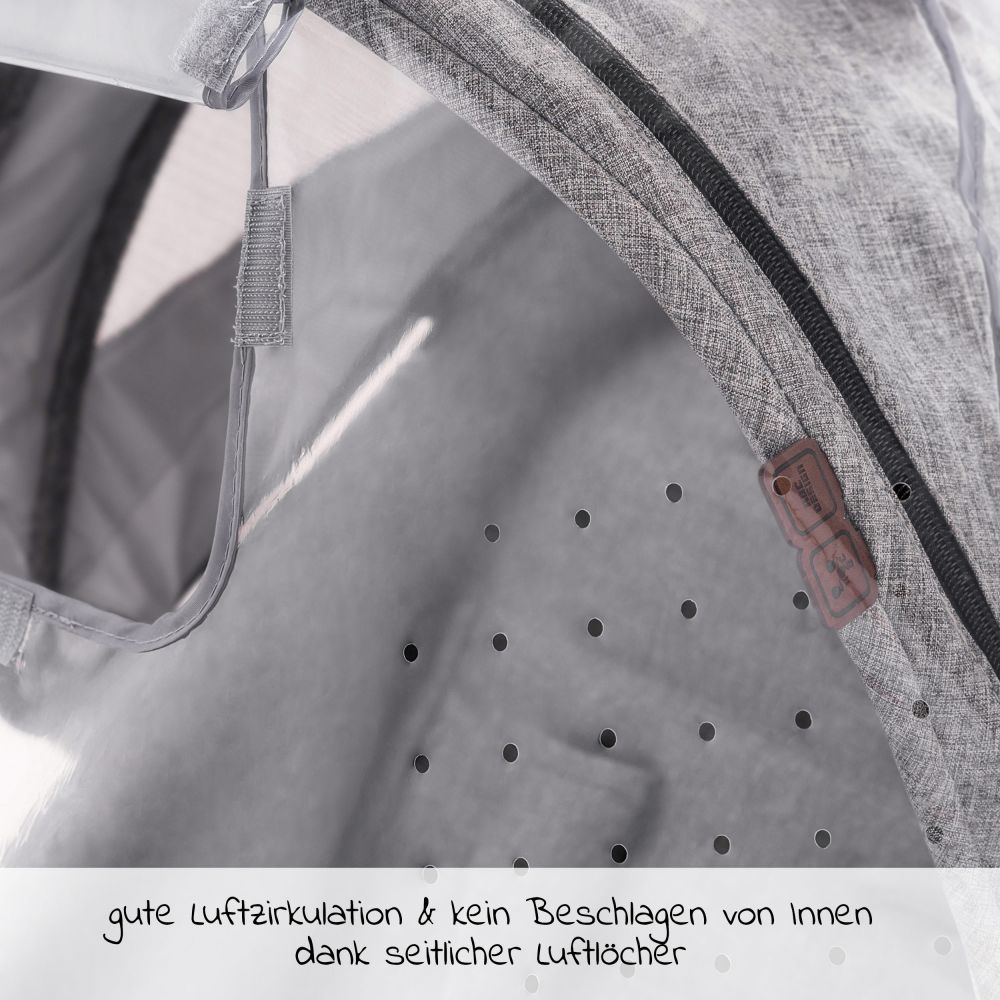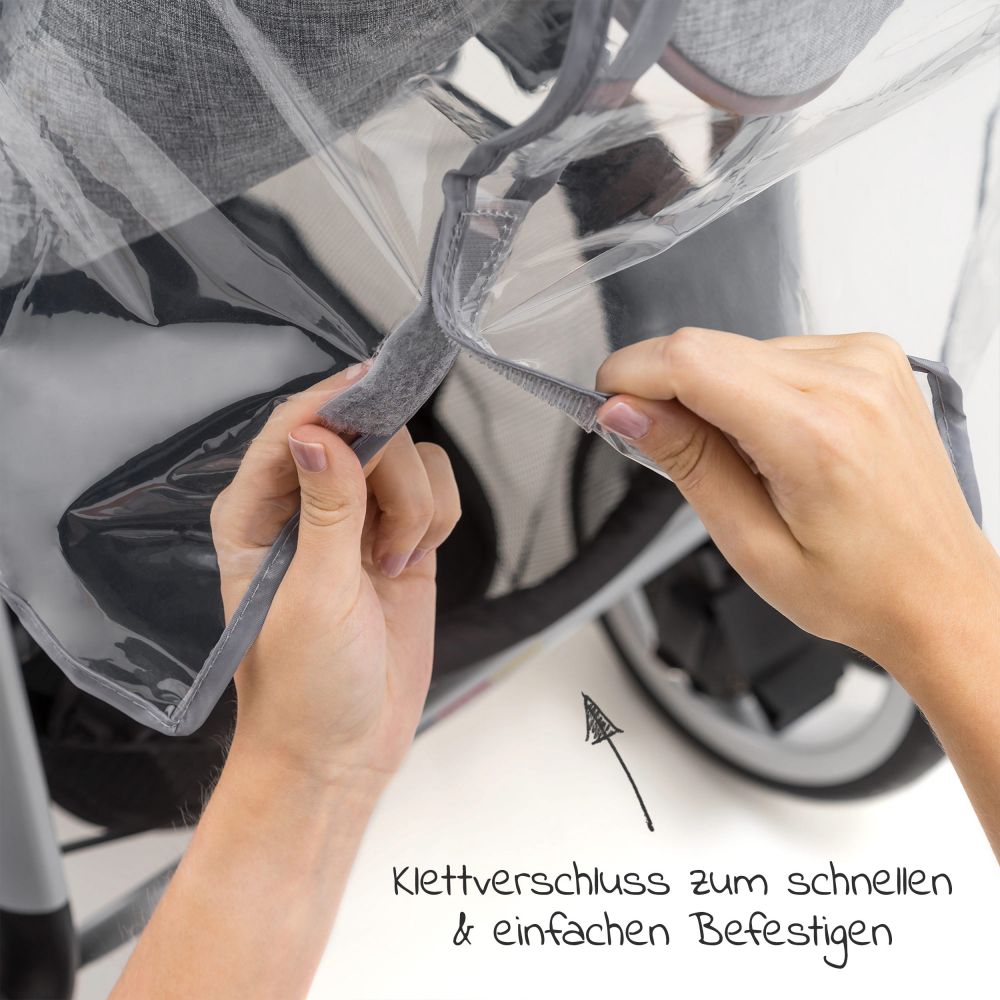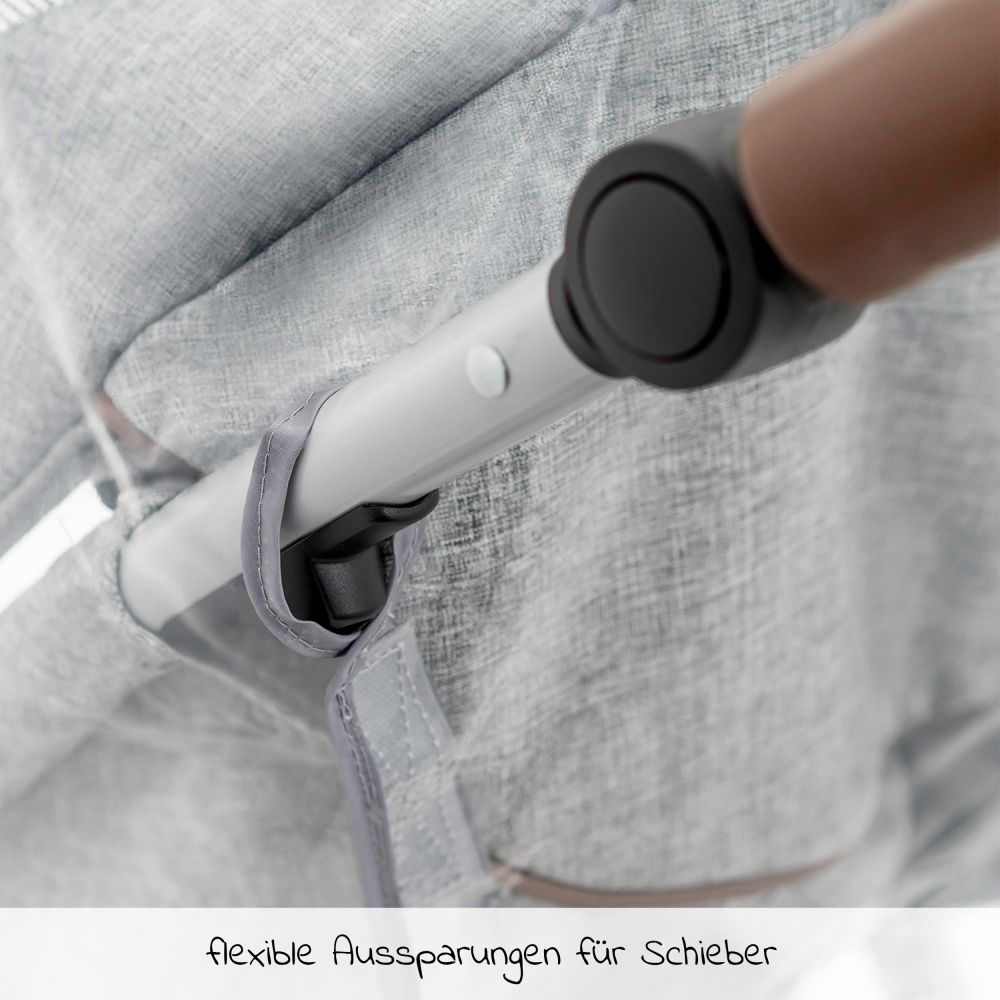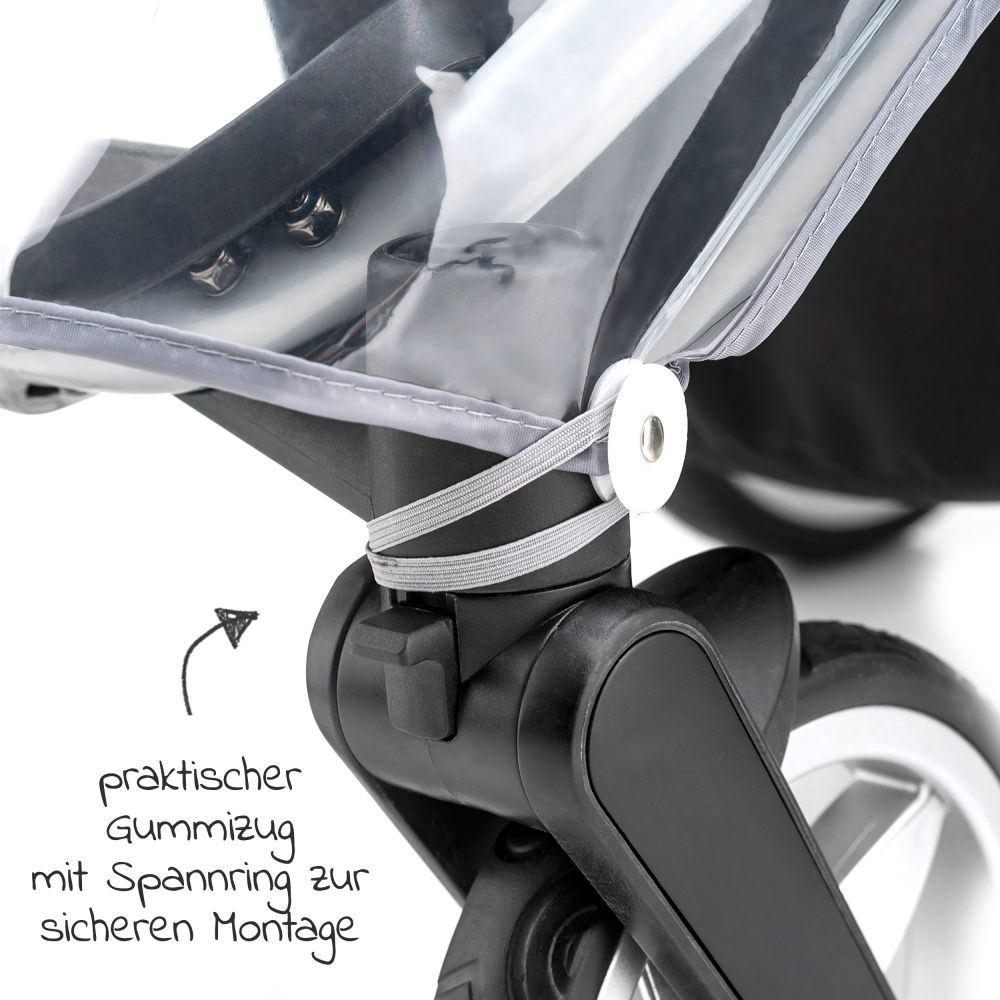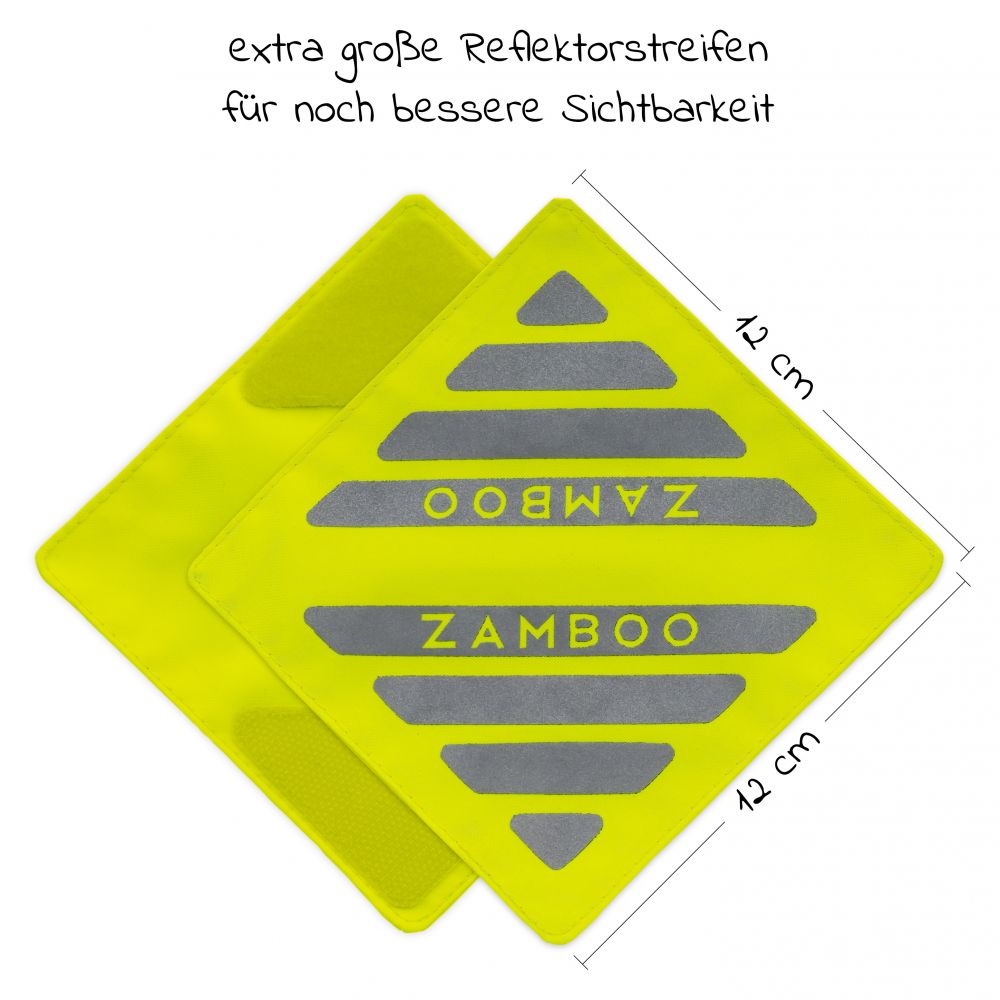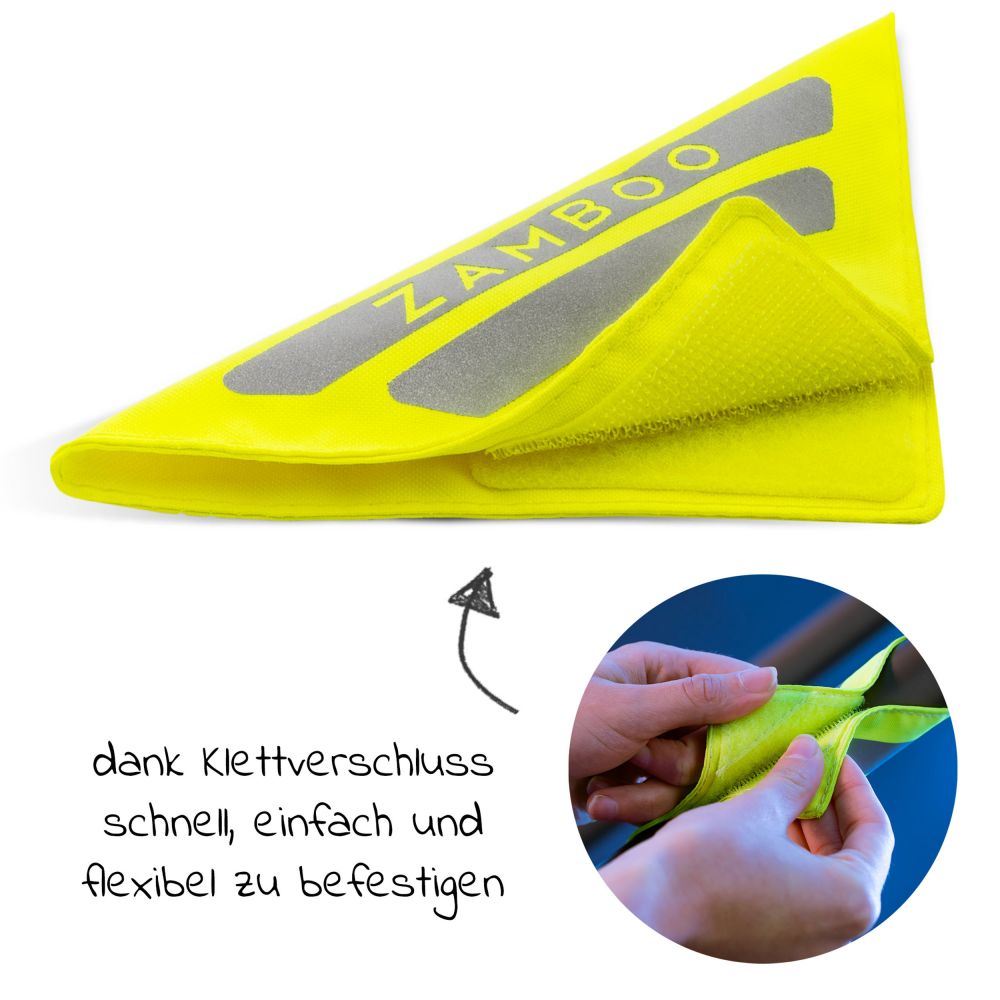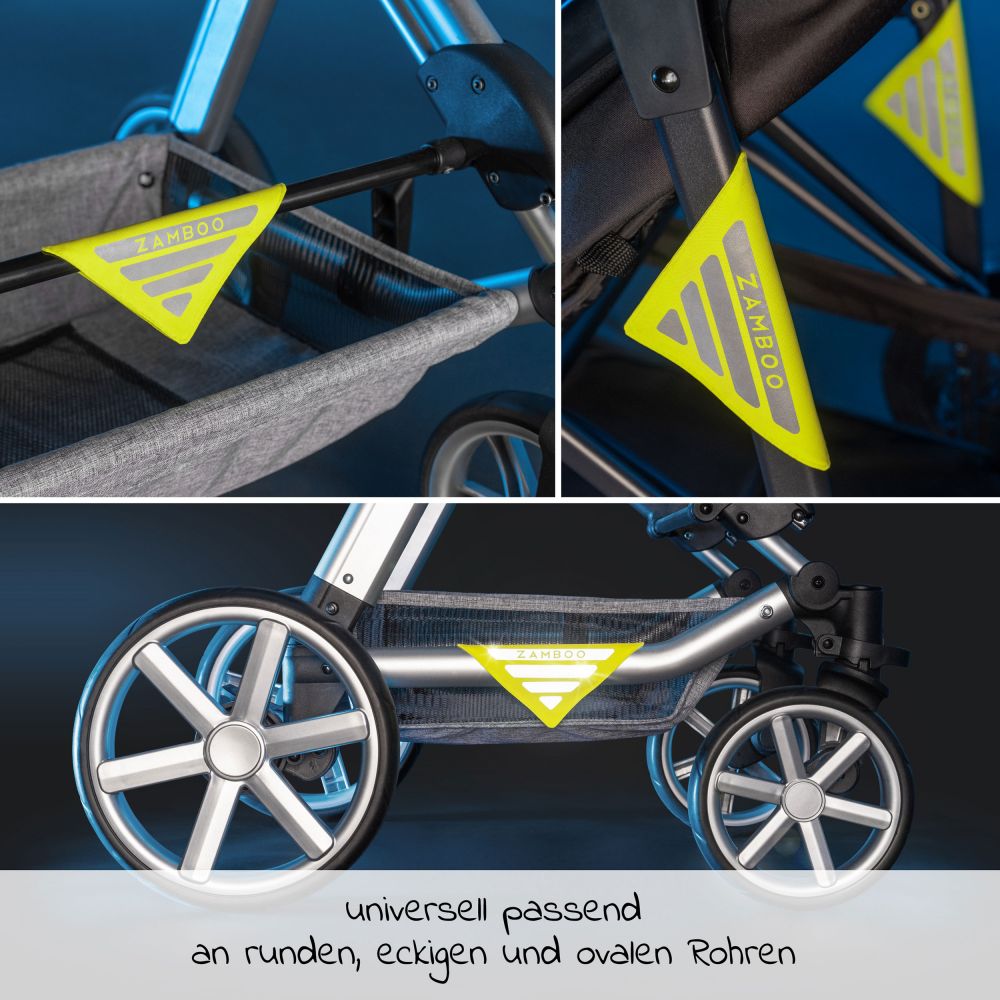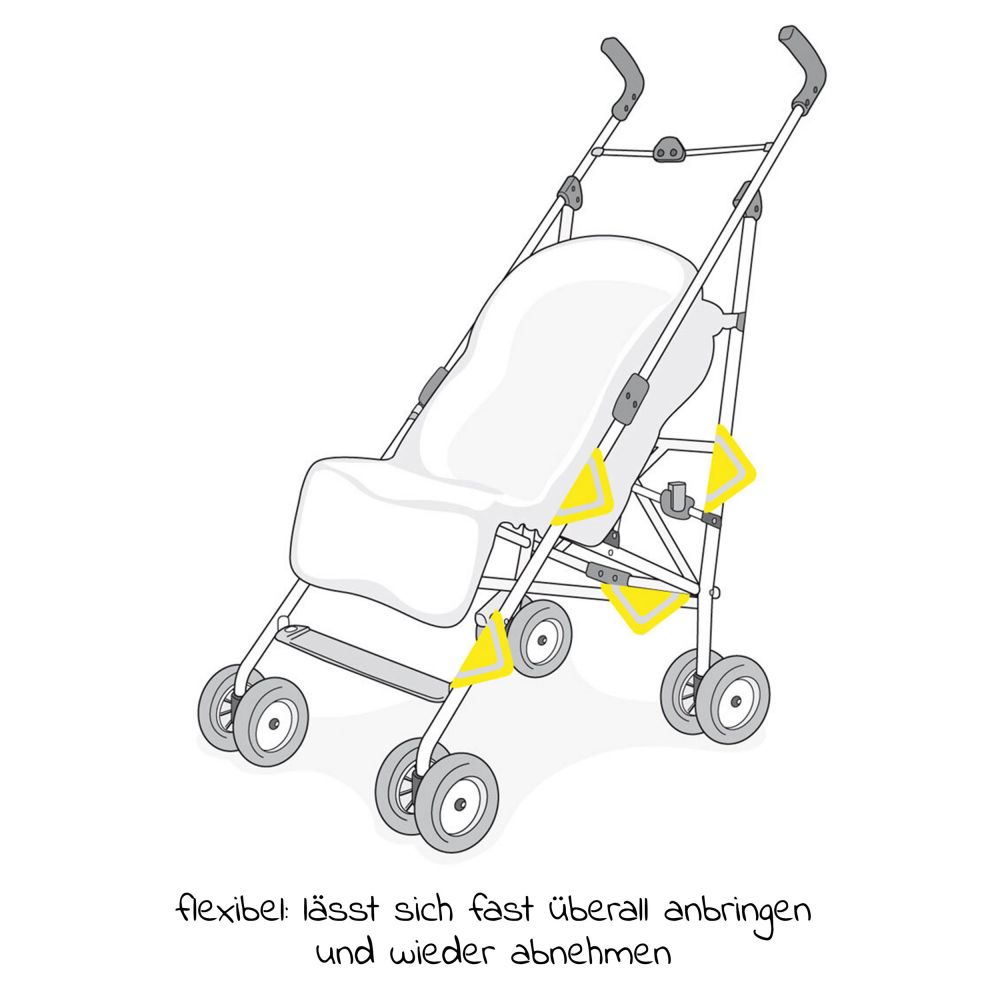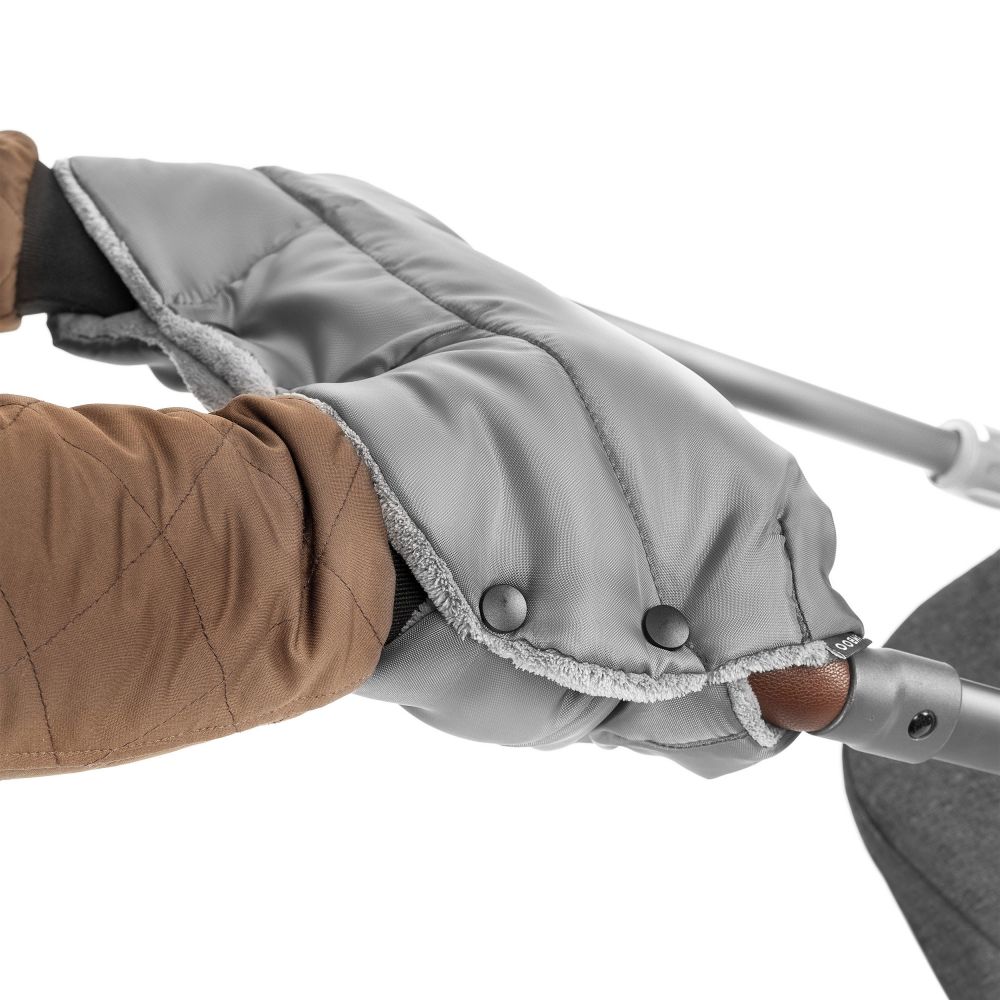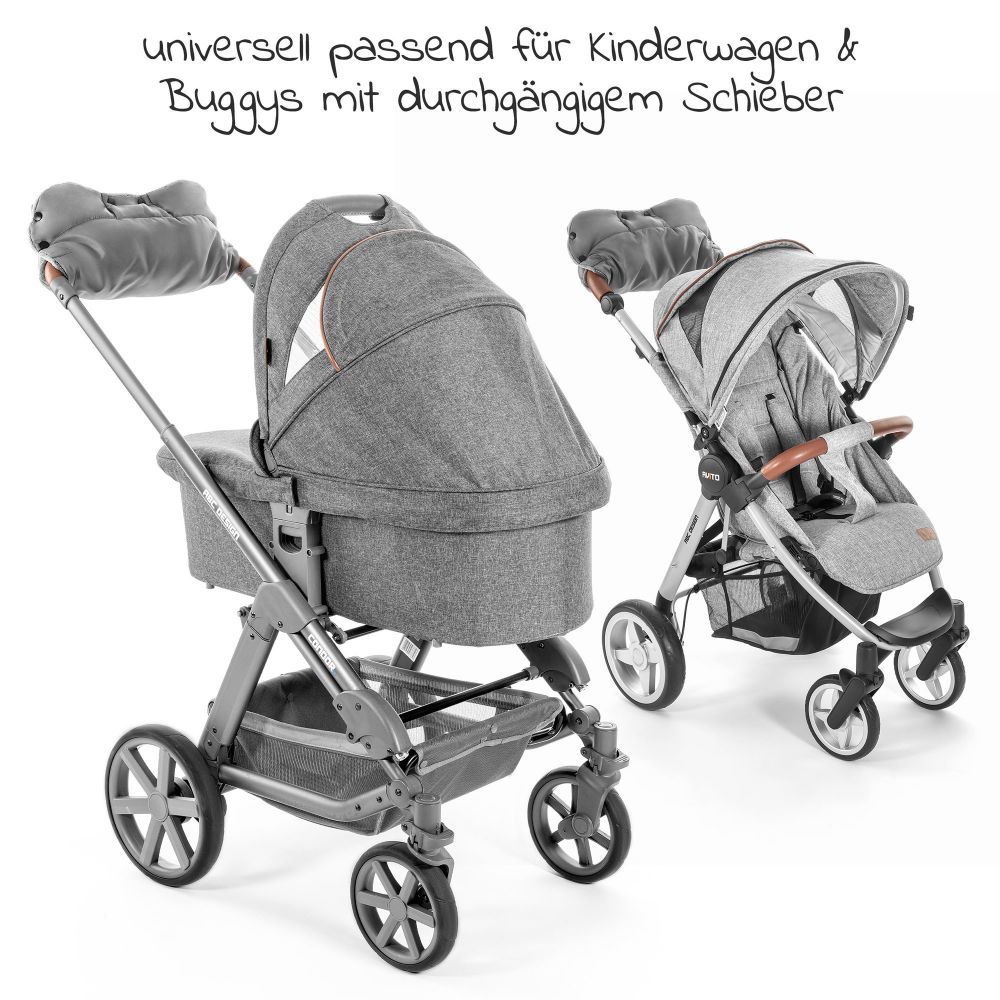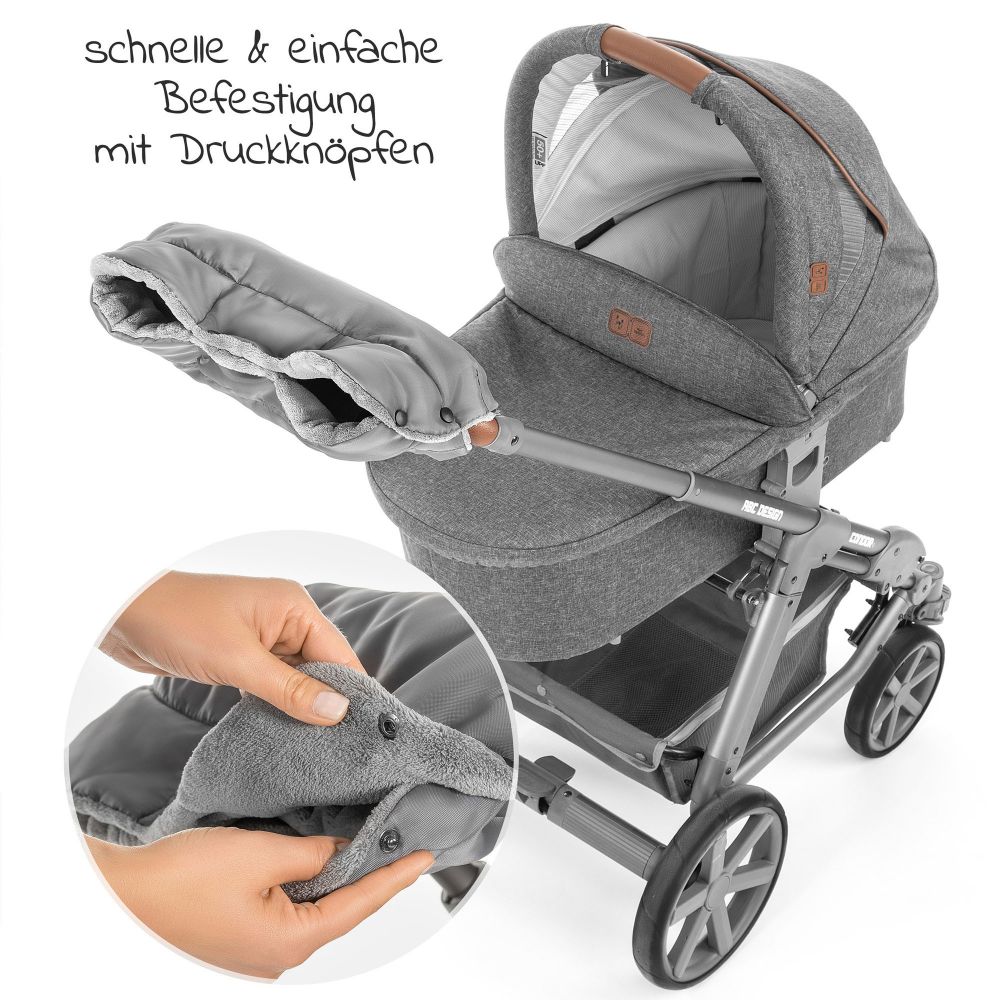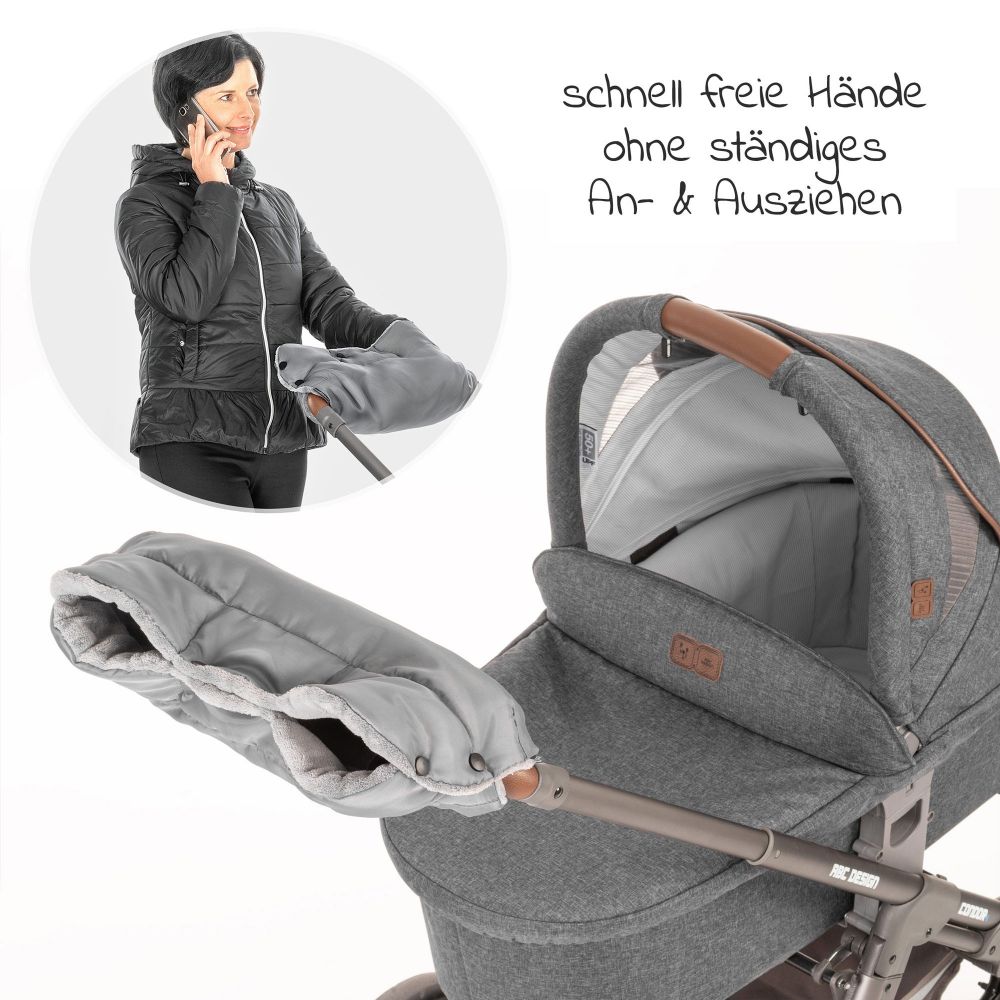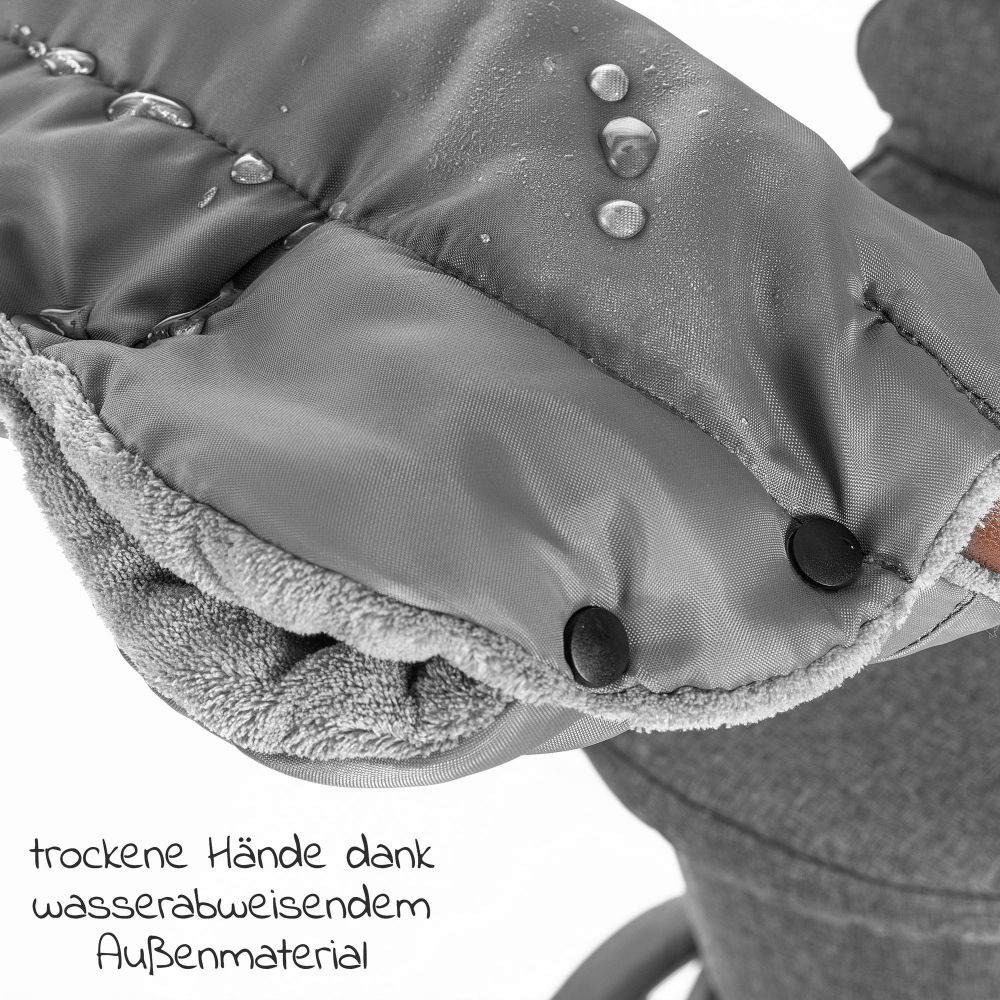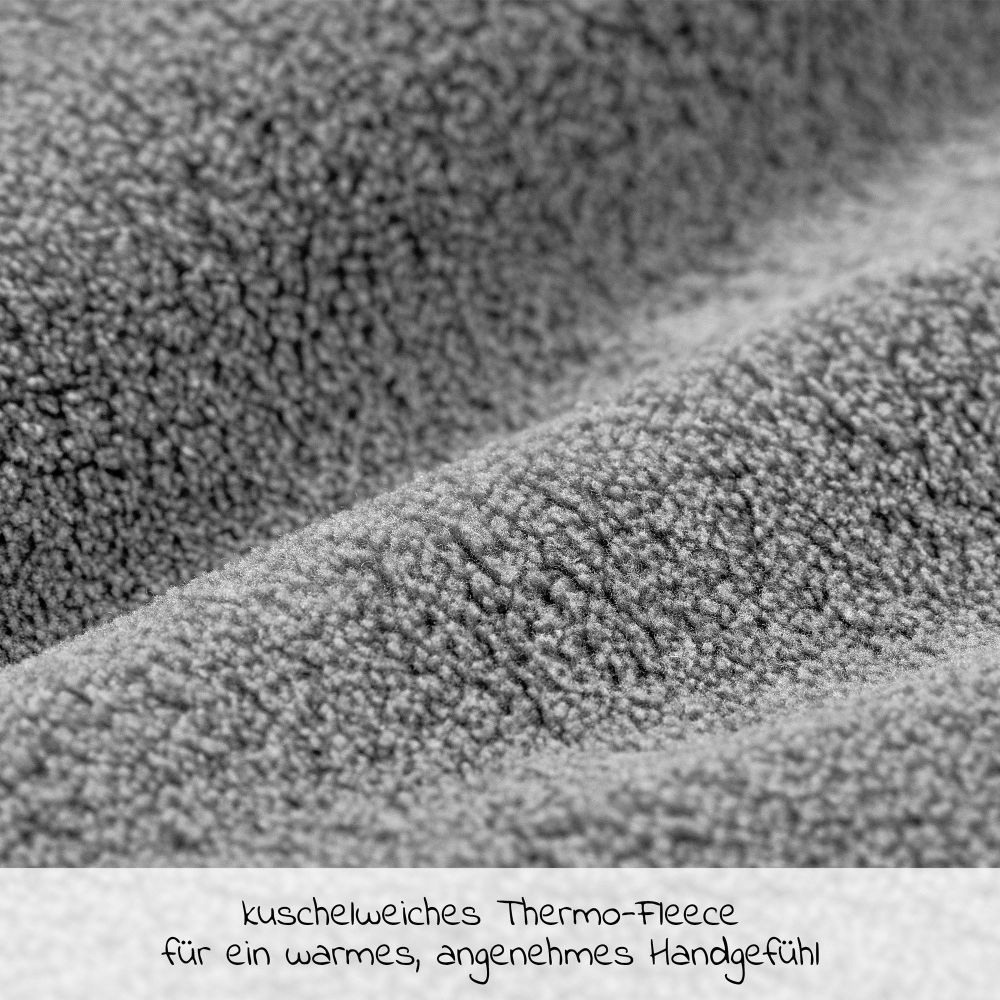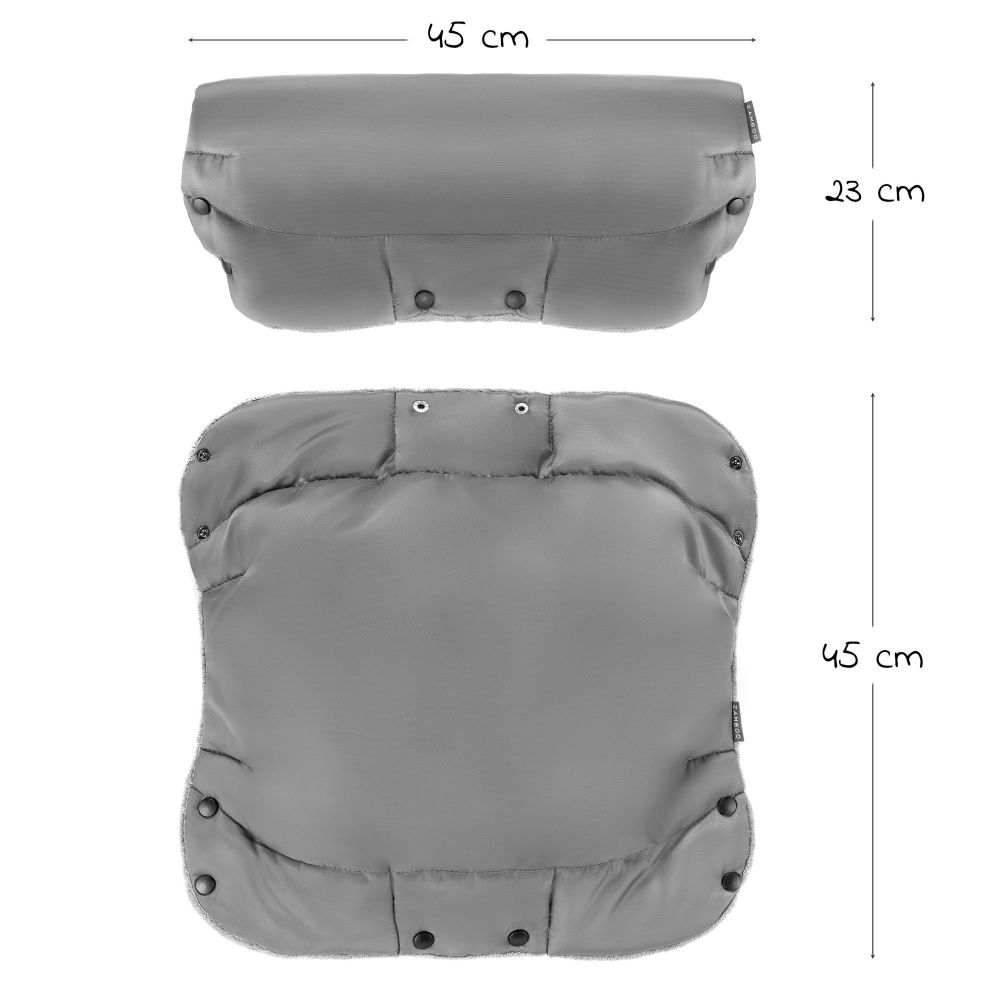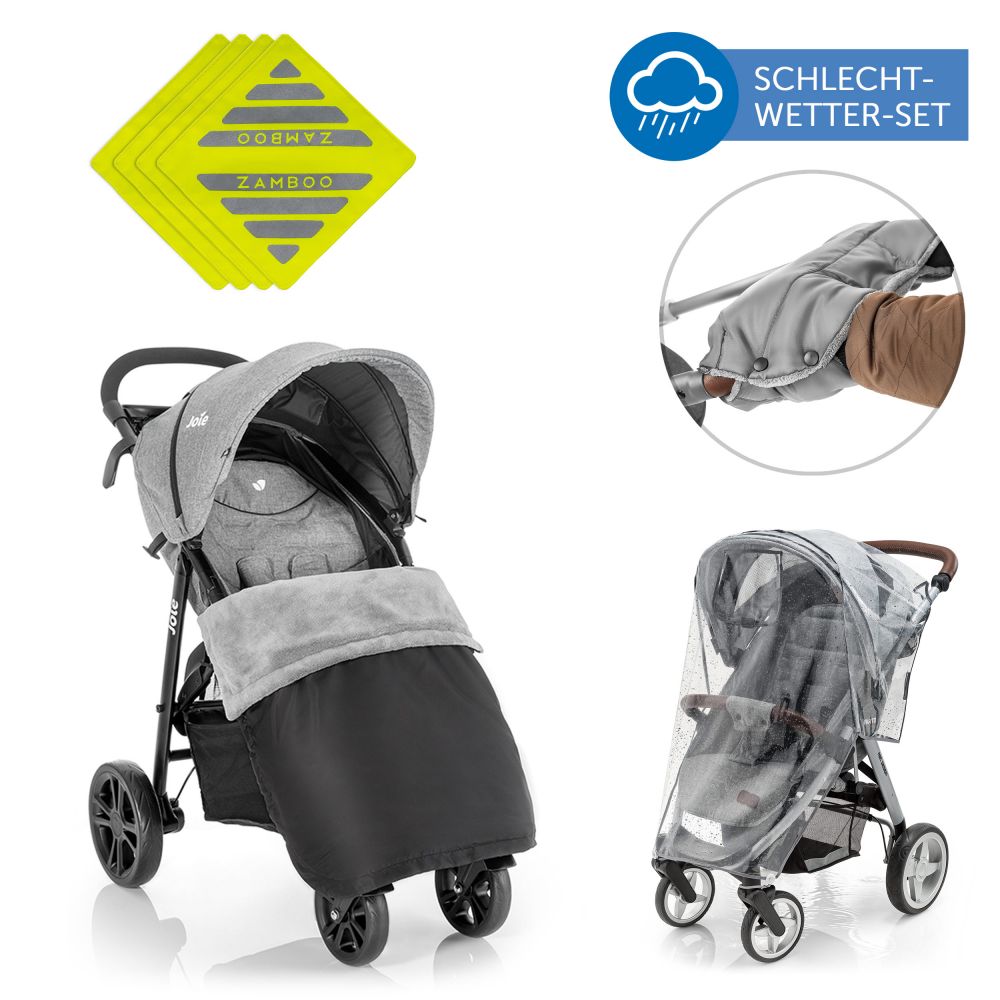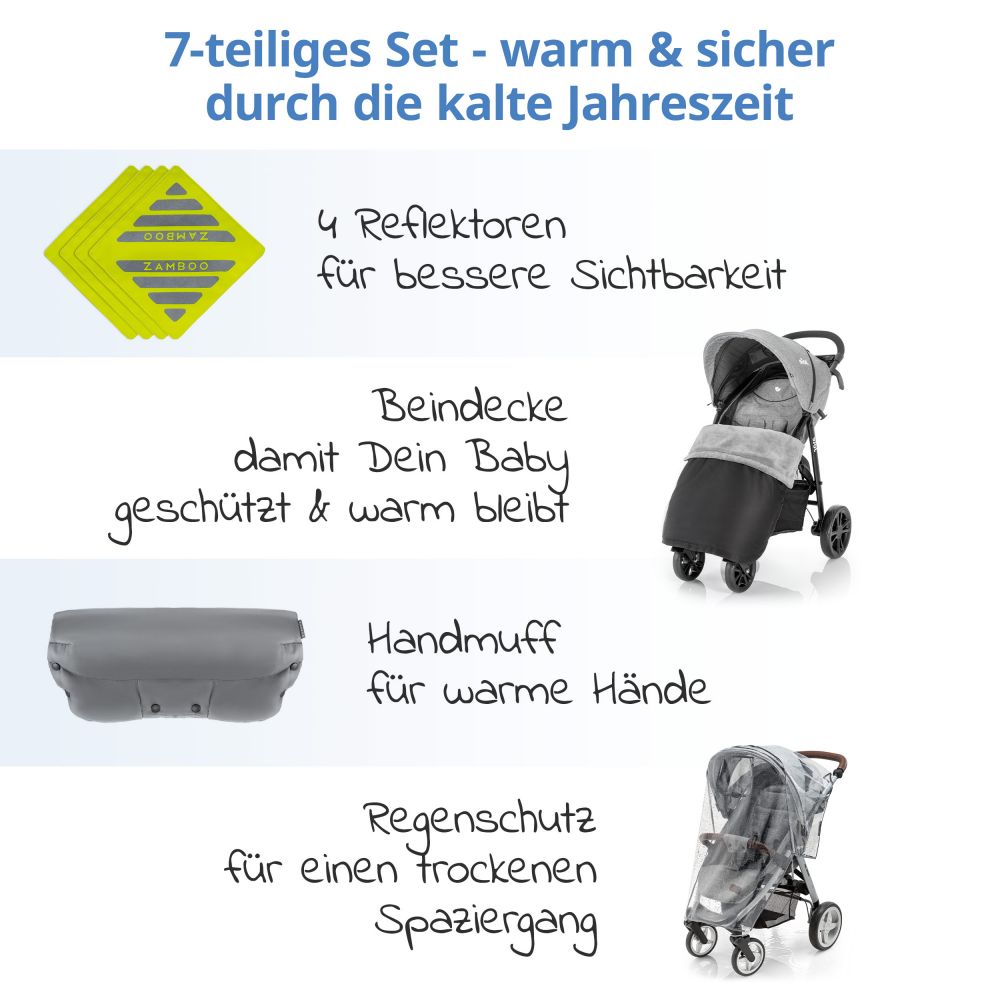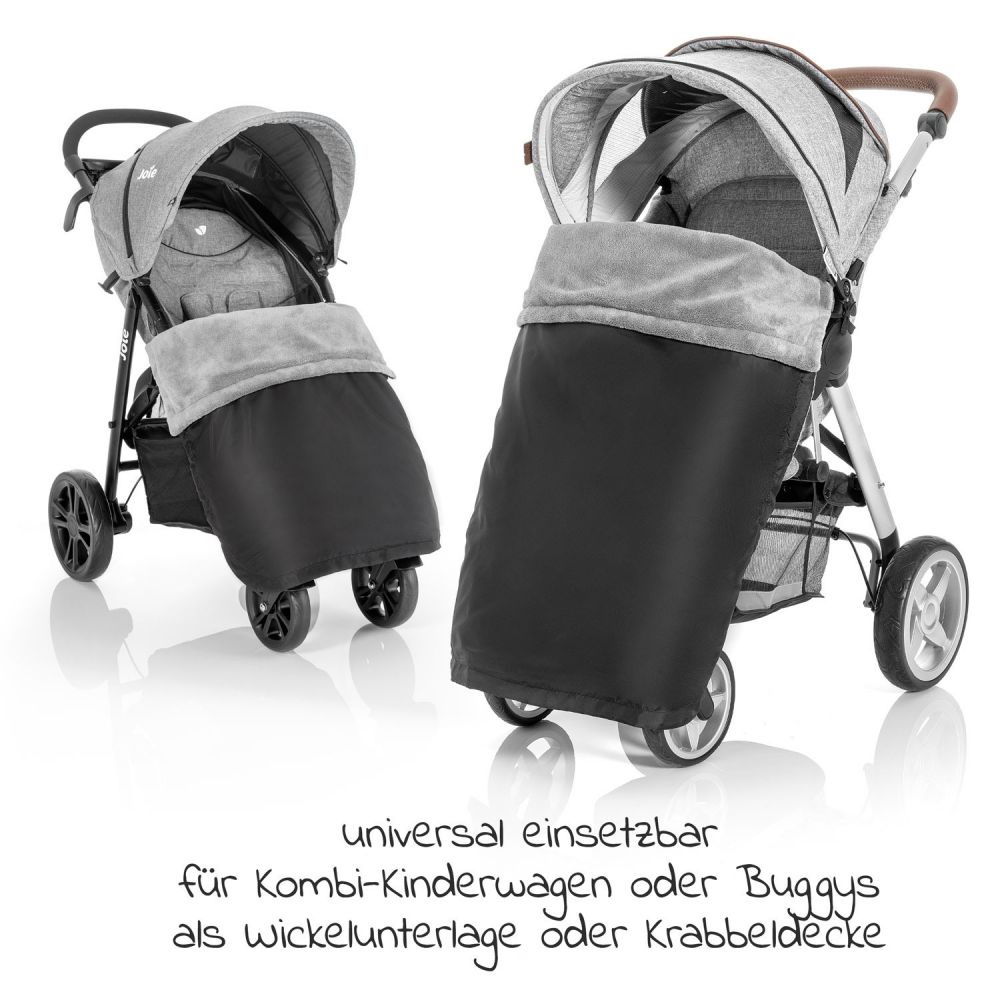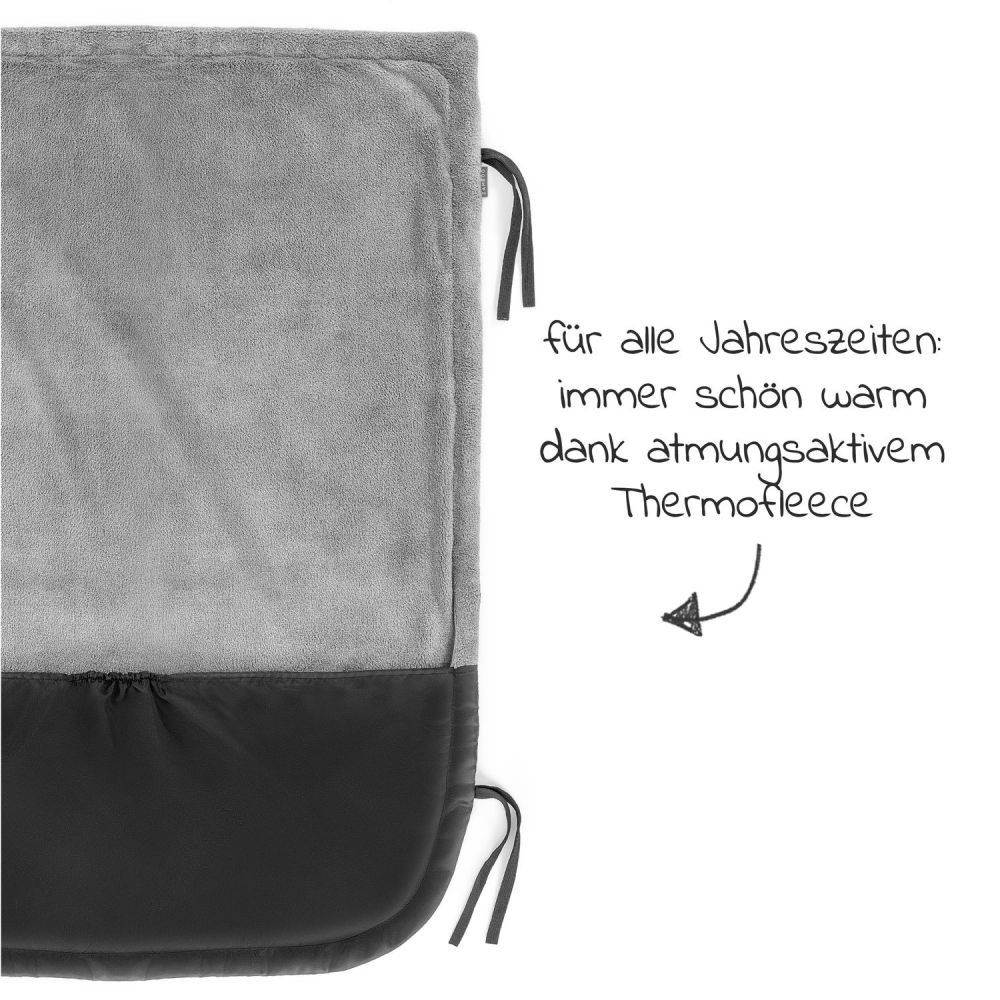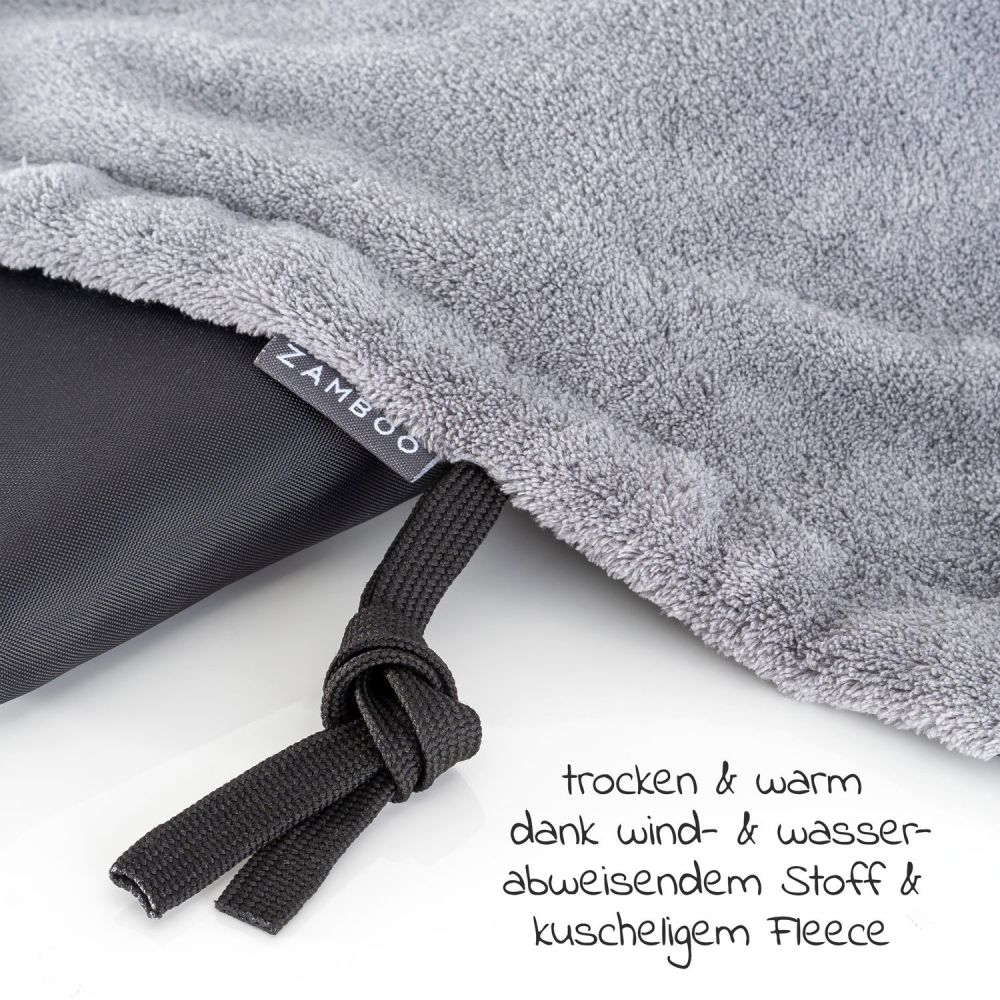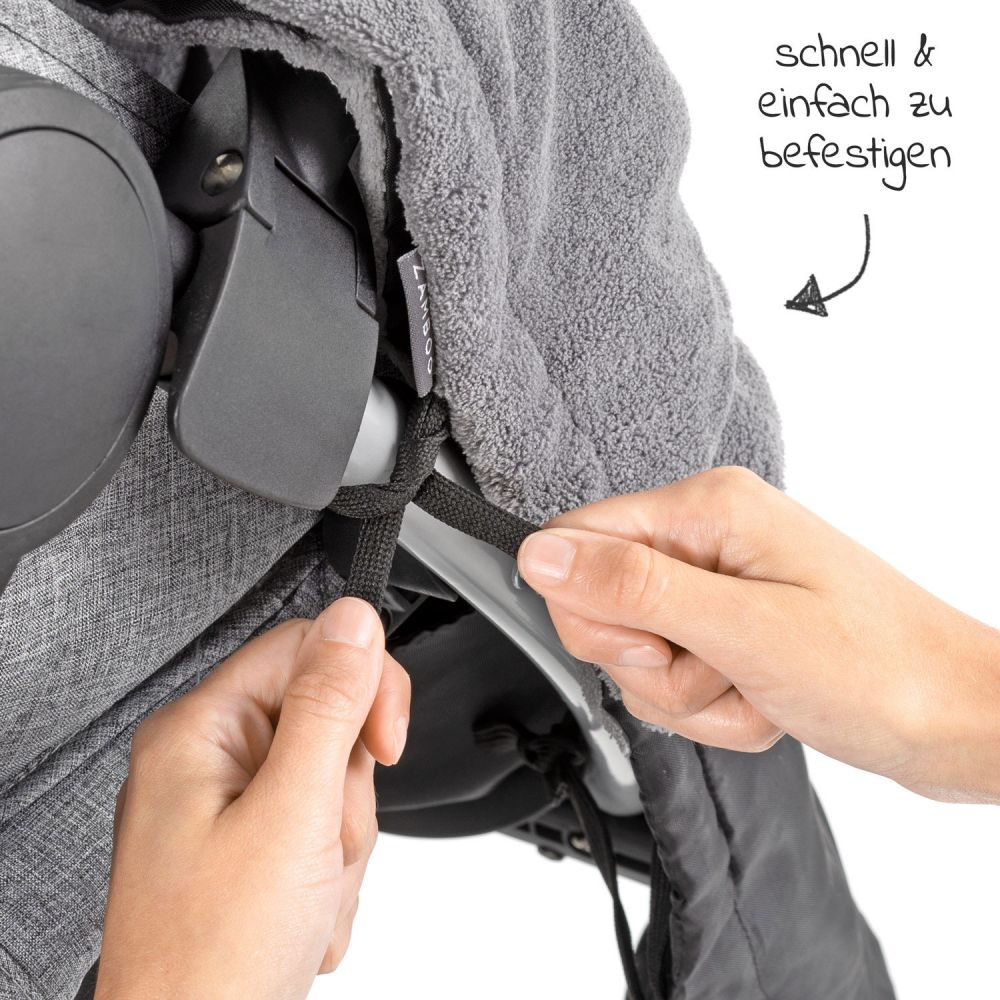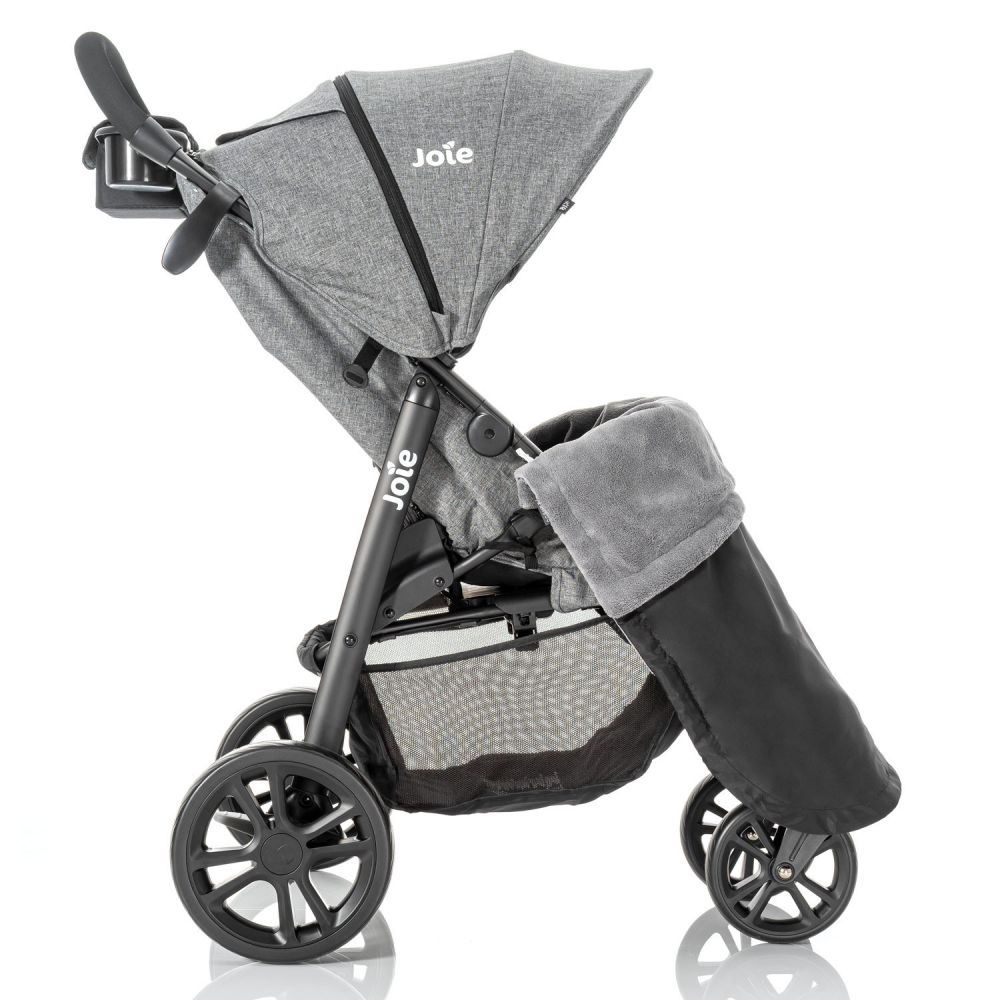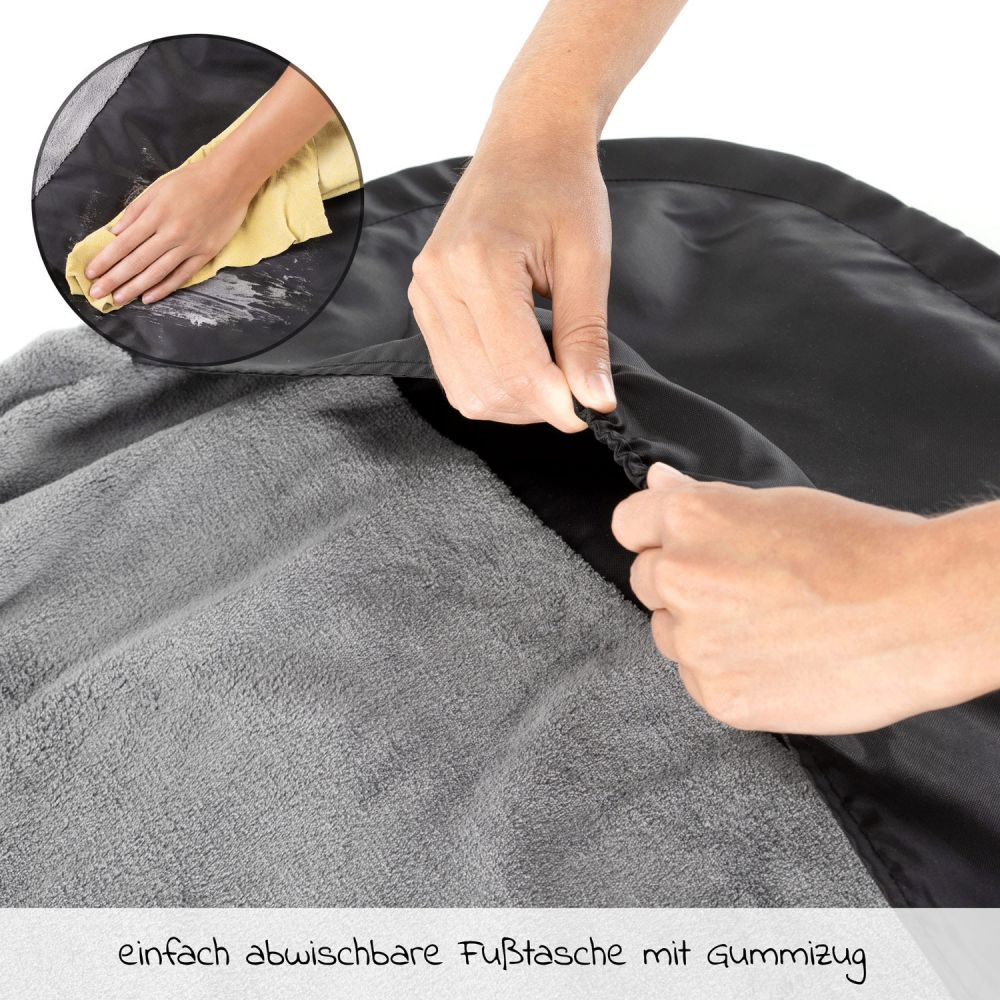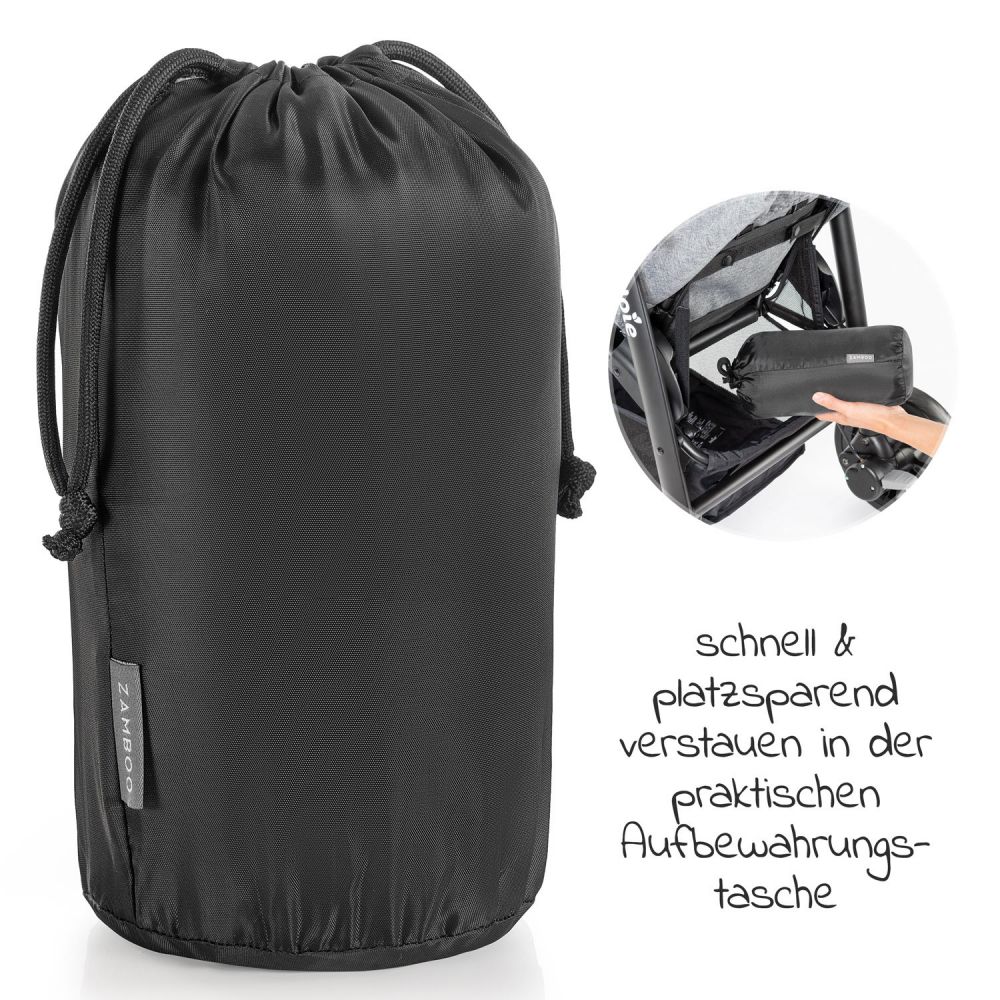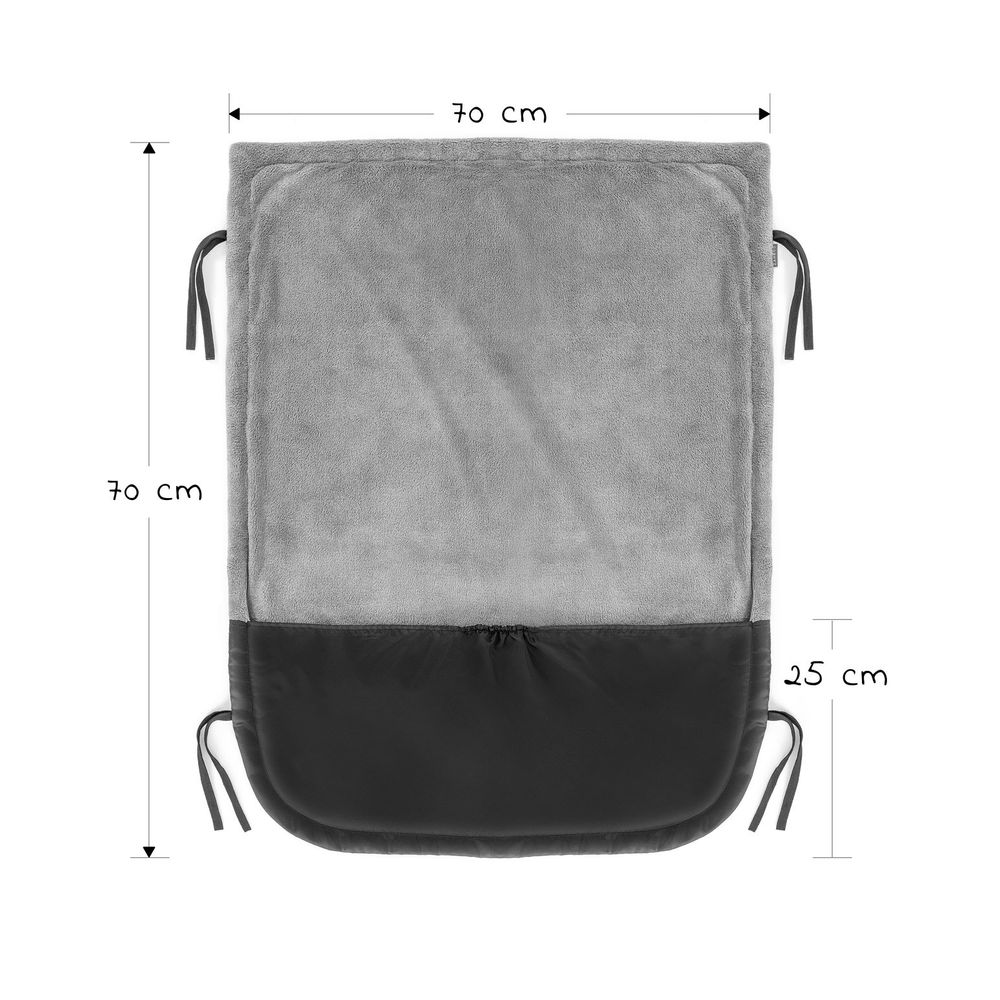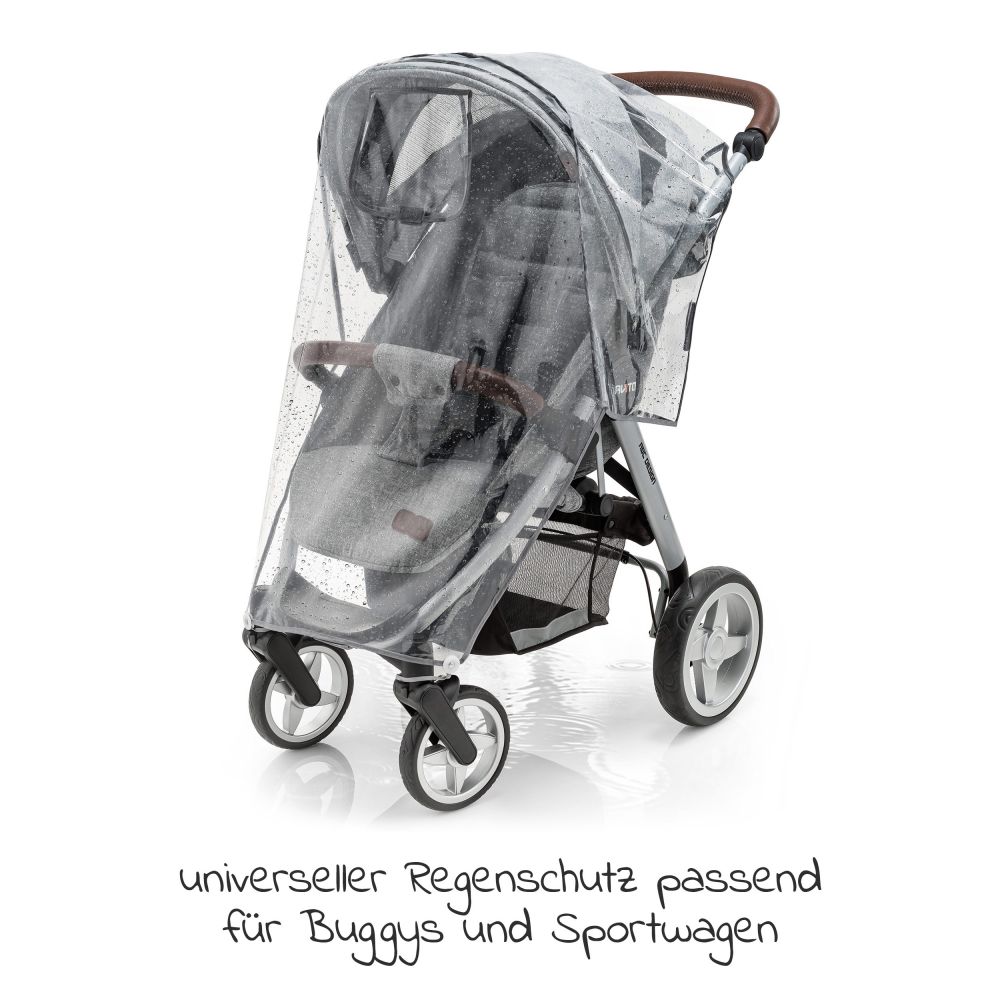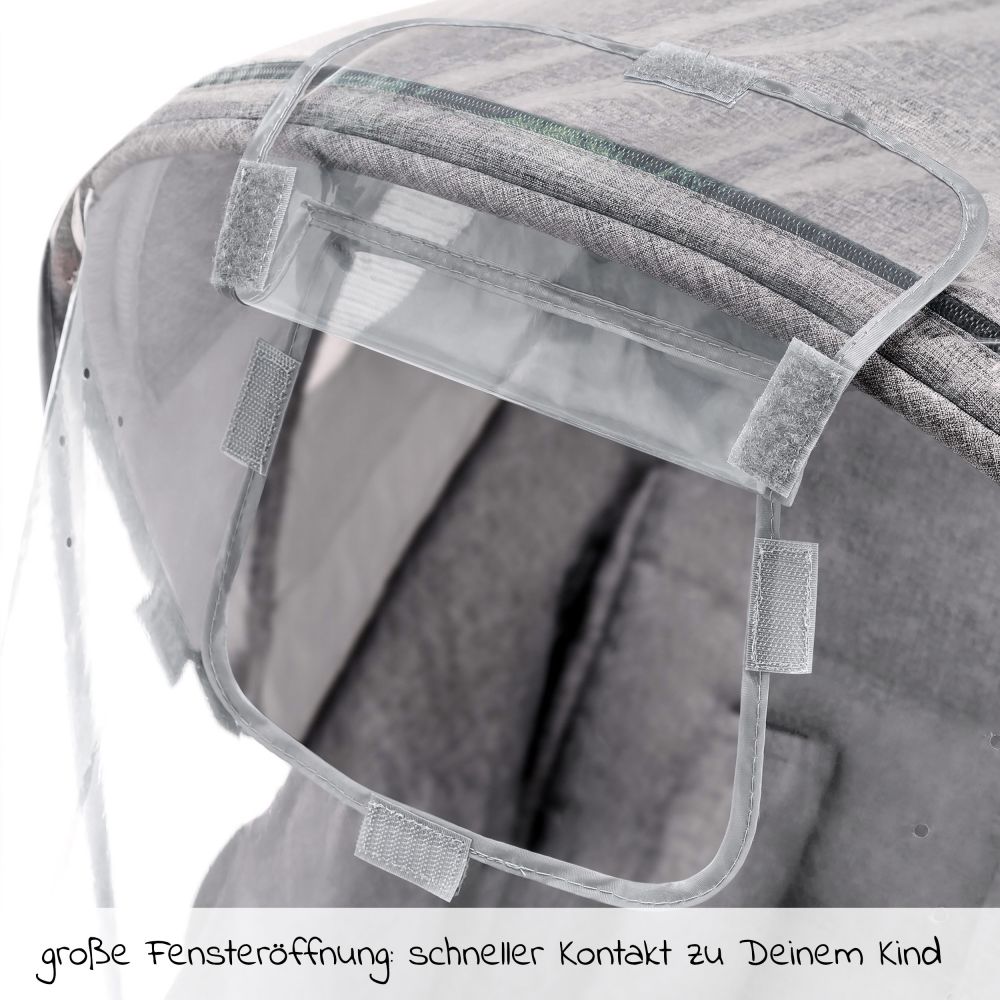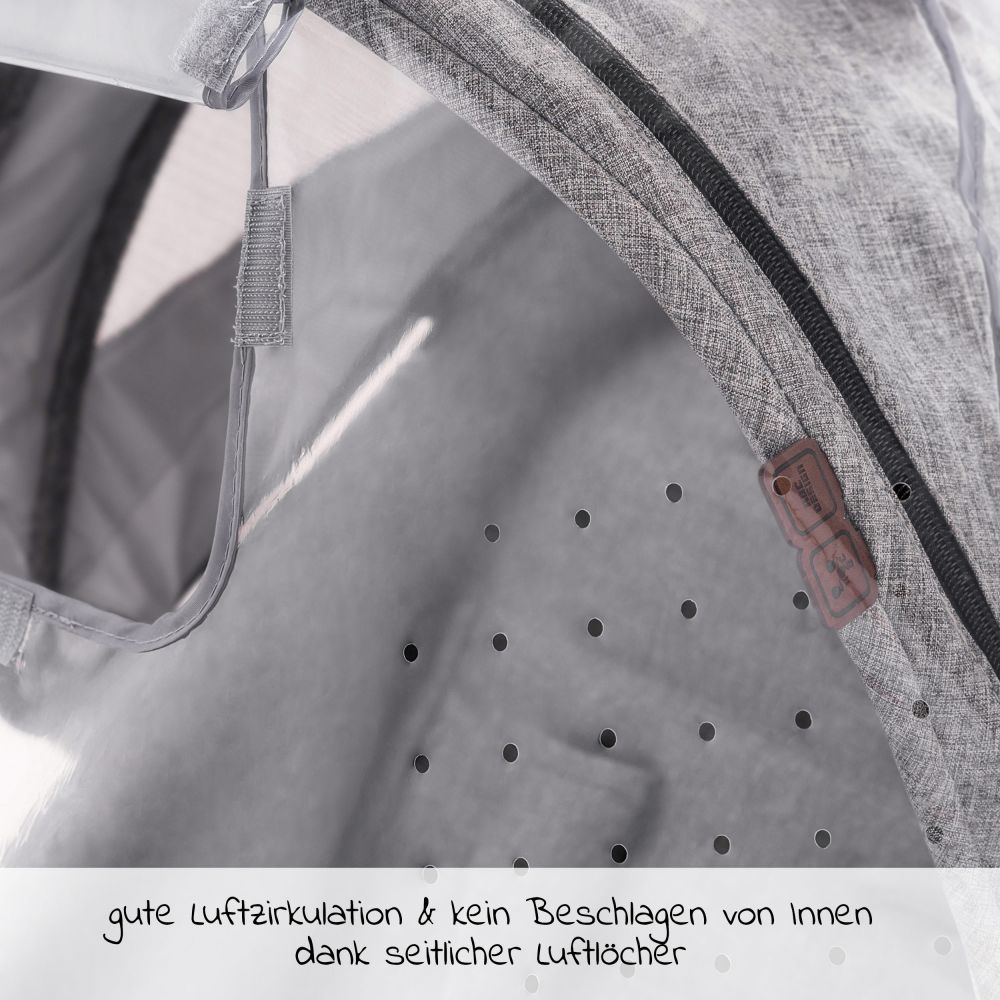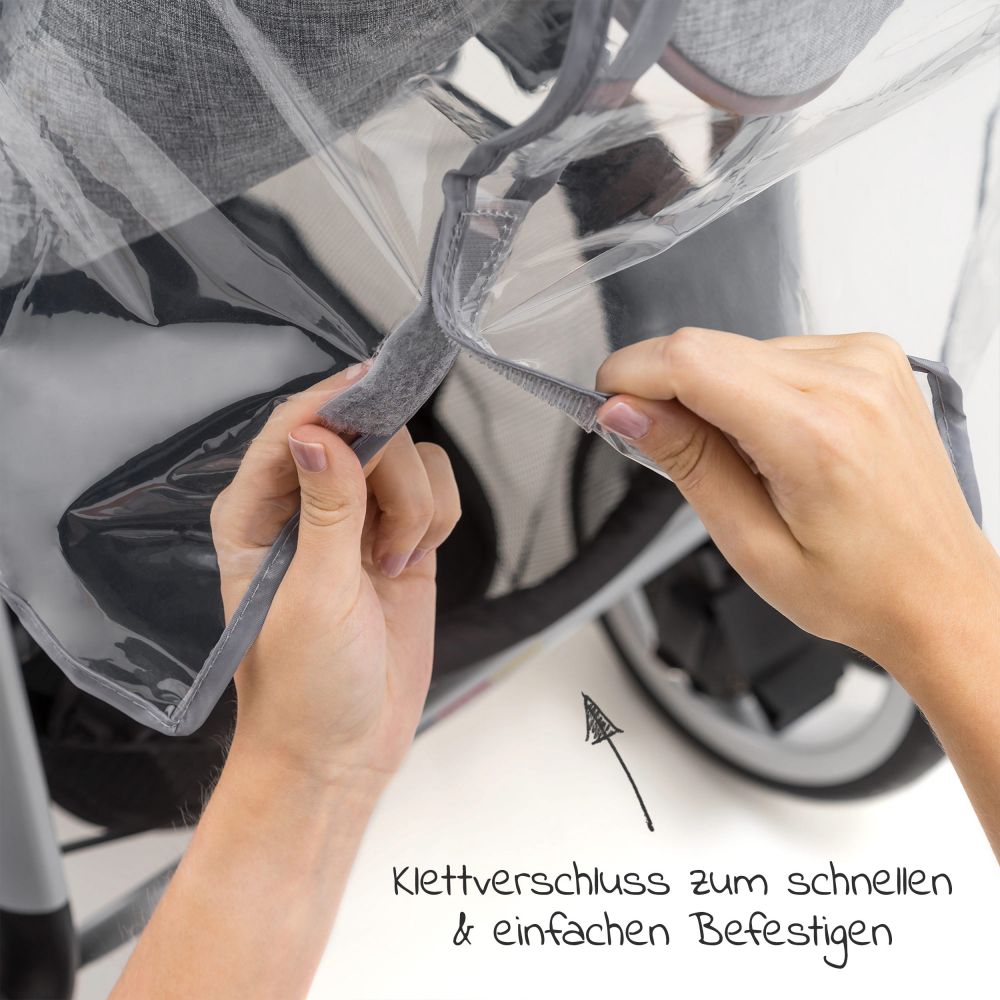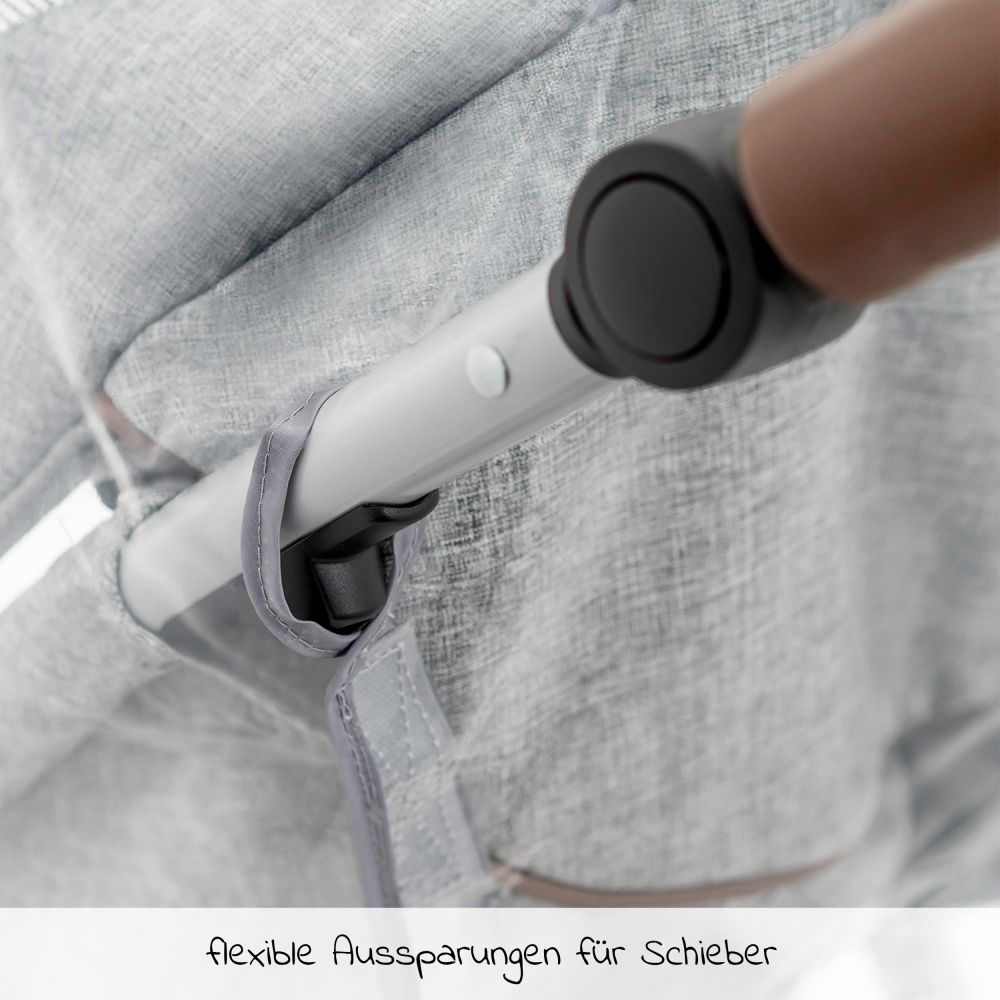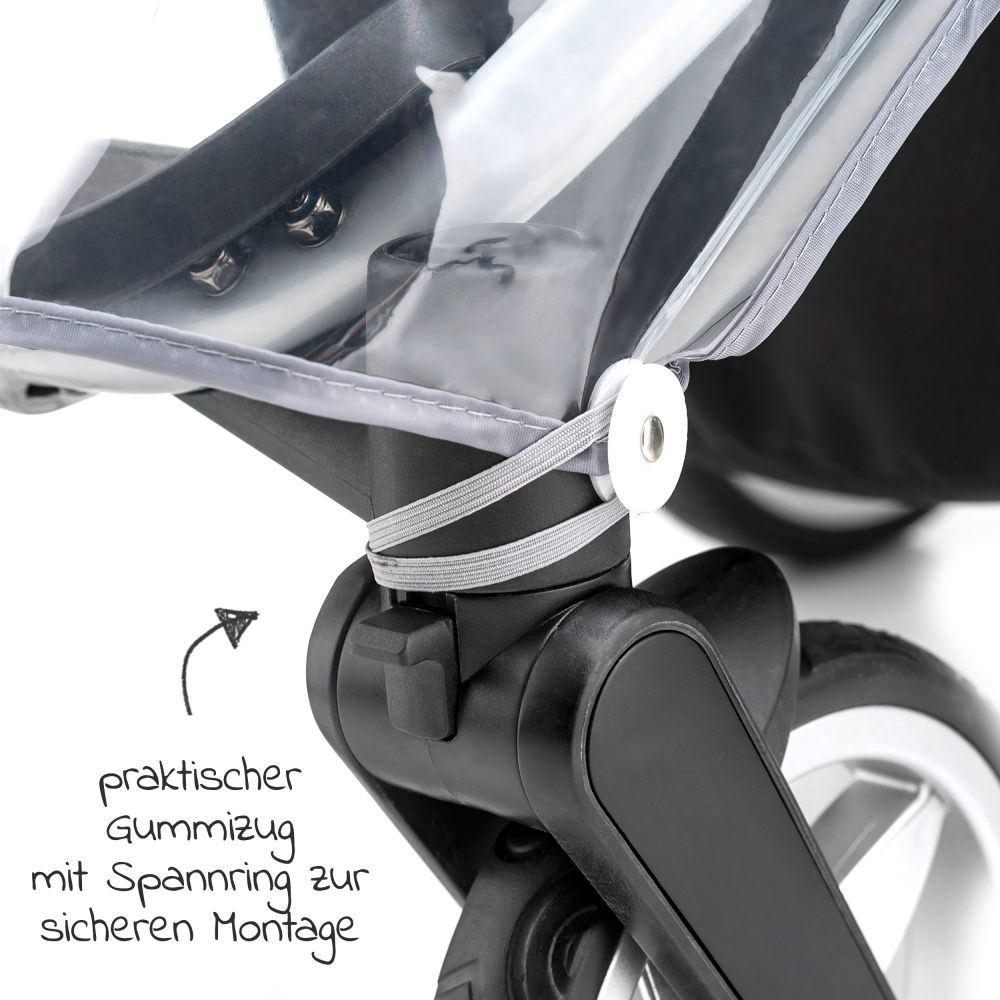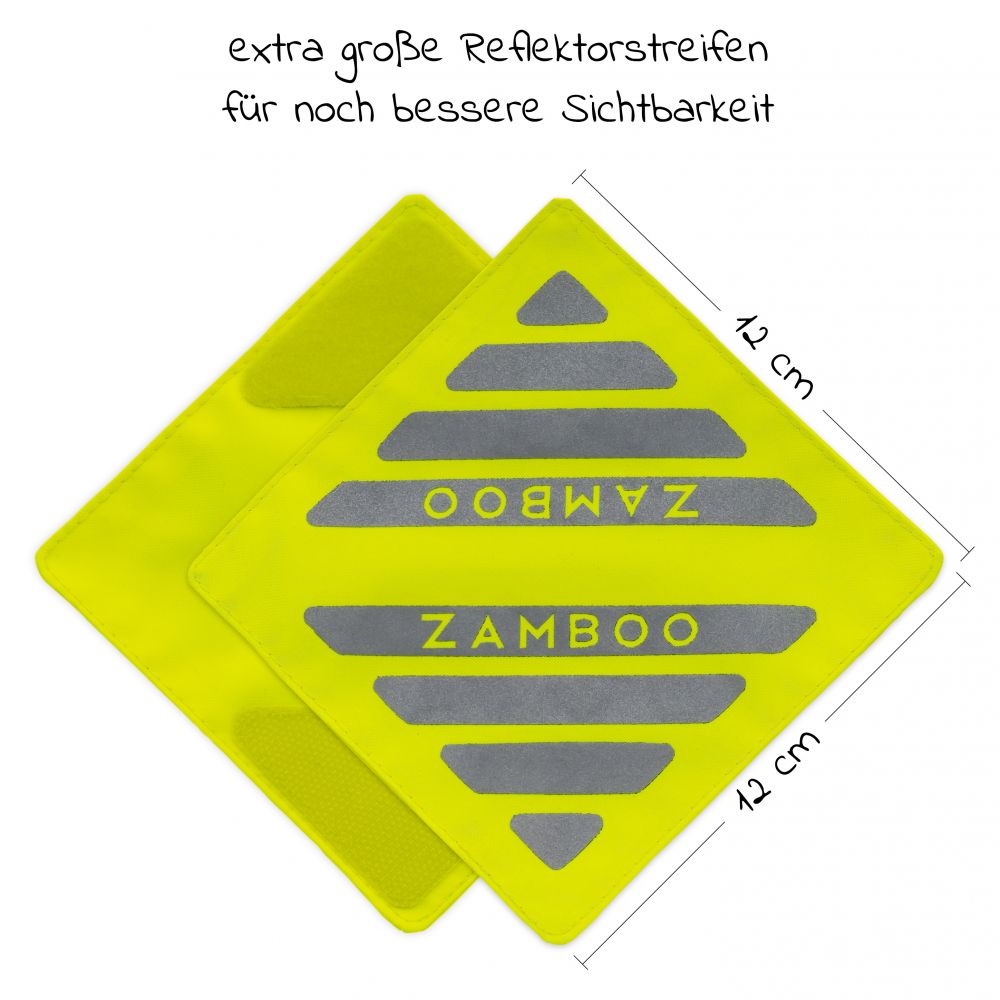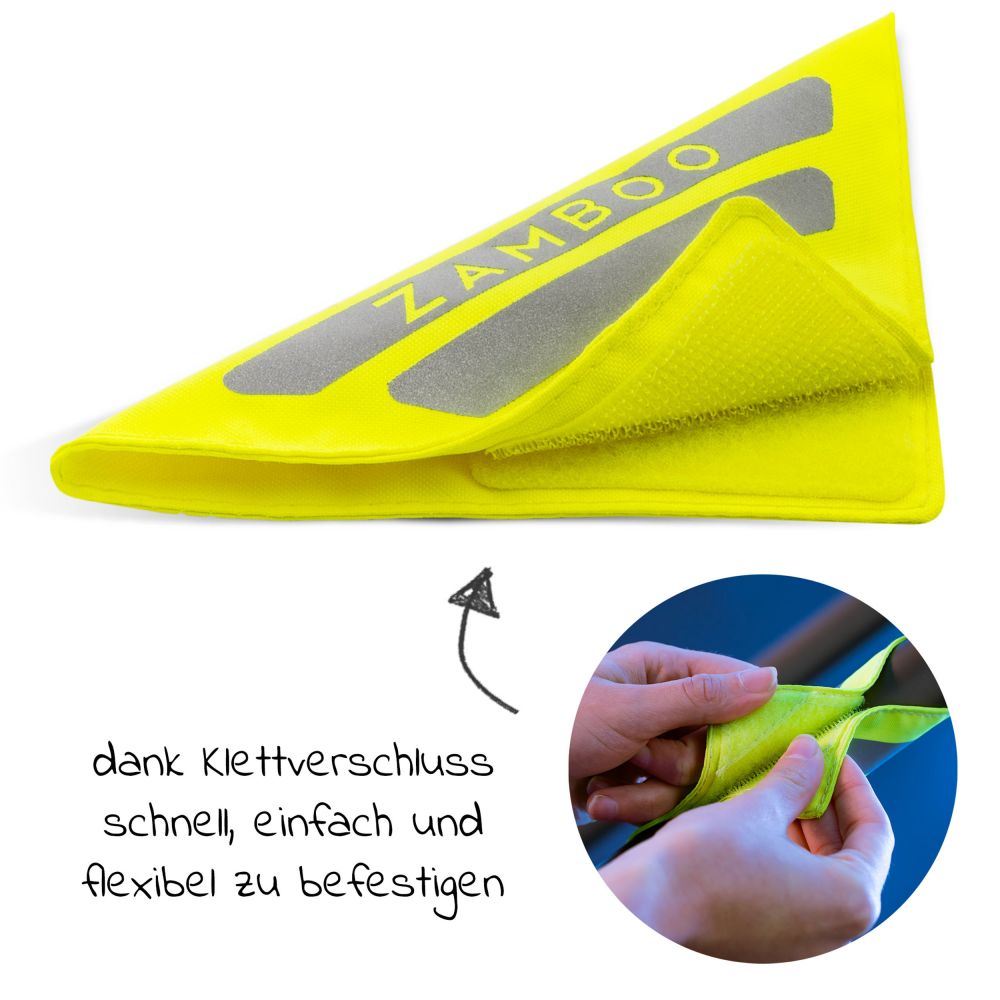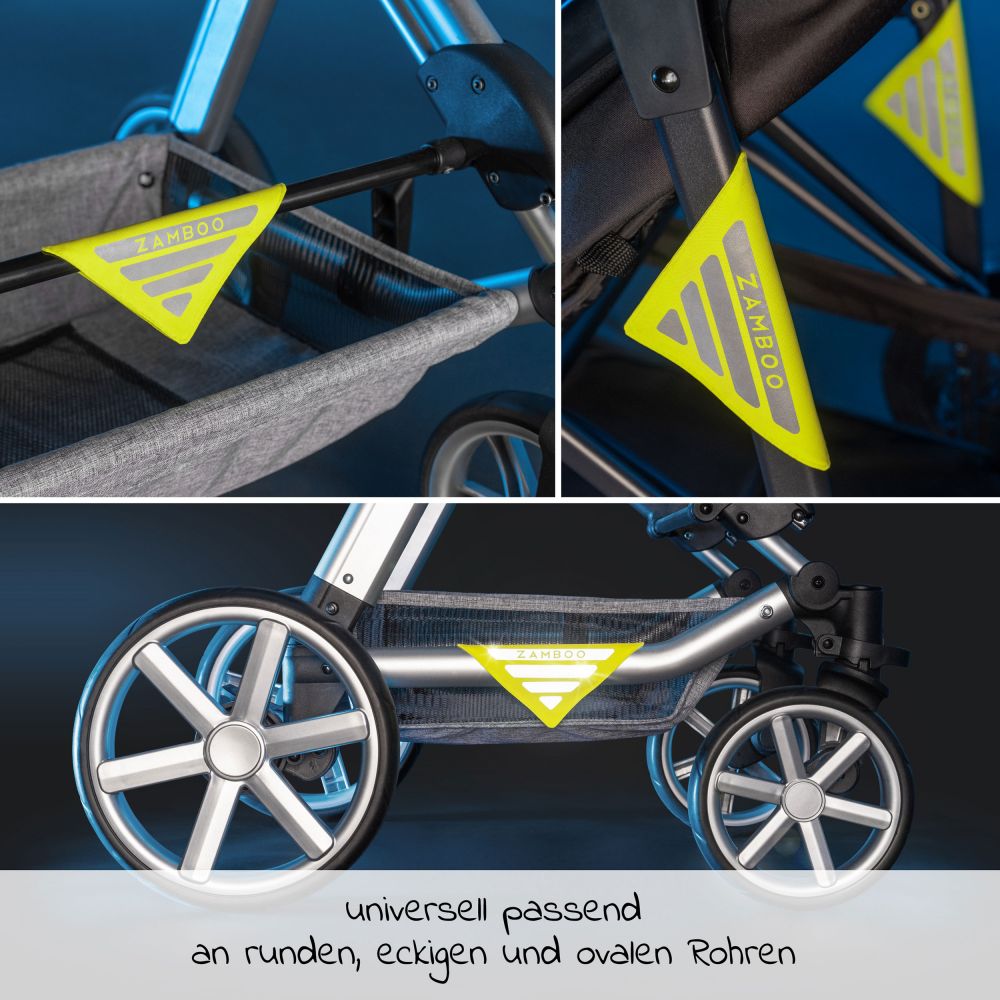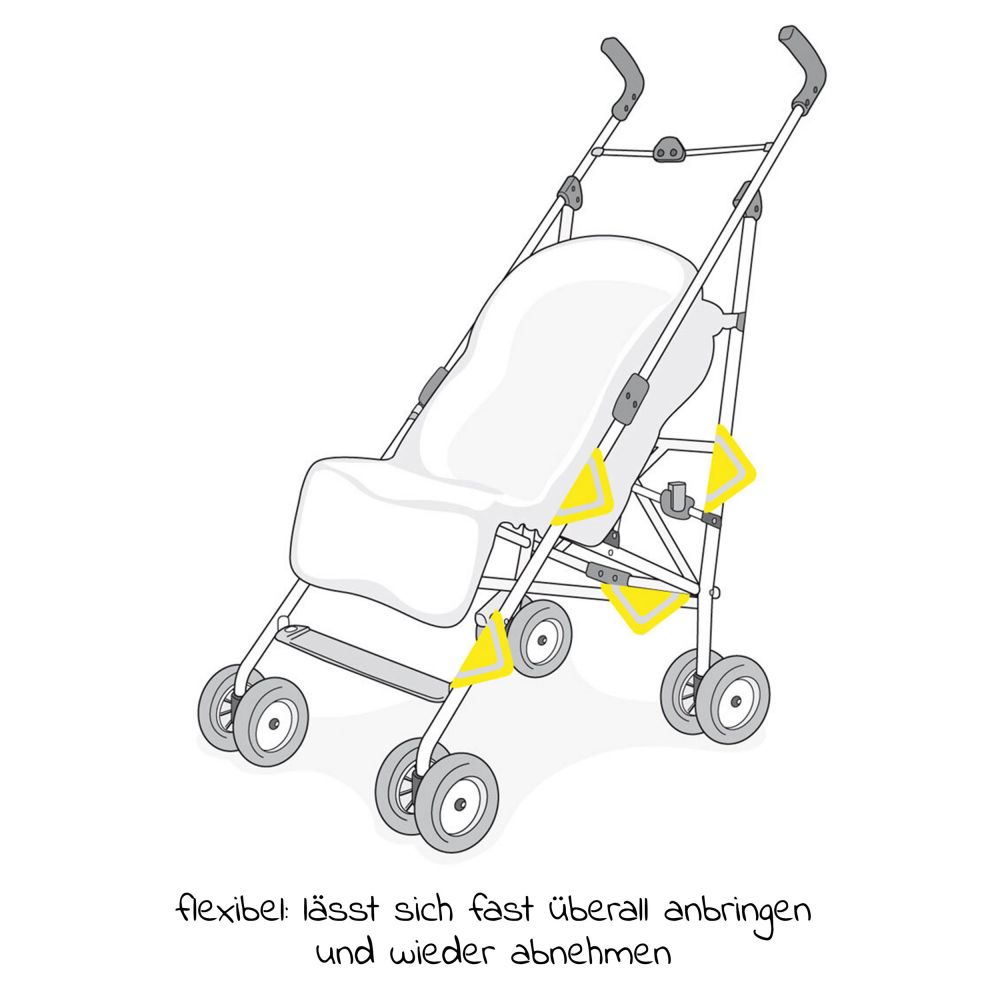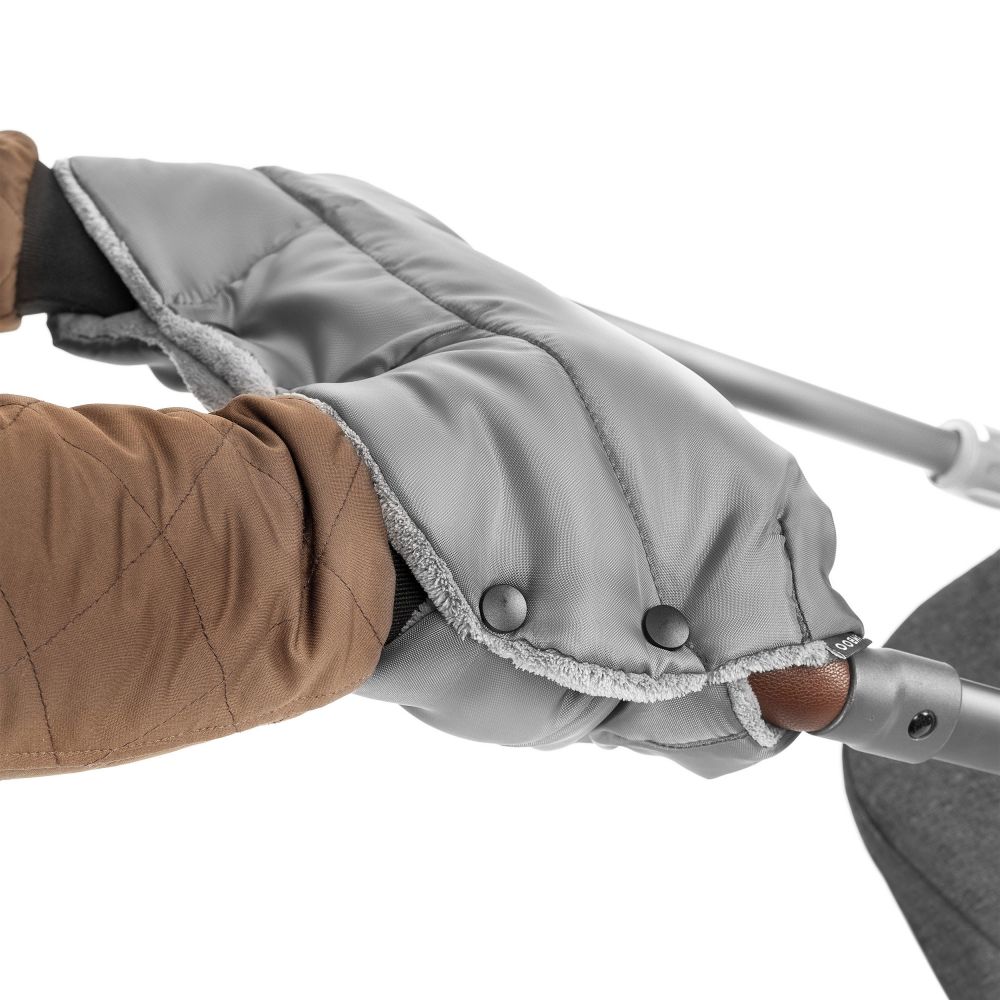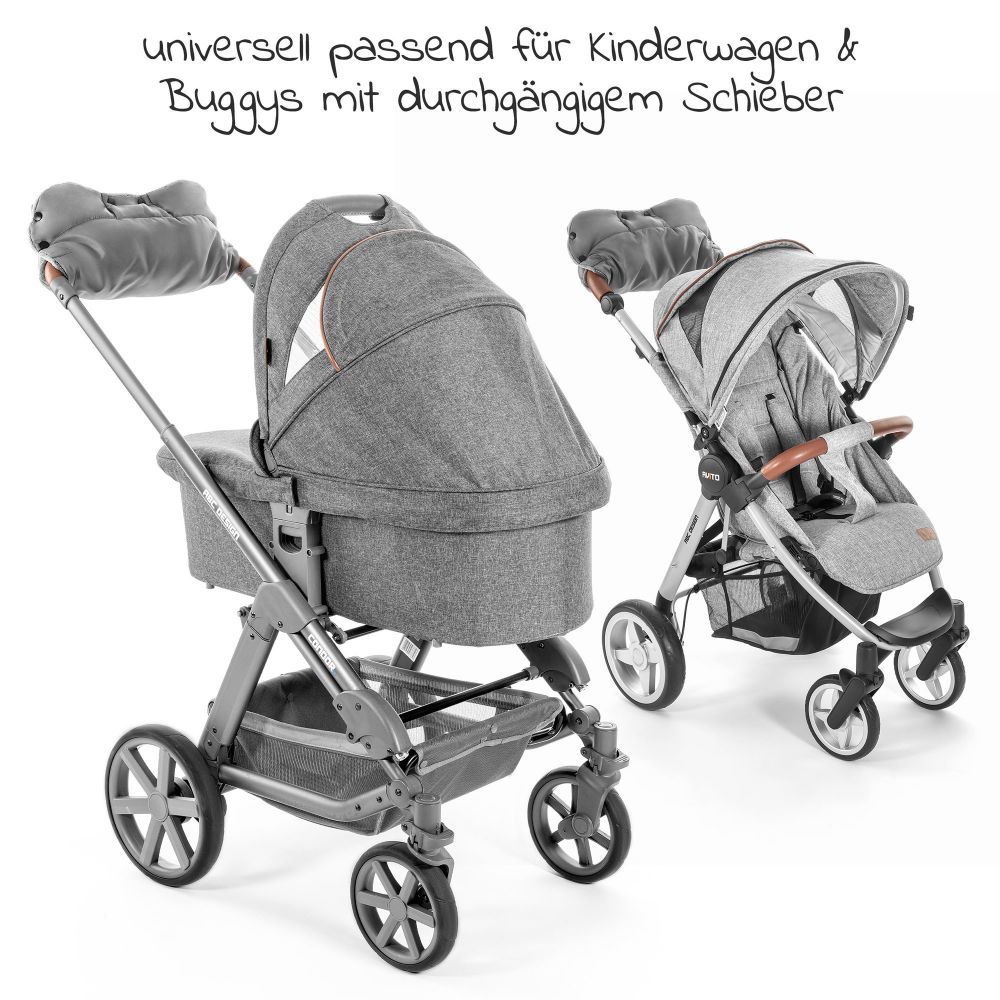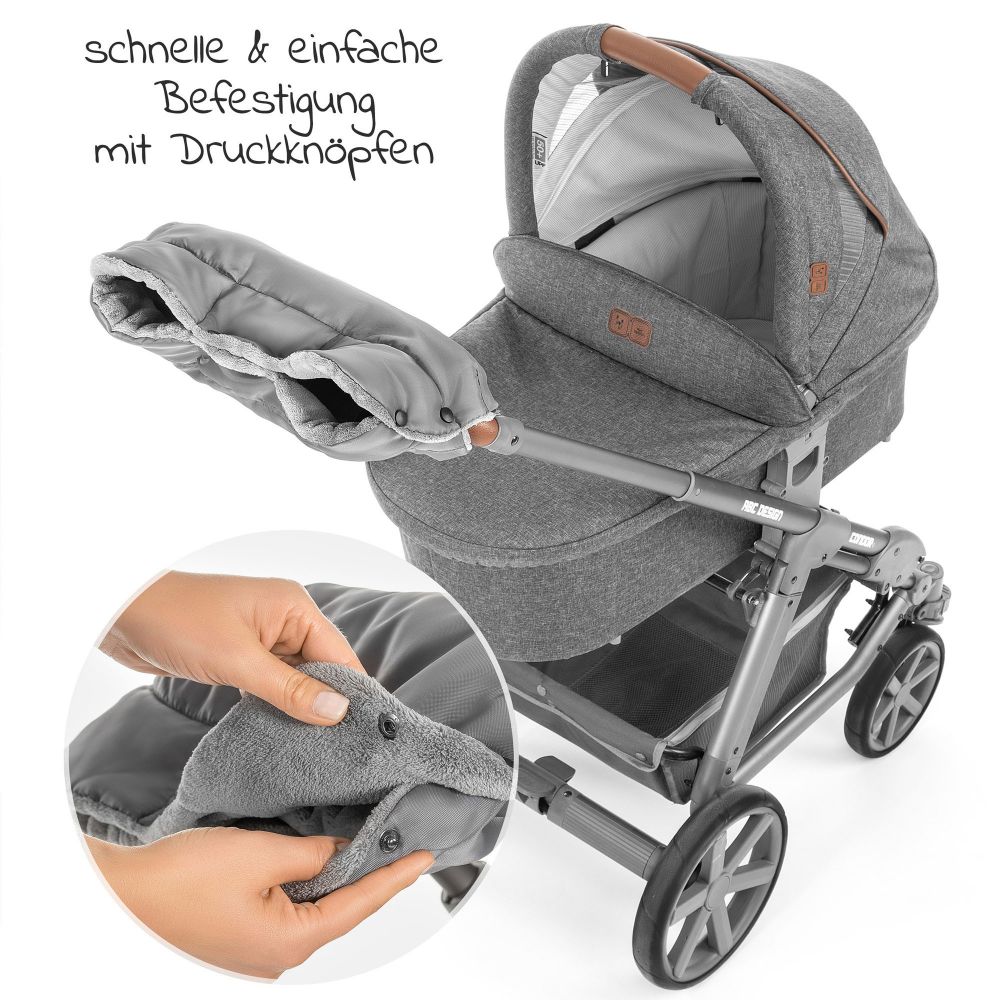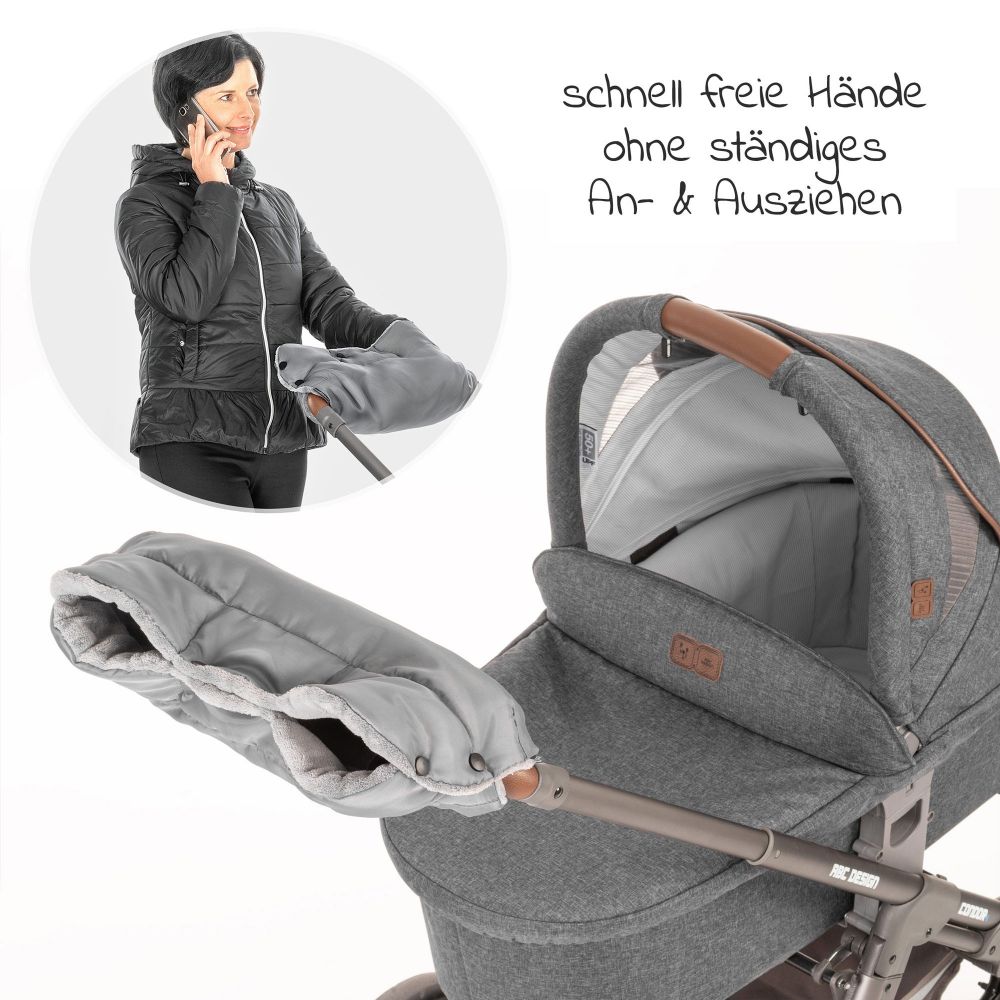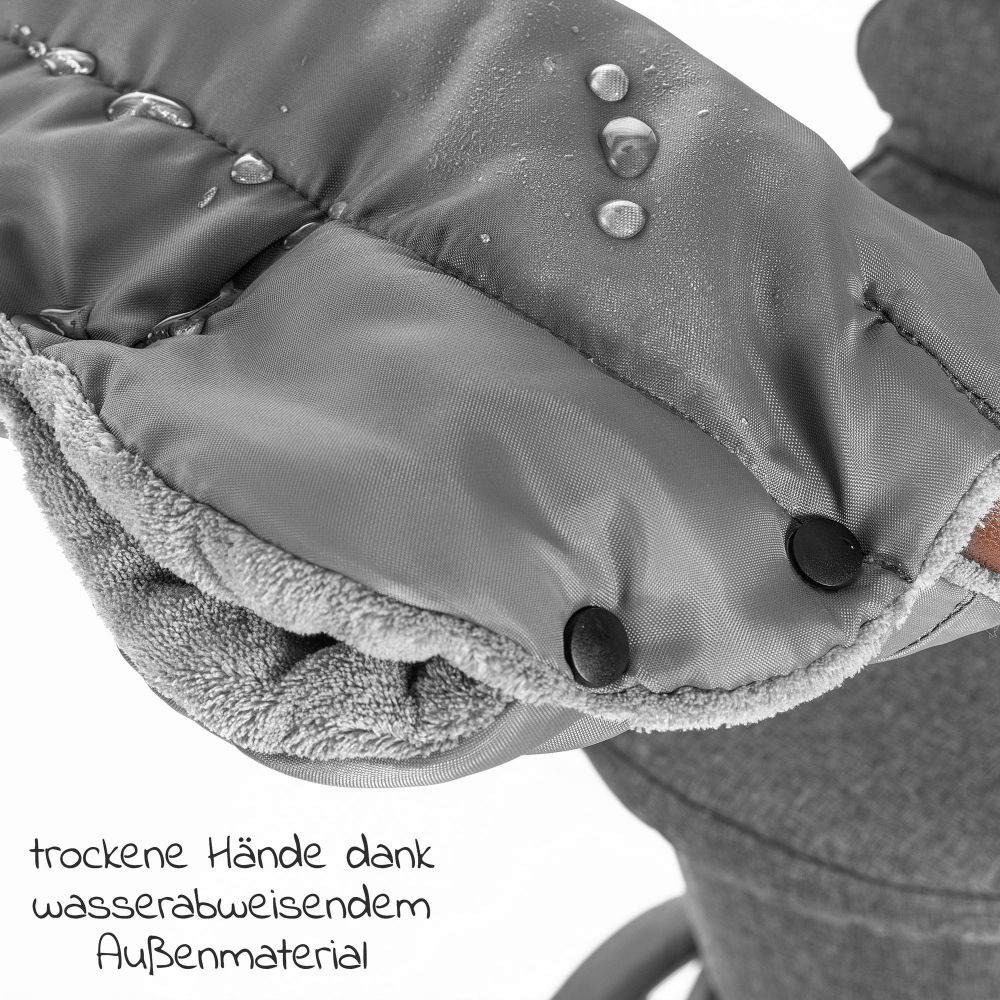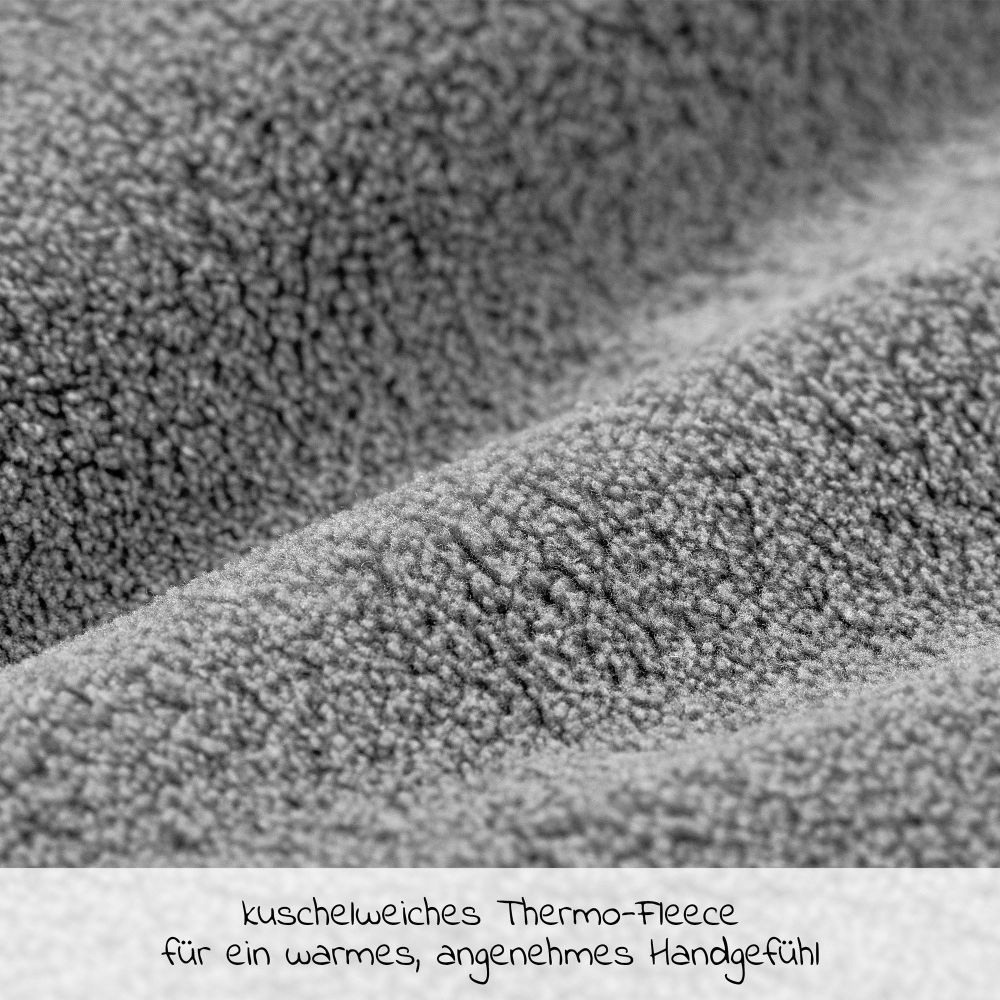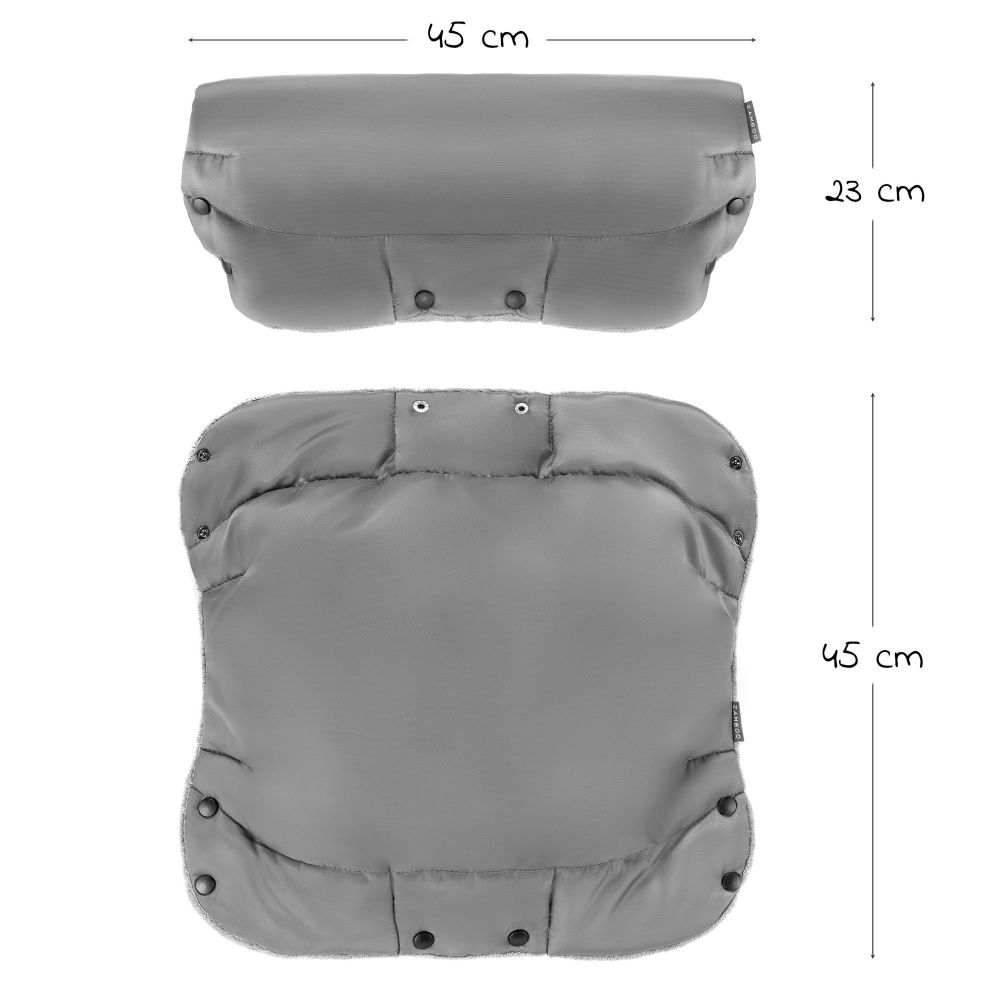 Free Shipping
Fast delivery
Purchase on account
Easy returns
Description
The most important at a glance
7-piece
stroller
for fall & winter
timesuitable
for
any stroller with continuous push barcuddly
warm leg
cover
with wind & water resistant outer materialwarm &
protected hands thanks to cuddly soft weatherproof hand warmersafe
&
dry walks in the dark with yellow reflectors & rain protection
---
So your stroller is well equipped for the cold season
The exclusive, 7-piece bad weather set is only available at babyartikel.de and brings you and your little one with your stroller cozy warm and safe through the autumn and winter time. Fluffy soft thermal fleece inside and a water-repellent outside make the Zamboo Universal Fleece Blanket the perfect accessory on cold days.
It can be attached to the stroller frame by a cord, making it suitable for all baby carriages, joggers & strollers. Thanks to the loops it does not slip and keeps your child always nice and warm. The lower part is completely made of water- and dirt-repellent material and can also be used with shoes without any problems. You can pull it around the footrest of the buggy.
Material
: 100% polyesterCare instructions
: machine washable at 40°C
With cozy warm hands on the road
With the LaLoona stroller hand muff, your hands will stay nice and warm and dry during your walk. The wind-, & water-repellent outer cover protects against wetness and cold, while the inner lining made of high-quality coral fleece warms pleasantly up to the wrists. The hand muff attaches with snaps to all strollers, sibling or twin strollers, strollers and buggies with a continuous push bar, even with a hand brake.
Compared to Velcro fasteners, snaps are especially gentle on clothing and protect it from pulling threads. When your little one needs you, you quickly have both hands free. Thanks to the soft fleece lining, the thermal hand warmer - in contrast to lambskin - can also be machine washed at 40 °C. The materials are quick-drying and easy to clean. The materials are quick-drying.
Measurements
: 45 x 23 cmMaterial
: 100% PolyesterWeight
:
0,235 kgCare instructions
: Machine wash at 40° C, not suitable for tumble dryer
So your little one stays dry even in rainy weather
With the deluxe universal rain cover from Zamboo, you can reliably protect your child from getting wet when you go for a walk. The transparent rain cover fits all joggers, buggies and strollers with a hood. The window on the front can be opened so that your child can look out unhindered and get more fresh air.
In rain and wind you close it and keep it closed by Velcro. The rain cover is fastened with different Velcro fasteners. Side ventilation holes allow good air circulation and prevent fogging from the inside. The tear-resistant film complies with the EN 71 standard and is free of PVC.
Material
: 100% PEVA foil according to EN71 (free of PVC)Suitability
: fits all joggers, buggies & strollers with hood
Well visible with the reflectors from Zamboo
In a practical 4-pack, the reflectors from Zamboo can be attached to each side of the stroller on the frame, slider or tubes: So you and your little one are always very well visible on tour with the stroller. Equipped with a Velcro fastener, you can remove them quickly and again. No adhesive residue remains on your vehicle.
In addition, the Velcro closure withstands any weather conditions. Even if the buggy time is over, they are great companions on the backpack or on the bike. Should the tubes of your buggy include more than 3 cm, then 2 pennants can also be velcroed around the tubes.
Dimensions
: 12 x 12 cmMaterial
: 100% polyesterCare instructions
: machine washable at 30°C
---
Scope of delivery:
1
Zamboo universal fleece blanket / leg cover for strollers and buggies in black1
LaLoona hand muff for strollers &
buggies
in
gray1
Zamboo universal rain cover for baby carriages and strollers4
Zamboo universal reflectors for strollers & buggies in yellow
Product Codes
| | |
| --- | --- |
| Our product code: | 202100004066 |
| Zamboo product code: | Set 480 |
| EAN/GTIN: | 4251209107915 |
Technical details
| | |
| --- | --- |
| Product Group: | 1 |
| Brand: | Zamboo |
| Color: | Grey, Yellow |
| Product type: | Boot covers |
| Shipping Date: | 01.12.2023 |