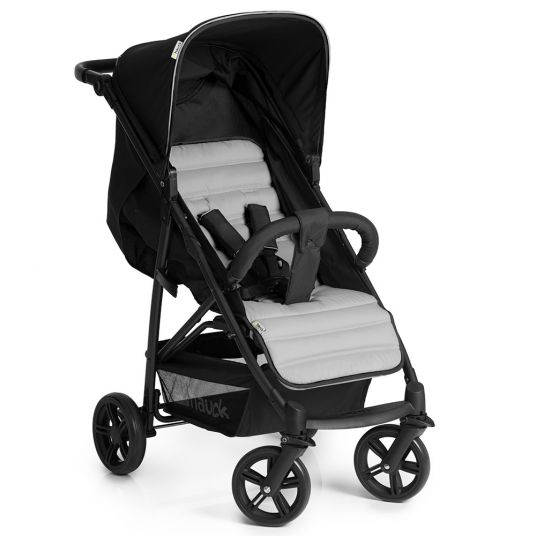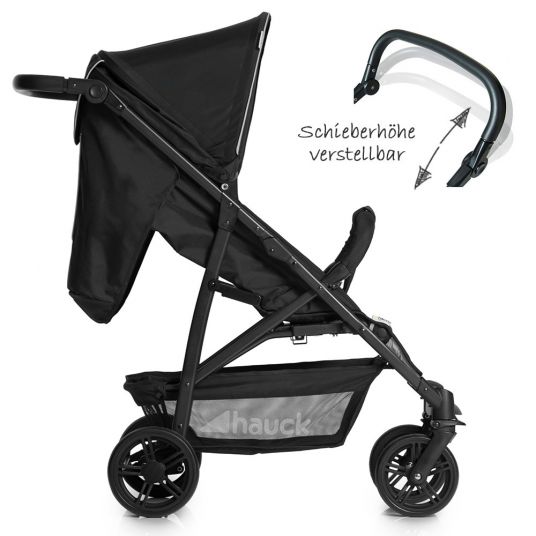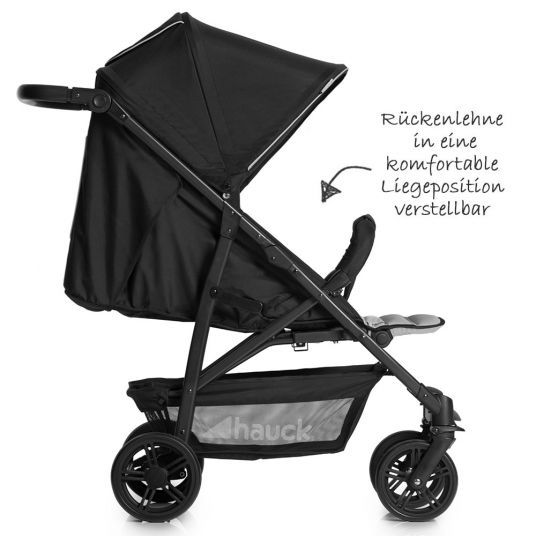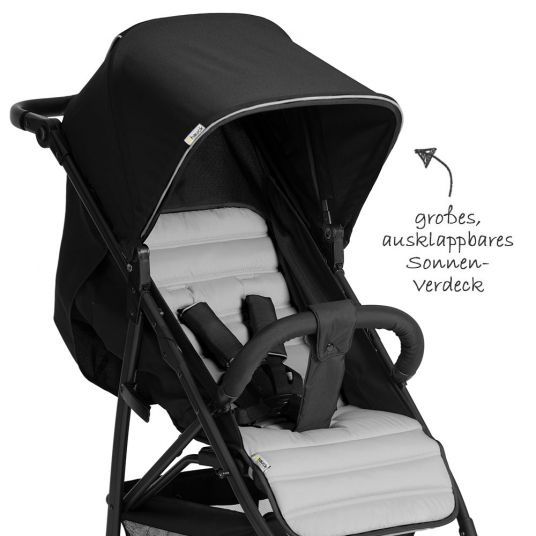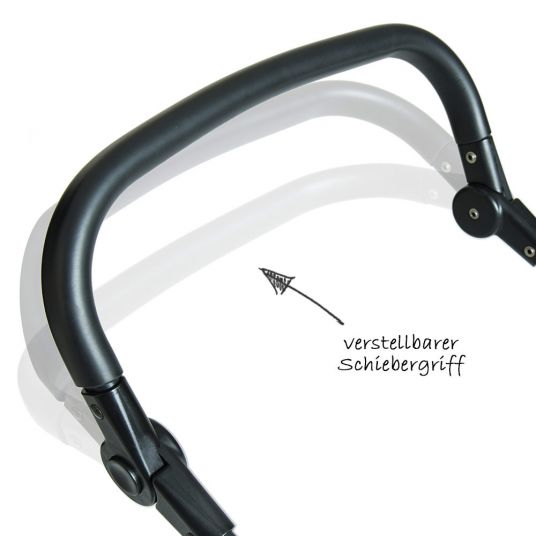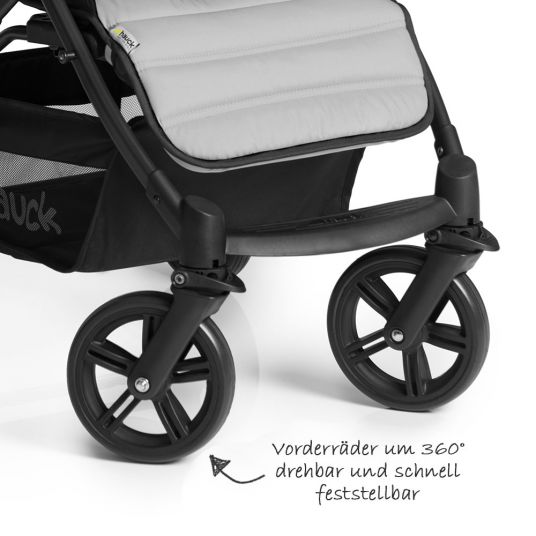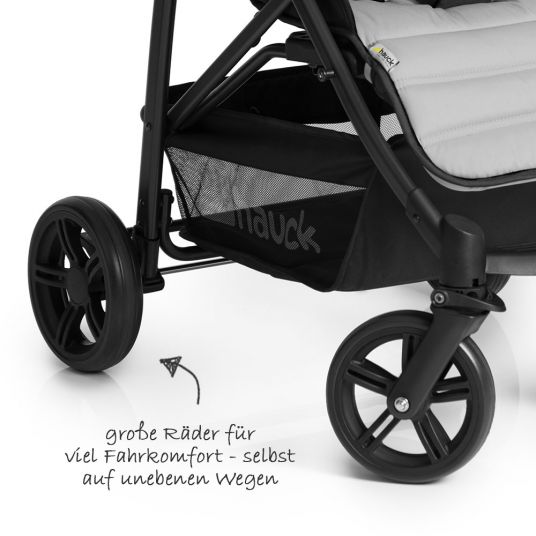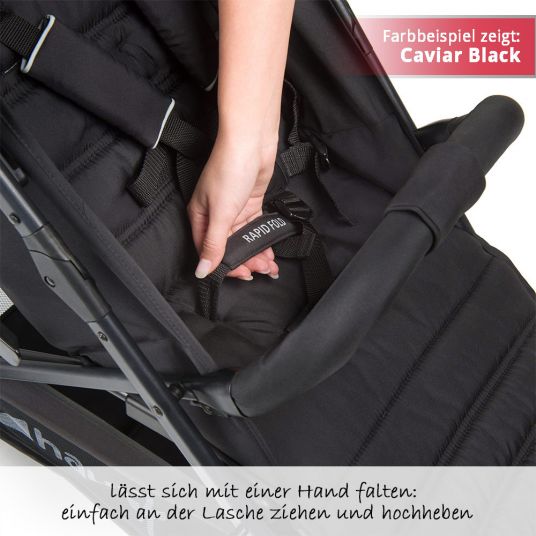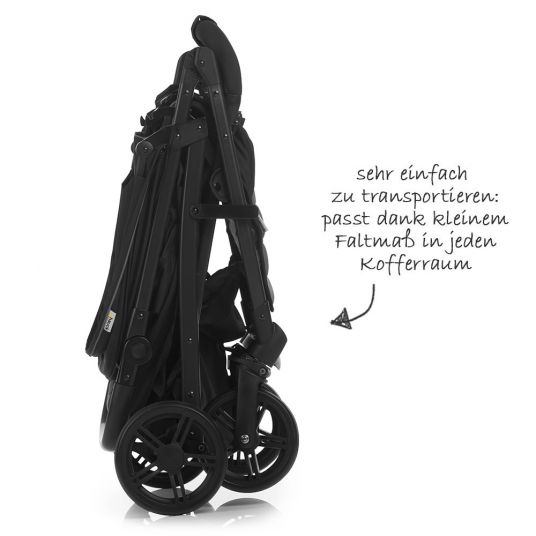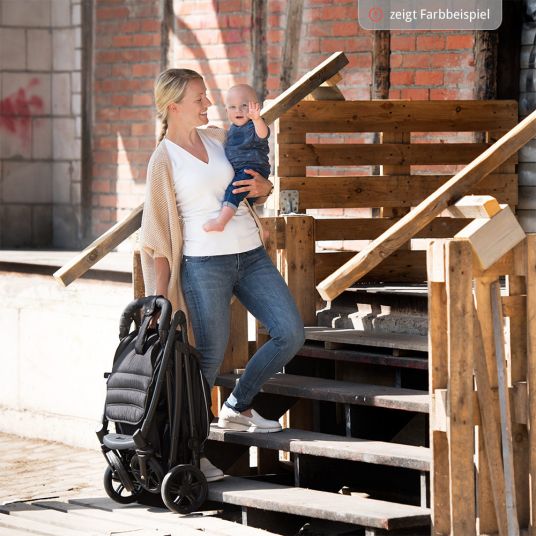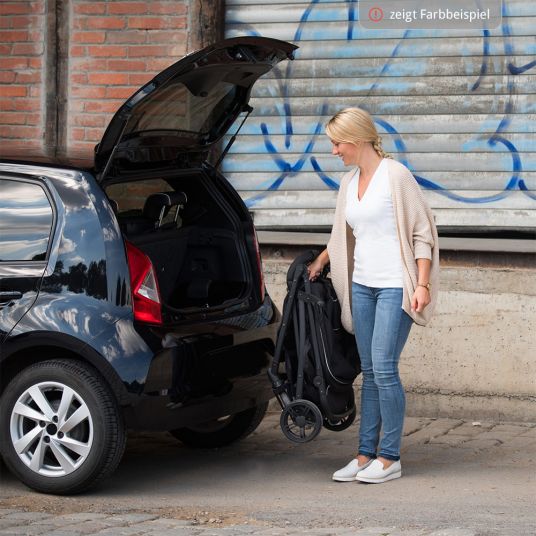 Free Shipping
Fast delivery
Purchase on account
Free returns
Description
The Buggy Rapid 4 in Caviar Silver from Hauck lives up to its name. The four-drift pram can be folded in seconds with just one hand and can be easily transported and stowed away. Nevertheless, your child does not have to forego comfort and safety: The comfortable seat can be brought up to the lying position. Mom and Dad can be happy about a super wide adjustable slider.
Altersempfehlung: as soon as your child can sit (with accessories from birth)
Use: suitable for uneven ground (gravel and cobblestone)
Equipment: adjustable backrest and feet (reclining position), 5-point belt, safety guard, shopping basket, suspension
Special features: Slide adjustable in height by 30 cm, one-hand folding mechanism
Comfort for parents and child
The buggy is used as soon as your child can sit independently. The seat is softly upholstered and can be brought into a reclining position thanks to the adjustable backrest and feet. So your darling can sleep here in peace. It is held by a 5-point harness and a protection guard. The large soft top is placed around dazzling sunbeams and cool wind.
The Rapid 4 Plus also has a few highlights for parents: the slide can be adjusted 4 times in height from 76 - 109 cm, making it perfect for couples with a difference in size. In addition, it scores with a very spacious shopping basket and practical Easy-Fix system. The Rapid is super-fast and can be folded with just one hand, making it easy to put on and take off the tub and sports seat.
Simple folding mechanism and manoeuvrable chassis
The Rapid is super-fast and folded with just one hand. So you can carry it comfortably, throw it into the car or store it in a space-saving way. The front wheels can be swivelled and locked and can be removed, as can the sprung rear wheels. The tyres are perfect for city life, but they also work well on light terrain.
Shop'n-Drive-System
The separately available Comfort Fix car seat from group 0+ can be used from birth. Thanks to its innovative side impact protection system with patented use of shock-absorbing PU foam and the padded 3-point belt, it guarantees optimum safety for your child every time it drives. For shopping tours you can combine a car seat and chassis into a practical Shop'n Drive system. So you can lift your little one out of the car and put it on the Rapid. So it can sleep on in peace and you can do the things you need to do.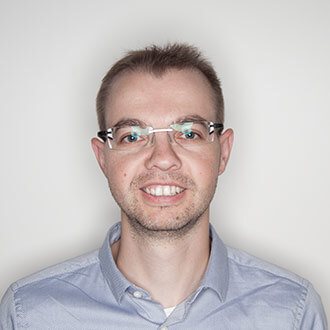 Product Codes
| | |
| --- | --- |
| Our product code: | 201700003703 |
| Hauck product code: | 148372 |
| EAN/GTIN: | 4007923148372 |
Technical details
| | |
| --- | --- |
| Product Group: | 3 |
| Brand: | Hauck |
| Color: | Black, Grey |
| Ironing: | Do not iron |
| Tumble drying: | Do not tumble dry |
| Washing instructions: | Hand wash only at max. 40 °C |
| Cover: | Removable |
| Product dimensions (L x W x H): | 92 x 54 x 104 cm |
| Folded dimensions (L x W x H): | 84 x 54 x 30 cm |
| Weight: | 9.3 kg |
| Features: | Handlebar |
| Functions: | Height-adjustable handlebar, Adjustable backrest, Reclining position, Adjustable footrest |
| Main material: | Aluminium |
| Product type: | Pushchairs, Sport pushchairs |
| Scope of delivery: | Schutzbügel, Einkaufskorb |
| Backrest: | steplessly adjustable (up to lie-flat position) |
| Handbrake: | Not available |
| Parking brake: | Foot-operated |
| Bumper bar: | Included & removable |
| Car Seat: | Not included - available as accessory |
| Carrycot: | Not available |
| Cocoon: | Not available |
| Backrest length: | 45 cm |
| Seat (L x W): | 22 x 36 cm |
| Reclining surface of seat (L x W): | 86 x 36 cm |
| Reversibility: | No |
| Footrest: | 2x adjustable |
| Handle height: | 76 - 109 cm (Height-adjustable handle) |
| Handle type: | Handlebar |
| Hood seat: | Extendable, with peep window |
| Material cover: | 100% Polyester |
| Safety harness: | Five-point harness |
| Suspension: | Available |
| Suitable terrains: | Gravel and cubblestones |
| Age recommendation: | From birth onwards with separate attachments |
| Front wheels: | Removable, swivel, lockable |
| Diameter of front wheels: | 17.5 cm |
| Quantity of wheels: | 4 |
| Rear wheels: | Not removable |
| Diameter of rear wheels: | 18.5 cm |
| Type of tires: | Foam-filled tires |
| Recommended Max. Age: | 36 month(s) |
| Maximum weight limit: | 22 kg |
| Recommended Min. Age: | 0 month(s) |